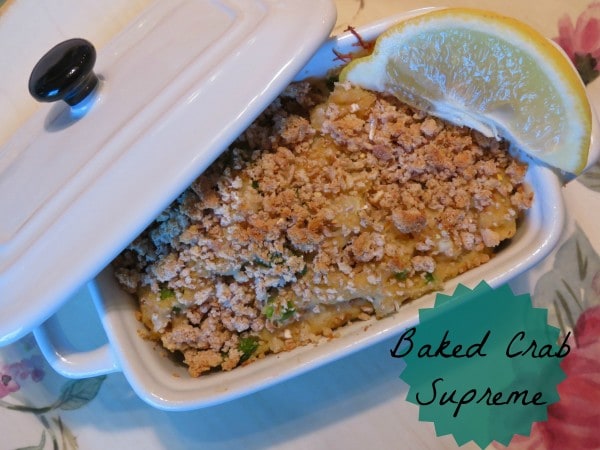 This weekend celebrates the birthdays of two of the most important people in my life: my father (this upcoming Sunday), and my grandmother (this Friday).
Now, I considered doing a special birthday recipe post in honor of my father, but to be honest, the man loves everything I make so much that pretty much every post ends up being in his honor. (I've never for a minute had any doubt about who is my biggest fan in the kitchen.)
I am also working on a new special birthday dessert recipe for him this weekend, so if that is a success you will surely be seeing it here soon. Here is a hint: it involves more caramel and pecans. Basically, Jerry Swope's idea of perfection.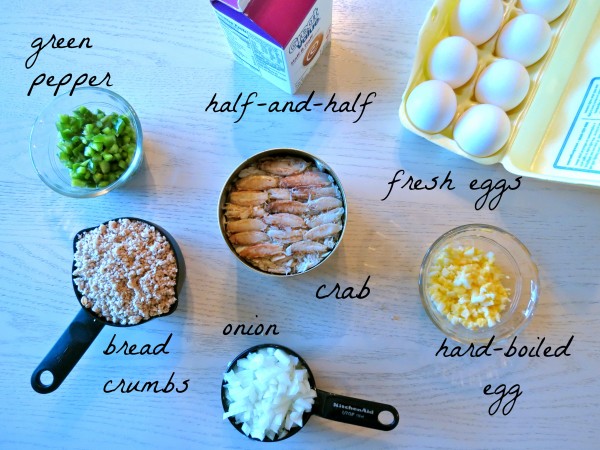 I did, however, want to make one very specific recipe in honor of my grandmother's birthday. When my great-grandmother was alive, she would make this crab recipe every year for my grandmother's birthday. It is one of my grandmother's favorite things (as is pretty much any recipe that includes crab).
I have mentioned before that my great-grandmother was the one who taught my mother to cook, and I, in turn, learned pretty much everything I know from her. Yet even though probably 90% of our cumulative culinary knowledge stems from my great-grandmother in one way or another, after she died, many of her recipes were either lost – many of them she never wrote down – or we stopped making for fear of not being able to properly recreate them without her. This crab recipe was one of those.
But my grandmother is such an incredible woman – she has survived more tragedies than I could even fathom and has never once allowed any of them to take away her zest and zeal for life – that I knew I needed to give this recipe a try. I needed to be able to recreate it for her; I do, after all, show much of my love through the food I cook.
I originally tested the recipe on my parents, since I knew my mother would be able to remember if it was at least close to what her grandmother used to make. And guess what? She said that it was spot-on!
I love having this recipe in my arsenal to make for my grandmother any time. I always feel like my great-grandmother is with me when I'm in the kitchen, and being able to recreate her recipes makes me feel even closer to her memory.
If you love crab, you'll love this recipe. And while it is incredible on its own, it would also make an excellent stuffing for mushrooms or even shrimp. Make this one for someone you love – the women in my family would all love that.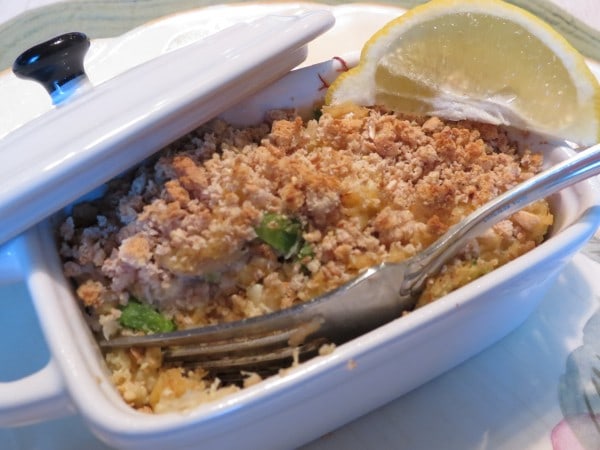 Baked Crab Supreme
Ingredients
½ pound crabmeat (canned or fresh)
1 cup bread crumbs (plus additional for topping)
1 medium onion, finely chopped
1 hard boiled egg, chopped
½ cup half-and-half (or cream)
½ green pepper, finely chopped
1 clove garlic, minced
2 raw eggs
1 tablespoon vinegar
¼ teaspoon dried thyme
Salt
1 tablespoon olive oil
2 tablespoons butter
Instructions
Preheat oven to 350 degrees. Lightly grease four 6-ounce ramekins; set aside.
In a bowl, mix all ingredients except for oil and butter.
Heat the butter and oil in a skillet over medium heat; cook the crab mixture for about 10 minutes, stirring almost constantly to prevent the eggs from scrambling.
Divide into prepared ramekins. Top with additional bread crumbs. Bake for 10 to 15 minutes or until bread crumbs are browned.