Raspberry Linzer Cookies sandwich bright and tangy raspberry jam between two almond cookies. They're as delicious as they are beautiful!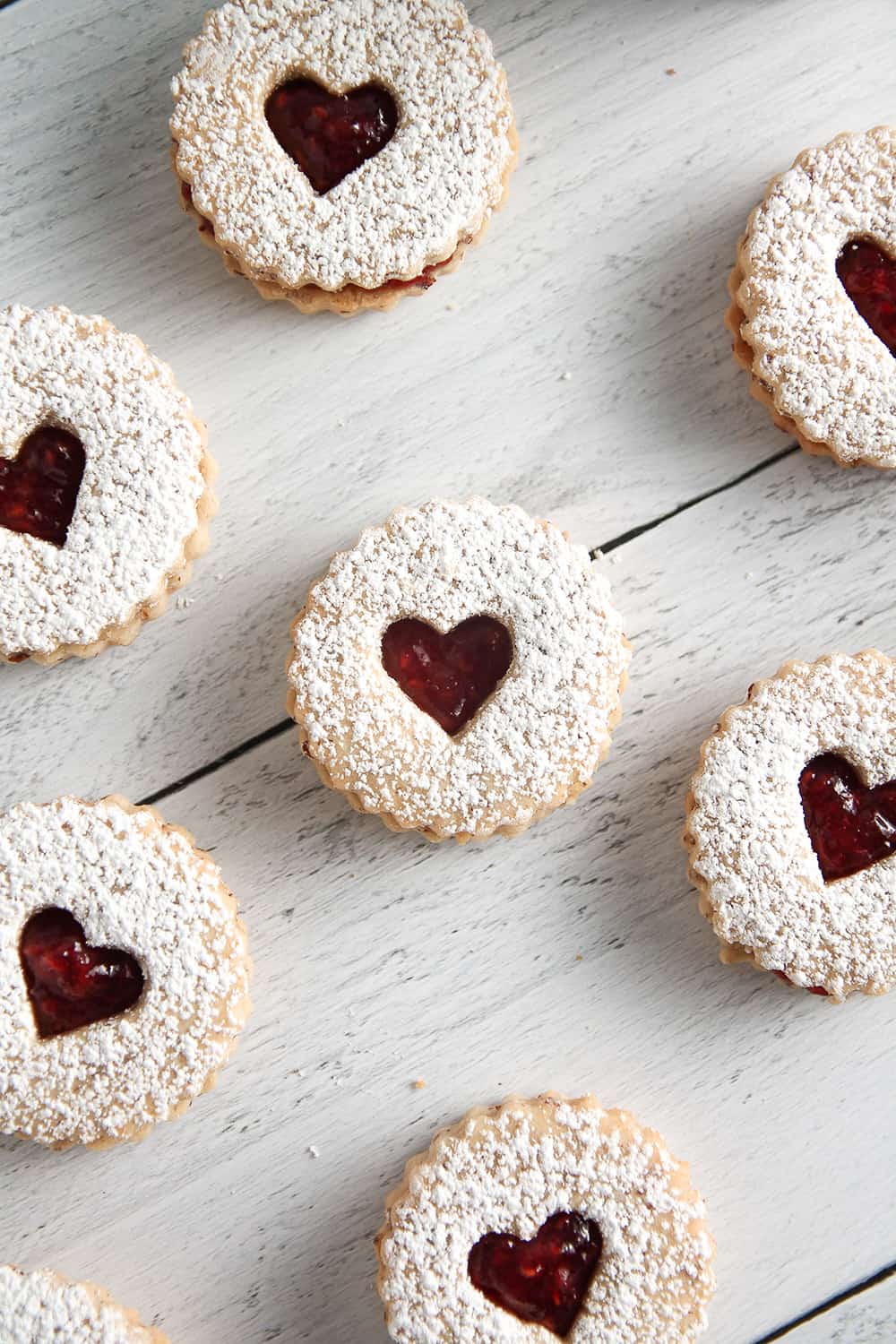 Friends, I am all in on heart-shaped cookies for Valentine's Day.
It's no secret that I am one of those no-chocolate weirdos. It's the one food I just cannot and will not do. I'll eat things with tentacles before I touch chocolate.
#weirdo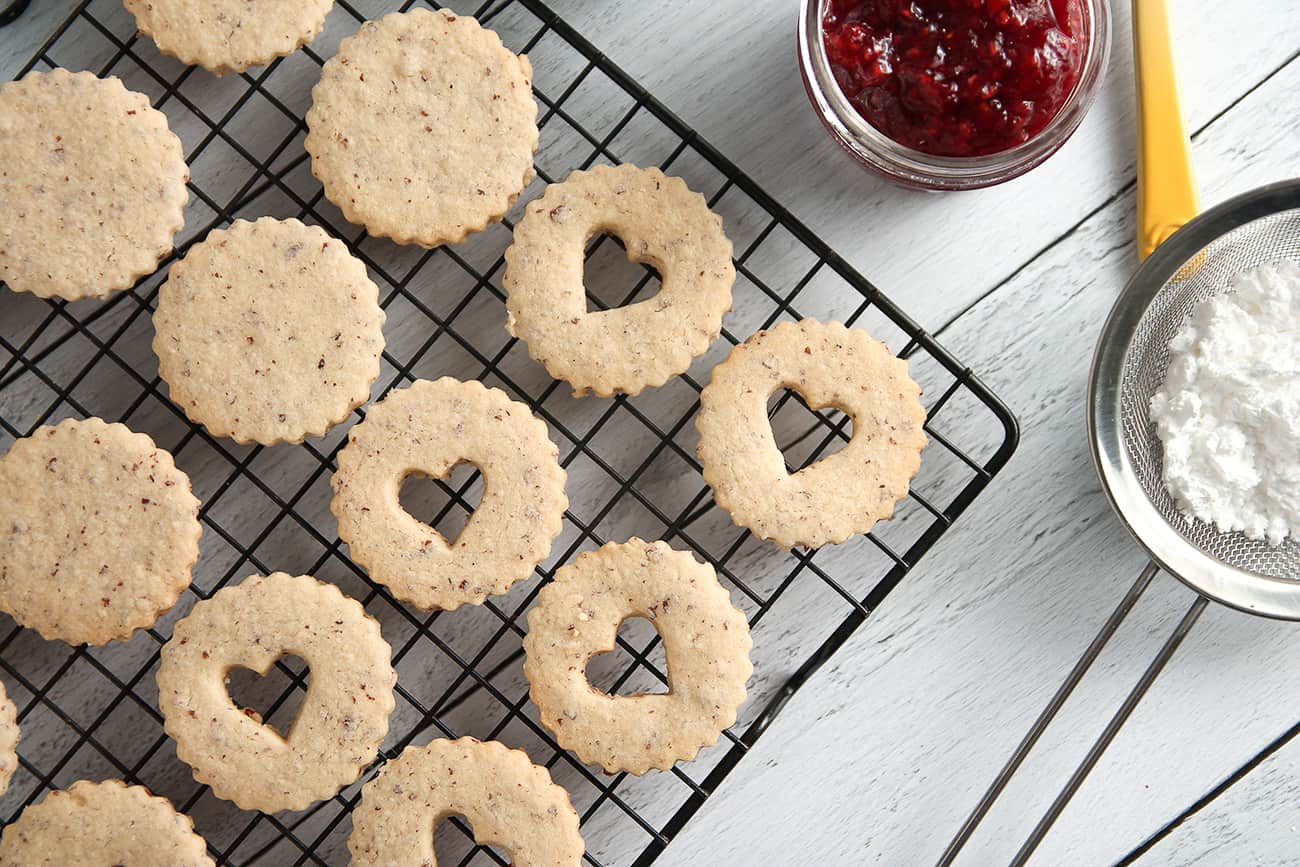 So most people assume that Valentine's Day is not so much my thing in regards to food. And while it is true that Alex will never be able to bring me home a box of chocolates for Valentine's Day, I'm here for heart-shaped cookies and all things strawberry or raspberry.
This year, I decided to celebrate Valentine's and be a Good Cookie with these delicious and beautiful Raspberry Linzer Cookies.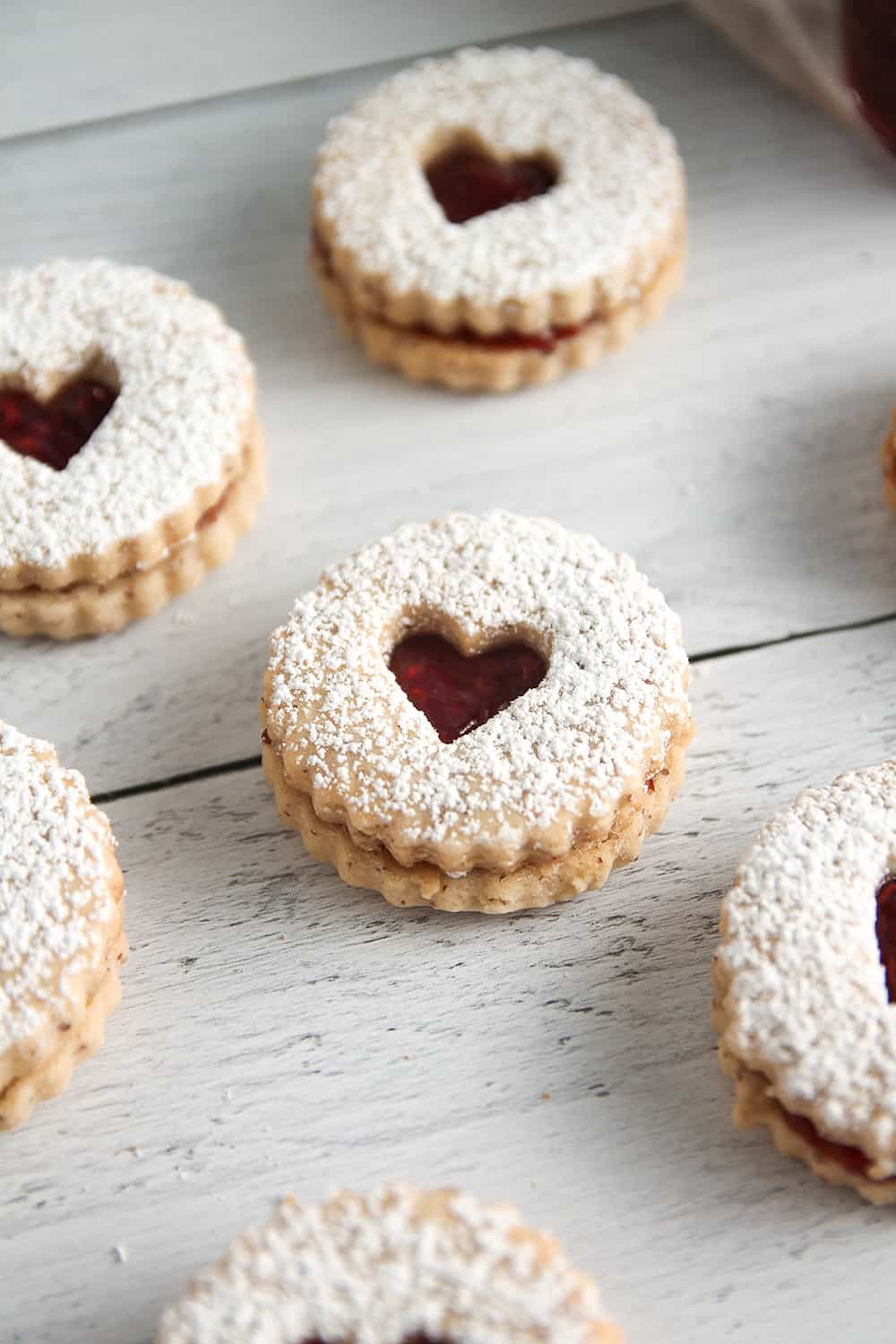 GOOD COOKIE VALENTINE'S EVENT
This is the third year for the Good Cookie Food Bloggers' Valentine's event, and my second year participating! (Remember my Pillowy Soft Sugar Cookies from last year?)
This special Valentine's Day event is held to make a difference in the fight against pediatric cancer.
Did you know that cancer is the #1 cause of death of children by disease in the U.S.? There are 40,000 U.S. children actively battling cancer right now. And less than 4% of the National Cancer Institute's budget goes to all childhood cancer combined.
It's important for us to work to change these statistics in any way we can.
Help my fellow food bloggers and me make a difference by donating to Cookies for Kids' Cancer! Our goal was to raise at least $3000. Because Dixie Crystals, Mediavine and OXO each pledged to match our donations raised through this campaign up to $3000!
Thanks to many of you, we have already reached our goal. You can still donate and help us make an even bigger difference!
Scroll past my Raspberry Linzer Cookies recipe to see what my fellow participating bloggers have created as part of their contribution to this cause.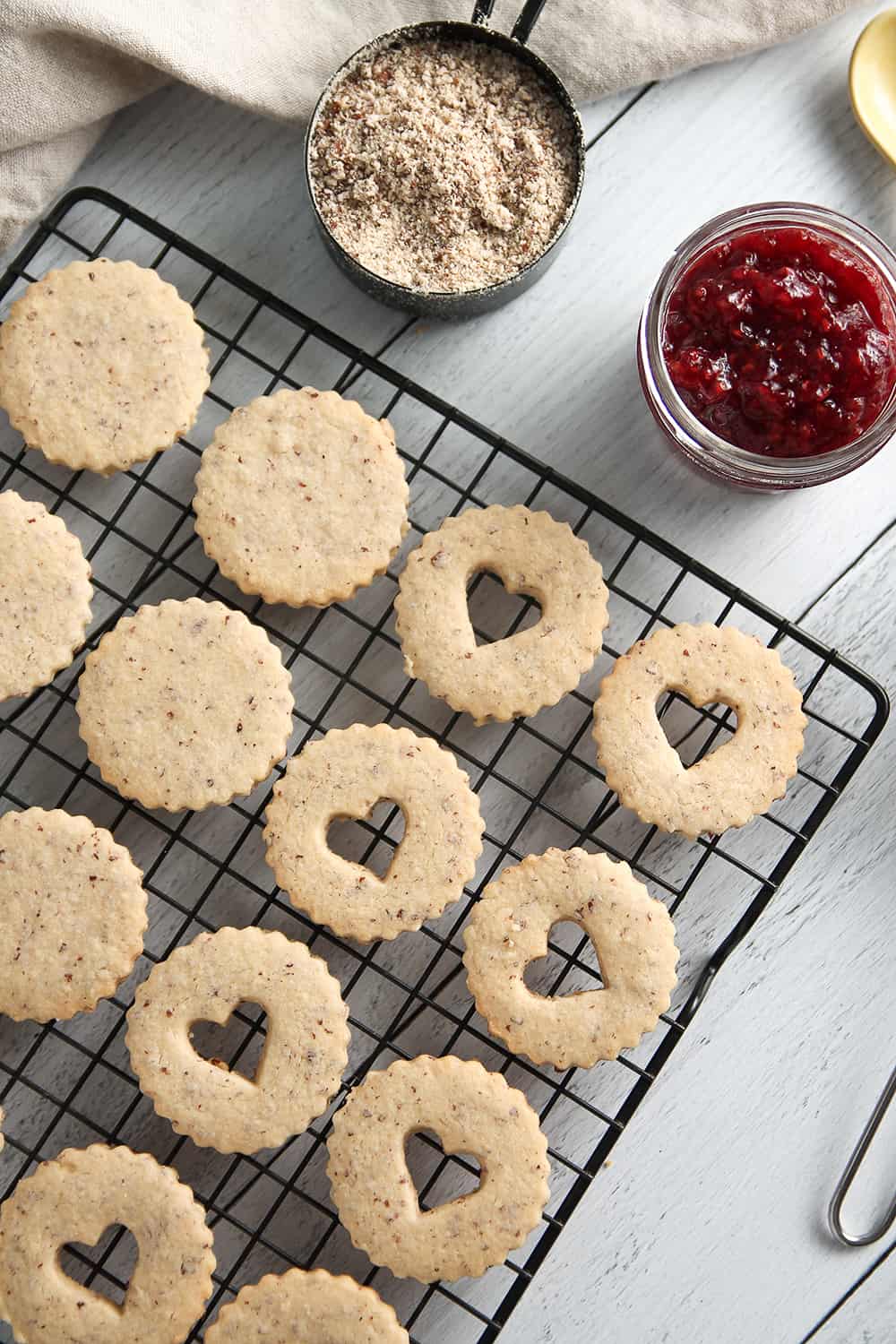 WHAT IS A LINZER COOKIE?
Linzer cookies are so named because they are a cookie-sized version of the Austrian linzer torte.
The linzer torte, named after the city of Linz, Austria, has an almond or hazelnut crust, a raspberry filling, and a lattice top. Linzer cookies mimic the tart by sandwiching raspberry jam between two nut-filled cookies.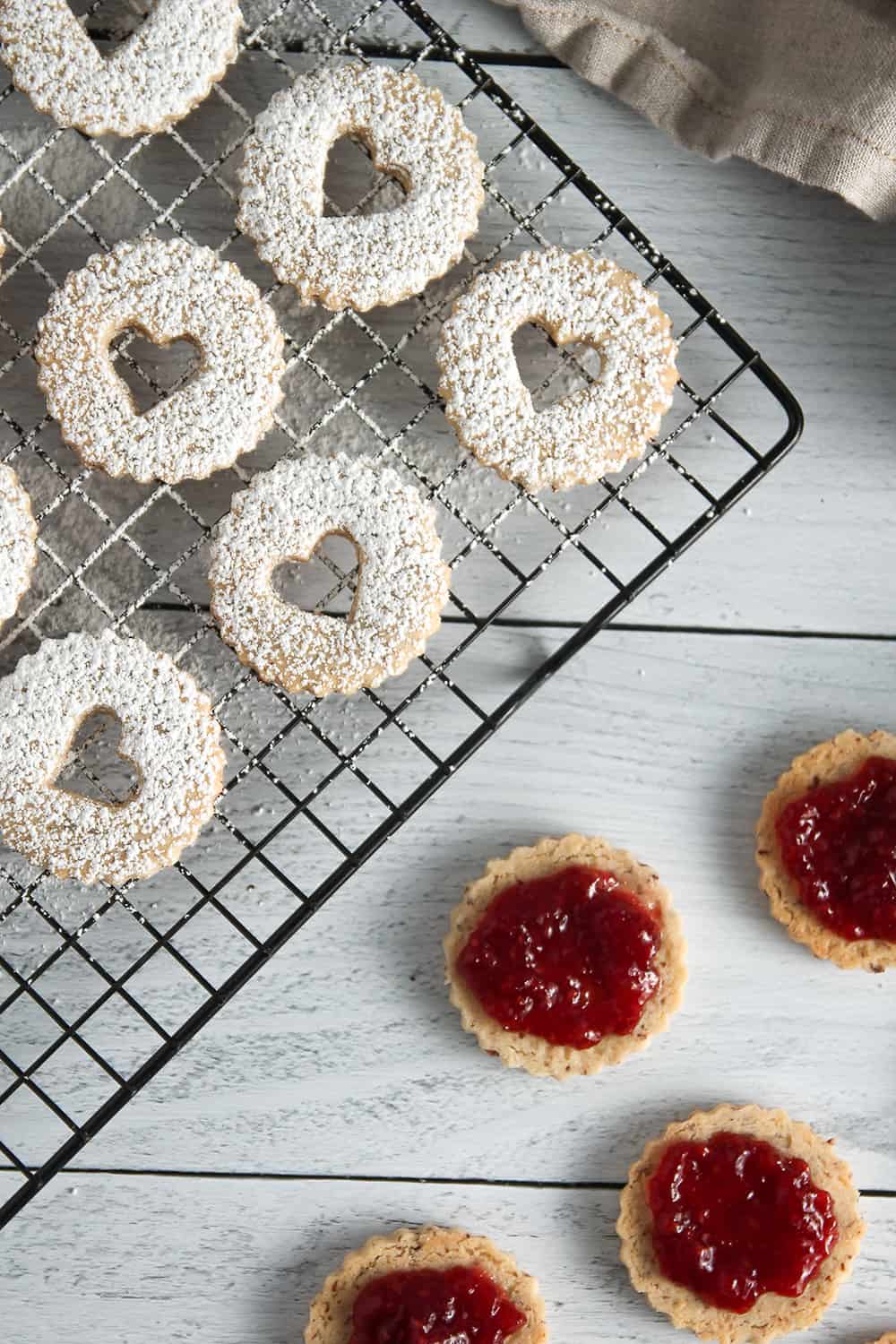 Of course, the top cookie needs to have that classic window cut-out to truly mimic the lattice top of the torte!
Though you'll often see linzer cookies with different types of filling, raspberry is the most common and traditional.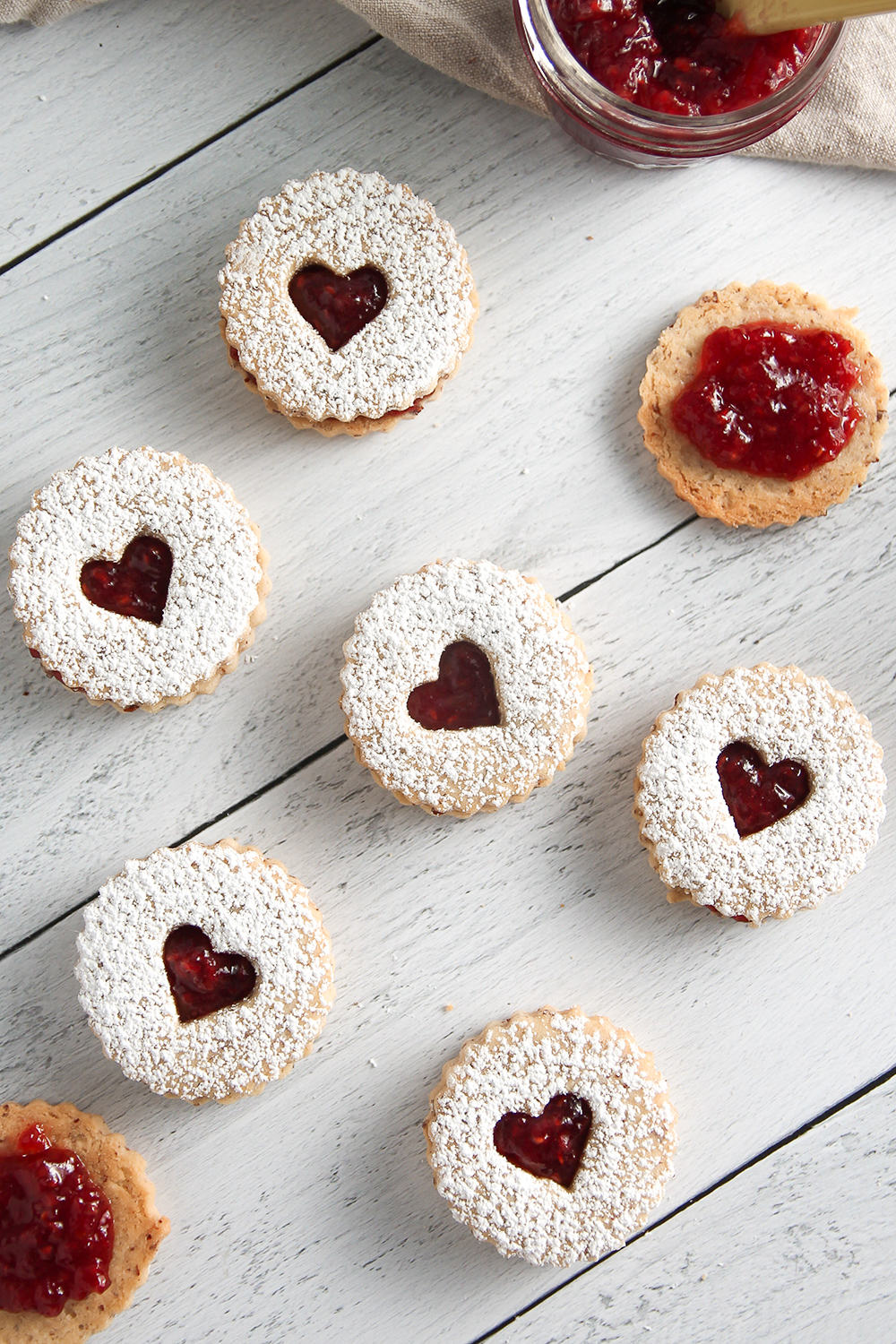 RASPBERRY LINZER COOKIES RECIPE
As with many cookie recipes on this site (Chai Sugar Cookies come to mind), I did some (fairly heavy) tweaking of my No Chill Sugar Cookies to create the dough for these Raspberry Linzer Cookies.
The biggest difference here is the addition of ground almond meal to the dough. You could also use ground hazelnut meal if you prefer.
The nuts add a fair amount of fat to the dough, even if you don't realize it. Because of this, we do need to chill this dough and keep it cold while rolling and cutting out the Raspberry Linzer Cookies.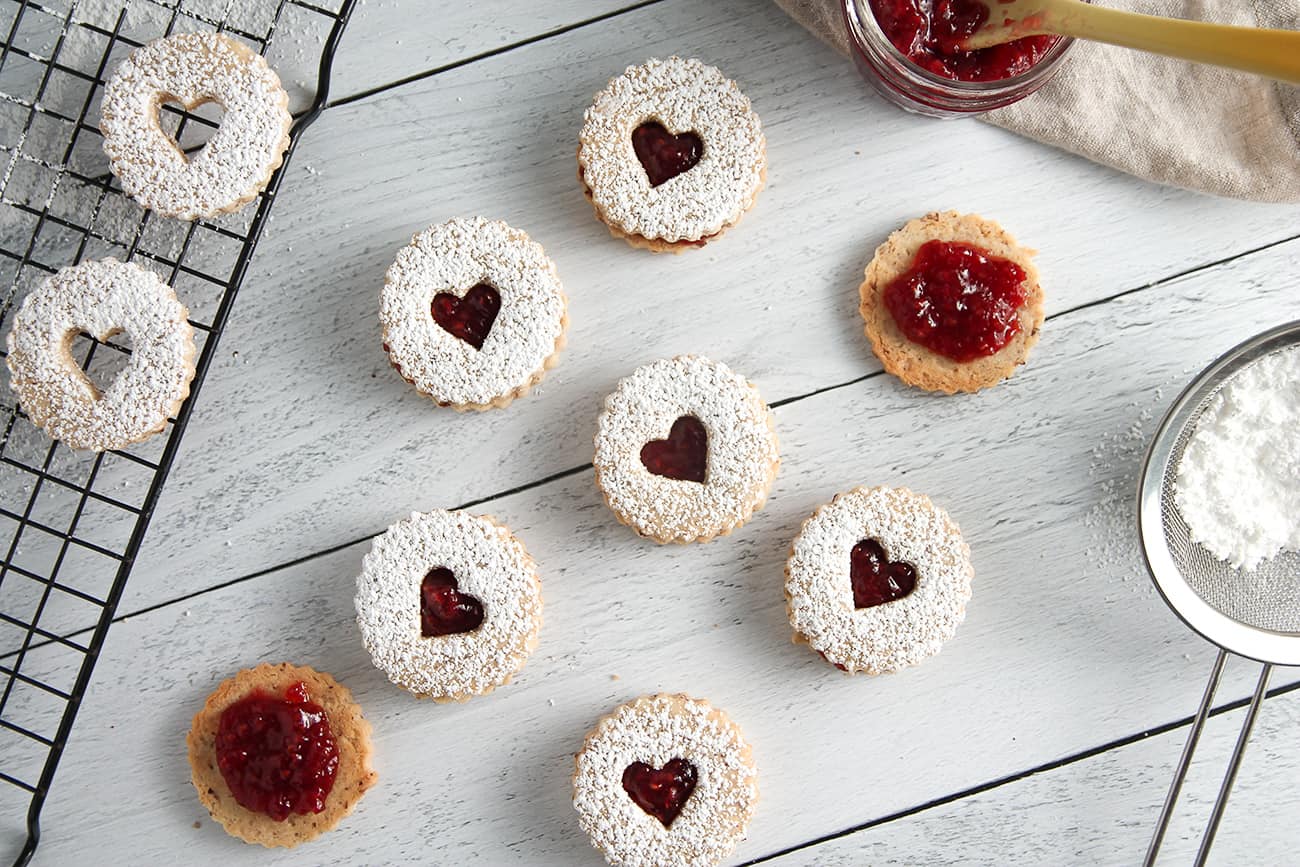 If your house is warm, try sticking a sheet pan in the freezer while you work. Then, if the dough starts to get too warm while you are rolling and cutting, you can take the sheet pan out and set it over the dough for a few minutes to firm it up.
I like to use a linzer cookie cutter to cut out my linzer cookies. They usually come with a few "window" shape options, and are an easy way to make sure you get the cut-out centered for the top cookies. They're also pretty inexpensive and useful for Stained Glass Cookies, too.
Of course, you can simply use one larger cookie cutter and make your "windows" with a smaller cutter. It's up to you! Just make sure you have an equal number of bottom (solid) cookies and top (window) cookies.
Dust your top cookies with powdered sugar before sandwiching them together with the jam for an extra pretty touch.
Raspberry Linzer Cookies will soften if you let them sit after filling, so keep that in mind if you want to fill them ahead of time. You can also make the cookies up to several days in advance and simply fill them just before serving.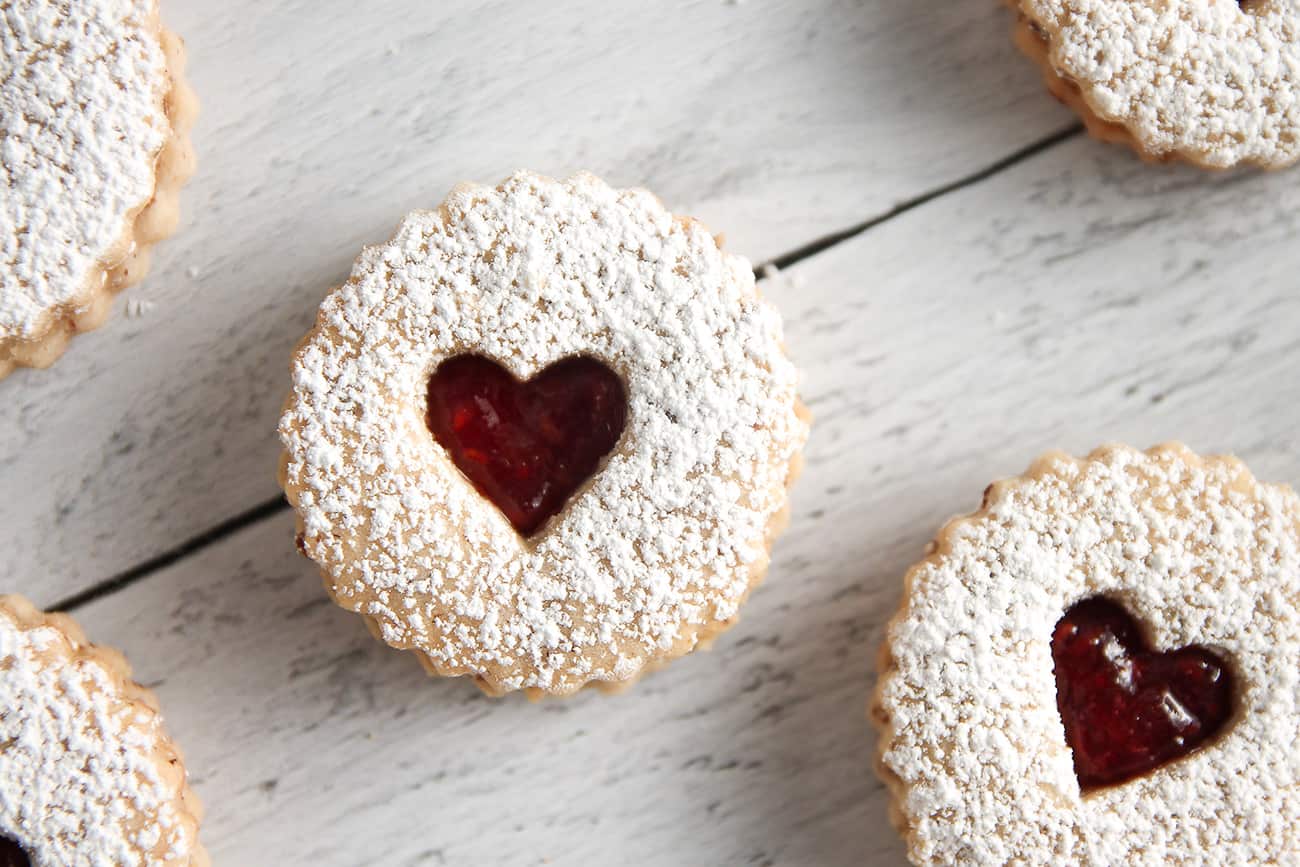 Chocolate Chip Cookie Cake from Julie of The Little Kitchen
Læsø Salted Chocolate Chip Cookies from Camilla of Culinary Adventures with Camilla
Meyer Lemon Cookies from Linda of Simply Healthyish Recipes
Soft & Chewy Gluten Free Oatmeal Raisin Cookies from Allie of Miss Allie's Kitchen
Small Batch Bakery Style Chocolate Chip Cookies Recipe from Faith of An Edible Mosaic
Chocolate Madeleines from Caroline of Caroline's Cooking
Rainbow Rice Krispie Treats from Bree of Baked Bree
Tiger Butter Candy from Melissa of MamaGourmand
Valentine's Day Gluten Free Sugar Cookies from Brianna of Flippin' Delicious
Chocolate Spritz Sandwich Cookies from Carlee of Cooking With Carlee
Pink Velvet Chocolate Chip Cookies from Jenn of Ever After in the Woods
French Butter Cookies from Rebekah of Kitchen Gidget
Brown Sugar M&M Cookies from Sara of Imperfectly Balanced Sara
mini rose cookies from Meaghan of the decorated cookie
Red Velvet Brownies with White Chocolate Cream Cheese Frosting from Coleen of The Redhead Baker
Lemon Poppyseed Cookies from Becca of Two Places at Once
Warn Dark Chocolate Melting Cups from Lisa of Snack Girl
Salted Dark Chocolate Cookies from Jessica of A Kitchen Addiction
Cherry Cordial Bundt Cake from Carolann of Apron Warrior
Nutella Stuffed Cookies from Allison of Celebrating Sweets
Strawberry Pudding Cookies from Holly of A Baker's House
Slice and Bake Whirligig Cookies from Laura of Untwisted Vintage
Raspberry Strawberry Cookies from Heather of Delicious Not Gorgeous
Chocolate Strawberry Hand Pie from Trang of Wild Wild Whisk
White Chocolate Cashew Cranberry Cookies from Brittany of Diary of a Southern Mrs.
The Best Potato Chip Cookies Recipe from Marybeth of Babysavers
Darth Vader Valentine's Day Hug Cookies to Support Cookies for Kid's Cancer from Jenn of justJENN recipes
Hazelnut Shortbread Cookies with Jam from Lisa of Garlic & Zest
Sprinkled Chocolate Shortbread Heart Cookies from Lisa of Blogghetti
Double Chocolate Chip Cookies from Dee of Meatloaf and Melodrama
Homemade Salted Nut Rolls from Shaina of Food for My Family
Valentine Sugar Cookie Cups from Melissa of Persnickety Plates
Chocolate Dipped Cashew Butter Cookies from Ashley of Fit Mitten Kitchen
Chocolate Vanilla Striped Shortbread Cookies from Denise of Chez Us
Pineapple Coconut Bar Cookies from Barbara of Barbara Bakes
Chocolate Raspberry Roll-Ups from Sue of It's Okay to Eat the Cupcake
Raspberry and Rose Meringue Parfaits from Michelle of Cup of Zest
Chocolate Chip Pudding Cookies from Jade of Jonesin' For Taste
Raspberry Thumbprint Cookies from Emilie of Finding Zest
Chocolate Mousse Cups from Miranda of Cookie Dough and Oven Mitt
Grain-Free Dark Chocolate Raspberry Tart from Gretchen of kumquat
Chocolate Shortbread Cookies from Sara of My Imperfect Kitchen
Chocolate Chip Cookie Pie from Angela of About A Mom
Honey Pistachio Shortbread from Megan of Stetted
Red Velvet Oreo Cheesecake Cookies from Nicole of For the Love of Food
Chewy Coconut Macaroon Hearts (Gluten Free) from Taryn of Hot Pan Kitchen
Chocolate Peanut Butter Valentine's Cookies from Becca of The Salted Cookie
Chocolate Caramel Pie from Stefanie of Mommy Musings
Gluten-Free Red Velvet Brownies {Dairy-Free} from Audrey of Mama Knows Gluten Free
Chocolate Raspberry Cupcakes from Erica of The Crumby Kitchen
Dark Chocolate Bourbon Coconut Cream Mousse from Lisa of Taste Cook Sip
Maple Butter Chocolate Chip Cookies from Jamie of Southern Revivals
Red Velvet Mini Layer Cakes from Gwynn of Swirls of Flavor
The Best Potato Chip Cookies Recipe from Marybeth of babysavers
Brown Butter Chocolate Chip Cookies from Kara of Kara in the Kitchen
Brown Sugar Snickerdoodles from Kristin of On the Home Front
Valentine's Gummy Hearts from April of April Golightly