Sharing is caring!
Maple Walnut Blondies are perfectly chewy and studded with walnuts for the ultimate fall treat.
I live with the Ebenezer Scrooge of desserts.
Boyfriend does not particularly like sweets. In fact, my baking escapades usually result in him crinkling his nose at me suspiciously. Rarely do they result in him eating whatever I have made.
He may as well be parading around saying, "Bah humbug."
As a baker, this can be more than a little annoying, particularly when I need a taste-tester. As an eater…hey, more for me.
In light of this situation, my friend Cindy has become my primary dessert taste-tester. Nevermind the fact that she is a personal trainer, girl can taste-test sweets like none other.
Recently, she asked me to come up with a recipe for Maple Walnut Blondies, inspired by the seasonal ones at Trader Joe's. Since she so willingly tries everything I bring her, I figured that the least I could do was provide her with a recipe for Maple Walnut Blondies so that she could make them even after they are "out of season" at TJ's.
It took me about three tries to get this one right, but in this case, I'd say that third time's a charm.
These blondies are perfectly chewy, mapley, and studded with walnuts. They're my favorite fall flavors, jam-packed into one perfect bar cookie.
Even though I shared half the batch with Cindy, I had no problem putting away the other half of these by myself, no help required.
Bah humbug indeed.
Yield: 12 blondies
Maple Walnut Blondies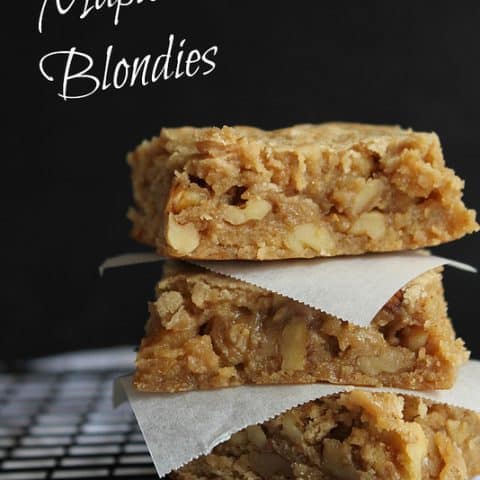 Maple Walnut Blondies are perfectly chewy and studded with walnuts for the ultimate fall treat.
Ingredients
1/2 cup rolled oats
6 tablespoons butter, melted
3/4 cup brown sugar
1/2 cup maple syrup
1 teaspoon vanilla
1 large egg
1 generous pinch of salt
1 cup flour
1 c chopped walnuts
Instructions
Preheat oven to 350 degrees. Grease an 8x8-inch pan and line with parchment paper. Set aside.
Place the oats in a food processor and pulse until coarsely ground. Set aside.
In a large bowl, whisk together the butter and brown sugar until slightly lightened in color. Add in the syrup, egg, and vanilla, and whisk until thoroughly combined.
Using a spatula, stir in the ground oats, flour, and salt until just combined. Fold in the walnuts. Pour batter into the prepared pan, spreading evenly.
Bake for 30-35 minutes, until the edges are golden and the center is set. (I tend to err on the side of under-baked with blondies, as I feel people prefer those to an over-baked blondie.)
Allow to cool in the pan, then use the parchment paper to lift the blondies out the pan. Cut into pieces and serve. Store in an airtight container for up to 4 days.
Recommended Products
As an Amazon Associate and member of other affiliate programs, I earn from qualifying purchases.
Nutrition Information
Yield
12
Serving Size
1 blondie
Amount Per Serving
Calories

252
Total Fat

13g
Saturated Fat

4g
Trans Fat

0g
Unsaturated Fat

8g
Cholesterol

31mg
Sodium

68mg
Carbohydrates

32g
Fiber

1g
Sugar

20g
Protein

4g