Cream cheese ranch roll ups are the easiest and most popular appetizer you could ever make. Rich cream cheese, ranch dressing mix and veggies all rolled into tortillas – these cream cheese roll ups will disappear in a flash at any party!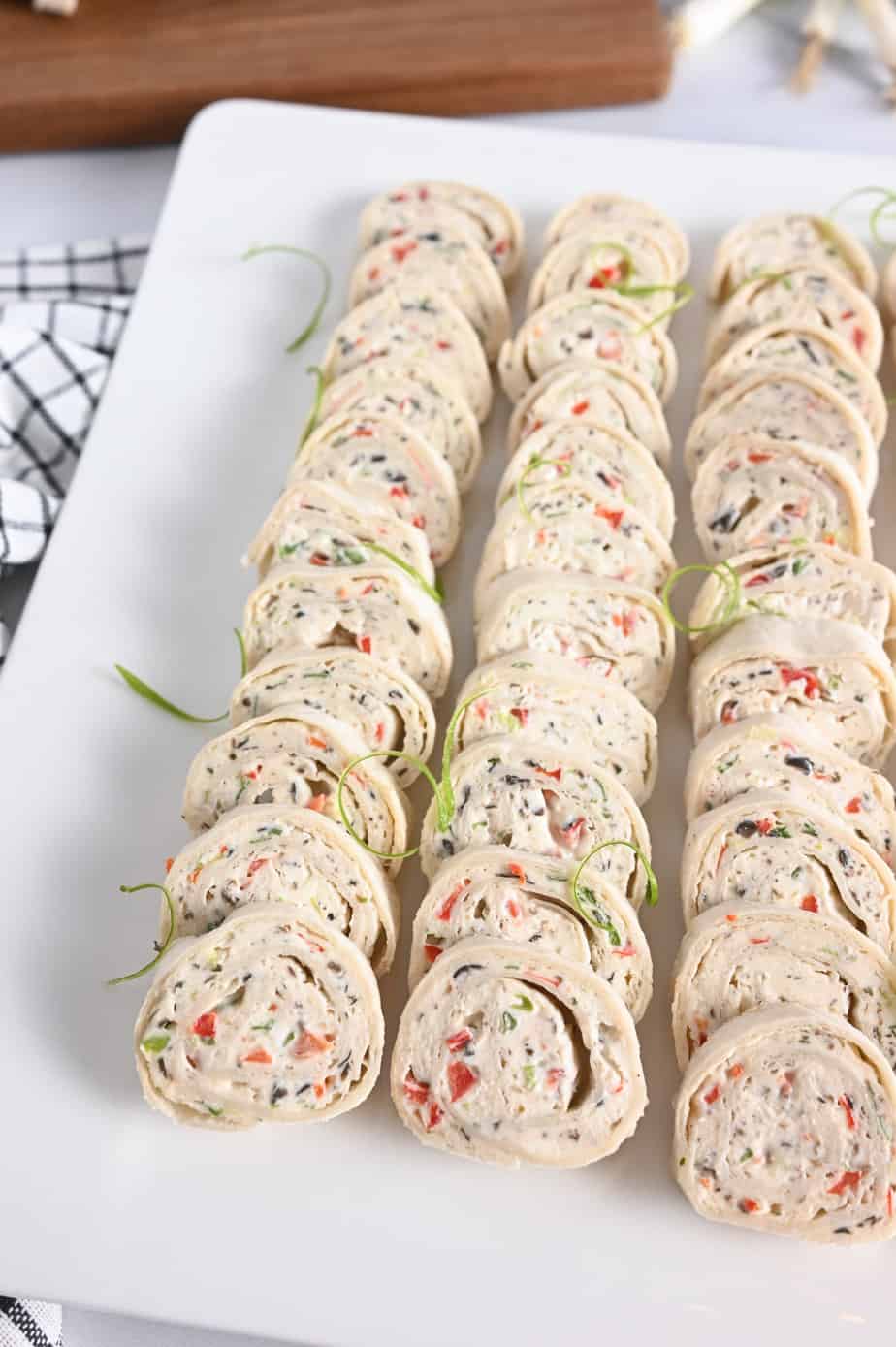 This post contains affiliate links.
Cream cheese ranch roll ups are a true Midwestern gift.
The recipe originates from my grandmother. When she gave the recipe to my mother, she said, "This is an appetizer that everyone loves. Men, women, kids…everyone adores these."
And she was right.
I have lost count of how many times I have made these over the years. Any time there is a gathering that we need to take food to, I almost always end up making a batch of these.
Sometimes I really go whole-hog and make a double batch.
Why make twice as many ranch roll ups? Because one batch will disappear almost as fast as you can slice them. I promise you that I am not exaggerating.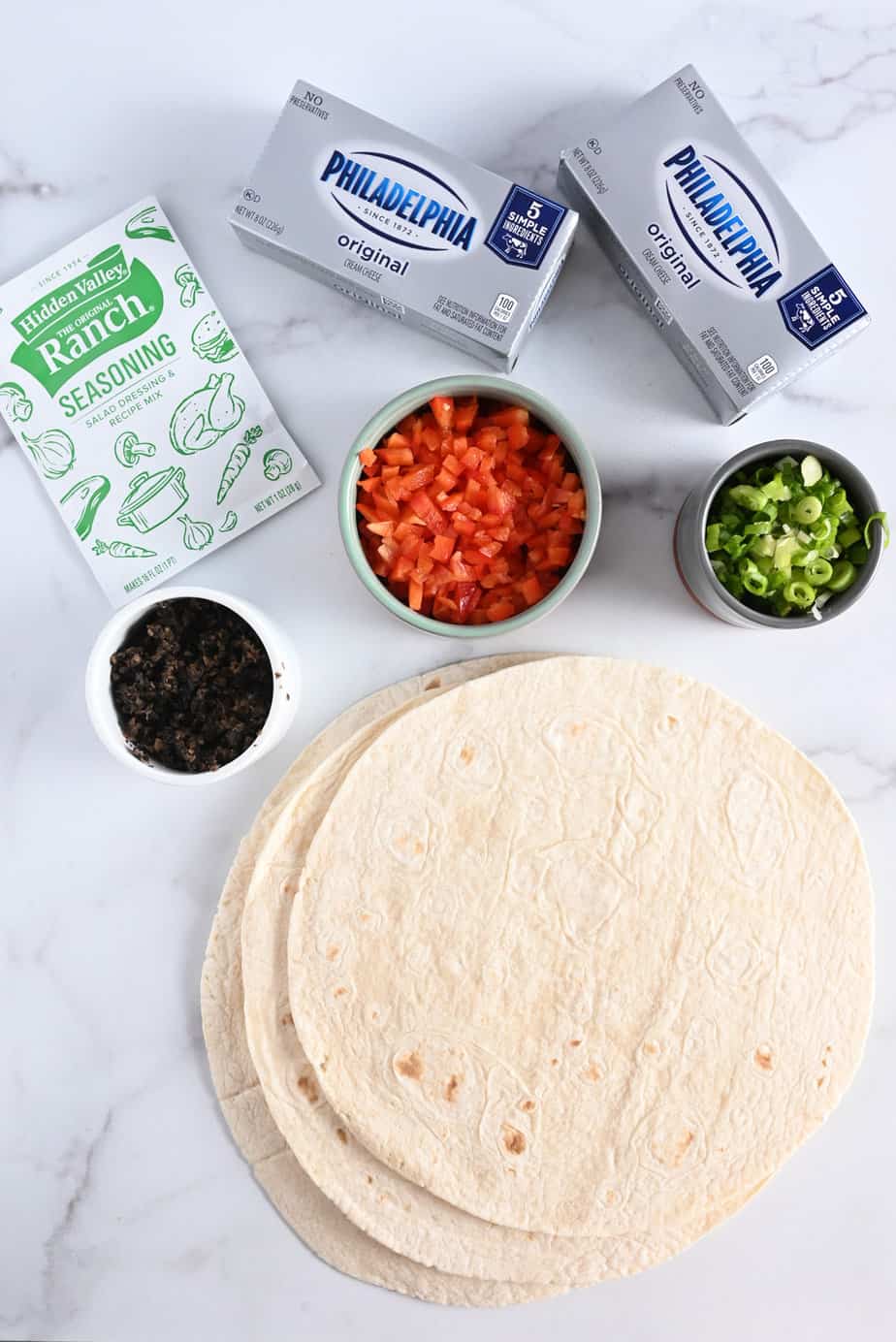 Cream Cheese Pinwheels
If you are from the Midwest, you are probably already familiar with the "pinwheel" concept. Pinwheels – tortillas rolled around some kind of filling, usually of the meat and cheese variety – are a party staple in this part of the country.
You can't throw a proper party around here without pinwheels (and probably vegetable pizza) making an appearance.
Cream cheese ranch roll ups are like cream cheese pinwheels taken to a whole other level.
As the name would suggest, the base is cream cheese mixed with ranch dressing mix and finely chopped veggies, all spread on a large flour tortilla, then rolled up (to achieve the iconic pinwheel shape) and sliced.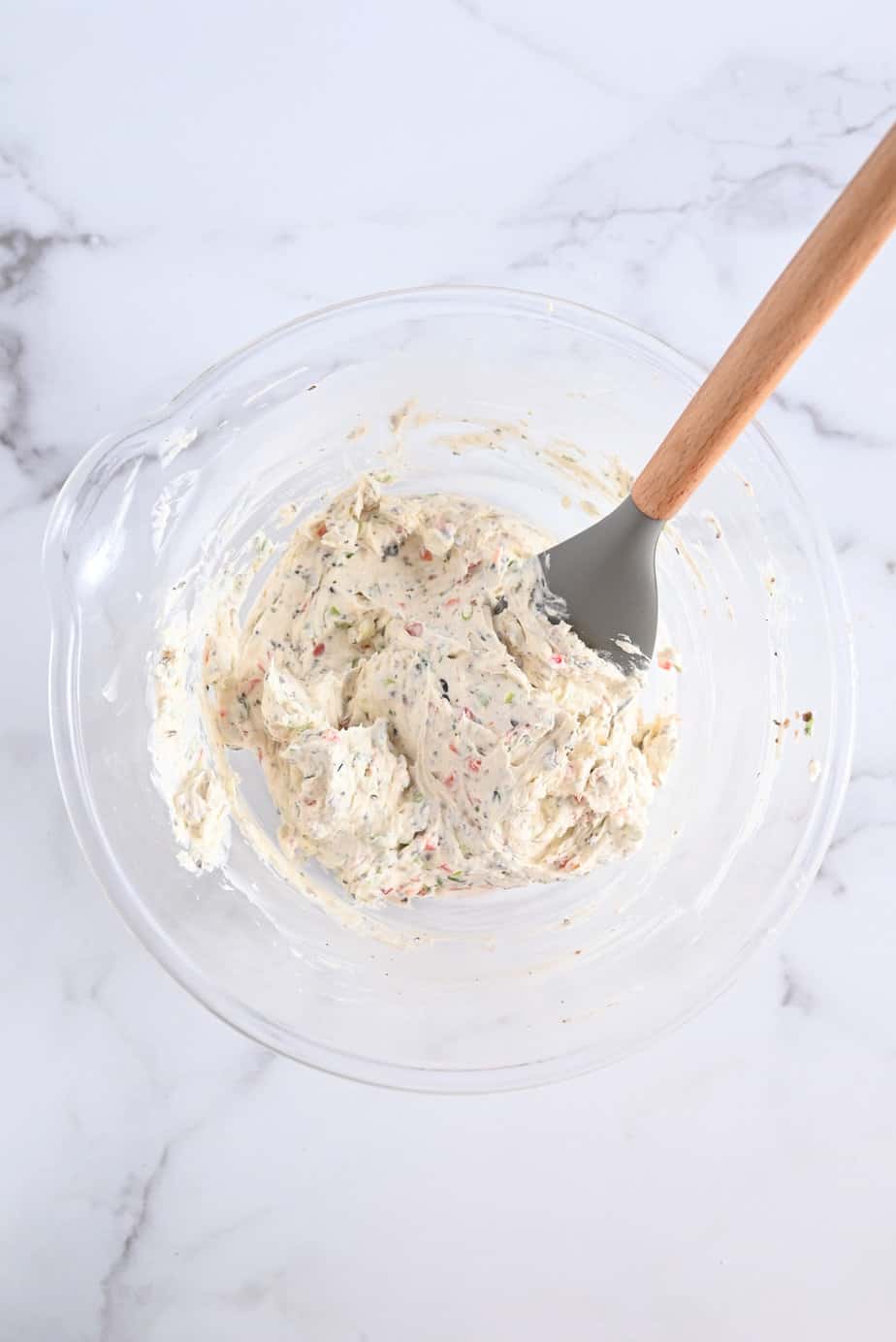 HOW TO MAKE THESE CREAM CHEESE ROLL UPS
The recipe for my Grandmother's cream cheese ranch rollups is so simple that I've had it memorized for years. Mostly so I can pick up the ingredients to make these on a whim wherever I am.
I suggest you commit the recipe to memory as well (or at least print the recipe card and keep it close at hand), because I know you'll be making these over and over, too.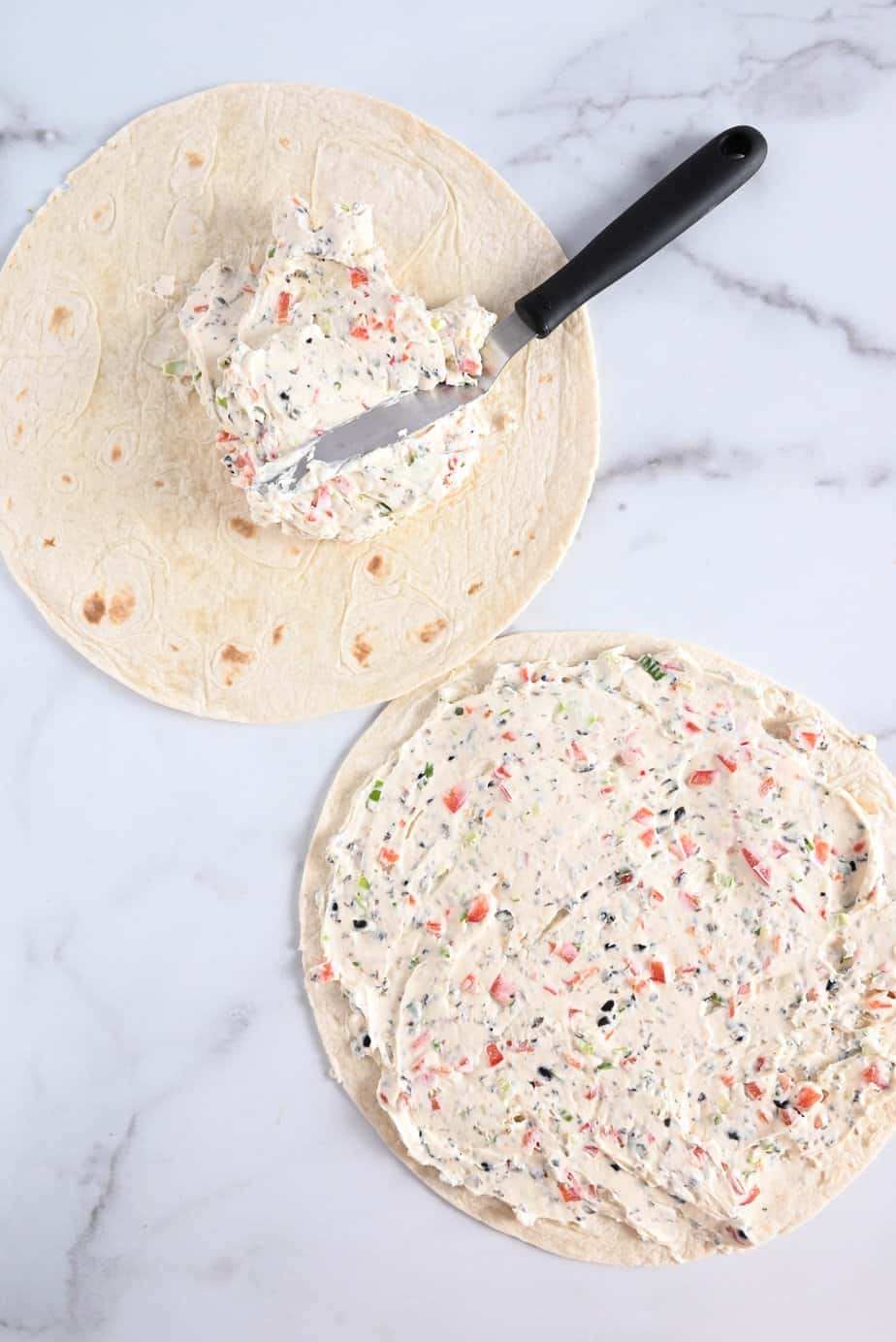 Recipe ingredients
The ingredient list for this recipe is quite simple:
2 (8-ounce) packages cream cheese, softened
1 package ranch dressing mix
generous 1/2 cup finely chopped red peppers
scant 1/2 cup finely chopped green onions
1 small (2.25-ounce) can chopped black olives
4 (12-inch) flour tortillas
If you're anything like me, the words "black olives" give you pause.
But I promise you, even if you are squarely in the anti-olive camp like myself, you will want to add them in here. They add a slightly salty tang, without actually making everything taste like black olives.
That said, I have been known to swap out the black olives for bacon in my Bacon Ranch Cream Cheese Rollups. That is absolutely a move I can get on board with.
If you would like to use Homemade Ranch Dressing Mix instead of the packaged stuff, you will want to use 3 tablespoons to equal one of the store-bought packets.
(Although I must admit to using the packets more often than not!)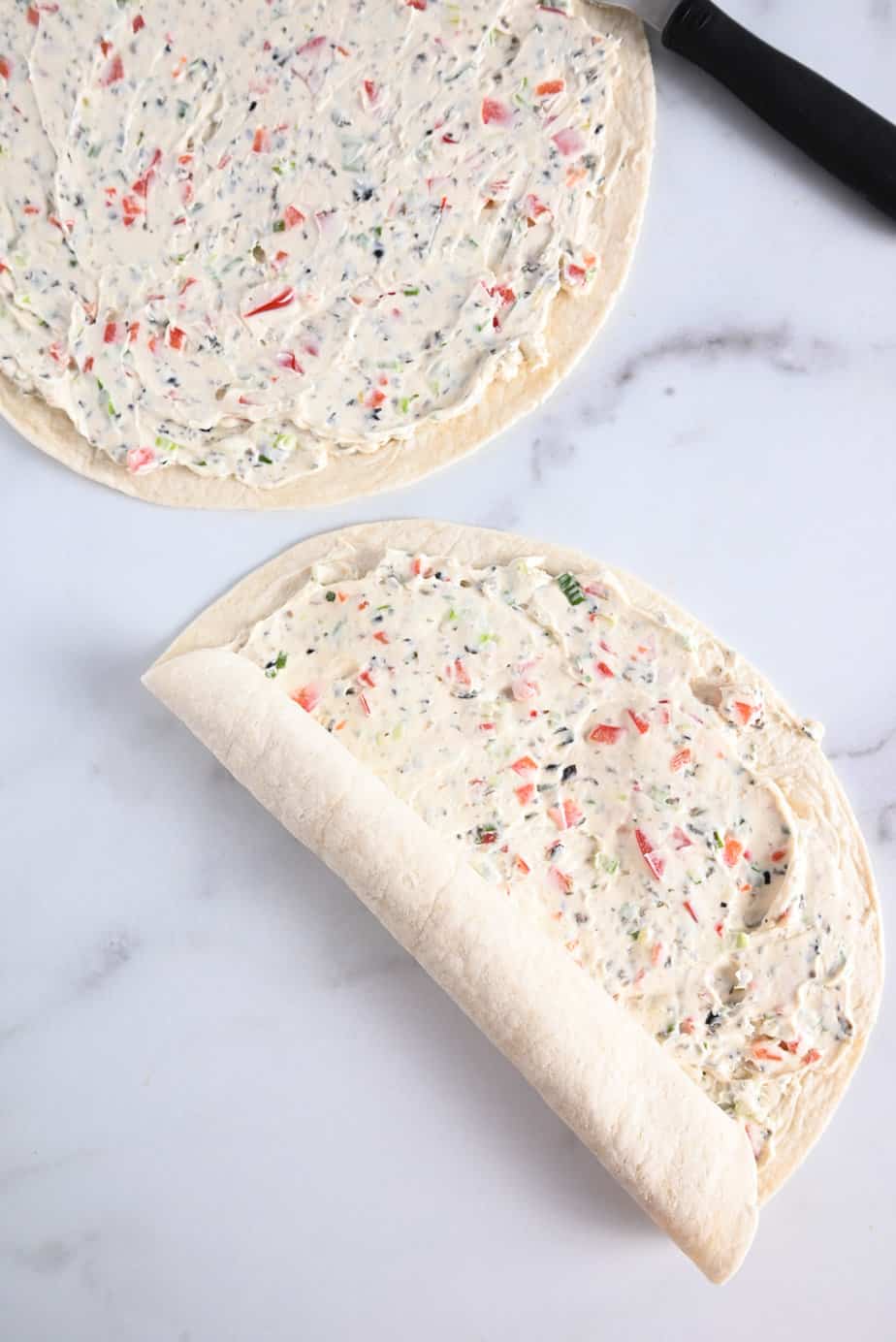 Making my ranch roll ups
The method here is so easy-peasy, anyone could make these.
In fact, they'd be a fun appetizer or snack to make with your kids! Help them with cutting up the peppers and green onions (depending on their age) and they can do just about everything else on their own.
In a bowl, combine all of the ingredients except for the tortillas. Sometimes I do this by hand, but I often use a hand mixer to quickly mix the filling together.
(If you stop here, you have an amazing cream cheese spread for toasted bagels. Just sayin'.)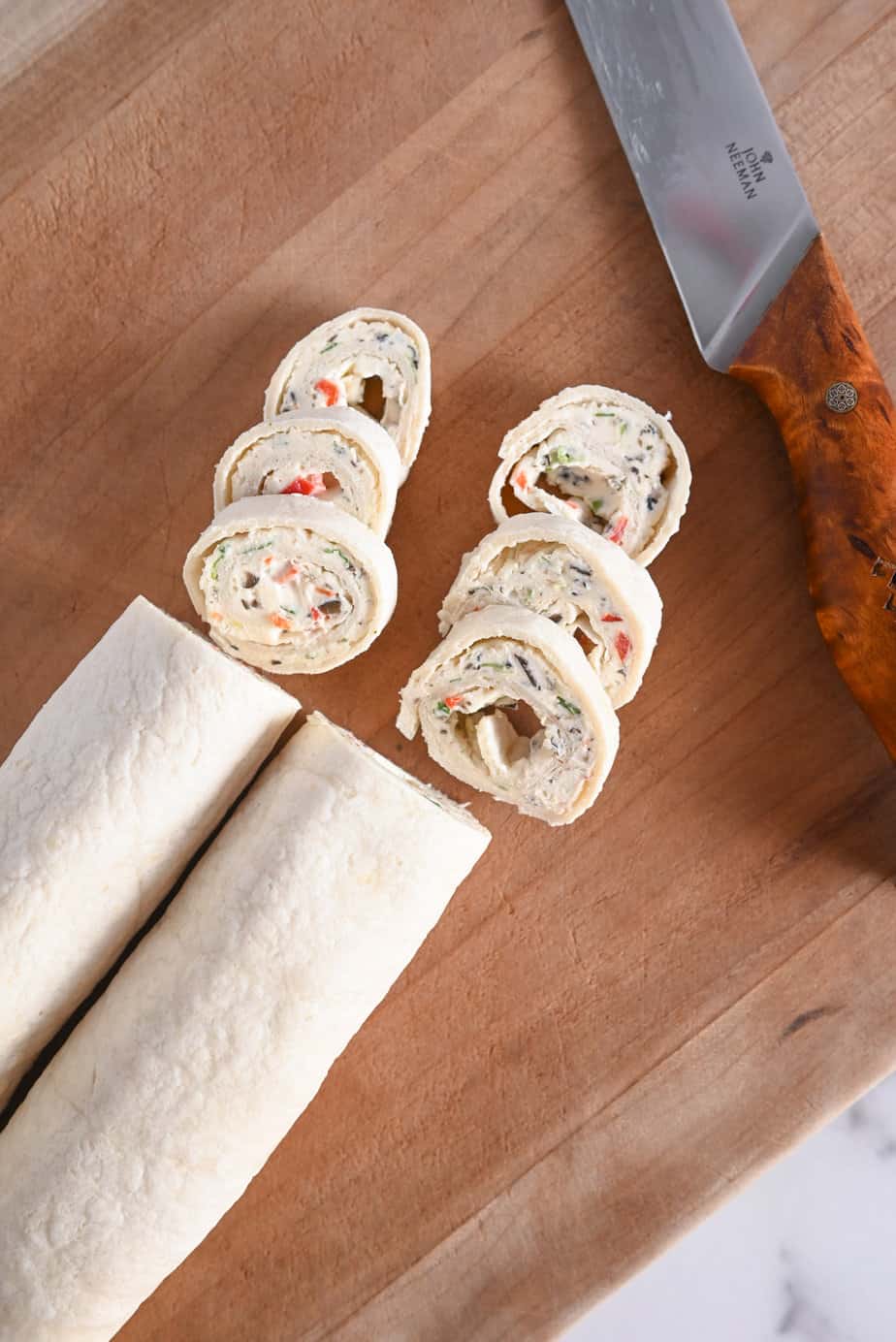 Lay out the tortillas and dollop ¼ of the filling onto each one.
Spread the cream cheese filling evenly over each tortilla, stopping just shy of the edges. Using a small offset spatula makes this really easy.
Tightly roll up each of the tortillas and wrap each one in foil or plastic wrap; refrigerate the pinwheels overnight.
Before serving, slice each roll up into ¼-inch slices. Arrange them on a platter or feed them to your ravenous family as you slice them. (Ask me how often this happens!)
(Pro-tip: The ends of the tortillas are not very pretty when sliced – since they don't make a full pinwheel – but are totally delicious nonetheless. Consider them the "chef's snack.")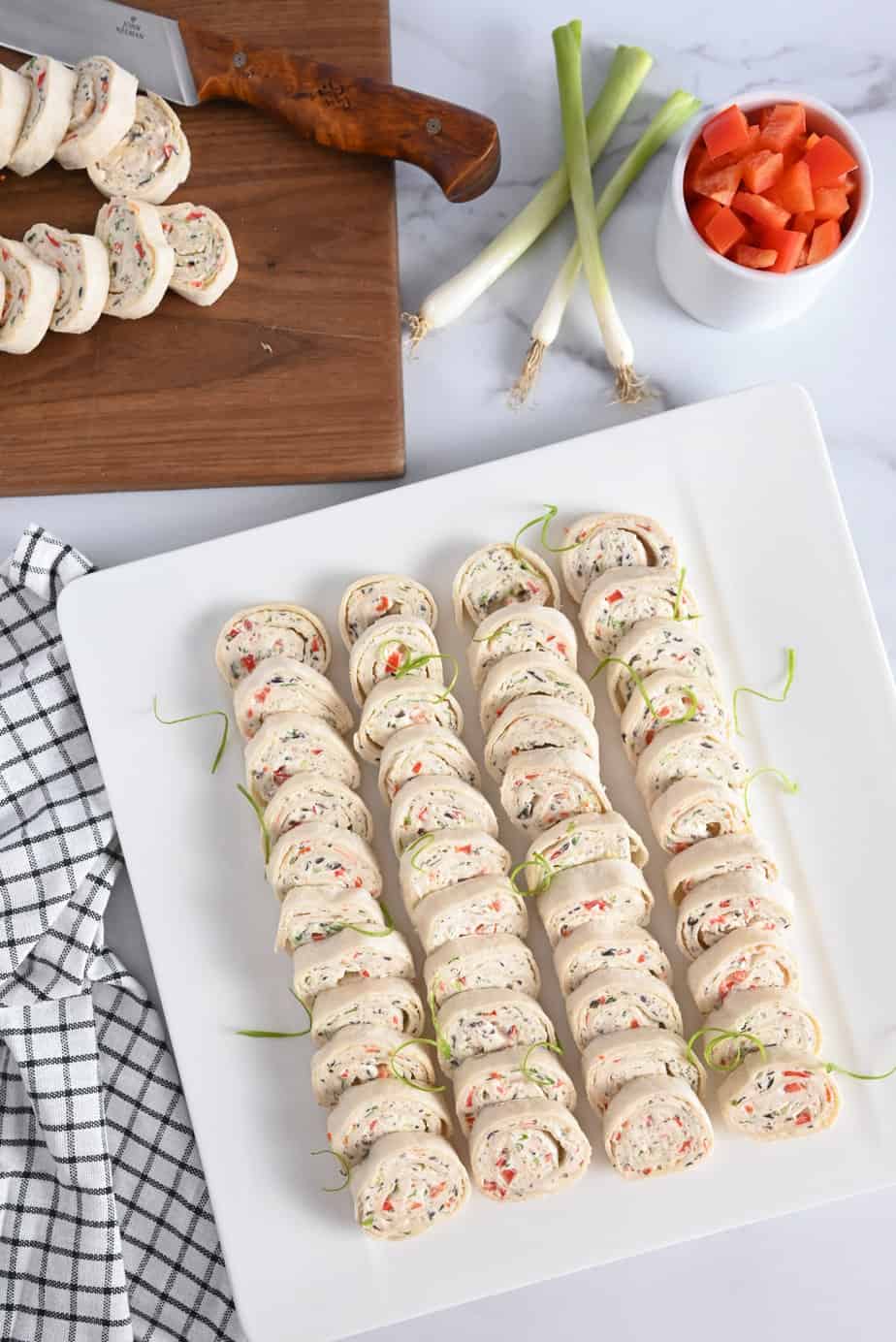 RECIPE VARIATIONS
I already shared that you can swap the olives for cooked and crumbled bacon if you'd like, but there are other variations you can use, too!
Here are a few variations that readers have made over the years:
Swapping the red bell pepper for jarred pimentos or finely diced roasted red peppers (make sure to drain them well)
Adding canned diced green chiles (again, drain them well)
Adding finely diced fresh jalapeño
Lay thin slices of ham on top of the cream cheese before rolling the tortillas
Add some finely shredded cheddar cheese
Serve them with salsa for dipping
Really, you can't go wrong here! While the original recipe will always be my family's favorite, there are so many ways to make these cream cheese roll ups your own.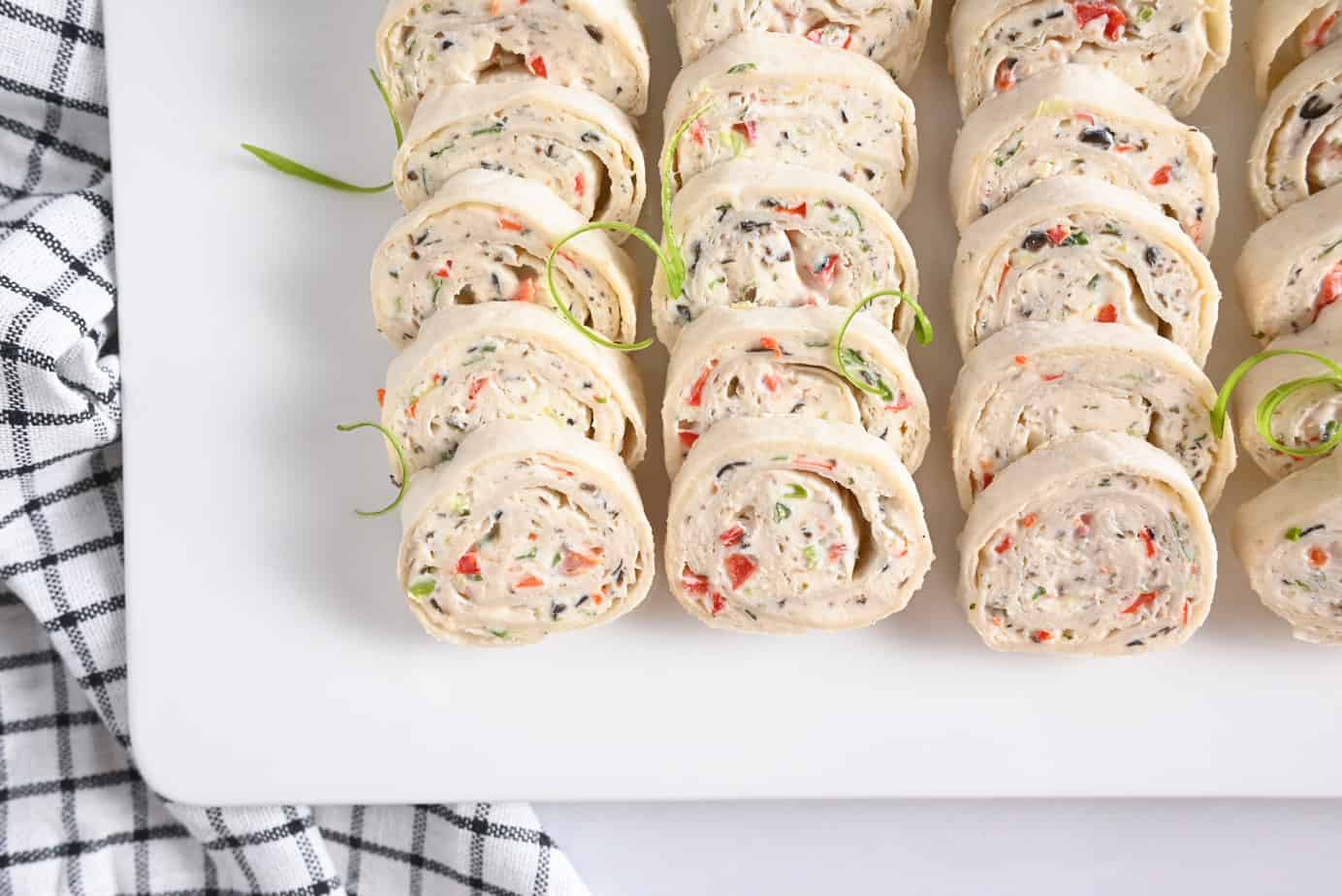 MAKE-AHEAD AND STORAGE TIPS
Since these cream cheese ranch roll ups need to chill in the refrigerator overnight, they're the perfect make-ahead appetizer.
If you want to get a jump on them even farther in advance, mix up the cream cheese mixture up to 3 days ahead of time. Store it in an airtight container in the fridge.
The night before your party, let the cream cheese come to room temp, then proceed with the recipe as written.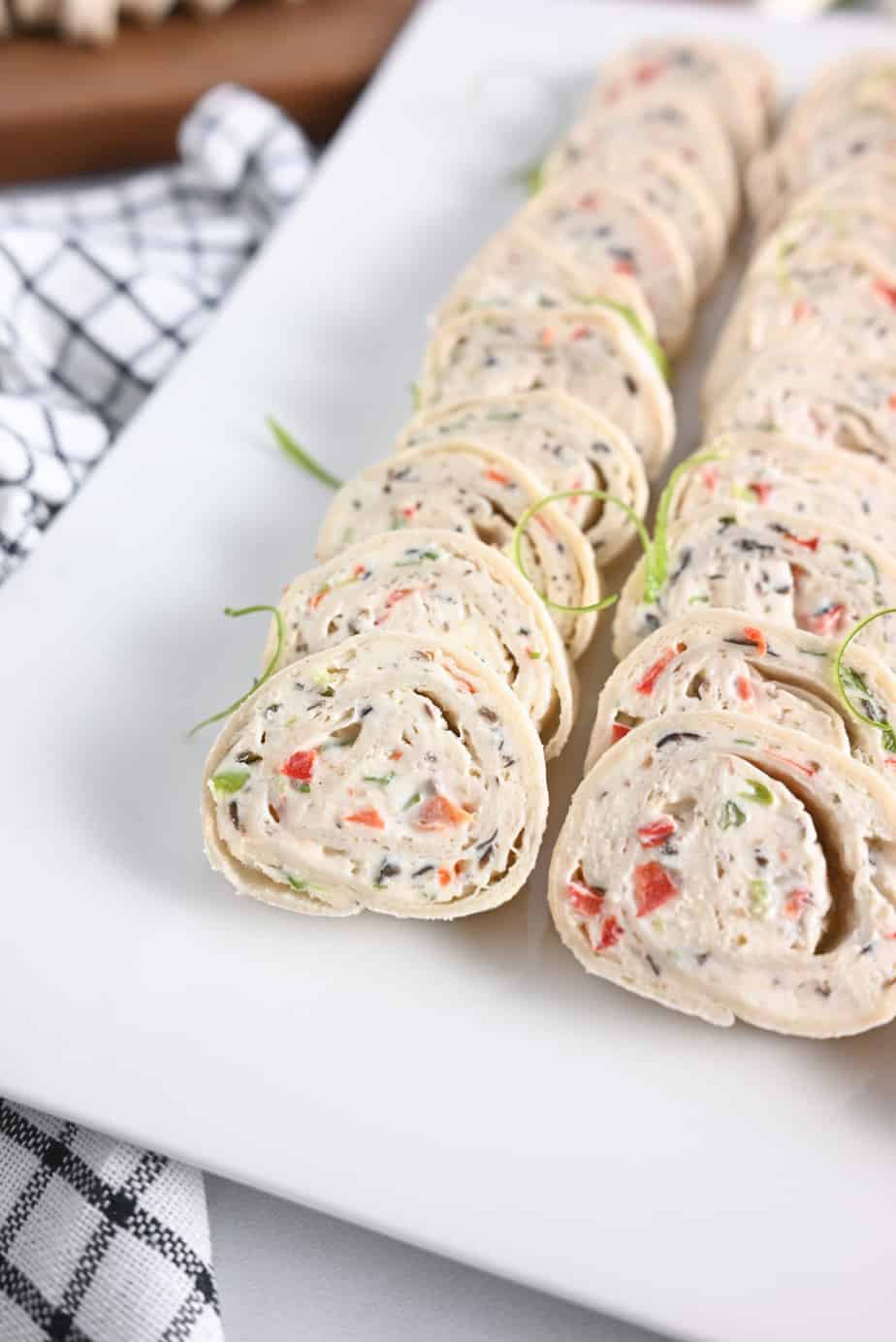 Can you freeze these roll ups?
The technical answer is yes, you could freeze these. I would put them in the freezer after rolling them; make sure to wrap them in a layer of plastic AND a layer of foil.
That said, I don't know that I'd recommend it. The tortillas are likely to get soggy after thawing and the filling might acquire an odd texture, and that's not really going to be the best experience for anyone.
If you want to make them ahead of time, try prepping the cream cheese filling a few days ahead and assembling them the night before as I mentioned above.
Go forth with your cream cheese ranch roll ups and conquer all of the parties. From holiday parties to barbecues to movie nights with your best friends, I can promise that you'll be the most popular person there for bringing these along.