Cream Cheese Ranch Rollups are the easiest and most popular appetizer you could ever make. Rich cream cheese, ranch dressing mix and veggies all rolled into tortillas – these will disappear in a flash at any party!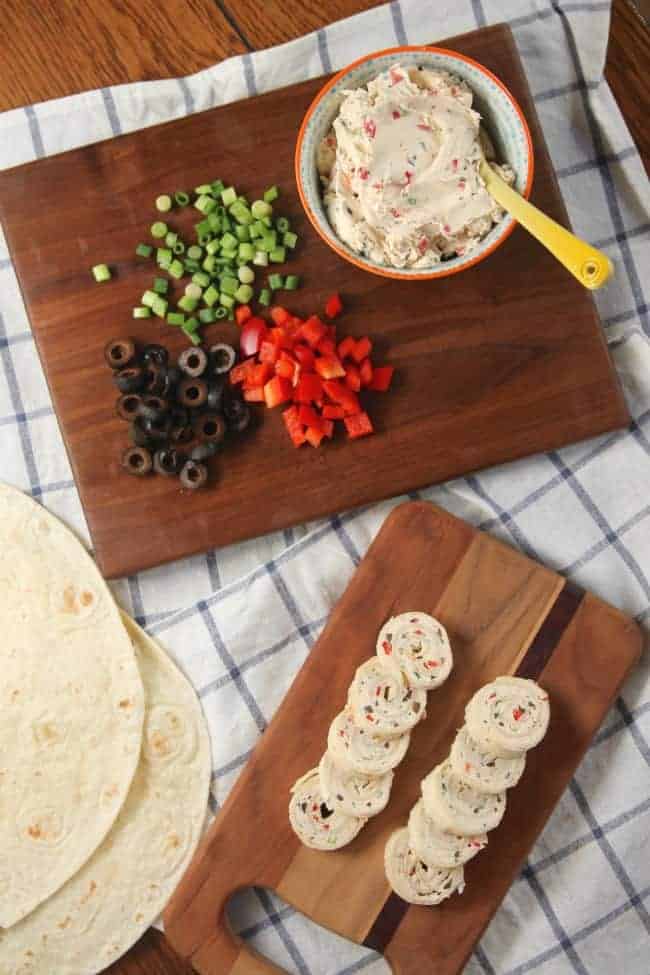 Cream Cheese Ranch Rollups are a true Midwestern gift.
The recipe originates from my grandmother. When she gave the recipe to my mother, she said, "This is an appetizer that everyone loves. Men, women, kids…everyone adores these."
And she was right.
I have lost count of how many times I have made these over the years. Any time there is a gathering that we need to take food to, I almost always end up making a batch of these. Sometimes I really go whole-hog and make a double batch.
Why make twice as many ranch rollups? Because one batch will disappear almost as fast as you can slice them. I promise you that I am not exaggerating.
Cream Cheese Pinwheels
If you are from the Midwest, you are probably already familiar with the "pinwheel" concept. Pinwheels – tortillas rolled around some kind of filling, usually of the meat and cheese variety – are a party staple in this part of the country. You can't throw a proper party around here without pinwheels making an appearance.
Cream Cheese Ranch Rollups are like cream cheese pinwheels taken to a whole other level.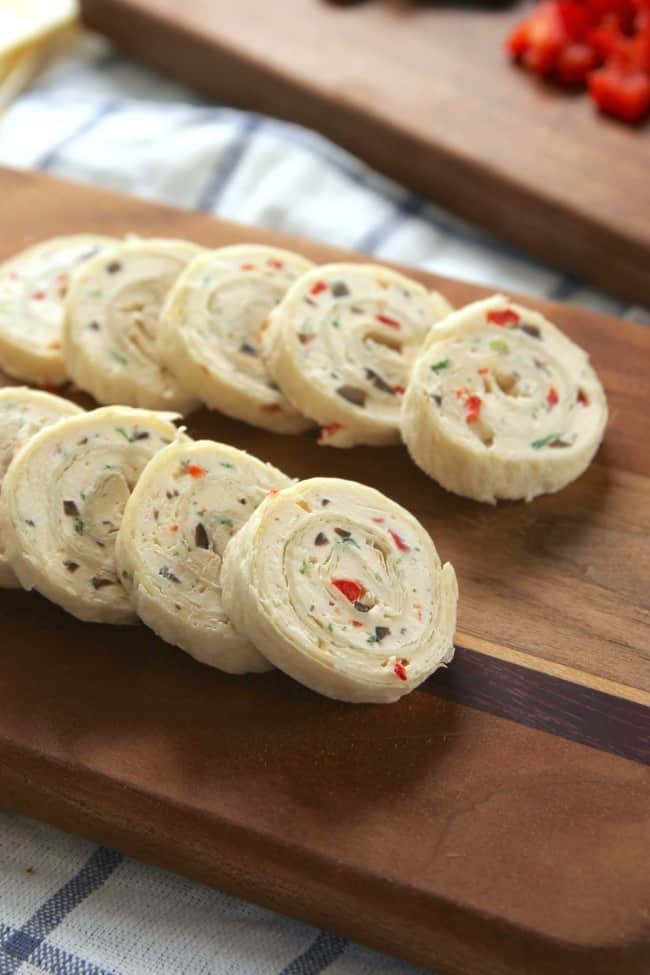 As the name would suggest, the base is cream cheese mixed with ranch dressing mix and finely chopped green onions, red bell pepper and black olives, all spread on a large flour tortilla, then rolled up (to achieve the iconic pinwheel shape) and sliced.
(Pro-tip: The ends of the tortillas are not very pretty when sliced – since they don't make a full pinwheel – but are totally delicious nonetheless. Consider them the "chef's snack.")
If you're anything like me, the words "black olives" gave you pause. But I promise you, even if you are squarely in the anti-olive camp like myself, you will want to add them in here. They add a slightly salty tang, without actually making everything taste like black olives.
That said, I have been known to swap out the black olives for bacon in my Bacon Ranch Cream Cheese Rollups. That is absolutely a move I can get on board with.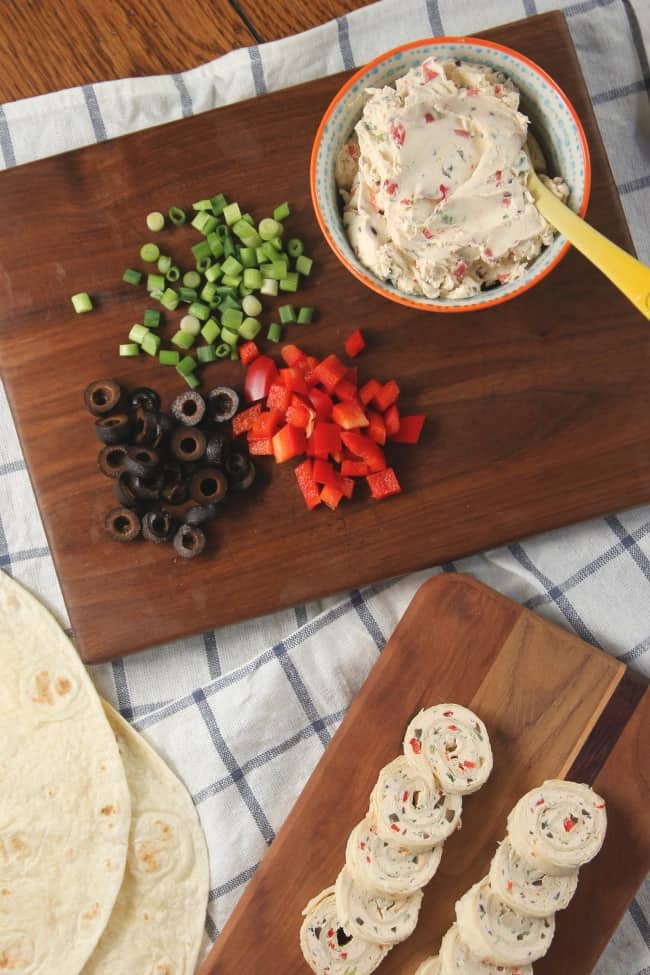 If you would like to use a Homemade Ranch Dressing Mix instead of the packaged stuff (although I must admit to using the packets more often than not), you will want to use 3 tablespoons to equal one of the store-bought packets.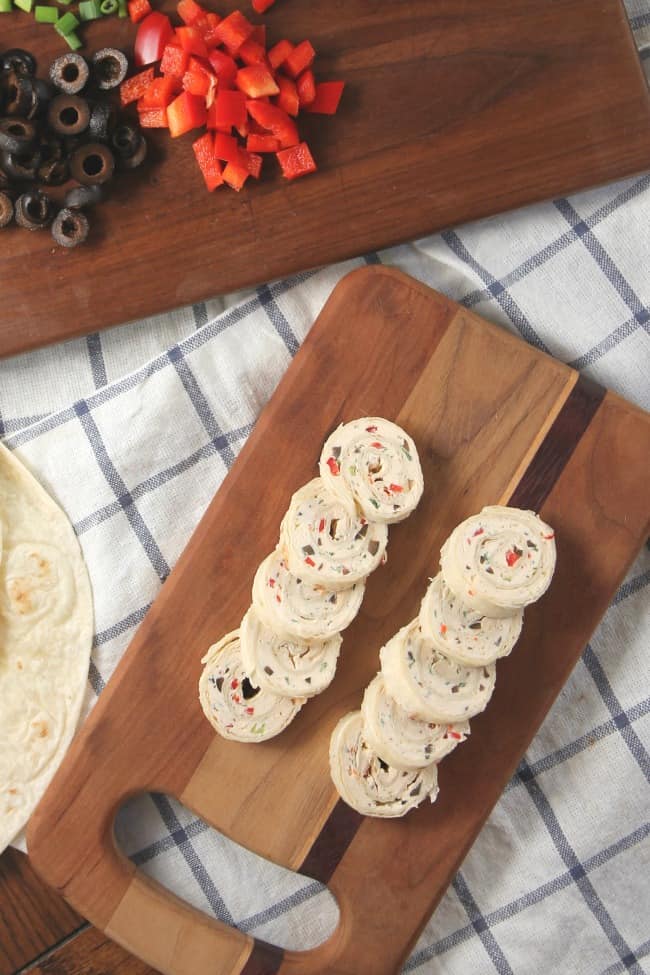 Go forth with your Cream Cheese Ranch Rollups and conquer all of the parties – from holiday parties to barbecues to movie nights with your best friends, I can promise that you'll be the most popular person at the party for bringing these along.


THIS POST MAY CONTAIN AFFILIATE LINKS. WE ARE A PARTICIPANT IN THE AMAZON SERVICES LLC ASSOCIATES PROGRAM, AN AFFILIATE ADVERTISING PROGRAM DESIGNED TO PROVIDE A MEANS FOR US TO EARN FEES BY LINKING TO AMAZON.COM AND AFFILIATED SITES.