Made with a crescent roll crust and flavored with ranch dressing mix, Vegetable Pizza is a staple party appetizer in the Midwest!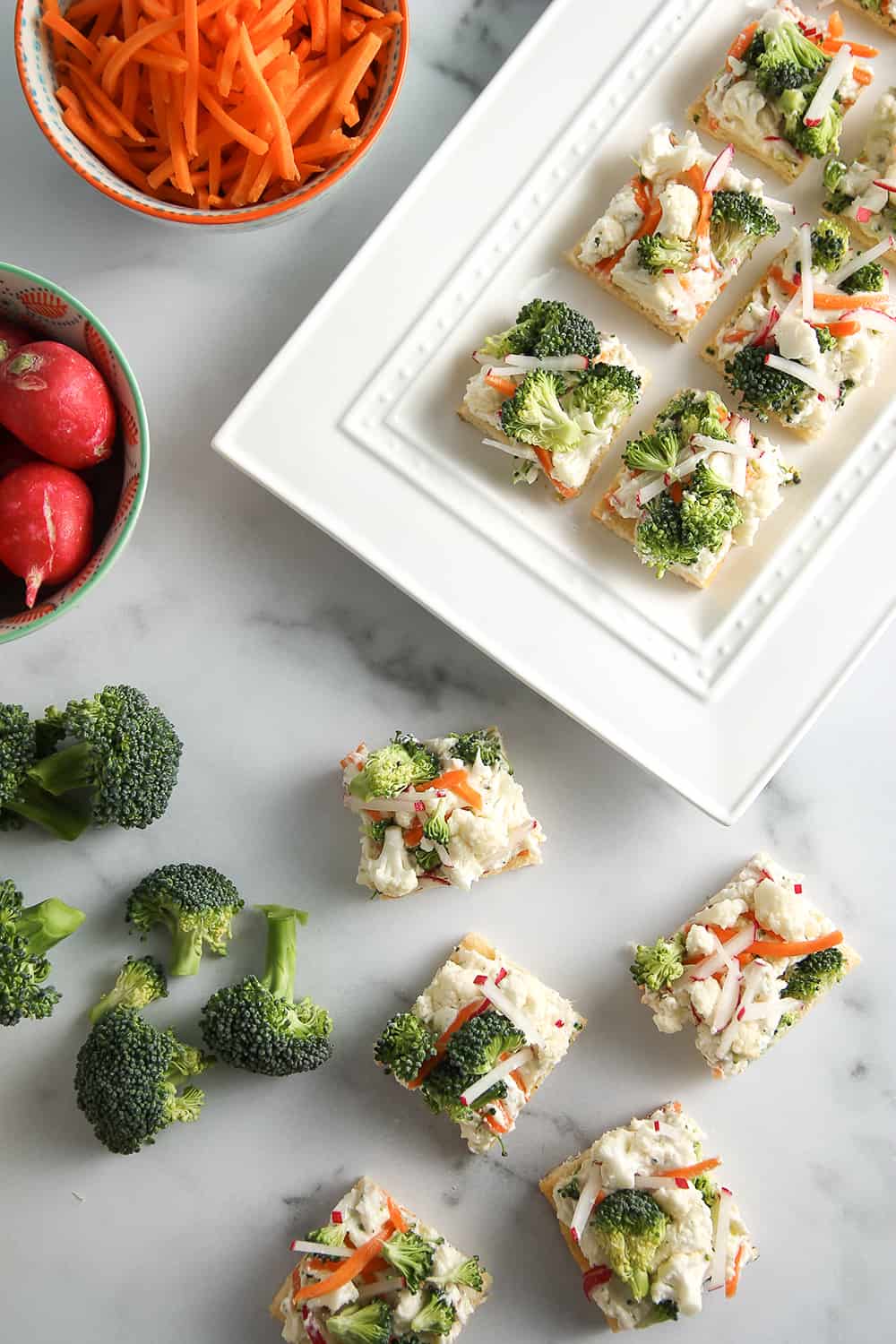 If you didn't grow up in the Midwest, you might not know: A party just isn't a party around here if the appetizer selection doesn't include ranch and/or cream cheese.
(Ideally there will also be a bowl of Chex Mix somewhere, but that's another topic for another time.)
I mean, there's a reason my Cream Cheese Ranch Roll-Ups literally disappear from any gathering where I take them. Us Midwesterners just don't know how to handle ourselves when you combine ranch and cream cheese.
Vegetable Pizza is another classic appetizer that disappears almost as fast as Cream Cheese Ranch Roll-Ups. I really don't know if I've ever been to a graduation party that didn't have Vegetable Pizza – I think it might be some kind of law to serve it at any celebration.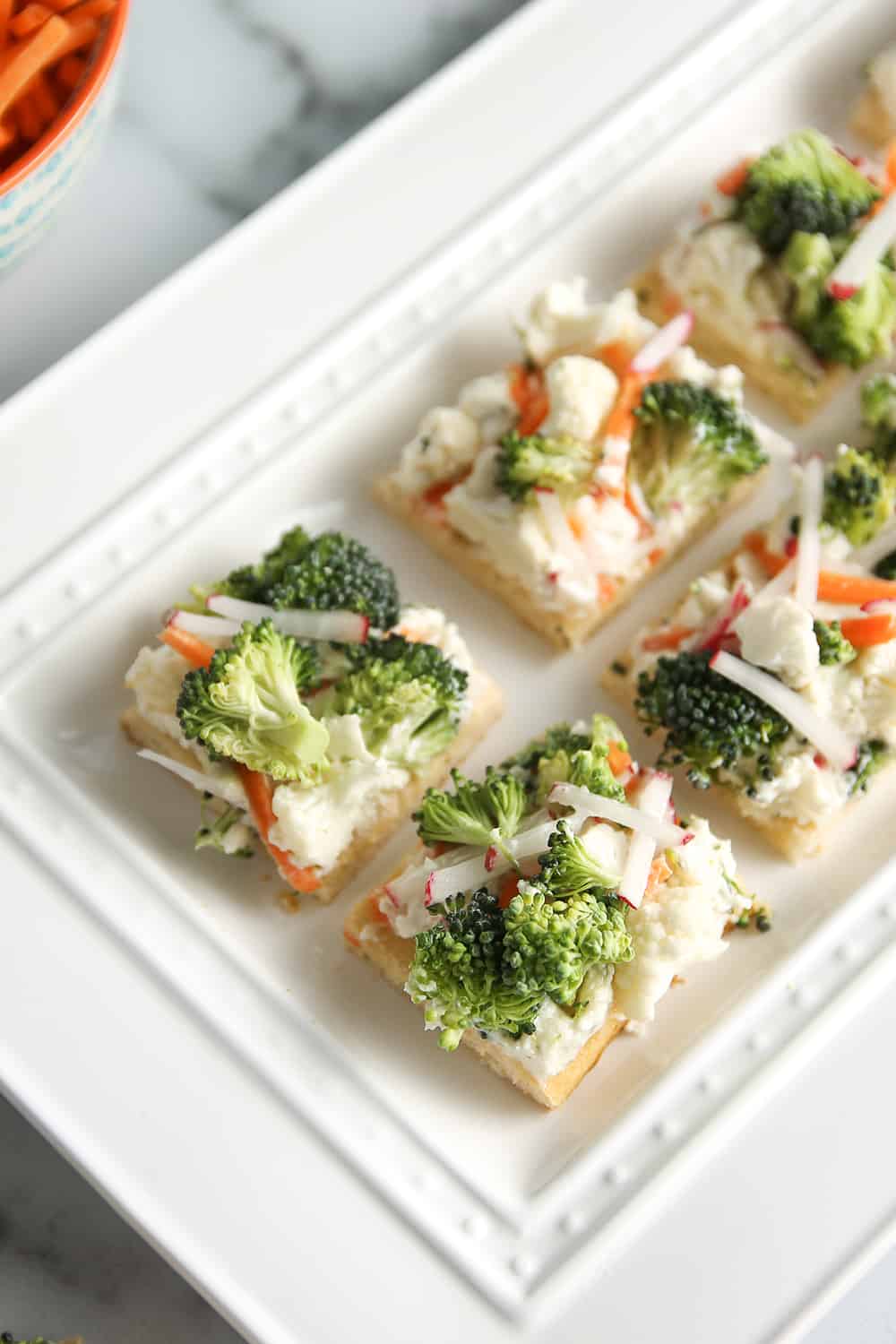 VEGETABLE PIZZA RECIPE
When I was growing up, my grandmother always made a ton of appetizers and snacks for Christmas Eve in lieu of a formal sit-down dinner. Vegetable Pizza was always on the menu and was one of the things my cousins and I beelined to first every year.
If you've never had Vegetable Pizza, you've been missing out! Vegetable Pizza (or "Veggie Pizza") is simply a crescent roll crust topped with a ranch cream cheese mixture and topped with your favorite chopped raw veggies.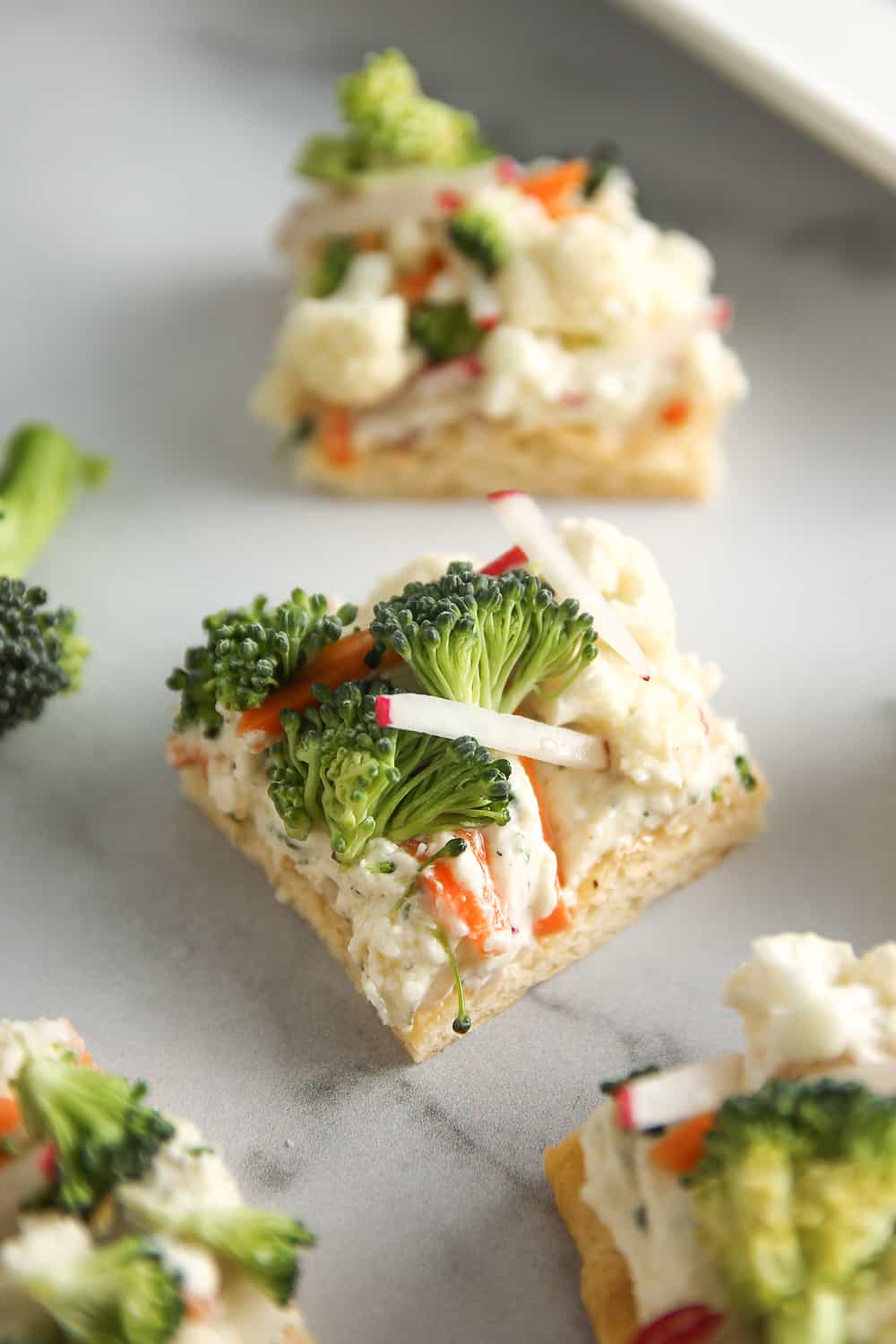 My grandmother always topped hers with cauliflower, broccoli and shredded carrots, but feel free to use any other veggies you like. Some thin ribbons of asparagus or ultra thin radish slices would be lovely here.
But really, when you're putting them on top of crescent rolls and ranch cream cheese…you can't go wrong no matter what veggies you choose.
HOW TO MAKE VEGETABLE PIZZA
The only baking needed to make Vegetable Pizza is cooking the crescent roll crust, which couldn't be easier.
Pop open a can of crescent roll dough and unroll the dough, but don't pull apart the triangles! Instead, press the edges together to make one single layer of dough and bake for until golden.
While the dough cools, mix together some softened cream cheese, a bit of mayo (another midwestern staple if we're being honest), and some ranch dressing mix.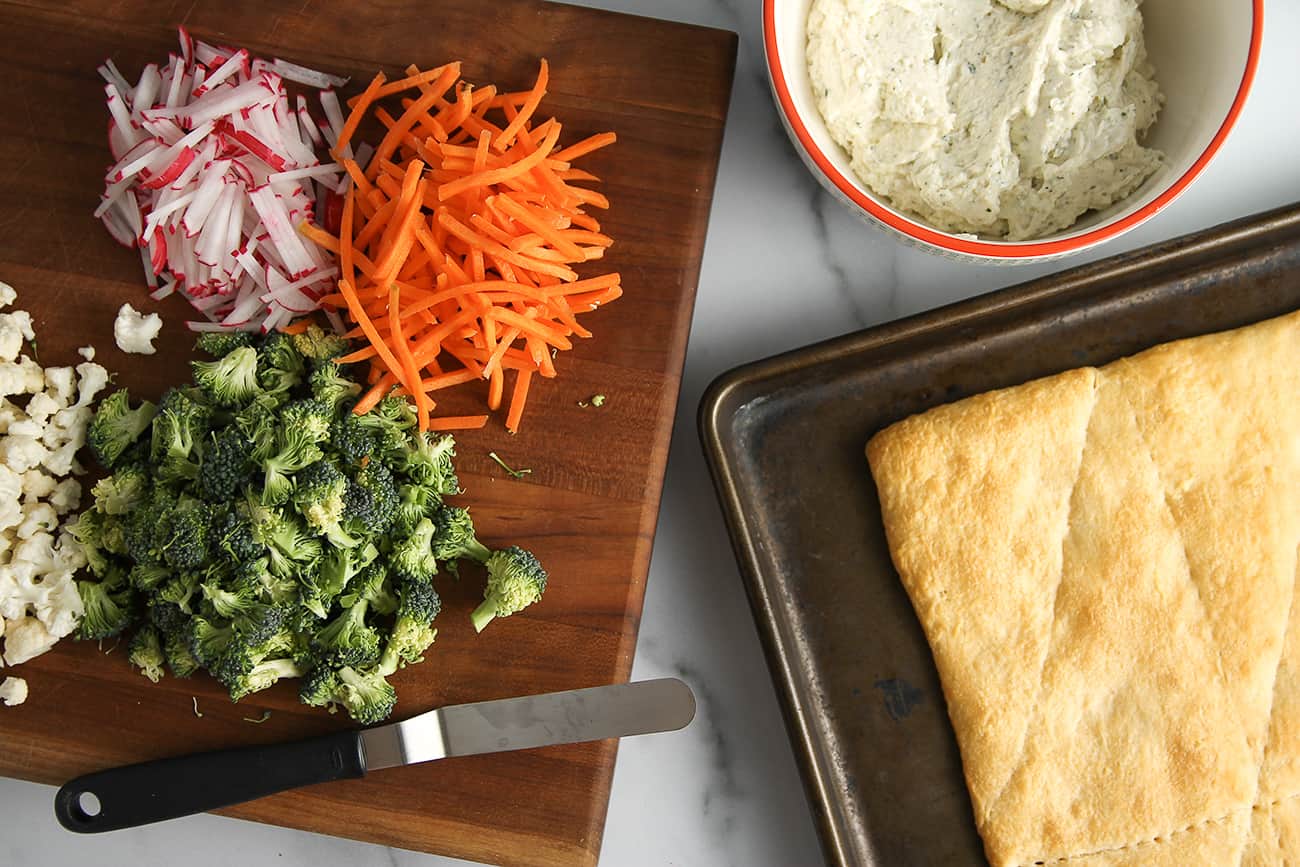 Spread the ranch cream cheese on the completely cooled dough and then top with your favorite chopped raw veggies!
Vegetable Pizza will need to chill for at least 2 hours or up to overnight, so it's great for parties or holidays where you need to make a few things ahead of time!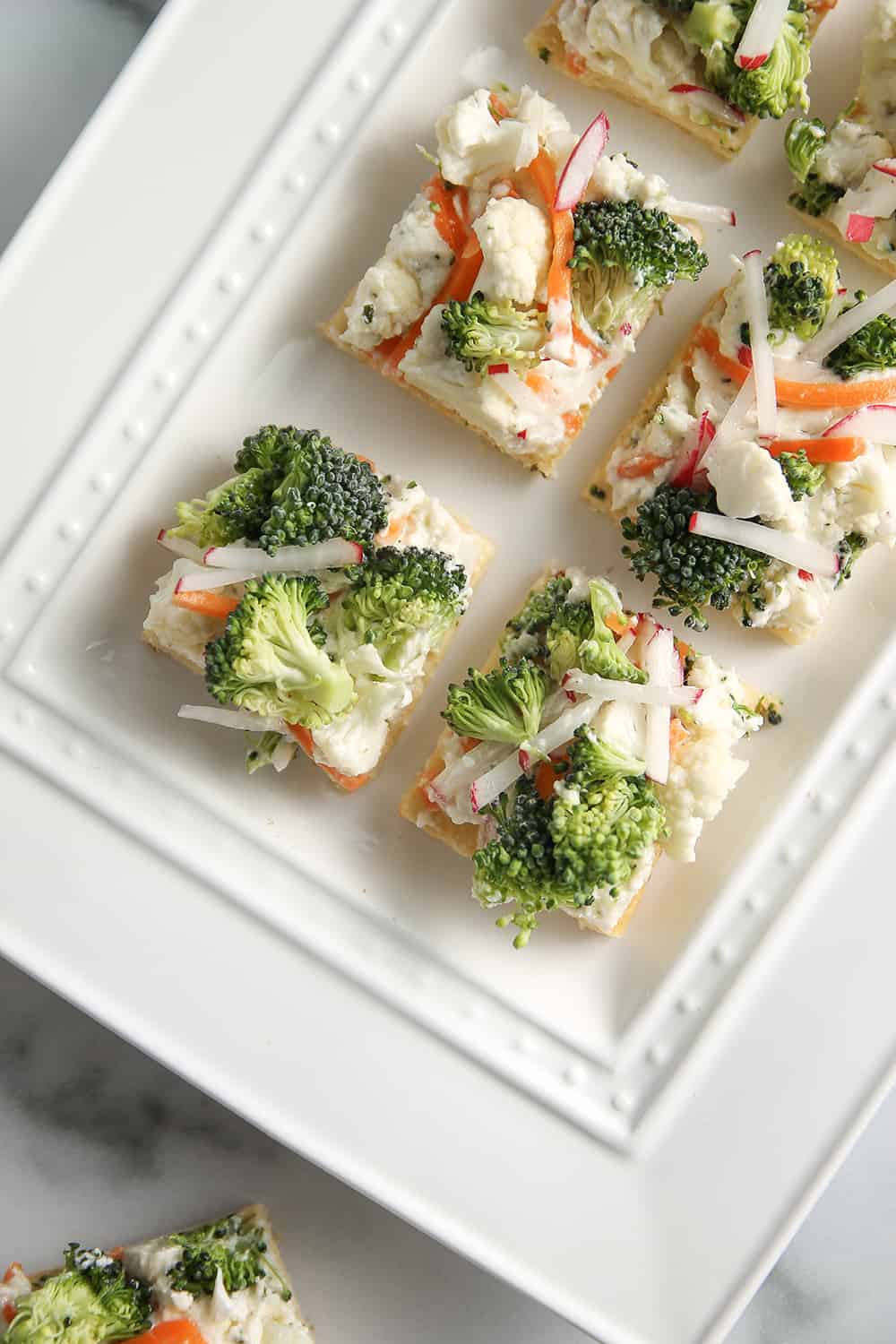 MORE EASY MAKE-AHEAD APPETIZERS
If you're in need of a few more make-ahead appetizer ideas, you've come to the right place. I happen to love easy appetizers that can be made well before a party starts!
In addition to Vegetable Pizza and Cream Cheese Ranch Roll-Ups, Pineapple Pecan Cheese Ball, Cranberry Cream Cheese Dip and Roasted Garlic Parmesan White Bean Dip are all great make-ahead appetizers.
You should also check out Charred Triple Onion Dip and Honey Mustard and Onion Pretzels.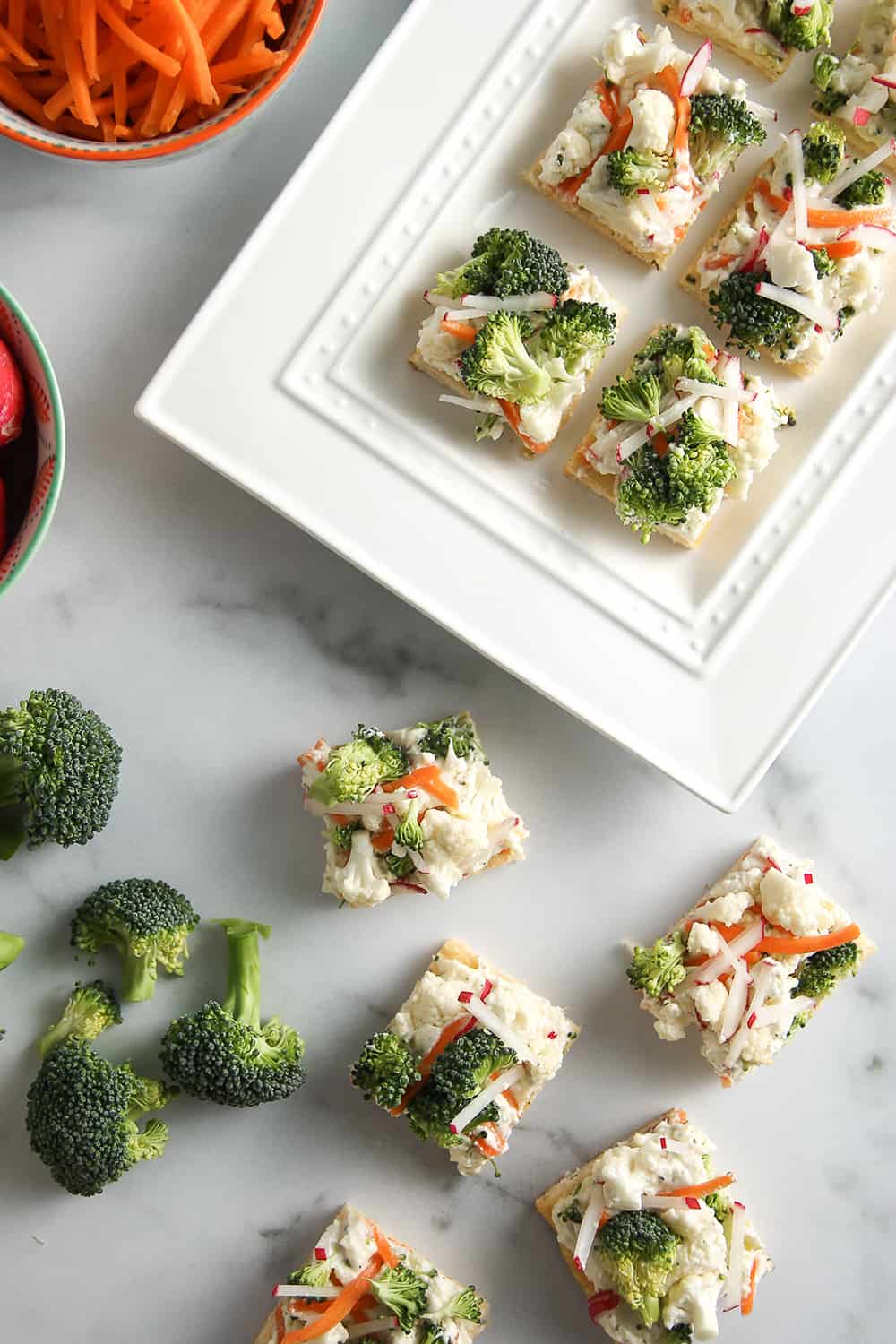 THIS POST MAY CONTAIN AFFILIATE LINKS. WE ARE A PARTICIPANT IN THE AMAZON SERVICES LLC ASSOCIATES PROGRAM, AN AFFILIATE ADVERTISING PROGRAM DESIGNED TO PROVIDE A MEANS FOR US TO EARN FEES BY LINKING TO AMAZON.COM AND AFFILIATED SITES.