Pecan Raisin Pie adds raisins to a luscious, corn-syrup-free pecan pie filling for a pie that is as unexpectedly wonderful as can be.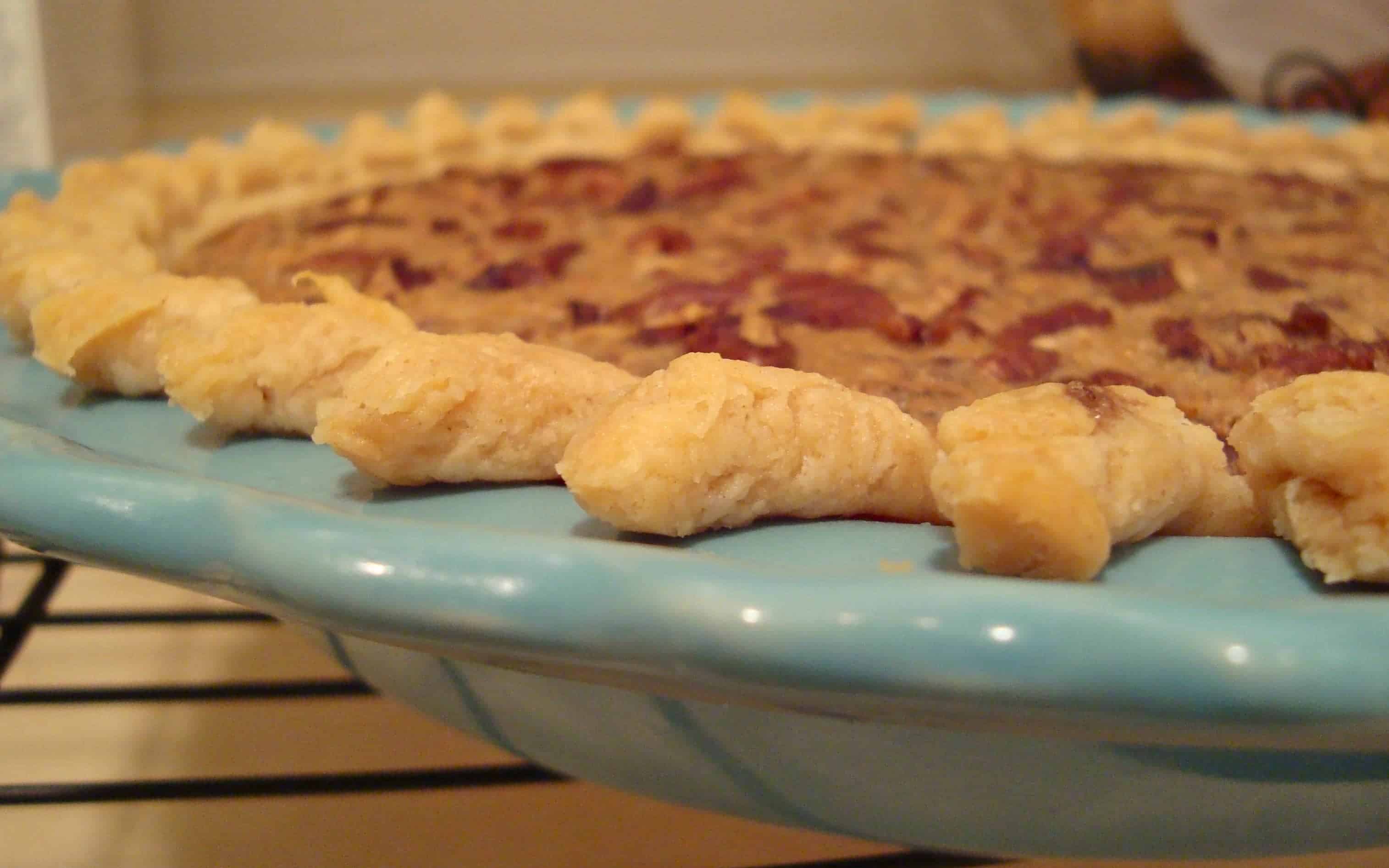 This is a story of my mother and two life-changing events.
The first occurred when she was in college and learned how to make the perfect pie crust.
The second was a number of years later when, while flipping through that year's Southern Living cookbook, she stumbled across a recipe for Pecan Raisin Pie.
I suppose you could say that the marriage of these two things – my mother's pie crust with this most unique pie recipe – pretty much altered the way my family would forever celebrate any holiday.
Now, you think I'm exaggerating.
But no.
I'm not.
Seriously, people, this pie will revolutionize your world.
I am certainly not exaggerating when I tell you that my mother is not allowed in the house at Thanksgiving or Christmas if she does not at least have the ingredients for this pie with her. Who makes this declaration? Her little brother.
Yes, my uncle – a grown man – reverts into a pouting 7-year-old if he does not get his pie. But not just any pie; it must be THIS pie. It is also the pie that somehow, over the years, has become my birthday pie – who needs mediocre cake when you can have PIE?!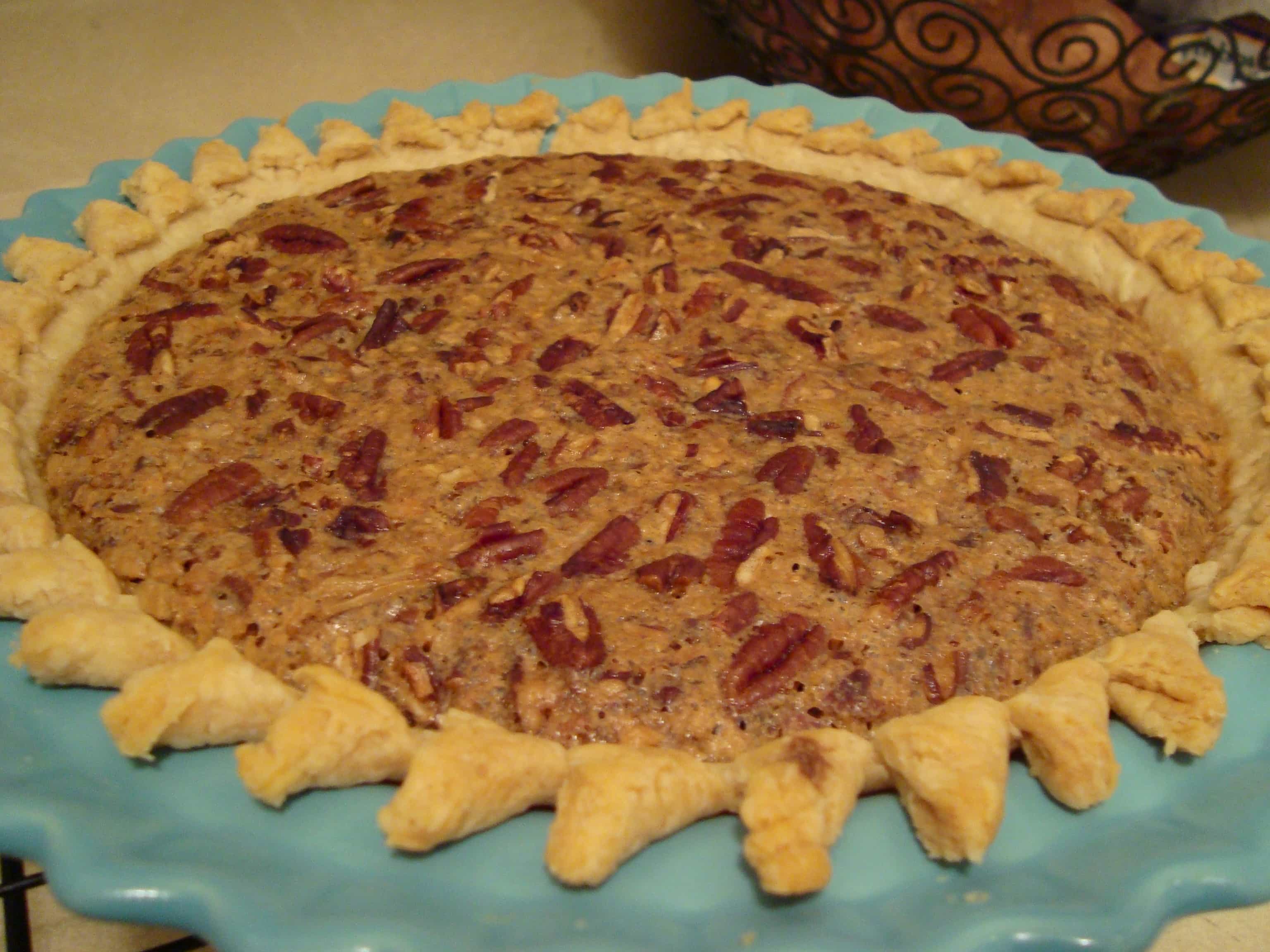 So really, what is so spectacular about this pie? Isn't it just like any other pecan pie recipe?
Well, in short, no.
Firstly, this recipe does not use corn syrup, which is a major ingredient in most pecan pie recipes. The result is that this pie, while still being rich, does not have the heavy stickiness that so often occurs with pecan pie.
Secondly, there is something about the addition of raisins in this filling that creates an element of perfection that you never realized was missing before. The crunchy, toasty pecans pair perfectly with the chewy fruitiness of the raisins; combined with the silky, buttery filling and a perfectly flaky crust…well, say goodbye to pie as you once knew it.
You're going to be ruined after one bite. Just like my uncle.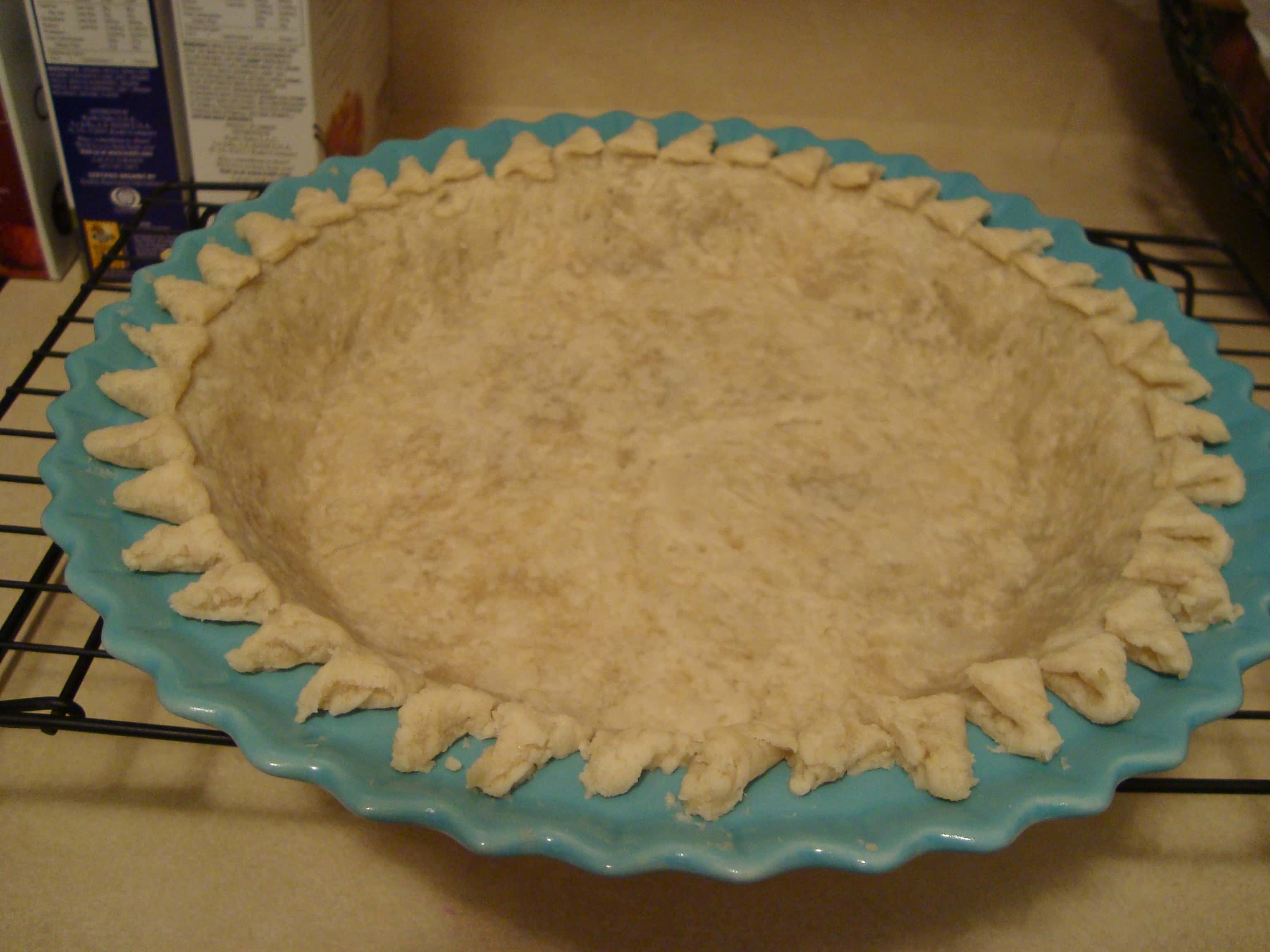 Now, I would like to take this opportunity to tell you that there is absolutely NO SHAME in using a pre-made pie crust here.
Can I tell you what brand is the best and is going to taste most like a homemade crust? Honestly, I can't. Primarily because as long as I have been alive, Momma has been making homemade crusts and the men in our family (I am including my father in this as well as my uncle) would disown her if she tried to pass off ANY bought crust as homemade (we're serious about our pie around here).
But by all means, you do what you need to do. If that includes giving my mom's crust recipe (included below) or my Flaky Tender Pie Crust a try, go for it! If it means making best friends with the Pillsbury Doughboy, I promise I won't tell anybody.
Regardless of your decision on the crust issue, you need to add this pie to your menu this Thanksgiving. Not "should" add or "it would be a good idea" to add; no, you NEED to make this pie. Ok? Good. Glad we got that settled.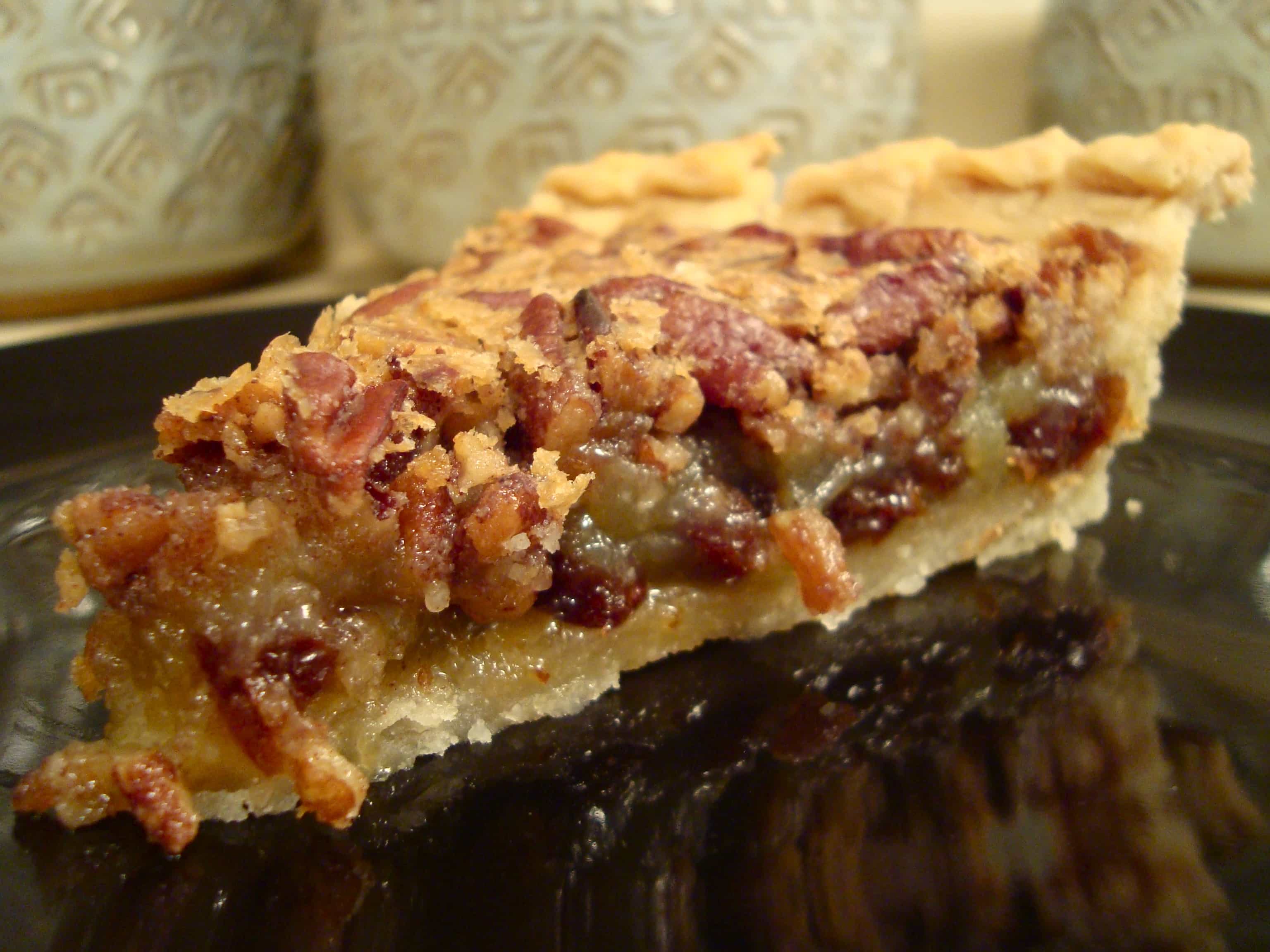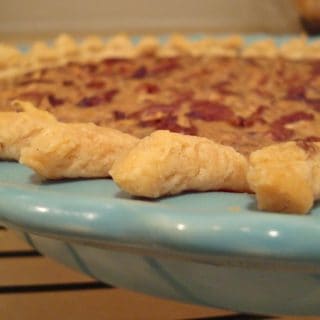 Ingredients
For the pie:
Pastry for 9-inch pie

recipe below

1/2

cup

butter

melted

1 1/2

cups

sugar

3

eggs

beaten

2

tablespoons

vinegar

1/2

teaspoon

cinnamon

2/3

cup

raisins

1/2

cup

chopped pecans

1

teaspoon

vanilla extract
For my mother's pastry:
1 1/2

cups

sifted all purpose flour

1/2

teaspoon

salt

1/2

cup

shortening

4

tablespoons

ice cold water
Instructions
To make the pie:
Preheat oven to 450 degrees.

Roll pastry on a lightly floured surface and place in 9-inch pie plate. Prick bottom and sides of pastry with a fork. Bake for 3-5 minutes and remove from oven. Cool.

Lower oven temperature to 350 degrees.

Combine butter and sugar in a saucepan; cook over low heat, stirring constantly, until sugar dissolves. Cool 5 minutes. Stir in eggs and next five ingredients. Pour into prepared pastry shell. Bake for 30 minutes or until pie is set.
To make a perfect pie crust:
Mix flour and salt. With a pastry blender, cut shortening into flour until pieces are the size of small peas. Sprinkle in water. Stir dough with a fork until mixture barely comes together - too much stirring makes a tough crust! Lightly flour board or wax paper. Turn dough onto board and flatten slightly. With a lightly floured rolling pin, roll from the center to outside in all four directions. Lift rolling pin as you get to the edge of dough. Roll until 1 inch larger than pie pan. If baking unfilled, prick pastry well with a fork.

Bake at 450 degrees for 8-10 minutes (unless otherwise directed in your pie recipe).
Notes
This pie crust recipe is rather different than most pie crust recipes by which people swear. Aside from using shortening instead of butter, it does not call for any time to chill. The key here is DO NOT overwork your crust and DO practice. The perfect pie crust is something that takes practice, so keep at it and don't get discouraged.
From Southern Living 1987 Annual Recipes