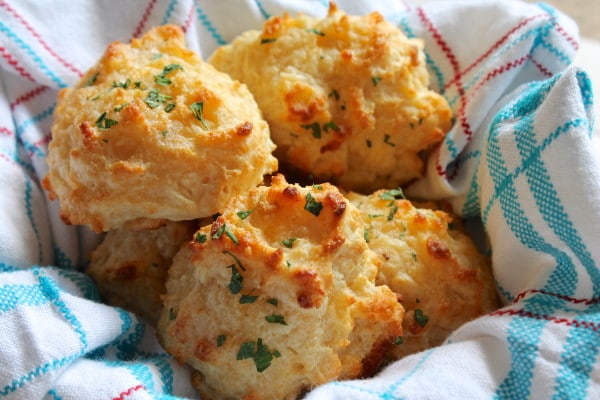 Confession: Sometimes I choose to go to a restaurant because of the bread that they serve with the soup or salad. This is real life for a carb addict.
I can't be alone in this. I mean, who hasn't gone to Olive Garden at least once just because they were craving breadsticks? Or what about those Texas Roadhouse rolls? I could easily eat a dozen of those babies. And don't even get me started on those glorious cheesy, garlicky Red Lobster biscuits…
As it turns out, those Red Lobster biscuits (also known as Cheddar Bay Biscuits) are ridiculously easy to remake at home, especially when you use my homemade Bisquick mix recipe.
Just a few simple ingredients and in less than 20 minutes you have biscuits that taste just like the ones at Red Lobster…without shelling out $20 for an entrée.
This is my latest recipe for Food Fanatic, but as always you can find the recipe right here!