Double-Crusted Chicken Pot Pie encases and rich and creamy filling between a flaky pie shell. It is almost too pretty to eat…almost.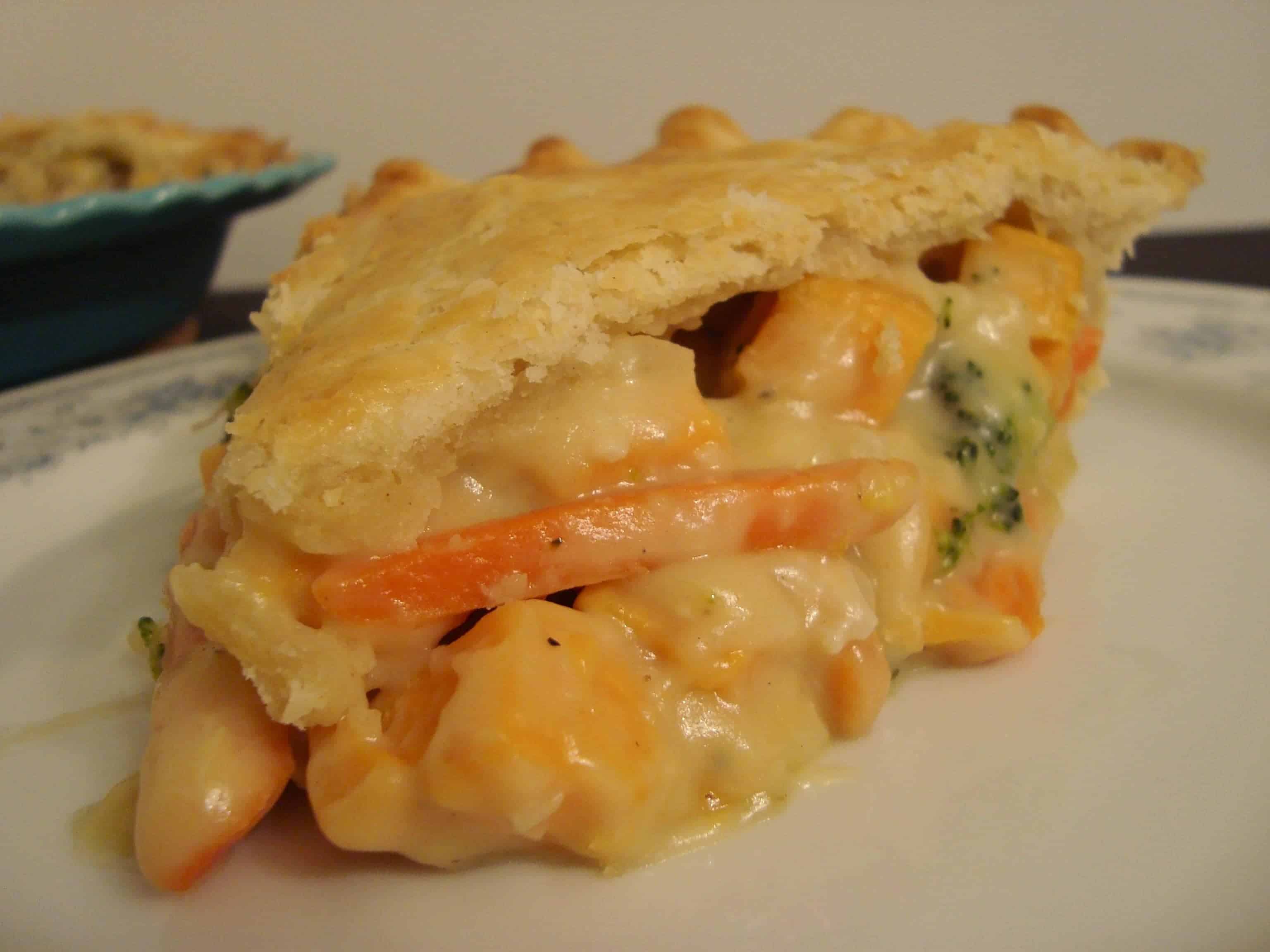 I keep making these crazy person claims.
And now, the best chicken pot pie ever?
It probably means that I'm either unflinchingly truthful or certifiably loca. Maybe both? Don't answer that.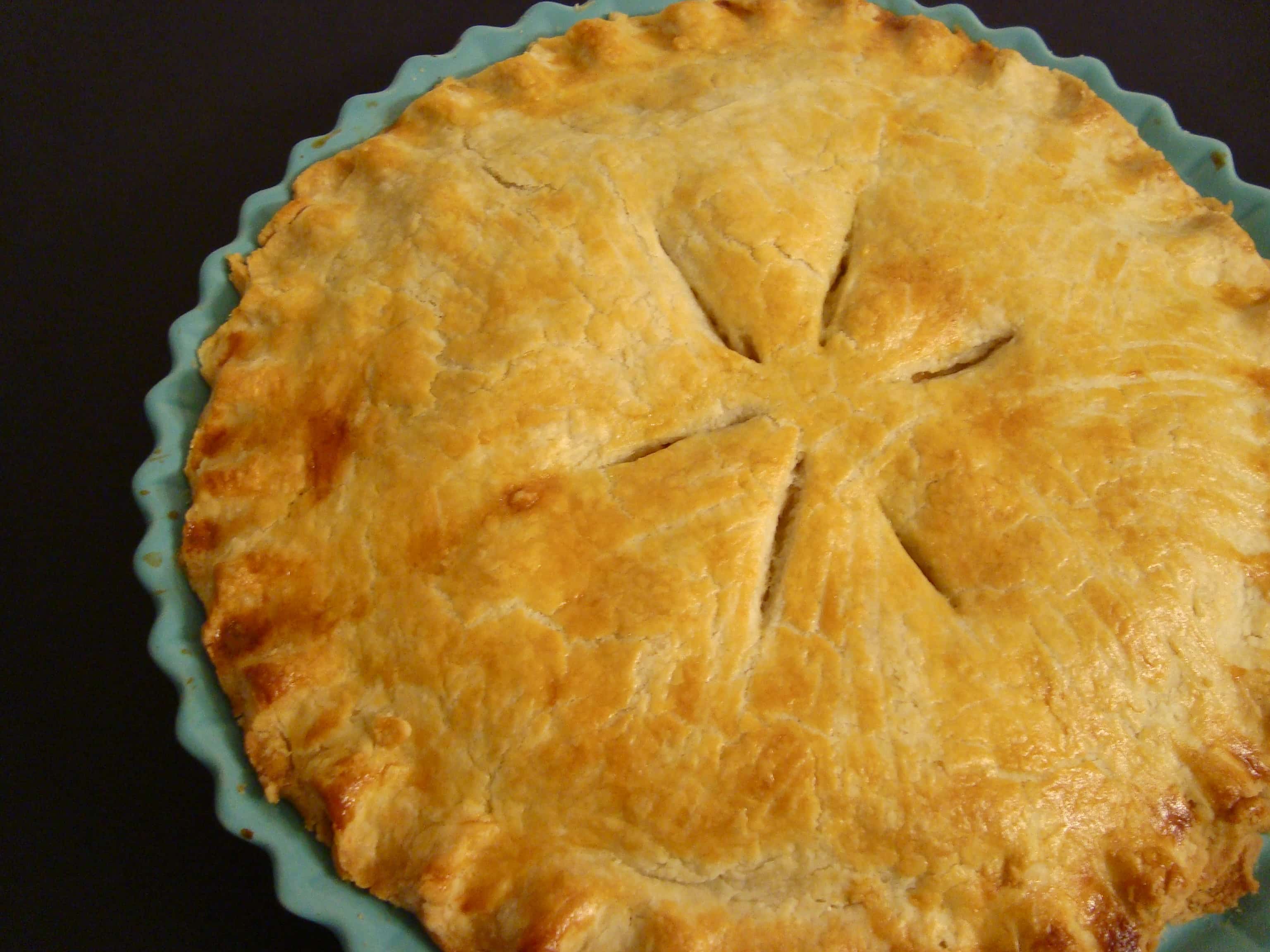 Either way, this is, quite simply, the best chicken pot pie that I have ever had. And I have eaten a lot of pot pie. I have also eaten a lot of THIS pot pie. Honestly, it is pretty surprising that I don't resemble a pot pie by now.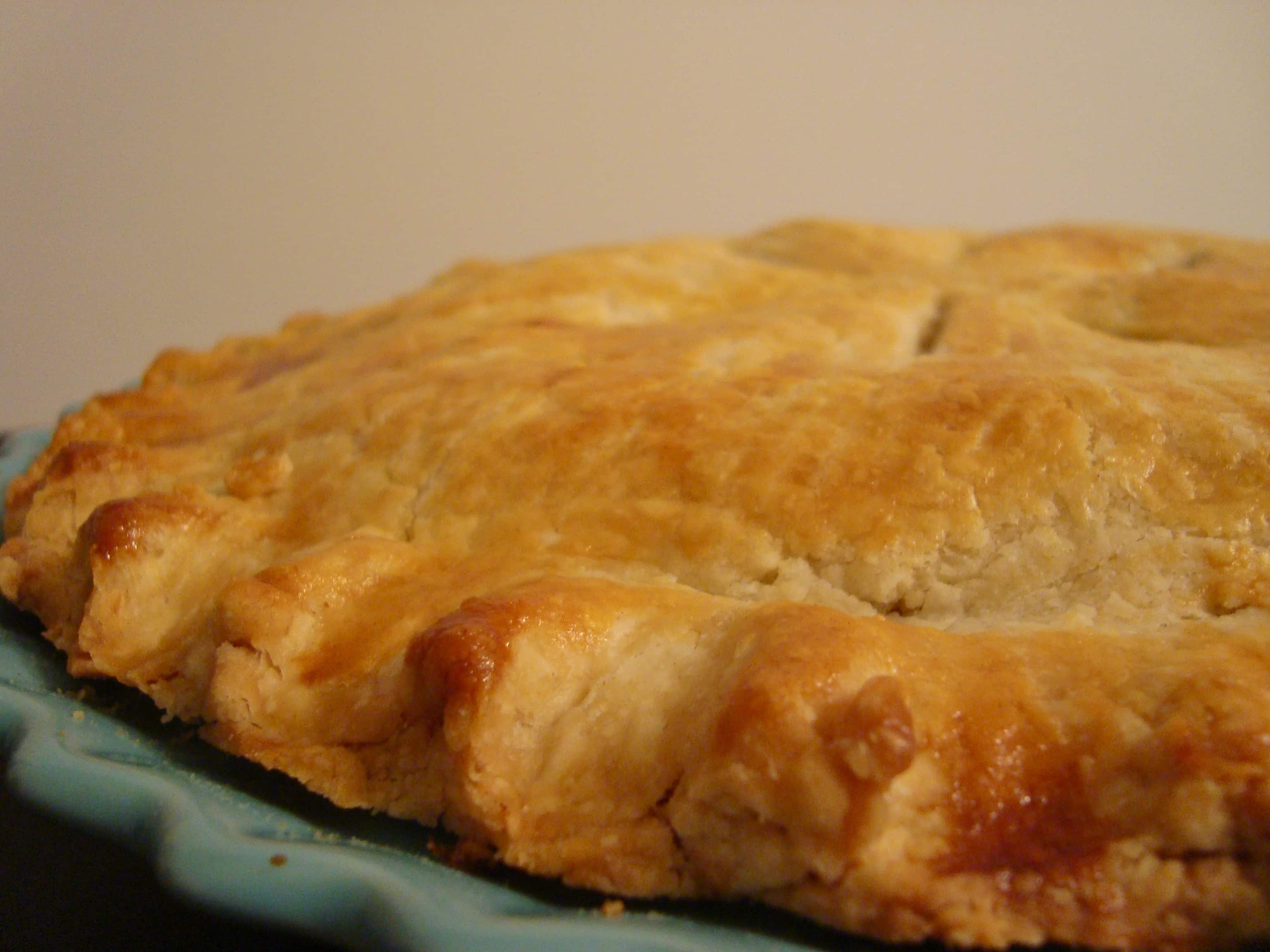 Now, before I tell you about this pie, I will tell you that it is kind of a labor of love. In fact, for years this was one of those "company" recipes in our house – you know, the ones that only get made when someone fancy or special is coming over for dinner.
Then somehow, just by going away to college, I was able to elevate myself to "company" status – suddenly, I was able to sweet-talk Momma into making this every year before I went back to school and sometimes when I came home for Christmas break as well.
It is the first meal I had after coming home from my semester in Spain. It was the meal I requested for my 21st birthday (Whoooo! Live it up!).
I'm not really sure how my parents put me through my fancy $40,000/year private university and I got promoted to pot pie status, but I will go with it.
That's not to say that this cannot or should not be made on an ordinary Wednesday when you simply need a plate of the ultimate comfort food. And boy is it ever the ultimate comfort food – thick, creamy filling chock full of chicken and vegetables, encased in a beautiful, flaky, thick crust. Perfection in a pie pan, that is.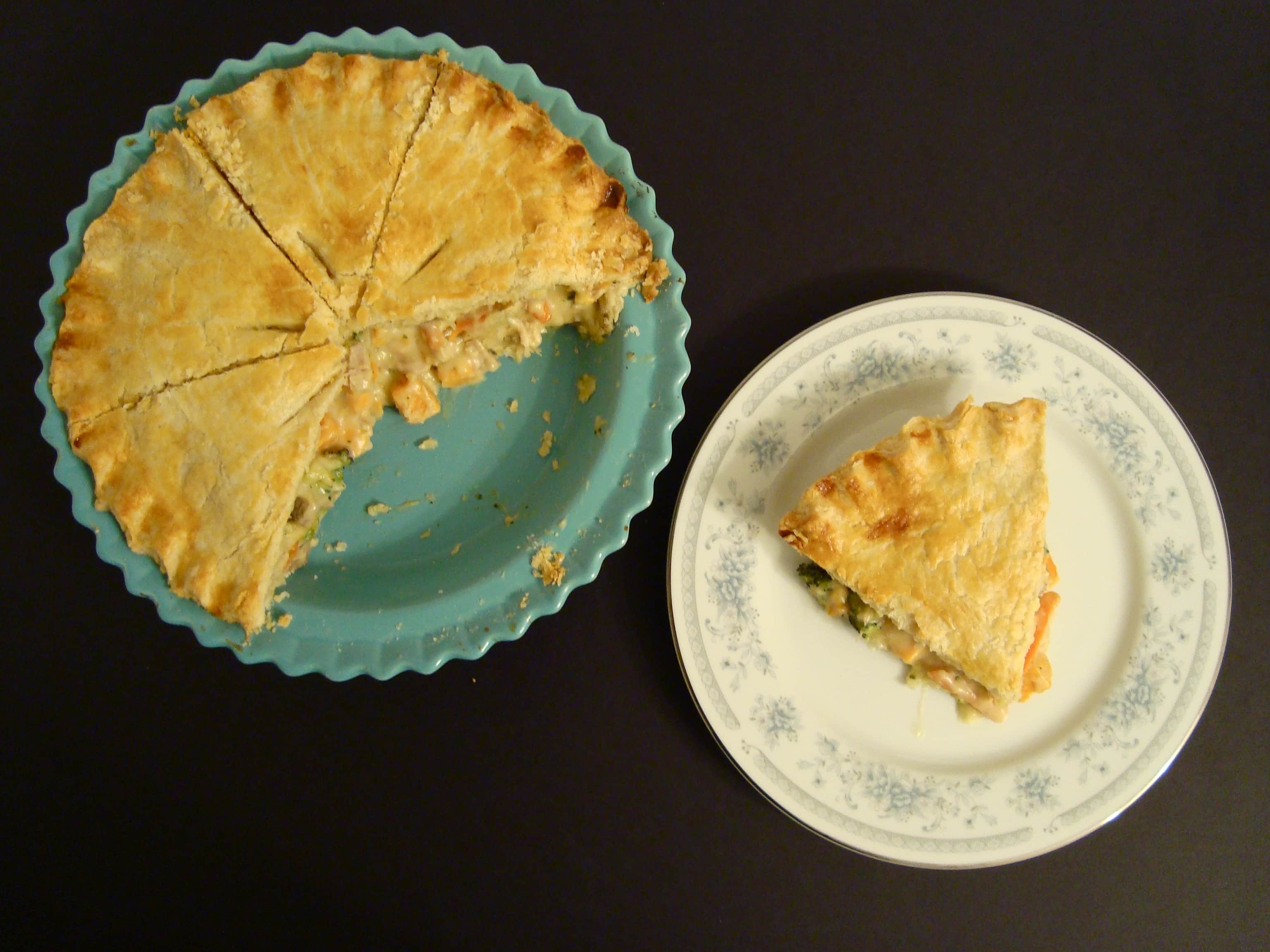 If you still have some turkey left over from Thanksgiving that you are starting to run out of ideas for how to use, this would be the perfect solution.
I was also able to make use of some of the leftover vegetables that I was sent home with – in this version, I used a combo of sweet potatoes, onions, carrots and broccoli, but you could use pretty much any vegetables that strike your fancy or are in season. Butternut squash in the fall! Sweet corn in the summer! Make it your own!
You could also make this a vegetarian dish (we've done it before) by leaving out the chicken (or perhaps replace it with chickpeas) and swapping the chicken broth for vegetable stock.
Really, even though it is called chicken pot pie, it is my opinion that the crust and the creaminess of the filling is what truly makes this pie top-notch, so why not make some yummy vegetables the star instead? No reason not to, if you ask me.
So, whatcha gonna do?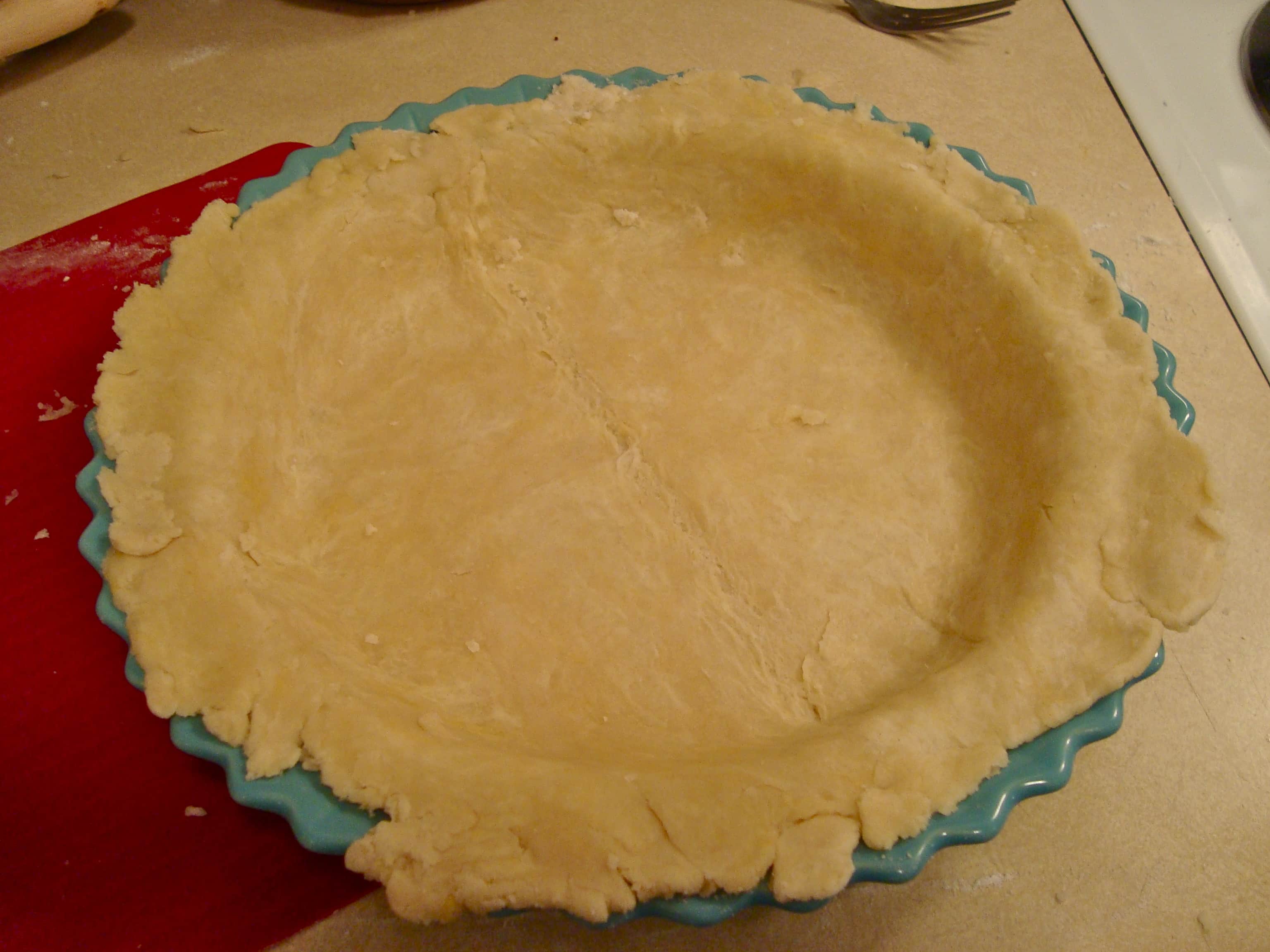 Make your crust! Get that puppy ready for some chicken and vegetable goodness.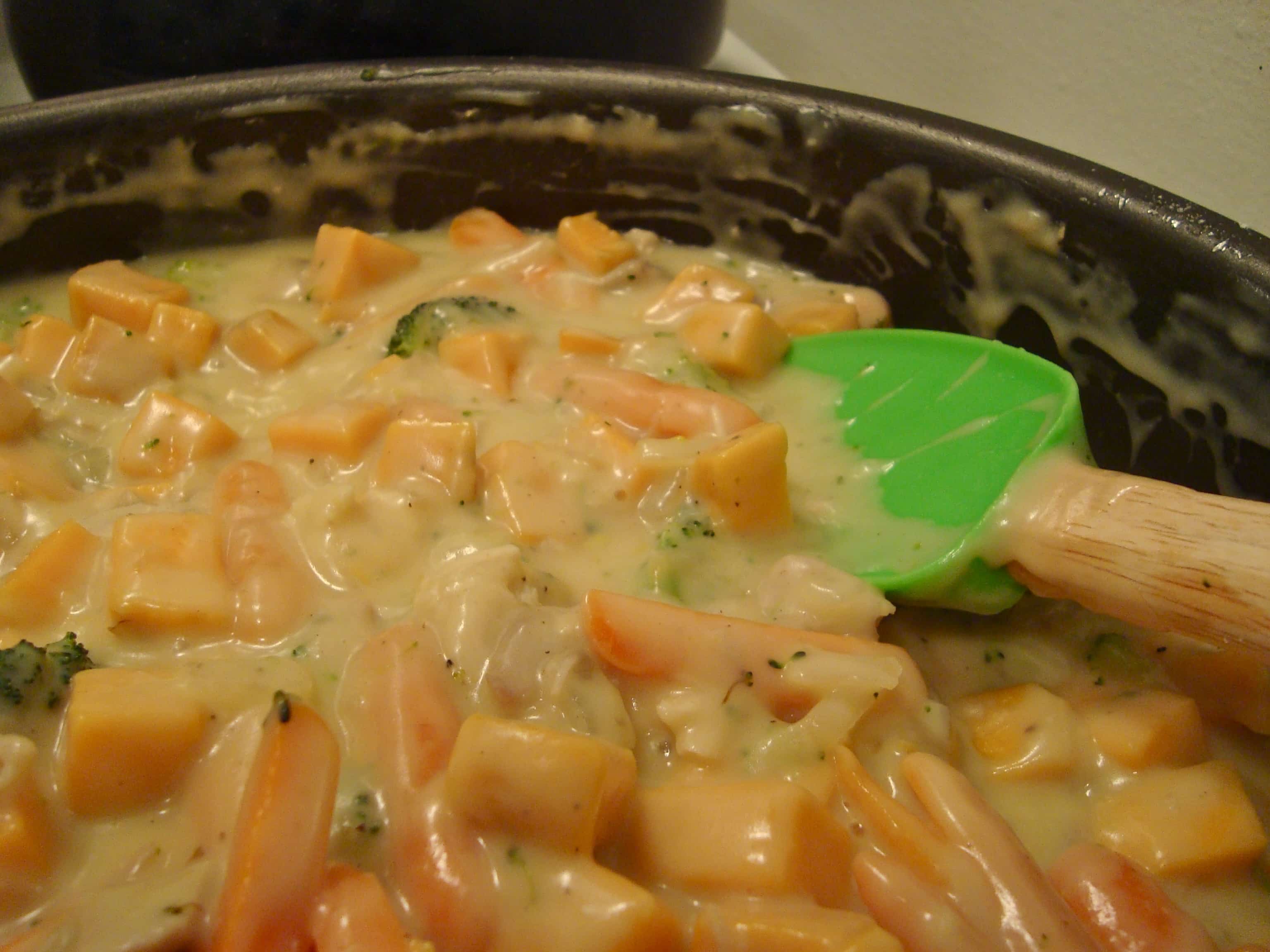 Make your filling. Look at those pretty veggies!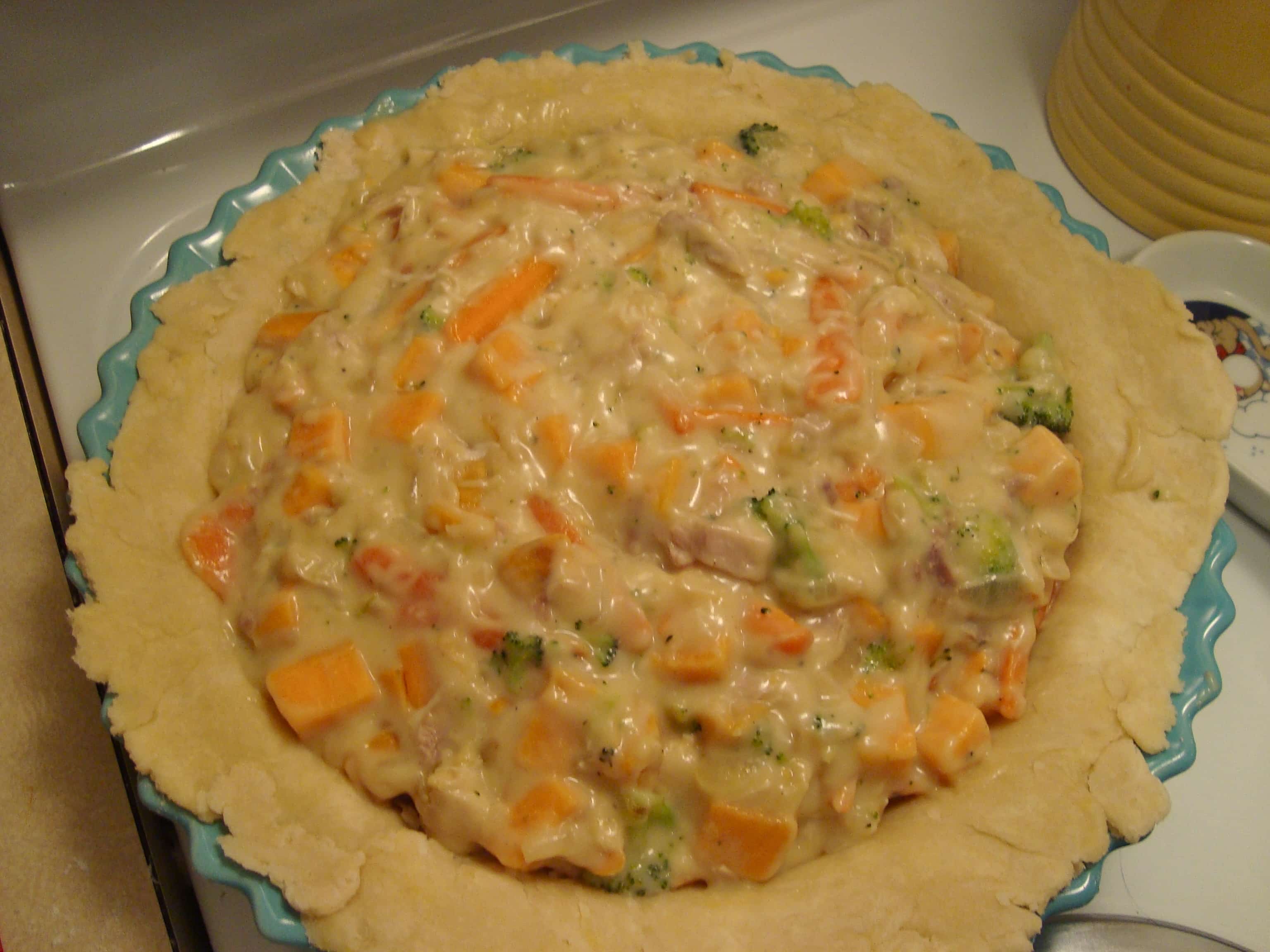 Marry the two.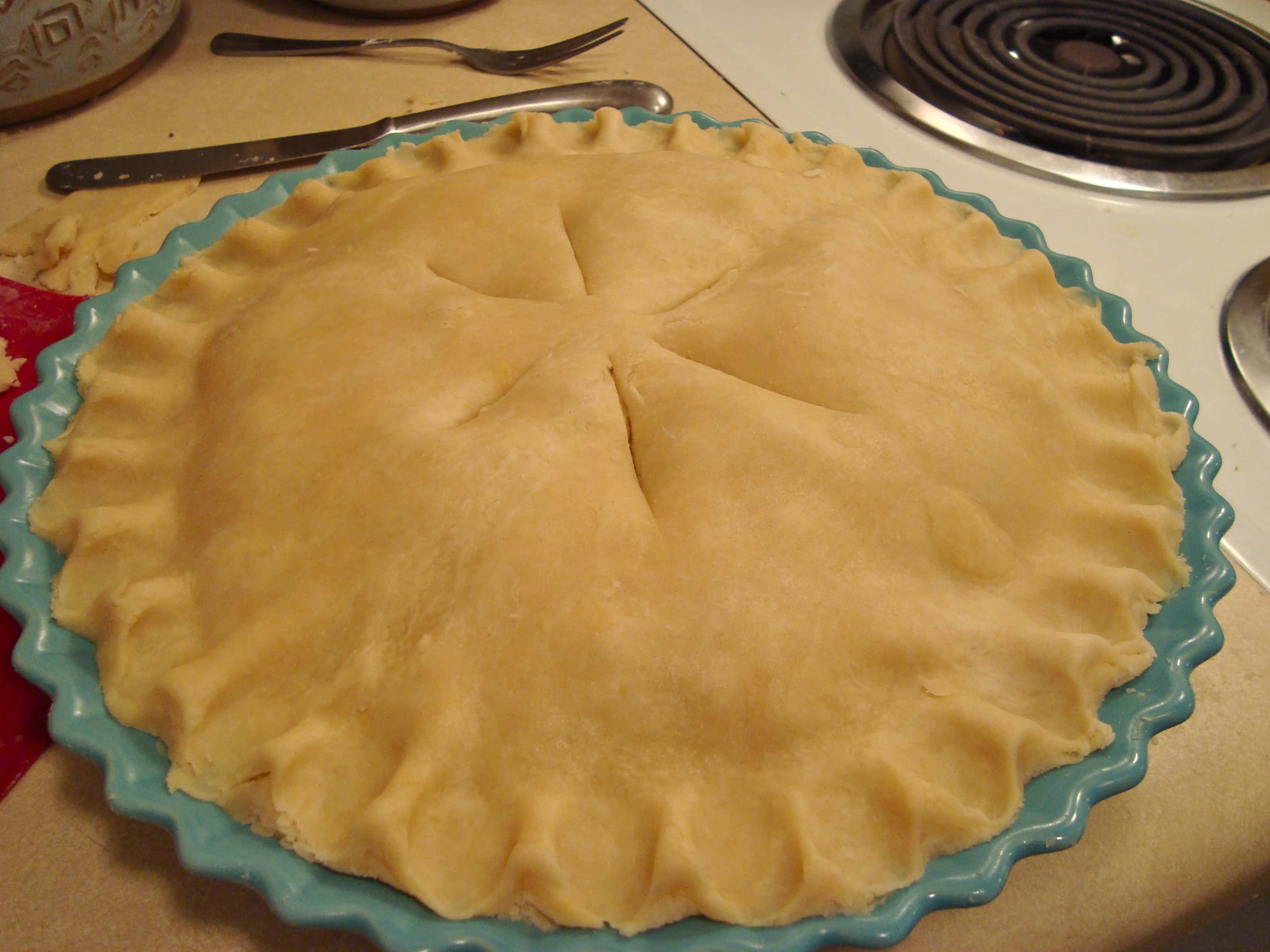 Add your top crust. Signed, sealed, delivered, I'm yours.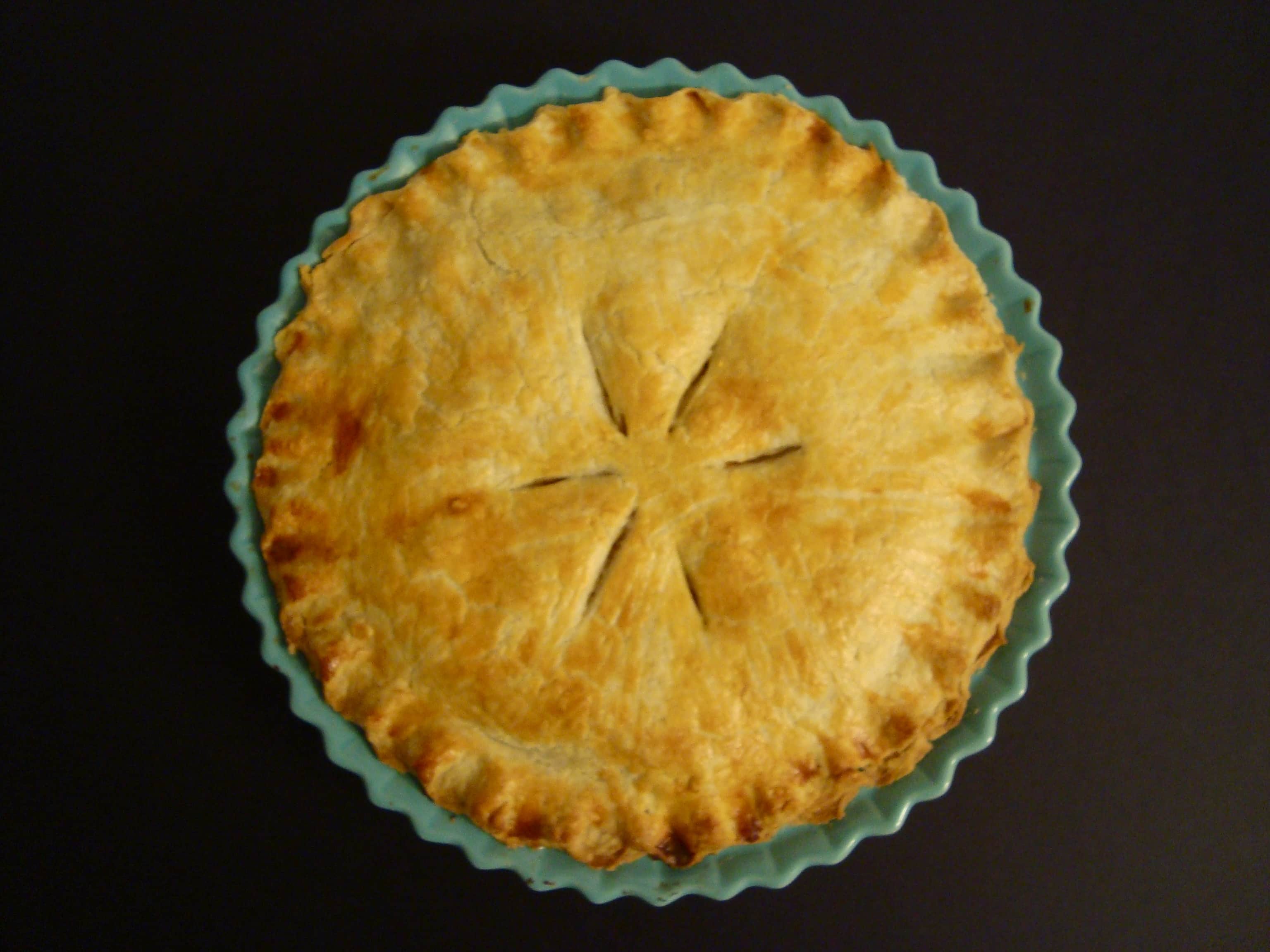 Bake, eat, and impress your biggest fans. Done and done.
Want to make a pot pie for just two people? Try my Chicken Pot Pie for Two recipe!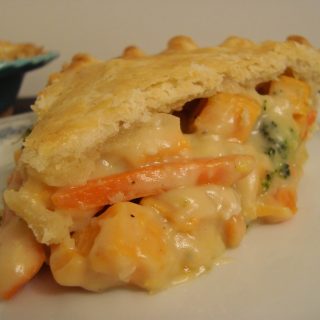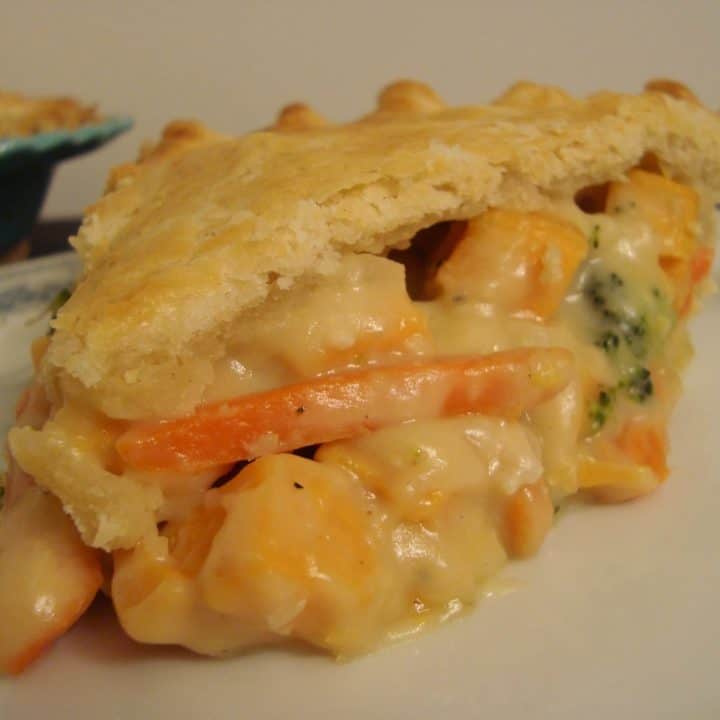 Ingredients
For the pastry:
3

cups

flour

1

teaspoon

salt

1

cup

shortening

1

egg

beaten

1/4

cup

plus 1 tablespoon ice water

1

tablespoon

vinegar
For the Filling:
1 1/2

cups

chopped cooked chicken or turkey

4

cups

assorted vegetables

diced (examples: potatoes - regular or sweet, onions, carrots, broccoli, corn, peas, butternut squash, green beans)*

1/3

cup

butter

1/2

cup

flour

1 1/2

cups

chicken broth

1 1/2

cups

half-and-half**

1/2

teaspoon

salt
Instructions
Make the pastry:
Combine flour and salt; cut in shortening until mixture resembles coarse meal.

Combine egg, water and vinegar; sprinkle over flour and stir with a fork just until dry ingredients are moistened.
Make the filling and assemble:
Melt butter in a large skillet. Saute vegetables until crisp-tender. Add flour, stirring until smooth. Cook one minute, stirring constantly. Gradually add chicken broth and half-and-half; cook over medium heat, stirring constantly, until thick and bubbly. Stir in salt and chicken. (I also like to add a few grinds of fresh black pepper.) Remove from heat.

Preheat oven to 400 degrees.

Roll half of pastry to 1/8 inch thickness and fit into a 9-inch deep dish or regular 10-inch pie plate. Spoon chicken mixture into pastry.

Roll remaining pastry and place over chicken filling. Trim, seal and flute edges. Cut slits in the top of the pastry.

Create an egg wash by beating together 1 egg with 1 tablespoon of milk. Brush over pastry.

Bake for 30 minutes or until golden brown. Allow to stand for 5 minutes before cutting and serving.
Notes
*If using a combination of fresh and frozen vegetables, saute fresh vegetables according to the recipe. Thaw frozen vegetables and add at the end with the chicken. This will keep them from getting mushy and overcooked during baking.
**While using half-and-half will create the creamiest filling, milk can be substituted to cut down the fat content. Simply use the same amount of milk and add 1 additional tablespoon of butter when stirring in the broth and milk.
Makes 1 9 or 10-inch pie.
From Southern Living 1987 Annual Recipes
Nutrition
Calories:
668
kcal
|
Carbohydrates:
56
g
|
Protein:
15
g
|
Fat:
43
g
|
Saturated Fat:
16
g
|
Polyunsaturated Fat:
9
g
|
Monounsaturated Fat:
16
g
|
Trans Fat:
4
g
|
Cholesterol:
73
mg
|
Sodium:
756
mg
|
Potassium:
369
mg
|
Fiber:
5
g
|
Sugar:
2
g
|
Vitamin A:
5078
IU
|
Vitamin C:
10
mg
|
Calcium:
90
mg
|
Iron:
4
mg