Fruitcake cookies are a delicious, bite-sized take on the traditional holiday dessert. They're like a chewy, fruity spice cookie!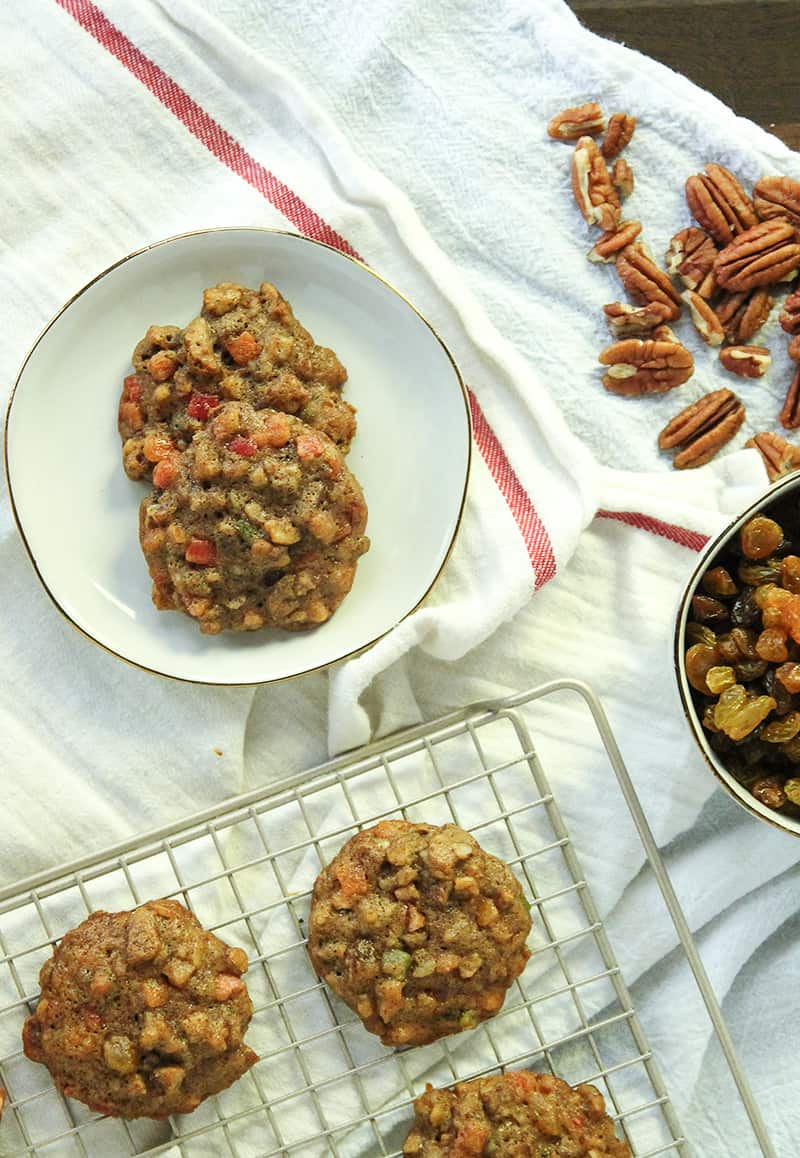 Every year it feels like holiday baking season starts earlier and earlier.
It starts with the infamous Pumpkin Pushers and their PSL cravings in late August and snowballs from there. Before you know it, it feels like we're making Christmas cookies before Halloween is even over.
For someone who gets a bit disgruntled when I see Christmas decorations pop up in the store before school supplies are off the shelves, I actually don't mind the prolonged baking season.
I notoriously love all things gingerbread and could eat Gingerbread Cake any time of year.
Chai Sugar Cookies are so good they deserve to be as much a staple in May as they do in December.
And let's not forget Maureen's Rice Krispie Cookies. My dad could eat those in one sitting all year long.
Fruitcake Cookies are perhaps harder to justify outside of the October-to-December baking season, but that doesn't mean they aren't a cookie you'll want to eat earlier than that.
This Fruitcake Cookies recipe is an old family favorite. In fact, they were my Uncle Mike's favorite cookie growing up.
One year, when he was in high school, my great-grandmother made a batch of these cookies and sent them home with my uncle. He was, of course, supposed to be sharing with the family…but instead, he hid them under his bed and ate them all himself!
Now, you have to understand that the original recipe for Fruitcake Cookies makes approximately 120 cookies…and yes, he did manage to eat every. single. one. (It does help that, like actual fruitcake, these cookies get better with age.)
No one else even knew the cookies existed until my great-grandmother asked my grandmother how they were. I think perhaps the rest of the family was a little peeved, but my great-grandmother thought it was just about the cutest thing she had ever heard.
CANDIED FRUIT FOR FRUITCAKE
Now, before you start thinking I have completely lost my marbles in trying to convince you to buy that mysterious candied fruit for fruitcake, you should know that King Arthur Flour has a number of options that are more natural than those you might find in your local grocery store.
(For this recipe, their "Favorite Fruit Blend" is likely your best bet.)
I, however, choose to put off my normal reservations regarding preservatives and embrace the retro-ness of this recipe and by using what is available at my local grocery store. I have to be honest that I kind of love the crazy colors in this particular recipe.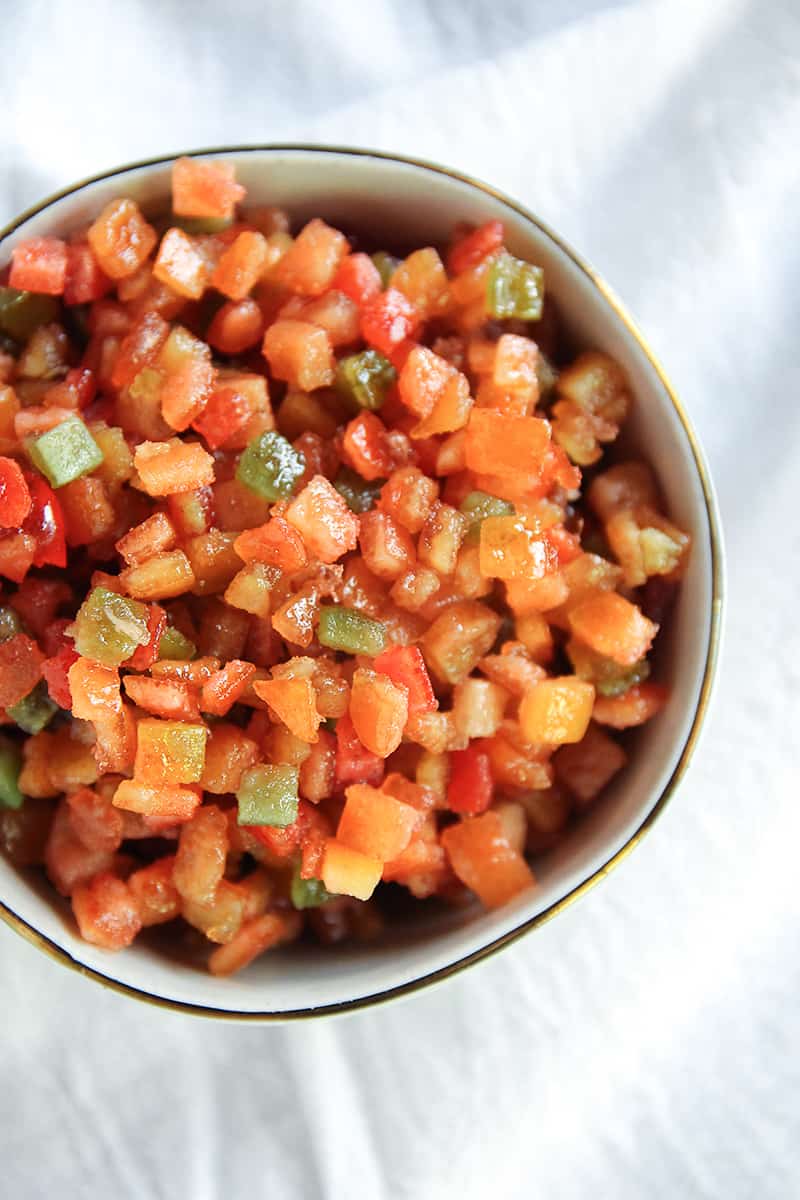 You can usually find candied fruit for fruitcake in the baking aisle of your average grocery store, especially during the holiday season.
If you'd like to make Fruitcake Cookies when candied fruit is unavailable, or you're noting that it's tricky to find, you can also pretty reliably find it on Amazon. Two-day shipping for the win.
FRUITCAKE COOKIES RECIPE
Ok, so I assuaged your fears about the candied fruit…but I can still feel you eying your computer screen with suspicion.
Admittedly, many of us – especially those of us who grew up in the north – have probably grown up with fruitcake being the butt of Christmas re-gifting jokes. But rest assured, these Fruitcake Cookies are more like a chewy, nutty spice cookie than anything else.
My father has spent his entire adult life swearing off all forms of fruitcake, yet could not stop eating these. I think I've made a Fruitcake Cookie believer out of him…and I bet I can make one out of you, too!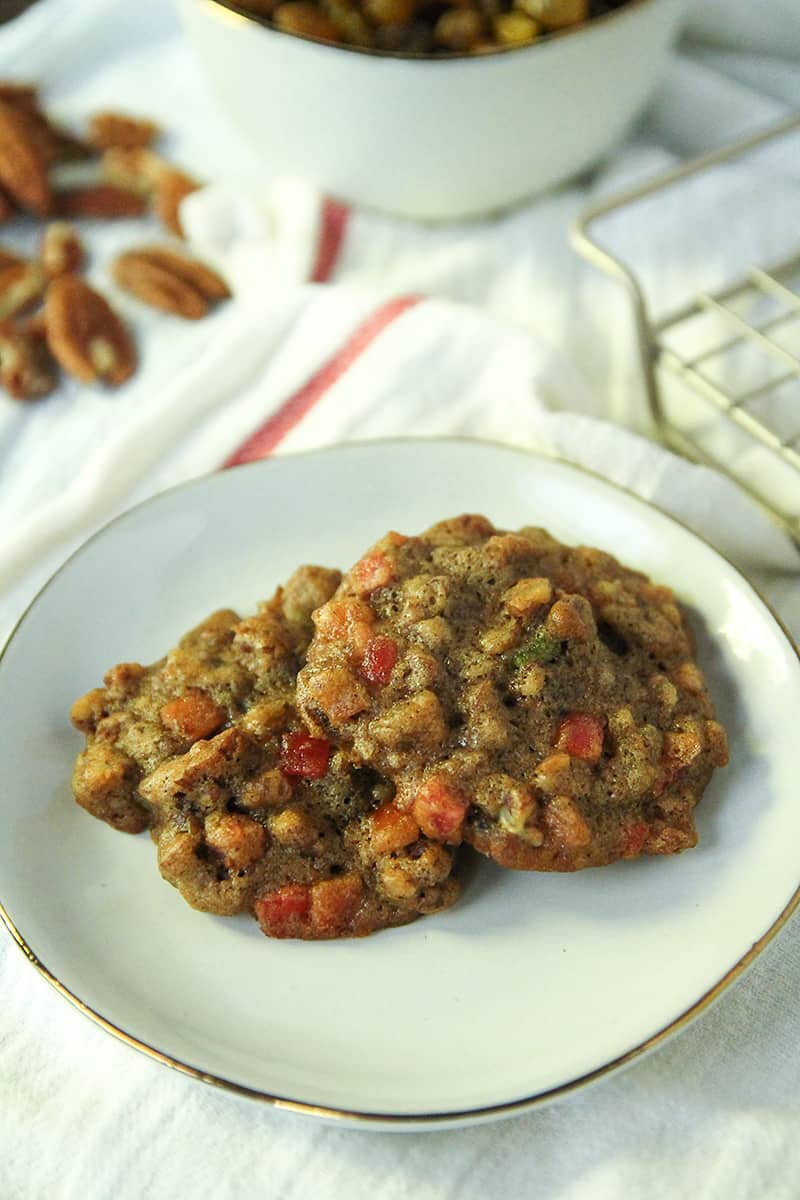 HOW TO STORE FRUITCAKE COOKIES
Fruitcake Cookies may not last as long as their fabled counterpart, traditional fruitcake, but they still last quite a long time!
Store Fruitcake Cookies for up to 2 weeks in an airtight container at room temperature. They actually taste better after they've aged a bit, so don't be afraid to make them a few days before you plan to serve them.
Because of their long shelf life, they're perfect for shipping to loved ones. I like to make a batch and send some to my uncle and some to my momma's best friend.
If you want them to last even longer, they also freeze quite well.
Give these Fruitcake Cookies a chance. My uncle would surely encourage it.
For a more traditional take on fruitcake, take a peek at my Christmas Spice Cake recipe.