Peanut Butter Cake sandwiches peanut butter cream cheese frosting between two layers of peanut butter cake. It's the best cake for peanut butter lovers!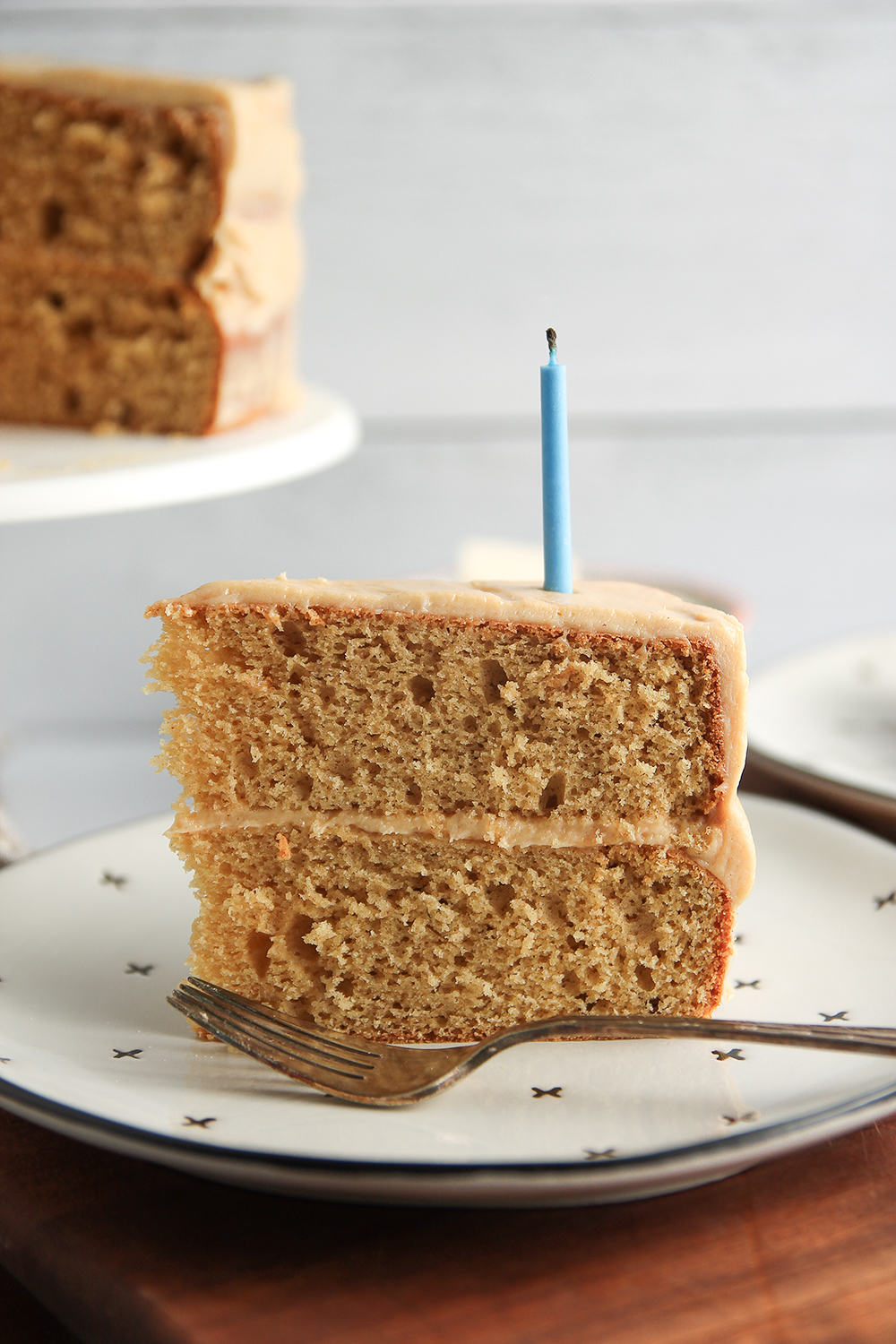 This post contains affiliate links.
It has been years since I first shared this peanut butter cake recipe, but it will always hold a special place in my heart for two reasons.
The first is that Peanut Butter Birthday Cake is a recipe from Joy the Baker's first cookbook. And it was at her Chicago book signing that I met one of my best girls, Stefanie from Sarcastic Cooking.
I had no way of knowing at that signing, or even when I first shared this recipe, that Stef would become one of my true, fast friends. She quickly went from a blog friend to a real-life friend!
And let me tell you, that's a special thing in this big Internet world.
Stef and I have both come a long way in the past decade (!!). She has even become a cookbook author two times over, with Quick Prep Cooking with Your Instant Pot and The Big Book of Instant Pot Recipes.
The second reason this peanut butter cake is special to me is because I first made it for my then-93-year-old grandpa. Peanut butter was one of his favorite things and he loved this cake and the peanut butter frosting that goes with it.
Grandpa Swope has since passed away (at the age of almost 97!), but I still think of him every time I bake with peanut butter.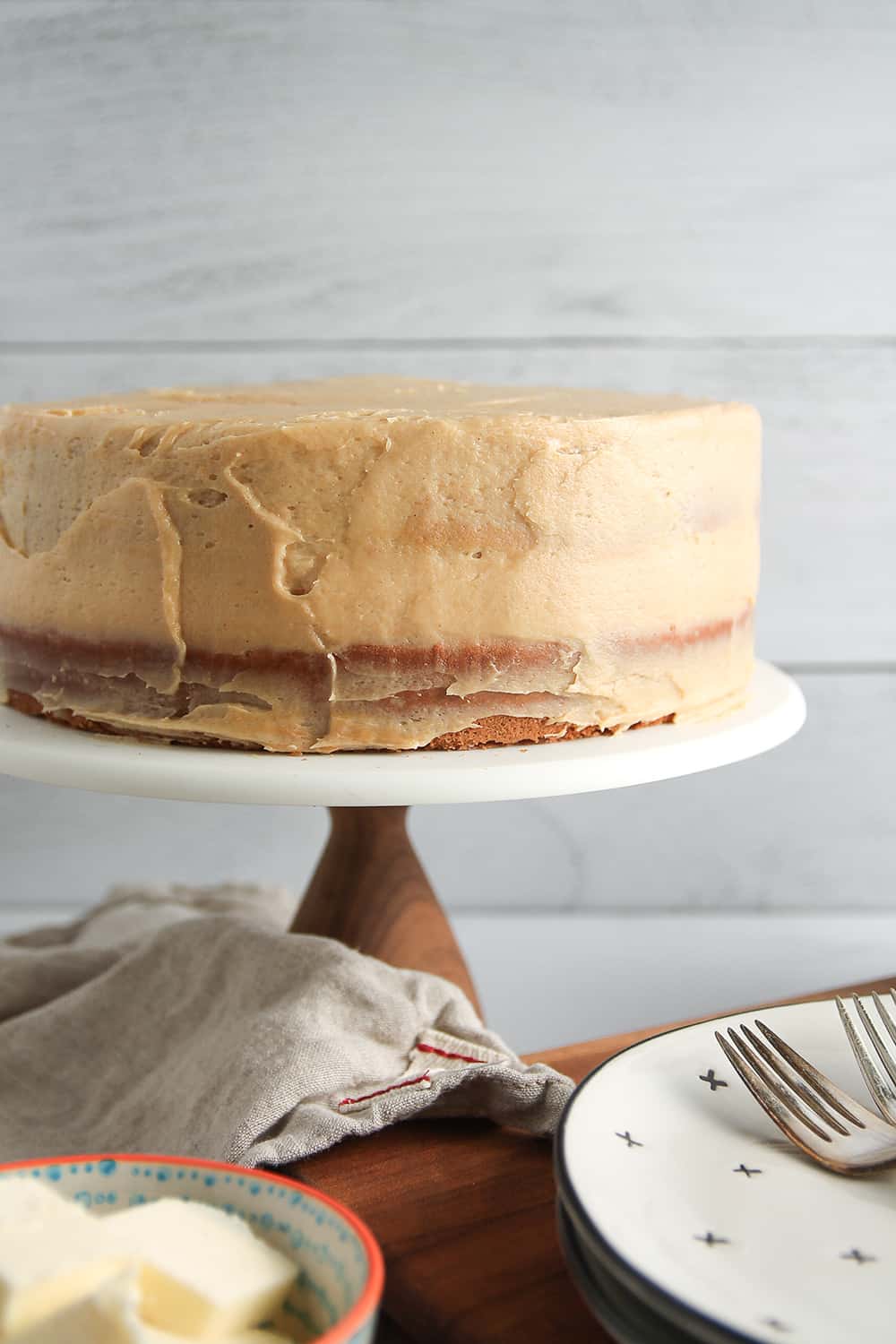 PEANUT BUTTER CAKE WITH CREAM CHEESE FROSTING
I have to admit that I'm normally not a huge cake person, unless it is Coconut Cake, Homemade Yellow Cake topped with berries, or Angel Food Cake.
Honestly, I don't like frosting that much. It's usually much too sweet for me and seems to overwhelm the cake.
I am particularly suspicious of cream cheese frosting for some reason.
But this peanut butter cake changed that!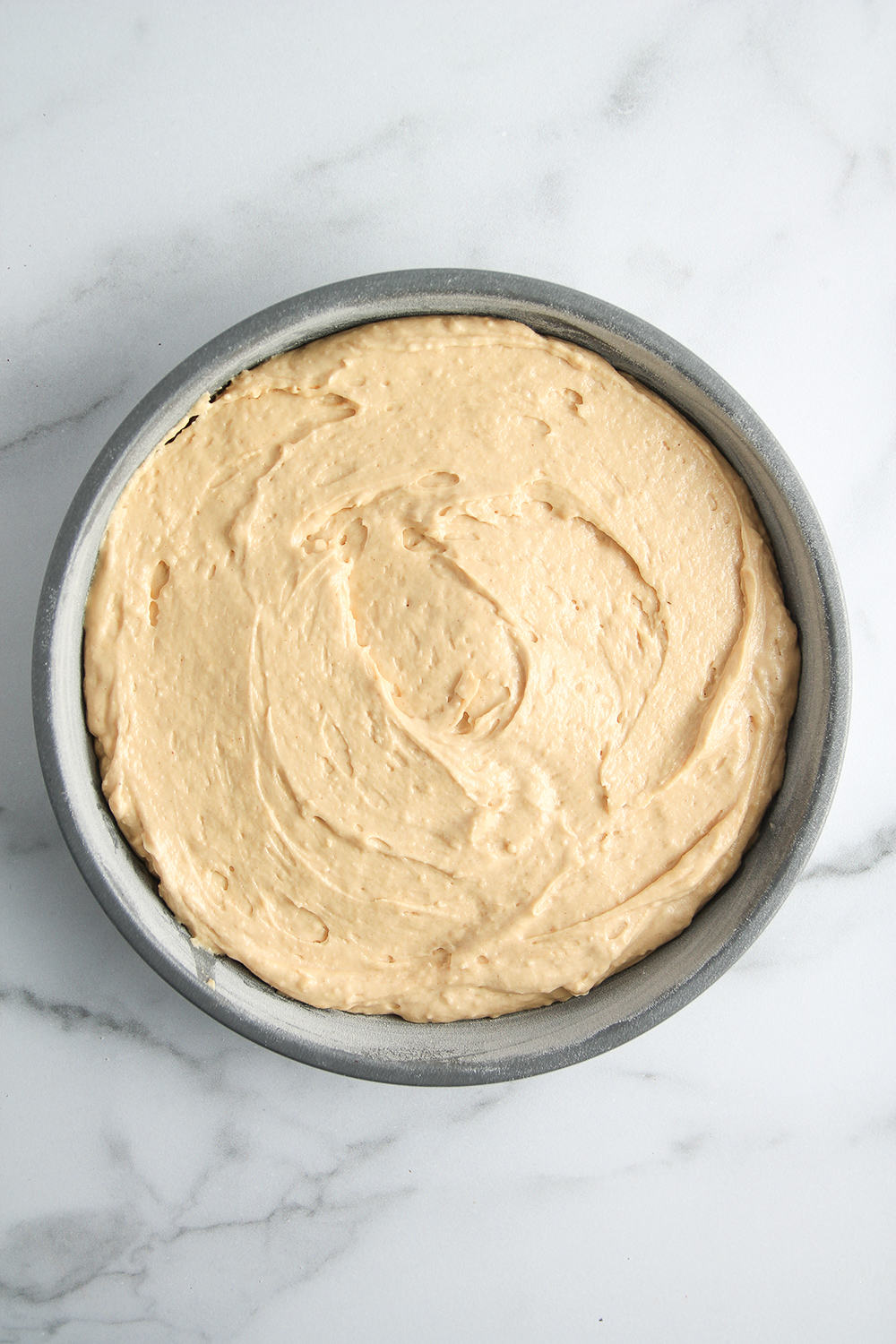 The cake itself is delightfully peanut buttery. The peanut butter cream cheese frosting lends just enough sweetness to balance out the cake (which isn't very sweet on its own) without taking over the spotlight.
It's basically a case of cake and frosting working hand-in-hand to make your mouth crazy happy.
You might be tempted to try to dress up this cake with something else, like a layer of chocolate ganache. (Pointed glance at my friend Susannah's husband.)
But I promise you this: this cake stands tall on its own. You will quickly find that there's no need to try to dress it up, because the peanut butter flavor and the cake's texture are already so perfect!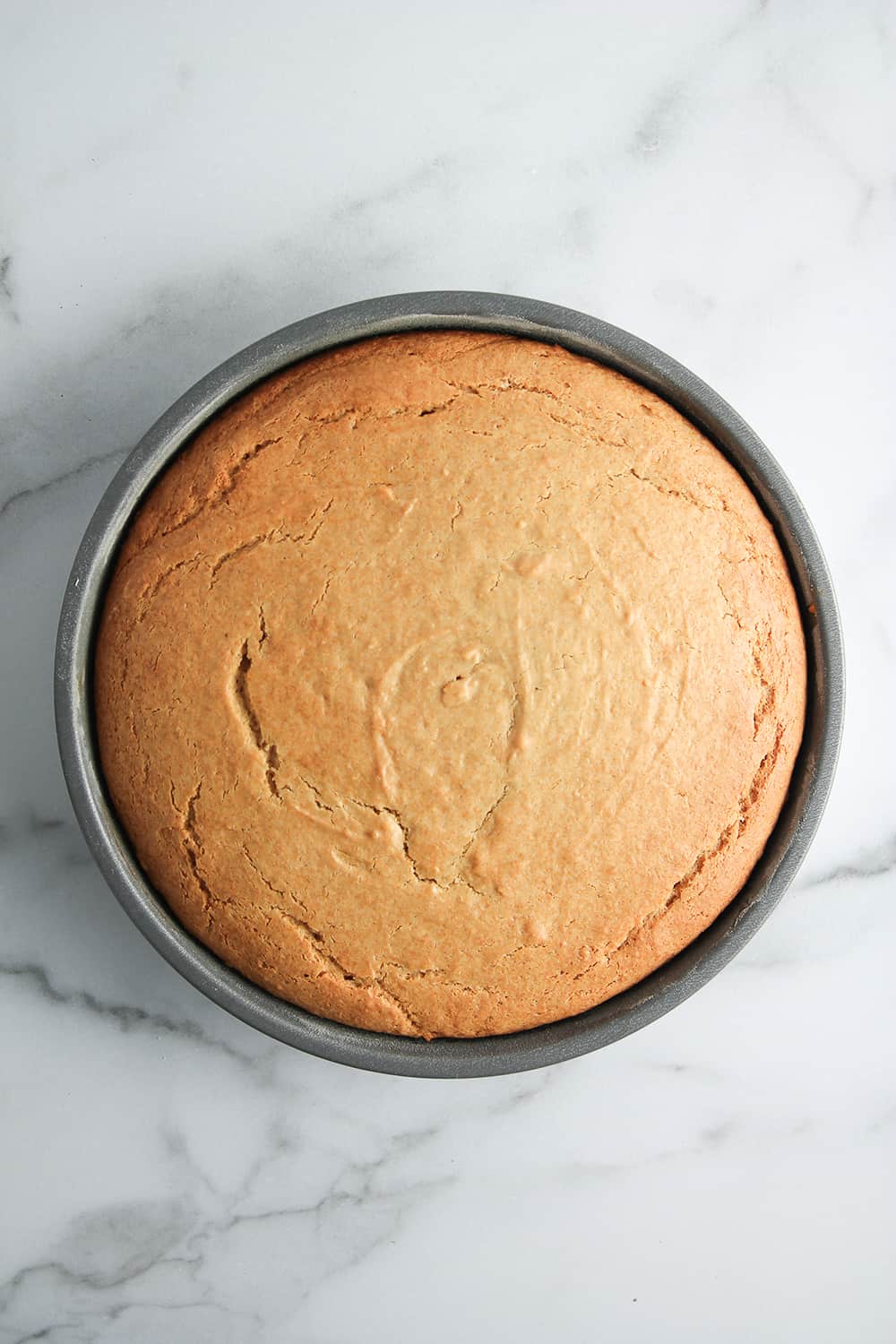 HOW TO MAKE PEANUT BUTTER CAKE
Because this is a layer cake, this recipe does take a bit of time and patience – mostly waiting for the cakes to cool completely before you assemble the cake with the peanut butter frosting.
But trust me, it's worth it! I've got a few handy tips for you to use along the way.
What peanut butter should you use?
You definitely want to use creamy peanut butter to make this cake and the accompanying frosting.
As for which type of creamy peanut butter:
I have successfully made this cake with good ol' fashioned creamy peanut butter. You know, the type we all ate as kids in the 80s and 90s.
But I have also successfully used the no-stir natural peanut butter.
I do NOT recommend using the type of all-natural peanut butter that is basically only ground peanuts and nothing else. The texture tends to be pretty grainy and it's just not as smooth as you need for this cake and frosting.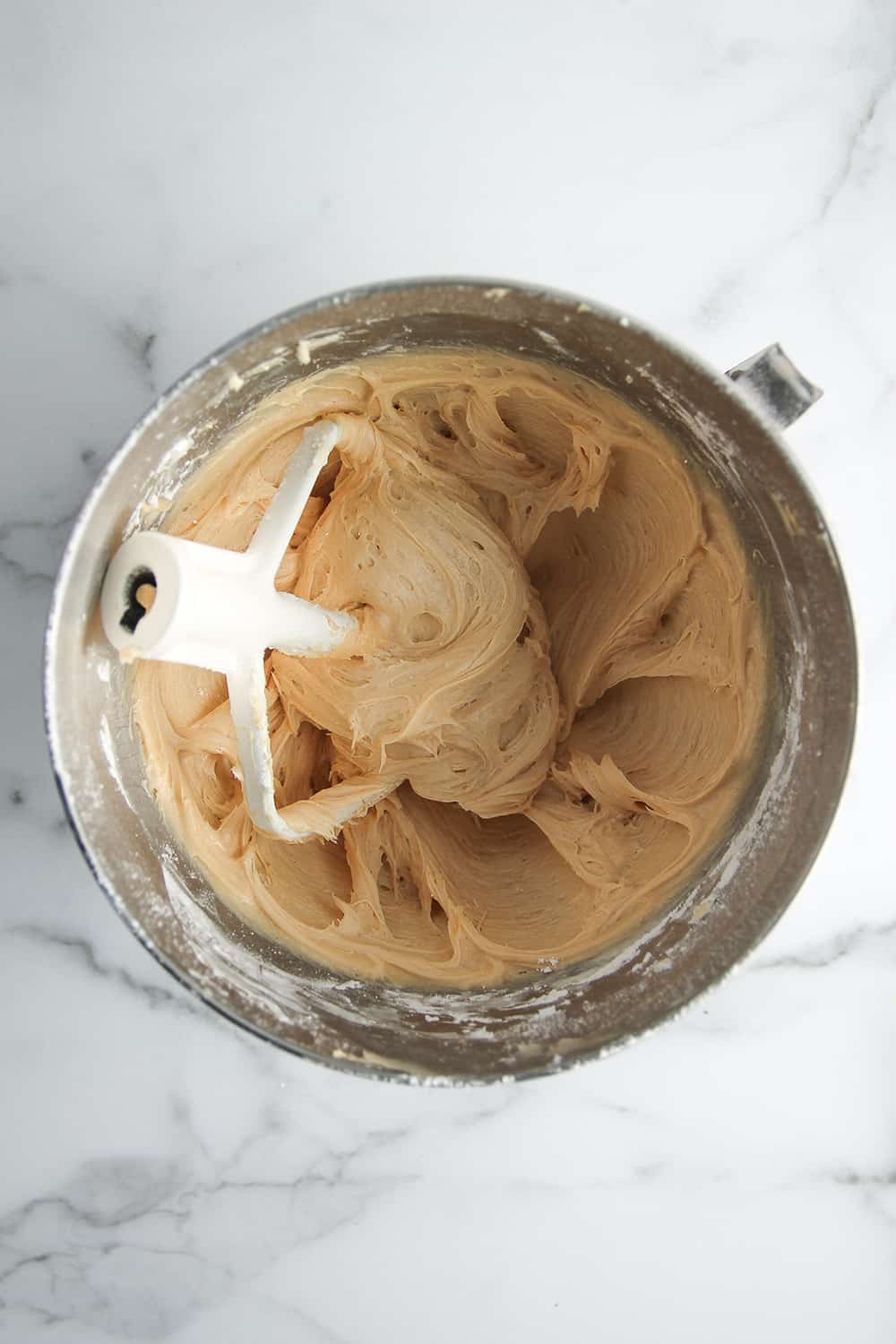 Do you have to use buttermilk?
One of the best things about this peanut butter cake recipe is that both the peanut butter and the buttermilk will help keep it moist and tender. They serve as a buffer to keep the cake layers from getting too dry.
So yes, you DO need to use buttermilk in this recipe, but don't worry if you're out!
You can easily use a buttermilk substitute with great results here.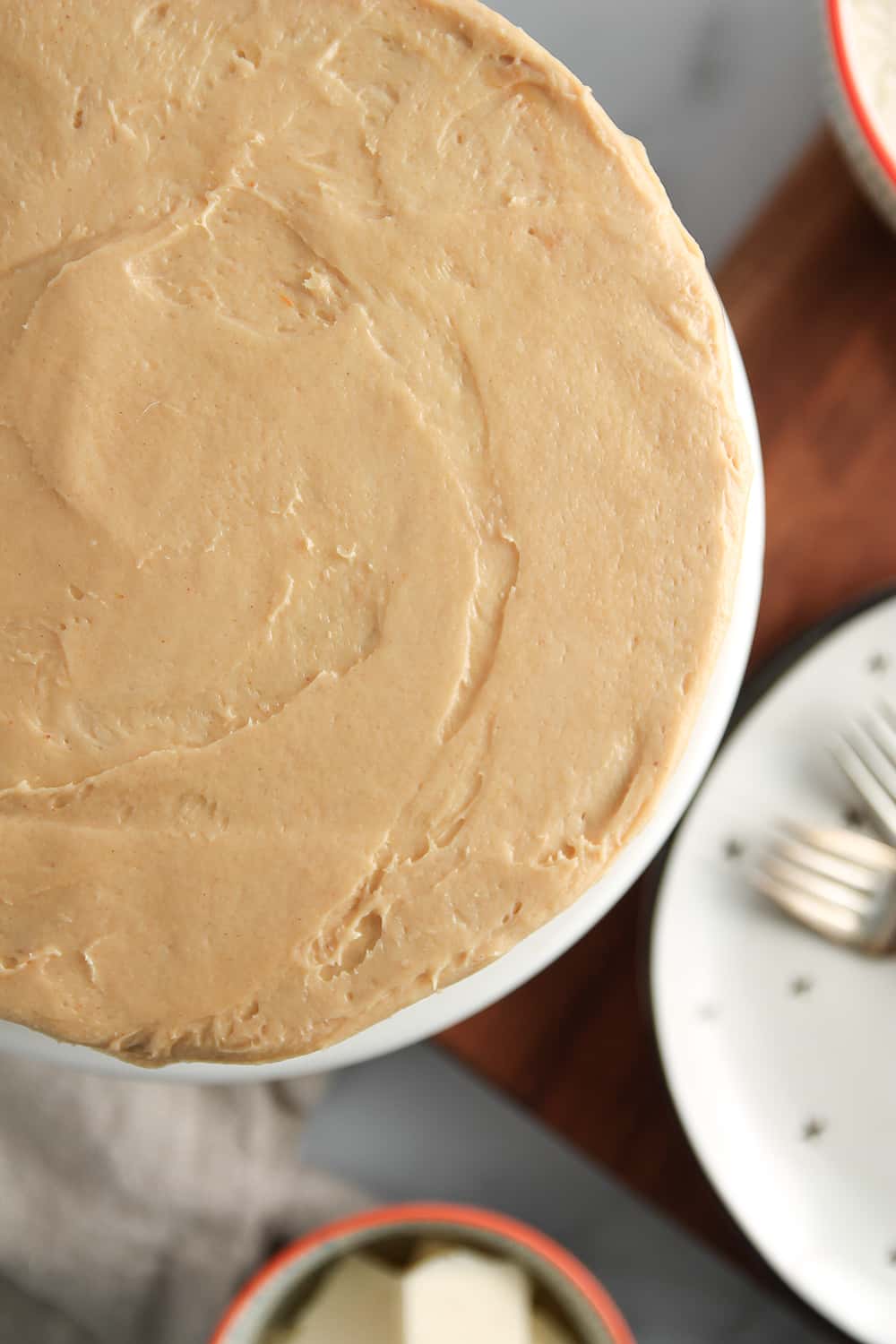 How to grease and flour your cake pans
This recipe uses two 8-inch or 9-inch round cake pans and calls for you to grease and flour both of them.
This helps the cake layers release cleanly from the pans after they have cooled.
To do this, rub the inside of the pans with a thin layer of softened butter. Sometimes I will use the wrapper of the butter being used in the cake itself – there is often enough butter left on it to do this job well!
After the insides of the pans are coated in a thin layer of butter (you can also use shortening for this), add a few spoonfuls of flour. Tilt the pan all around, tapping gently on the sides, to cover the butter with a fine layer of flour.
When the pan is fully covered, turn it upside down over the sink to discard any remaining flour.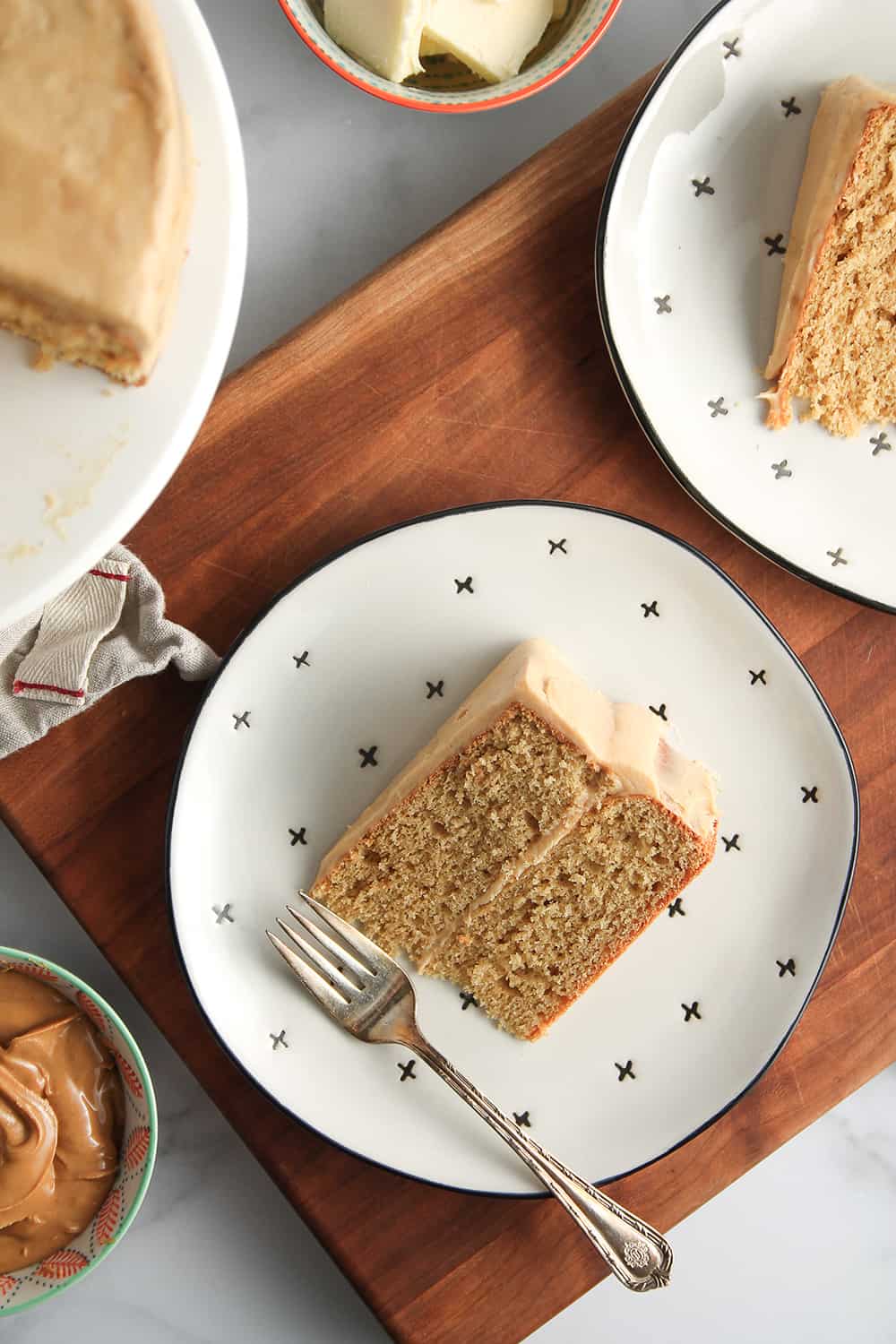 Making this cake
Make the peanut butter cake batter by creaming together the peanut butter, butter, and sugars until light and fluffy. This will take about 3 minutes.
Don't skimp on those 3 minutes, either! Take your time to do this properly.
Add the eggs one at a time. Beat each egg in well before adding the next.
Whisk together the dry ingredients, then add half of the flour mixture to the batter. Add all of the buttermilk, then add the rest of the flour mixture.
Another trick when making this cake is to finish folding in the final ingredients by hand with a spatula. It is easy to over-mix with an electric mixer!
Divide the cake batter into the prepared pans, and bake until a toothpick inserted into the center comes out clean.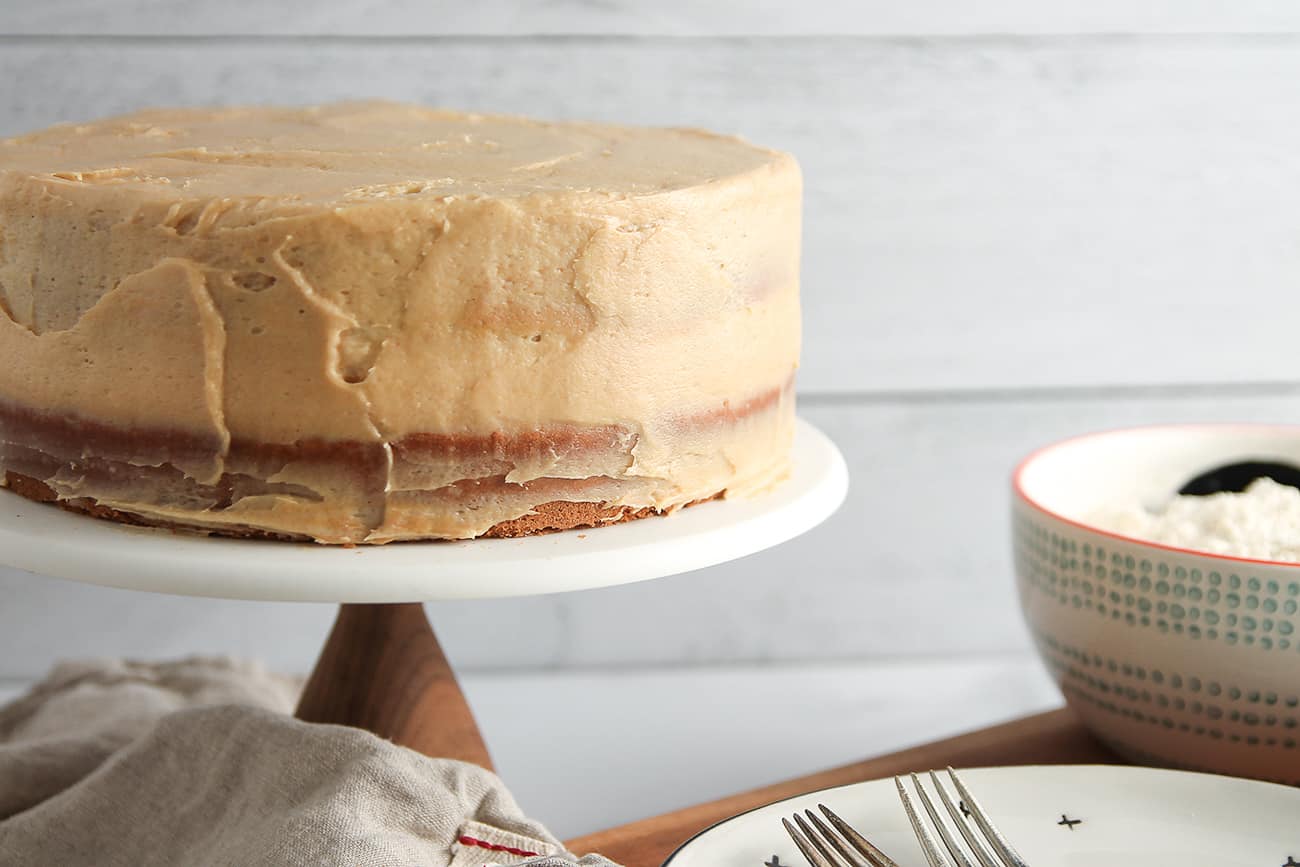 Making the peanut butter frosting
After the cake layers are baked, allow them to cool for at least 10 minutes in the pans. Remove them from the pans and allow to cool completely before frosting.
The peanut butter cream cheese frosting will melt if the cakes are still warm from the oven. Patience pays off here.
When making the peanut butter frosting, make sure both the cream cheese and the butter are softened before mixing. Beat these two ingredients together for about a minute before adding the peanut butter and then the powdered sugar and vanilla.
This will help the cream cheese and butter to marry together and keep the frosting from breaking.
Once the cake layers are completely cooled, frost your cake layers with as much frosting as desired!
STORAGE AND MAKE-AHEAD TIPS
The assembled peanut butter layer cake will keep, well wrapped, in the refrigerator for up to 4 days.
It's important to store the frosted cake in the fridge due to the cream cheese in the frosting.
If you want to make the components of the cake ahead of time, you absolutely can.
Bake the cake layers and store, wrapped in a layer of plastic followed by a layer of foil, in the freezer for up to 1 month.
You can make the peanut butter frosting up to 1 week in advance. Store it in an airtight container in the refrigerator.
Before using the frosting, let it come to room temperature and whip it with a mixer for about 30 seconds. Frost the cake as desired.
Make this Peanut butter cake. Feed it to your 90-something-year-old grandfather (or your any-year-old person of importance that happens to love peanut butter). It'll be a hit.