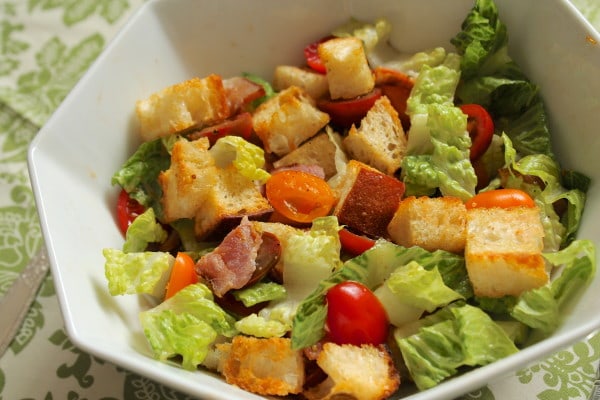 It's no secret – at least to those of us sane people who like tomatoes – that one of the best summer lunches is a good ol' BLT. Toasted bread, crisp lettuce, juicy tomatoes, crunchy bacon…it just doesn't get any better than that.
During a recent texting conversation with my blogging sounding board, it was decided that it would be entirely possible and utterly delicious to turn the traditional BLT into a panzanella, a Florentine salad traditionally made with stale bread and tomatoes dressed with olive oil and vinegar.
Basically, we are looking at a salad made of carbs. There's no way you could possibly go wrong with that.
Since a "traditional" panzanella is already based on bread and tomatoes, it didn't seem like too much of a stretch to throw in some bacon and a handful of lettuce. Of course, I really love my BLTs with avocado, so I swapped out the traditional oil and vinegar dressing for a creamy avocado dressing.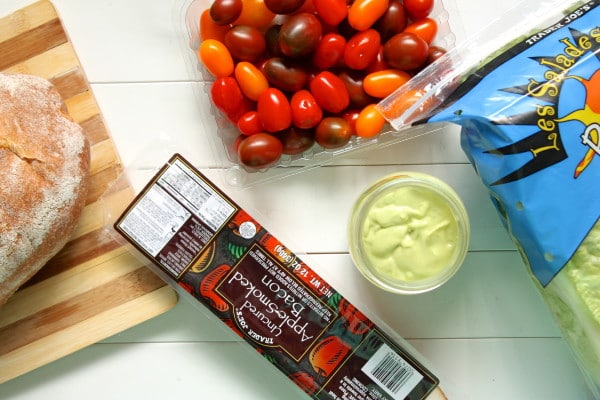 Let's talk about this dressing for a hot minute. You're gonna have way more than you'll need for this salad, and you're gonna be glad. This dressing is glooooorious, and is great not only for salads but also as a dippity dip for veggies. Or a spread for sandwiches. Or on a spoon straight to your mouth while standing in front of the fridge. Make your own life choices here, friends.
Oh, and since we are all sophisticated and calling this a "panzanella", that totally makes it fancy-pants summer entertainin' food, right? That's what I thought.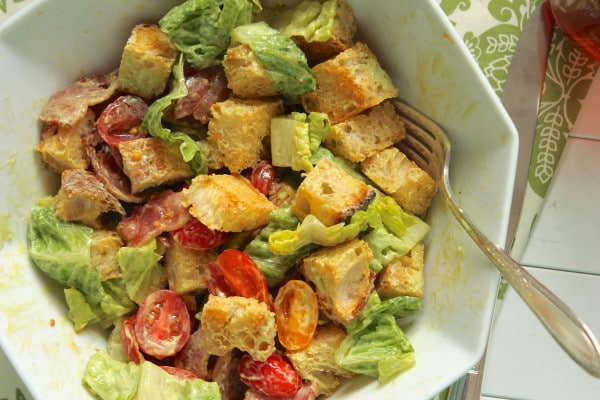 BLT Panzanella
Yield:
2 main servings, 4 side dish servings
Ingredients
For the dressing:
1 ripe avocado
2 tablespoons lemon juice
¼ cup red wine vinegar
3 tablespoons Greek yogurt
1 teaspoon dijon mustard
1 tablespoon roughly chopped chives
½ cup extra virgin olive oil
Salt and pepper to taste
For the salad:
16 ounces assorted cherry tomatoes
1 cups chopped romaine hearts
5 strips thick-cut bacon
4 cups crusty bread cubes
2 tablespoons extra virgin olive oil
Salt and pepper
Instructions
Preheat oven to 350 degrees.
Toss together the bread cubes, 2 tablespoons of olive oil, a big pinch of salt and several grinds of black pepper. Spread onto a baking sheet and bake for about 10 minutes, tossing halfway through. Remove from oven and set aside.
Meanwhile, make the dressing: Add the flesh of the avocado, along with the next 5 ingredients to a blender or food processor and blend until smooth. Stream in the olive oil and add salt and pepper to taste. Dressing will be thick - you can add a couple of tablespoons of water to thin it out if you so desire. Pour dressing into a jar and set aside.
Slice the cherry tomatoes in half and place in the serving bowl. Toss with a pinch of salt and some black pepper.
Cook the bacon until crispy; drain the fat and add the hot bacon to the tomatoes.
Once the bacon has cooled slightly, add the bread cubes to the bowl and toss to combine, coating the bread with the juice of the tomatoes. Add the lettuce and serve immediately with the dressing.
Salad is best served immediately after assembling, though the dressing will keep in an airtight jar in the fridge for up to a week.
Notes
This dressing is definitely tangy from the red wine vinegar, which I personally love. If you would like it to be less tangy, you could certainly reduce the amount of vinegar and thin out the final dressing with a little bit of water, if desired.