Bright broccoli arugula pesto with pine nuts and Parmesan makes for the perfect accompaniment to any dish.
This post is sponsored by Diamond of California, but all opinions are my own. Thank you for supporting brands that make this site possible.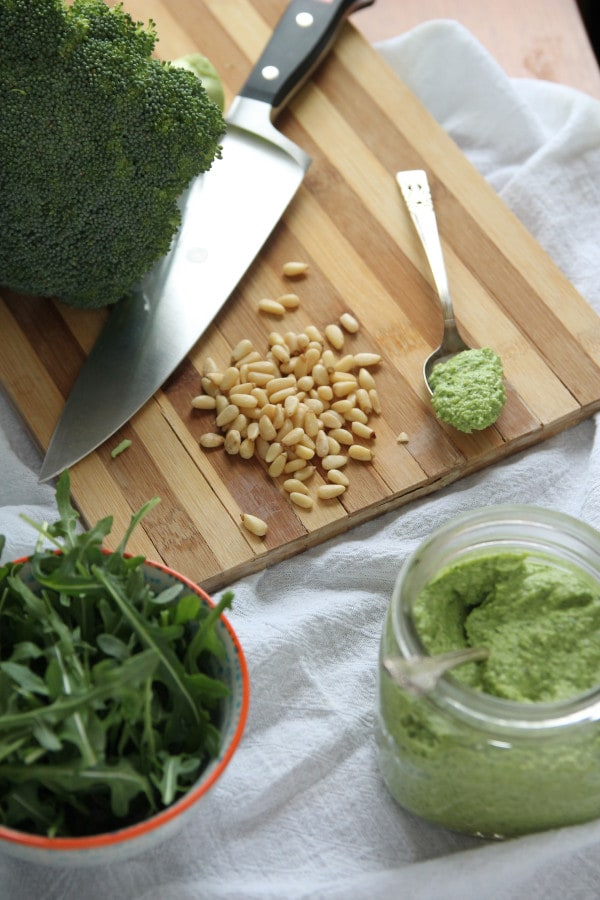 Helloooo, friends! Greetings from the new Mrs. Predmore! <–Someone tell me when that will stop being weird to me.
I promise a full wedding post once we get our pictures back from the photographer (because visuals), but for now I say that Alex and I felt that the day was absolutely perfect. From the weather (80 degrees and sunny, which is basically a miracle for mid-April in the good ol' Midwest) to the food to the guests, we were surrounded by beauty and love and could not have asked for more.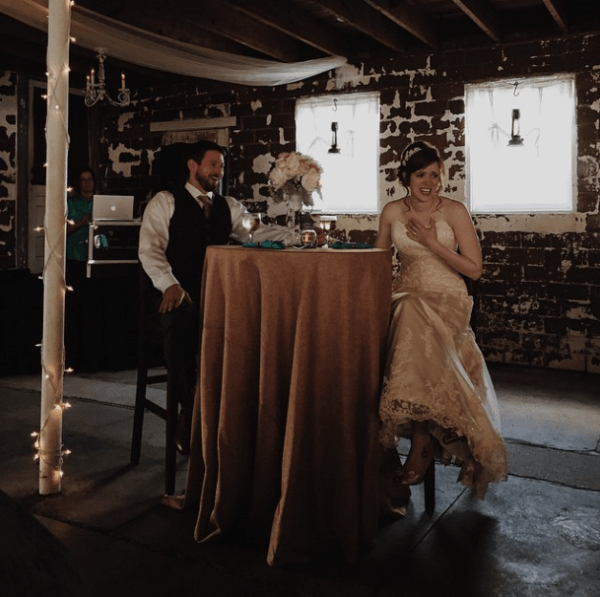 (Ok, if you want a sneak peek, you can snoop #StephieandAlex on the Instagrams. Go ahead, I'll be right here when you get back.)
Alright, down to Broccoli Arugula Pesto – because I owe you guys something green and healthy. I promise, cake is on the way, but for now…we pesto.
Homemade pesto is one of our favorite things to keep on hand. It is easy, freezes like a dream (and, relatedly, thaws quickly), and makes for a healthy topping to pasta for a super simple weeknight dinner. We like to toss together some whole wheat pasta, a dollop of pesto, some seasonal veggies and some roasted shrimp or chicken for a meal full of all kinds of good-for-you things.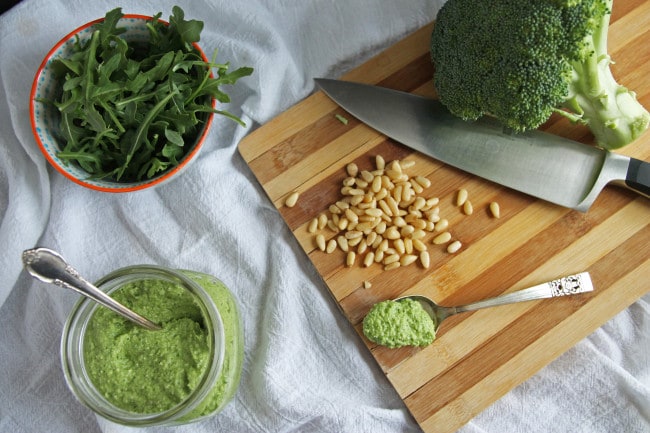 I often reach for spinach or kale (or even both, as in my Spinach and Kale Pesto) instead of the traditional basil when making homemade pesto, but occasionally I like to really go for the nutritional gold and I throw in an entire head of broccoli instead.
In this version, I added some peppery arugula, some pine nuts and some Parmesan to help round out the flavor. The best part is that this Broccoli Arugula Pesto doesn't even necessarily taste like broccoli – my husband (ok, yep, still weird!) fed some to his coworker, a self-proclaimed broccoli hater, and he had no idea it had broccoli in it – he just thought it was delicious!
Make this Broccoli Arugula Pesto immediately. The 10 minutes it takes will convince you to bypass the jarred stuff forever.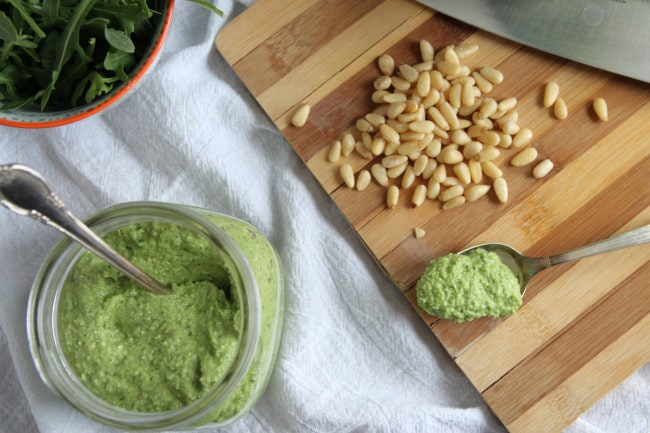 Broccoli-Arugula Pesto
Bright broccoli and arugula pesto with pine nuts and Parmesan makes for the perfect accompaniment to any dish.
Yield:
About 2½ cups pesto
Ingredients
2½ cups fresh broccoli florets (about 1 small head of broccoli)
2 cups arugula
Juice of ½ lemon
½ cup Diamond of California Pine Nuts
1 large or 2 small cloves garlic
½ cup Parmesan cheese
6 tablespoons extra virgin olive oil
½ teaspoon salt
Freshly ground black pepper
Instructions
Bring a large pot of water to a rolling boil. Add the broccoli florets and boil for 3 minutes. Remove from the boiling water and immediately place in an ice bath to halt the cooking process. Once cooled, drain well.
In the bowl of a food processor or a high-powered blender, place the cooked broccoli, arugula, lemon juice, pine nuts, garlic and cheese. Pulse until combined. Stream in the olive oil and process until smooth. Season with salt and pepper to taste.