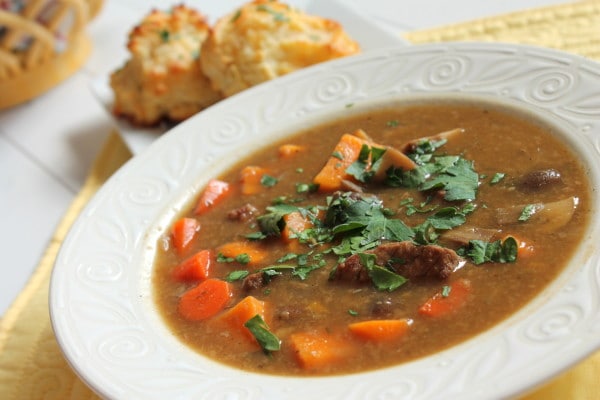 Oh, what was that spring? You're on your way? You're almost here? You're just running a bit late?
I'm sorry, I couldn't hear you. My winter coat, long pants, and close-toed shoes must be affecting my hearing.
Until spring gets its you-know-what together and decides to actually show up – not just tease me with sunny skies but mid-30 temperatures – I'm going to go ahead and cook for whatever season I feel like. Right now, that means a hearty bowl of stew.
This winter, my parents bought a cow. Well, a quarter of a cow, to be more exact. Organic, grass-fed Black Angus from our vet. Nothing says "small-town" like buying a quarter side of beef from your vet…who is also referred to as "Doc". Yep, that's real.
For those of you who did not grow up in the middle of a cornfield, a quarter side of beef is about 150 pounds hanging weight, about 80% of which will end up being meat. Bottom line: my parents ended up with 50 pounds of ground beef alone in their freezer. That's not taking into account the roasts, round steak, stew meat, steaks…you get the picture.

So, like the good daughter I am, I shouldered the burden of taking some of this amazingly delicious beef home with me. Remember those sloppy joes and the subsequent spaghetti sauce? Yep, that used some of the beef I took.
Of course I had to use some of the stew meat before the weather warmed up completely. And of course I had to brown it, then cook it down with hard cider, broth, aromatic vegetables and some herbs. And serve it alongside some biscuits.
I just had to.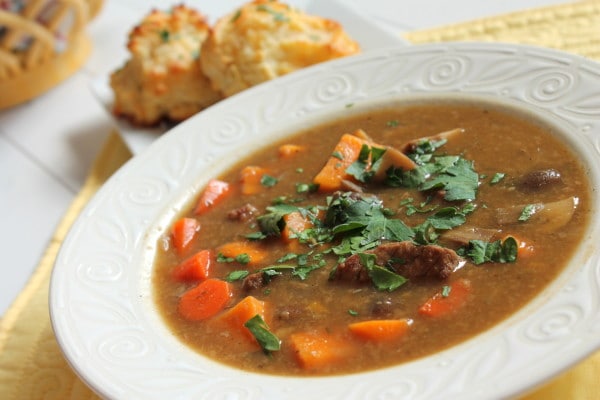 Ingredients
1

pound

stew meat

1/2

cup

flour

2 1/2

teaspoons

kosher salt

divided

1/2

teaspoon

black pepper

2

tablespoons

butter

2

tablespoons

olive oil

1

large onion

diced

4

cloves

garlic

minced

12

ounces

hard cider

1

quart

beef stock

10

ounces

baby portabella mushrooms

quartered

1

teaspoon

dried parsley

1/2

teaspoon

dried thyme

1

bay leaf

1

teaspoon

Worcestershire sauce

2

cups

diced carrots

3

cups

peeled and diced sweet potatoes

1 1/2

tablespoons

cornstarch
Instructions
Use paper towels to thoroughly pat dry the pieces of stew meat. Set aside.

On a large plate, or in a large, shallow bowl, combine the flour, 1 1/2 teaspoons salt, and the pepper. Place the pieces of stew meat on the plate and lightly dredge with the flour mixture.

Meanwhile, heat the butter and olive oil in a large dutch oven over medium-high to high heat. Once hot, add the pieces of stew meat, browning on both sides. You may need to do this in 2-3 batches so as not to overcrowd the pan. Once the pieces are browned on both sides (they will not be fully cooked through - that is ok), remove to a clean plate.

Once all of the meat is browned and set aside, add the onion to the pan and cook for 2-3 minutes, until beginning to turn soft and translucent. Add the garlic, and cook for just another minute.

Pour the hard cider into the pot, using a wooden spoon to scrape the browned bits up off the bottom of the pot. Allow to cook for 1-2 minutes, then add the stock. Add the mushrooms, parsley, thyme, bay leaf, Worcestershire sauce, and return the meat to the pot. Bring to a simmer, turn the heat to low, cover and simmer for 1 1/2-2 hours, until the meat is cooked through and tender and the broth is reduced and flavorful. Add the carrots and sweet potatoes; simmer, uncovered, for another 20-30 minutes, until the carrots and potatoes are cooked through.

At this point, remove the bay leaf and take inventory of your broth. Does it seem thick enough, or does it need to be a bit thicker? If you would like it thicker (and I always do), use a ladle to spoon about 1/3 cup of the broth to a separate bowl. Whisk in 1 1/2 tablespoons of cornstarch until smooth, then return to the pot and stir; the stew should thicken up very quickly.

Taste for seasoning - you will likely need to add another teaspoon or so of salt, perhaps a couple more grinds of pepper.

Serve warm. Will keep in the fridge, covered, for 3 days, or in the freezer for 3 months.
Notes
I like my vegetables to maintain some of their structural integrity, so I don't add the carrots and potatoes until the end of cooking - they'll maintain some of their bite and won't get quite so smushy. If you prefer them to be more cooked, you can add them with the mushrooms and let them simmer with the rest of the stew.