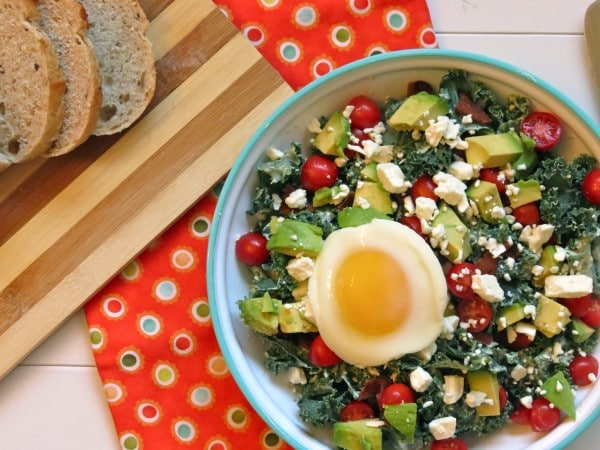 Did anyone out there have an "eat weekend"?
*Raises hand*
My cousin got married this weekend, which means I spent most of the weekend socializing with various family members and…well, eating.
After all of the food, drinks, and wedding cake…it might be time for a salad at least once this week. But let's not just stick with our normal, boring go-to salad. Let's take something traditional, and give it a little spin. You know…revisit it.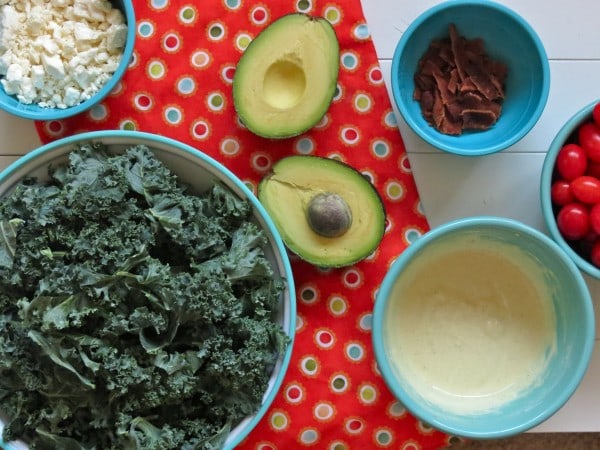 Let's take a traditional Cobb salad, for example. Let's keep the same basic components you would normally find, but give them a twist.
Let's use kale instead of lettuce.
Let's toss our kale in a creamy, Greek yogurt-based Dijon dressing.
Change out the blue cheese for feta.
And instead of a hard-boiled egg…you know we need to get a poached egg all up in there. The runny yolk? Well, that will just become absolute perfection once it is mixed with the cool, crisp kale and the creamy dressing. Runny yolks for days! Seriously, put a poached egg on just about anything and it's going to dramatically improve your life.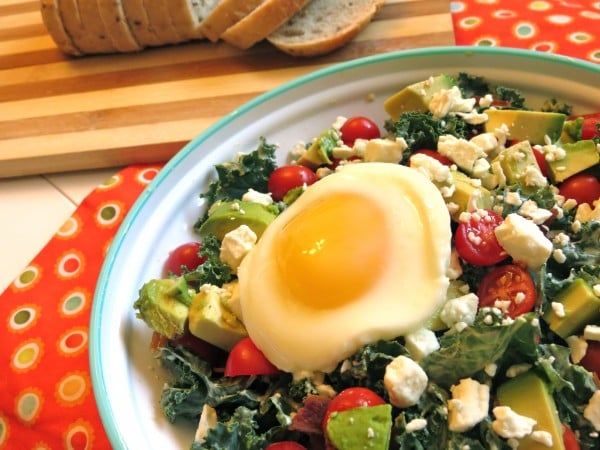 And above all, keep it easy when you're recovering from summer wedding season. You've already spent too much time contemplating what you wore to each event…no need to over-complicate things now.
________________
Monday marked the start of a new #shereadstruth plan! This month we are reading through the book of Proverbs, one chapter each day. Each day there will be a new blog post on the She Reads Truth website with thoughts and insights on that day's chapter. To learn more about this new plan or to find out how you can get caught up with previous reading plans, click here. I hope you will consider joining us as we continue to delve into God's word and gain wisdom and insight from fellowship with each other.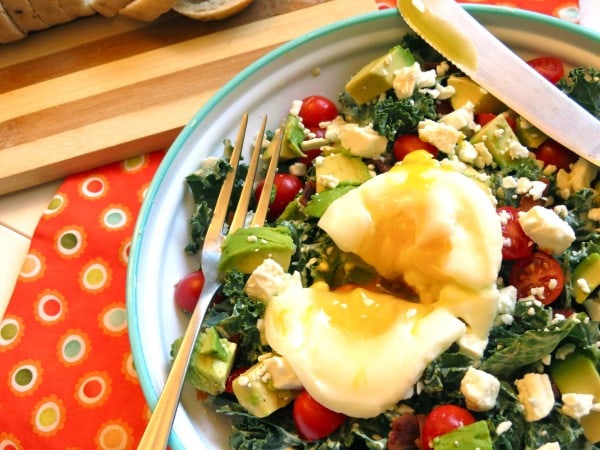 Yield:
2 main dish servings or 4 side dish servings
Ingredients
For the dressing:
¼ cup Greek yogurt
1 teaspoon Dijon mustard
1 teaspoon spicy brown mustard
1 teaspoon red wine vinegar
2 teaspoons water
Pinch of salt
For the salad:
1 bunch kale, cleaned and cut into bite-size pieces
1 avocado, diced
3 slices bacon, cooked and crumbled
1 cup halved cherry or grape tomatoes
¼ cup feta cheese
2-4 poached (or fried) eggs (1 per person being served)
Instructions
In a small bowl, whisk together the dressing ingredients, adding additional water 1 tablespoon at a time to reach your desired consistency.
Just before serving, toss the kale with the dressing. Top with the avocado, bacon, tomatoes and feta cheese. Place a poached or fried egg over each serving; serve immediately, preferably alongside some good, crusty bread.