Coconut Lime Bars are the ideal combination of graham cracker crust and a creamy lime filling, all laced with just a hint of coconut.
On the list of things that you probably need to make RIGHT NOW (or this week, at the very least), these Coconut Lime Bars rank pretty high.
Here's the situation we are dealing with: A graham cracker crust base, which has just a smidgen of coconut mixed in for texture and flavor. On top of that is a creamy lime filling, again with just a bit of coconut to balance out the tart lime.
But wait, it gets better. The base for that lime filling? Sweetened condensed milk. That's right, I'm so excited about it that I can't even complete a proper sentence.
The thing about sweetened condensed milk is that it's delicious. My mother is obsessed with it. My host mom when I studied abroad in Spain was also obsessed – some nights, she would eat a few spoonfuls straight from the can for dessert. That might be taking it a bit farther than I would go (only because I would be literally bouncing off the walls from all of the sugar), but I can always rest assured that any dessert that calls for sweetened condensed milk is going to be just downright phenomenal. In this recipe, it is the perfect counterpart to the tartness of the lime and the tropical flavor of the coconut.
Did you notice that it is the 12th of the month? That means that this recipe is part of the 12 Bloggers | 12 Months | 12 Ingredients project of which I am a part! This month's theme was green desserts or drinks for St. Patrick's Day.
Ok, I know, I know, these Coconut Lime Bars aren't exactly the greenest dessert around. But if you knew how much I was craving them and how much I don't like using food coloring, you would forgive me. And if food coloring doesn't freak you out (ie: if you're a normal person), you can definitely add a drop or two of the green stuff to your filling while mixing to make these extra festive. I personally think the tiny flecks of green from the lime zest and the twist of lime on top make them just about perfect.
Make sure to check out what my 11 friends made and get some more ideas for fun green treats for St. Patrick's Day:
Recipe adapted from Two Peas and Their Pod.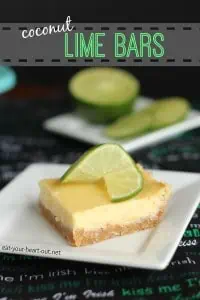 Ingredients
For the crust:
8

graham crackers

for 1 1/4 cups crumbs

1/4

cup

sweetened shredded coconut

1/4

cup

granulated sugar

4

tablespoons

melted butter
For the filling:
1 14-

ounce

can sweetened condensed milk

1/4

cup

sweetened shredded coconut

Zest of 1 lime

1/2

cup

lime juice
Instructions
Make the crust:
Preheat oven to 350 degrees. Grease an 8x8-inch baking pan. Set aside.

Place the graham crackers in a food processor; pulse until you have crumbs with no large pieces remaining. Measure out 1 1/4 cups of crumbs; place into a medium bowl.

Pulse the 1/4 cup of coconut in the processor until the long pieces are cut into small pieces. Place in the bowl with the graham cracker crumbs. Add in the melted butter and sugar, stirring until well combined. Pat into the bottom of the prepared baking dish and bake for 10-11 minutes, or until set and just golden around the edges.
Make the filling:
Add the remaining 1/4 cup of coconut to the food processor, pulsing as before.

Add all of the filling ingredients to a large bowl, stirring until well combined. Pour into the prepared crust. Bake for 15 minutes, or until set and the center has just a slight jiggle when gently shaken.

Cool to room temperature then chill for at least 1 hour before cutting and serving.