Classic deep-dish apple pie flavored with cinnamon, ginger, and a pinch of allspice and topped with brown sugar crumbs.
Here we are, catapulting headfirst into summer. The days are hot, my hair is the size of a small planet, our tiny air conditioning unit is installed, and all I can think about during the day is sitting outside and reading a book.
This can mean only one thing: the 4th of July is right around the corner.
When presented with this month's 12 Bloggers theme, I could think about one thing and one thing only, practically to the point of obsession: Apple pie. Deep-dish apple pie. Deep-Dish, Crumb-Topped Apple Pie. <–There we go.
And so, while many of my fellow 12 bloggers were channeling their inner Barbecue Pit Master, I was dreaming up the pie that I would chow down on after stuffing myself with picnic foods.
For those of you wondering what the secret to a great apple pie might be, I'll let you in on what I call my "Two Secrets to a Great Apple Pie". <–I'm still working on that title.
Here we go:
1.) Use 2-3 types of apples. I think a lot of people immediately reach for Granny Smiths, given their reputation for holding up well during baking, but I typically use no more than 2-3 Granny Smith apples in my apple pies.
I tend to like a mixture of Granny Smith, Golden Delicious, and Jonagold apples, which is exactly what I used here. These are all relatively crisp apples, so they hold up well through baking, but they all have different flavor profiles that lend a more complex flavor to the finished pie.
2.) Season cautiously. We aren't making cinnamon pie, we're making apple pie. From the taste of many apple pies, that seems to be a common misunderstanding, so I just thought I would clarify.
Yes, we are going to use cinnamon to flavor our pie, but we are also going to use some ground ginger, which gives the pie a nice little "oomph" but is still mellow enough to let the flavor of the apples shine through, which is precisely our end goal: Apple pie with a hint of cinnamon and spice.
If you need me, I'll be over here licking the pie plate clean.
Make sure to check out what my 11 fellow bloggers made this month: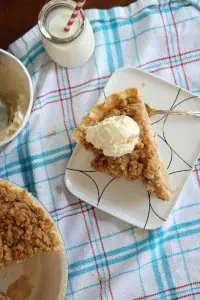 Deep-Dish Crumb-Topped Apple Pie
Classic deep-dish apple pie flavored with cinnamon, ginger, and a pinch of allspice and topped with brown sugar crumbs.
Print
Pin
Rate
Ingredients
1 9-

inch

deep-dish pie crust

4

pounds

assorted apples

approximately 8 apples

1/4

cup

flour

1/2

cup

granulated sugar

1

tablespoon

lemon juice

1 1/2

teaspoons

cinnamon

1/2

teaspoon

ground ginger

1/4

teaspoon

allspice
For the crumb topping:
3/4

cup

flour

1/2

cup

brown sugar

Pinch

of salt

5

tablespoons

unsalted butter

melted
Instructions
Preheat oven to 375 degrees.

Peel, core, and slice the apples. Place in a large bowl with the flour, sugar, lemon juice, and spices. Stir to combine.

In a medium bowl, stir together flour, brown sugar, and salt for the crumb topping. Drizzle in the melted butter; combined with a fork until crumbs form. Set aside.

Place pie crust in a 9-inch deep-dish pie plate. Carefully pour in apples, arranging to mound up in the middle (they should mound up quite a bit). Carefully place crumbs on top of the apples, pressing lightly on the sides so they stay in place.

Place pie on a rimmed baking sheet. Bake for 1 hour and 10 minutes to 1 hour and 20 minutes, or until crust and crumb topping are golden and the juices are bubbly. Allow to cool completely before cutting and serving.
Notes
Keep an eye on the pie while baking. If crust or crumb topping starts to get too dark, cover edges or top of pie very gently with foil for the remainder of the baking time.
Makes 1 9-inch deep-dish pie