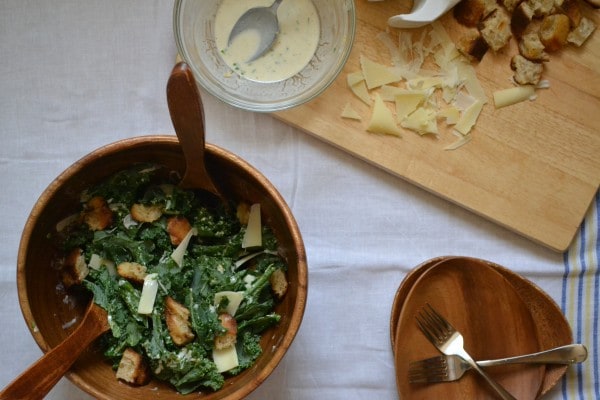 Hello, all! I hope you are having a lovely start to your week. As promised, I have a couple of amazing guest posts for you this week while I spend the week bachelorette partying, pedicuring, church decorating, and crying my eyes out while I watch my dearest friend say "I do". Ugh, I'm already tearing up just thinking about it. Someone shoot me now.
The first of this week's posts comes to us from Stefanie, the awesomely funny and snarky voice behind Sarcastic Cooking. I'm so excited not just to be featuring her but for the gorgeous recipe she came up with for you today! So, without further adieu, here she is!
Hi all you Eat Your Heart Out readers! I am so happy to be featured on Stephie's blog today. Stephie is one of my favorite food blogger friends. I like to email during the work day with random thoughts or questions. Luckily, I haven't totally creeped her out yet!
There are a few crazy things we have in common.
-Our love of Joy the Baker. Totes obv, right? I mean we did meet up and geek out at her cookbook signing.
-We both went to college minutes away from each other. I may be a little older, but it still counts.
-After college we both worked at two different universities a block away from each other.
-Now, thanks to her and some of my friends, I am totally addicted to this season of the Bachelorette. Trust me; it is a crazy good season!
-Like Stephie, I love to use Greek yogurt instead of sour cream or mayonnaise in most recipes. So when coming up with a recipe to share with you all, I thought I definitely need to incorporate that somehow into whatever I make.
The thing I love about Stephie's blog is that her recipes are so versatile and simple. Sometimes I have a hard time with that. Ever since I started my blog, all I've been hearing from my mother and her friends is, "It's too complicated! When are you going to make something simple??" What, not every person wants to spend four hours cooking Beef Bourguignon? Stephie has a knack for making great food seem every day accessible. Maybe my mom's co-workers might like Stephie's blog better than mine (sigh…).
With it being summer and all, any recipe involving standing over a hot oven or stove is not something people lean towards. So, what is easier than a simple and healthy take on the Caesar salad!?!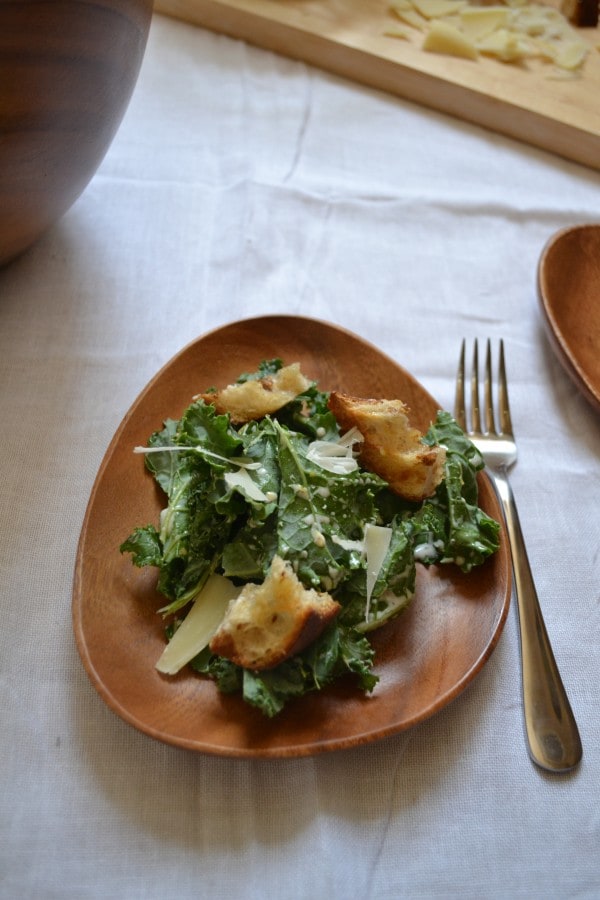 Well…. If you want it to truly be healthy you can take the secret ingredient, white wine, out of the equation, but where is the fun in that?
Ingredients (Serves 4-6 as a side and 2-3 as an entrée)
For the Dressing:
¼ Cup Plain Non-Fat Greek Yogurt
1 Tablespoon White Wine (optional)
Zest of 1 Lemon, about 2 Tablespoons
1 Tablespoon Lemon Juice
1 Tablespoon Fresh Chives, chopped
½ Teaspoon Anchovy Paste (Don't say ewww! This is what gives it that salty Caesar-y taste. It is definitely worth it to buy a tube and keep it in your fridge. It is a great addition to any salad dressing instead of salt.)
¼ Teaspoon Salt
¼ Teaspoon Pepper
1 Tablespoon Olive Oil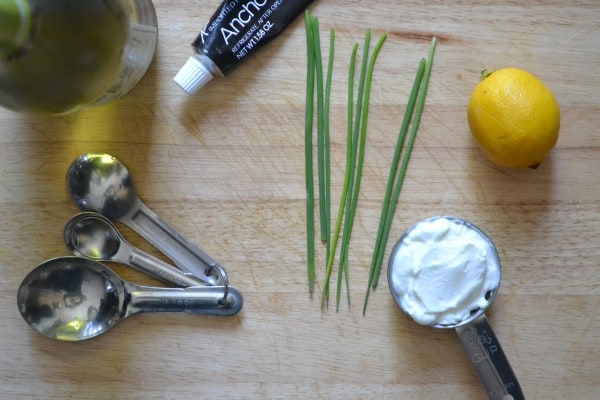 For the Salad:
3 Slices French Bread
A Drizzle of Olive Oil and Balsamic Vinegar
Note: You can avoid the above ingredients if you would prefer to use about a cup of store bought croutons
1 lb. Kale; rinsed, stems removed, and roughly chopped
½ Cup Shaved Parmesan Cheese
In a medium mixing bowl, combine the Greek yogurt, white wine if you are using it, lemon zest, lemon juice, chives, anchovy paste, salt, and pepper. Whisk in the olive oil. Set the dressing to the side.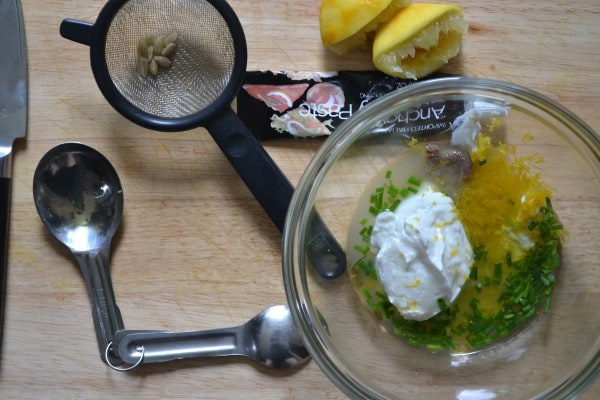 To make the croutons: drizzle three big pieces of bread with a little bit of olive oil and balsamic vinegar. Either grill the slices of bread for five minutes over medium heat or bake the bread in the oven for ten minutes at 375 degrees F. Let the bread cool a bit and then slice into large bits.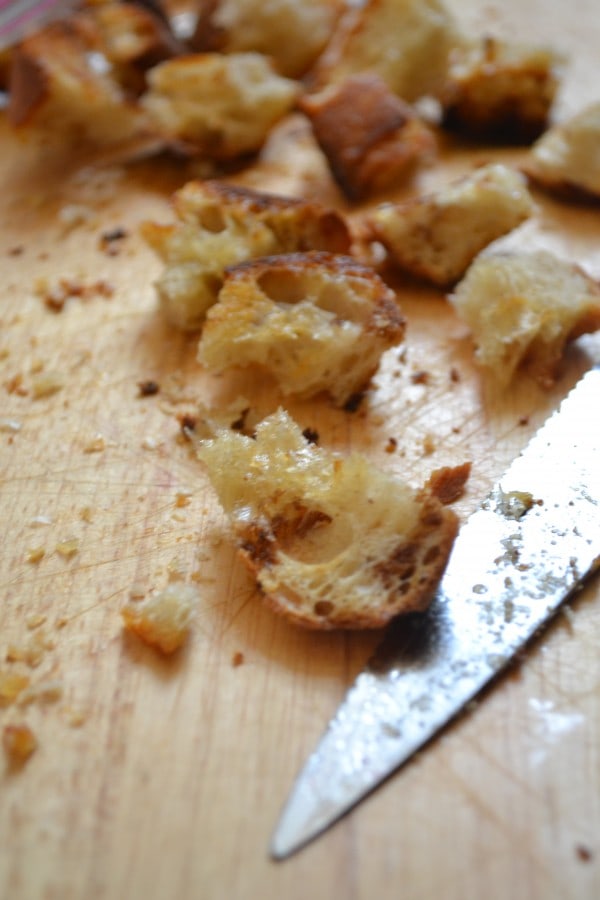 Clearly, if you are using store bought croutons, you need not follow the above steps.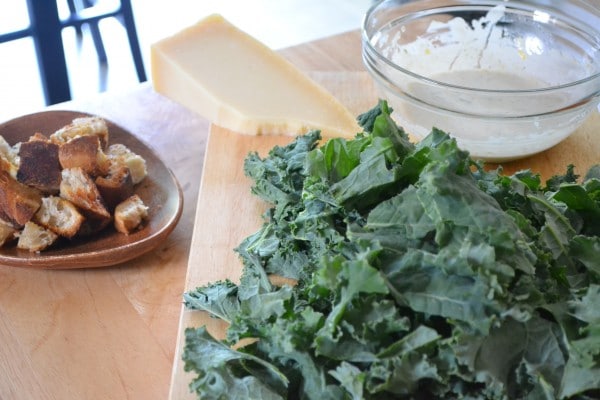 Clean the kale leaves, remove the stems, and roughly chop into bite-sized pieces. Add the kale and croutons to a large salad bowl.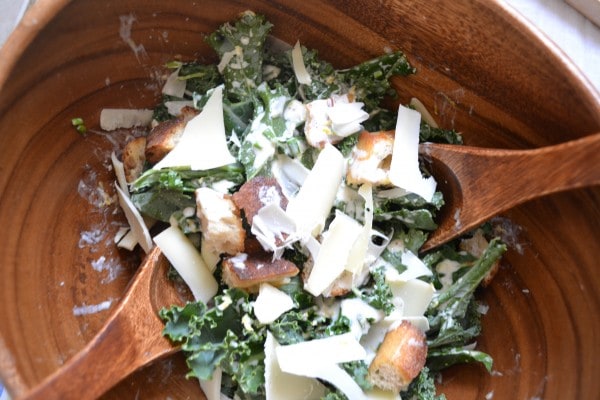 Shave about a half a cup of parmesan on top of the salad. Give the dressing a quick whisk again and then drizzle on top of the salad or serve on the side.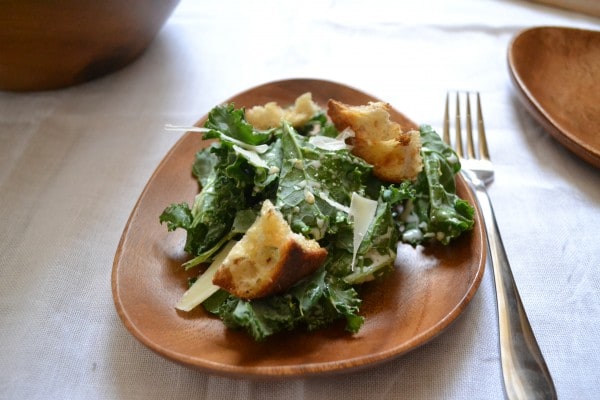 The kale holds up better than regular old lettuce but I would still recommend not dressing the salad until you are ready to serve it.