Fluffy, lemony ricotta pancakes are shaped like hearts and drizzled with strawberry maple syrup for a Valentine's Day breakfast that will make your sweetheart swoon.
Are you a Valentine's Day lover or a Valentine's Day hater?
Frankly, I'm a fan of any holiday that encourages eating a boatload of heart-shaped sugar cookies. I'll celebrate Valentine's Day every day if it means getting to eat my weight in sugar cookies.
I can feel Boyfriend shuddering at that thought as I type.
You know who else is a fan of Valentine's Day? The rest of my 12 Months – 12 Bloggers – 12 Ingredients friends! In case you missed the announcement in January, on the 12 of each month during 2014, I will be joining 11 other bloggers in posting a recipe with 12 ingredients or less, all tied around a monthly theme. And you guessed it…February's theme was Sweet Valentine Treats!
I considered all of the heart-themed items I could have shared with you today…most of which were desserts, I cannot lie. But instead I decided to share with you a recipe that would make a perfect Valentine's Day breakfast for your honey – or a perfect breakfast for the following morning. Whichever floats your boat the most. 😉
The base of our breakfast is a stack of fluffy Lemon Ricotta Pancakes – just barely sweet, and bursting with lemon flavor from both zest and juice. The ricotta cheese makes them sinful without having to add any extra fat to the batter, and the whipped egg whites lighten up the batter to make them into perfect little pillows. Trust me, it's an extra step that you don't want to skip. But the thing that brings them all together? This incredibly easy Strawberry Maple Syrup. We're just taking strawberry preserves and heating it together with some pure maple syrup. The result is a warm syrup with bright notes of strawberry married with maple goodness. Paired with the lemony pancakes…oh, my. This might be Heaven in a pancake stack.
Oh – and if you're going to make pancakes on Valentine's Day, you know they better be heart-shaped. It's just a rule.
Make sure to check out the Valentine-friendly recipes created by my fellow bloggers – you'll have no shortage of ideas for spoiling your Valentine this year!
Easy Chocolate Caramel Pretzel Hearts from Choosing Love
Sweetheart Popcorn from A Night Owl
Queen of Hearts Chex Mix from Bless This Mess
Valentine's Jello Popcorn Balls from Mom Endeavors
Valentine's Chocolate Chip Cookies from Around My Family Table
Heart Shaped Pretzels from Betsy Life
Lemon Ricotta Pancakes with Strawberry Maple Syrup from Eat Your Heart Out
Heart Shaped Strawberry Shortcake from See Vanessa Craft
Mini Heart-Shaped Monkey Bread from Home Cooking Memories
Raspberry Cream Tart from A Little Claireification
Rice Crispy Hearts from The Rebel Chick
Nutella Filled Conversation Hearts from Million Moments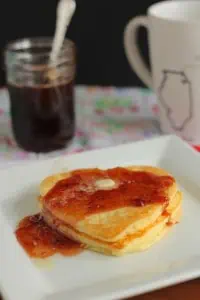 Ingredients
For the pancakes:
1 1/2

cups

flour

3

tablespoons

sugar

1

tablespoon

baking powder

1/4

teaspoon

salt

3

eggs

separated

1

cup

ricotta cheese

1

cup

half-and-half

Zest and juice of 1 large lemon

Butter for griddle
For the syrup:
1/2

cup

strawberry preserves

1/4

cup

maple syrup
Instructions
In a small saucepan, whisk together the strawberry preserves and the maple syrup. Bring to a simmer over medium heat. Lower heat and keep warm until serving.

In a large bowl, whisk together the flour, sugar, baking powder, and salt. In a medium bowl or large measuring cup, whisk together the egg yolks, ricotta cheese, half-and-half, and lemon zest and juice. Add to the dry ingredients, stirring just until combined.

In a third bowl, beat the egg whites with an electric mixer on medium speed until foamy. Increase the speed to high and beat until they hold stiff peaks. Gently fold into the batter 1/3 at a time until combined.

Heat a griddle or large skillet over medium-high heat. Butter the hot griddle, then wipe off excess butter with a paper towel - you want just enough to very lightly flavor the pancakes and prevent them from sticking, not so much as to fry them. Ladle pancake batter onto the prepared griddle about 1/4 to 1/3 cup at a time. Cook on the first side until bubbles form and start to pop, 2-3 minutes. Flip and cook until golden on both sides, another 2 (or so) minutes.

Serve warm with the warm strawberry maple syrup.
Notes
To make pancakes into heart shapes, use either a pancake ring/mold or a metal cookie cutter. Make sure to grease the inside of the mold/cookie cutter first!