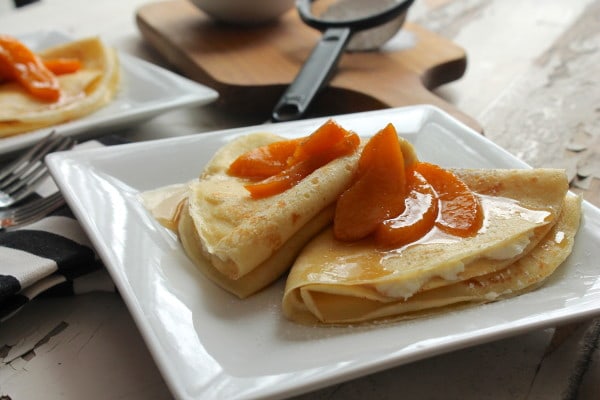 Friends are for emailing when you've found the perfect color nail polish and just have to tell someone.
Friends are for sending rant-filled texts when your computer's hard drive takes a nose-dive and you can't seem to access your back-up files.
Friends are for taking you out for drinks to celebrate quitting a job you hated.
Friends are for loaning you every season of Sex and the City on DVD to help you heal after a breakup.
Friends are for helping you get over your lingering cooking fears and teaching you new skills.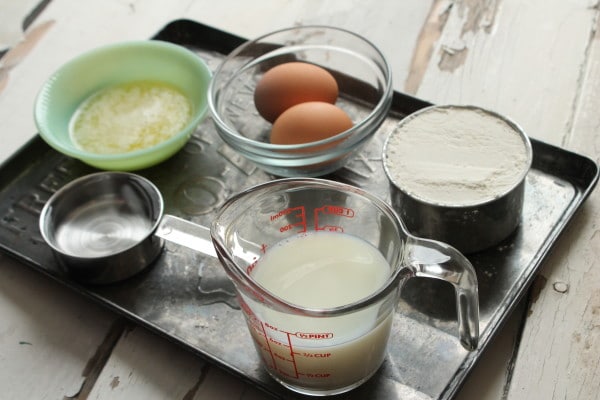 Stef has been a friend in all of these things, and, during our most recent cooking adventure, helped me get over my crepe-making fears: She taught me how to make crepes!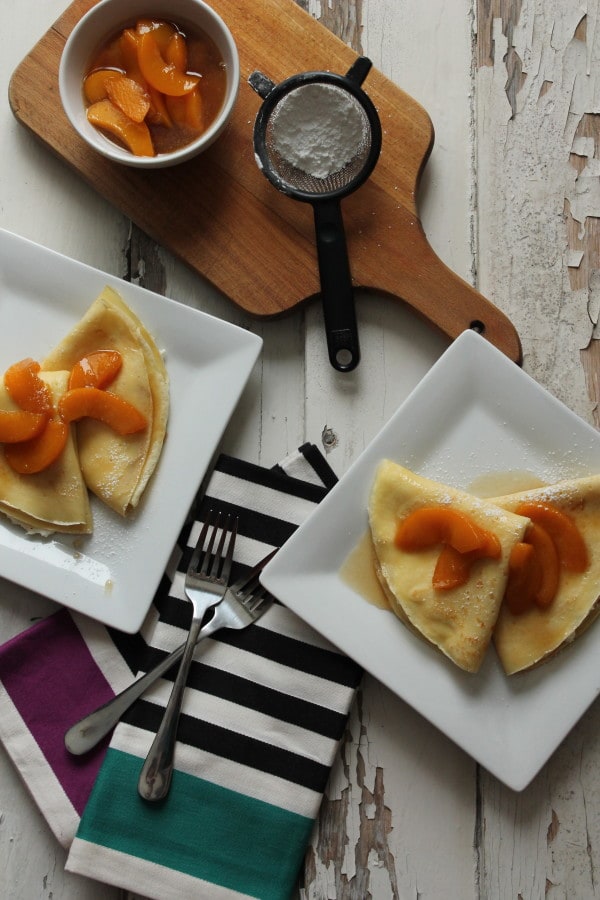 As it turns out, crepe-making seems scary and fancy and like you would need all sorts of fancy equipment, but is really quite easy and requires only a blender, nonstick skillet, and good rubber spatula.
These crepes are essentially a blank canvas, perfect for filling with whatever you wish. Stef and I got creative and decided to fill ours with some barely-sweetened honeyed ricotta, and topped them off with some peaches cooked in a syrup made simply of butter, brown sugar, and a splash of honey whiskey. Maybe whiskey isn't your thing? Not a problem. The whiskey can easily be swapped out for a combination of orange juice and honey.
Try these crepes for dessert, or even for brunch! Your guests will be impressed, and you certainly don't have to tell them how easy they were to put together.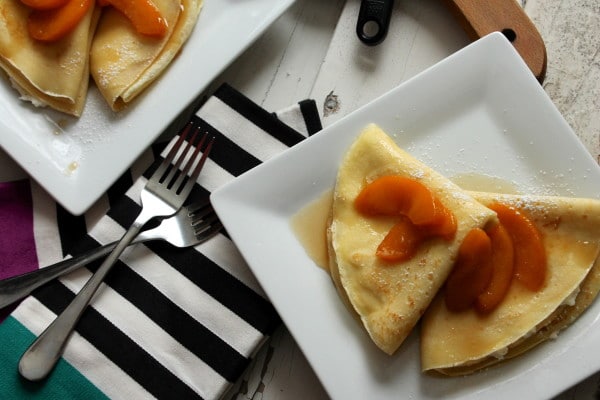 Crepe recipe very slightly adapted from Alton Brown.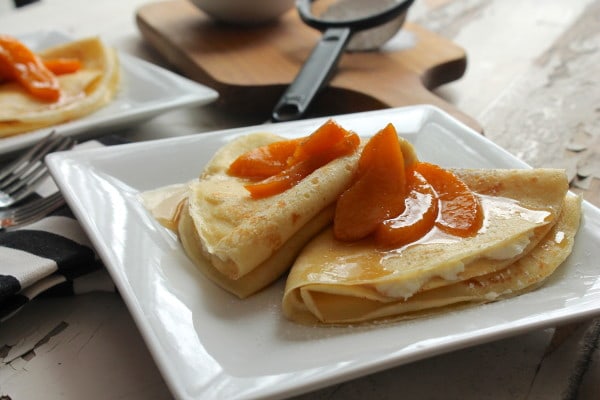 Ingredients
For the crepes:
2

eggs

3/4

cup

milk

1/2

cup

water

1

cup

flour

3

tablespoons

melted butter + more for the pan

Pinch

of salt
For the ricotta filling:
1

cup

ricotta cheese

1

tablespoon

+ 1 teaspoon honey

1

teaspoon

orange zest
For the peach syrup:
4

peach halves

fresh or jarred, sliced

2

tablespoons

butter

1/4

cup

brown sugar

1

tablespoon

Jack Daniel's Tennessee Honey Whiskey
Instructions
Make the crepes:
Place all ingredients in a blender, and blend until smooth and well-combined. Place in the refrigerator to rest for at least 1 hour (this allows the bubbles formed by the blender to dissipate).

Heat a medium nonstick pan over medium to medium-high heat. Add a small amount of butter and swirl to coat the pan. Pour 1/4 cup of the crepe batter into the middle of the pan, then swirl the pan so that the batter thinly coats the bottom of the pan. Allow to cook for about 1 minute, until set and lightly browned on the bottom - small bubbles will appear on the top when it is ready to flip (just like a pancake). To flip, use a rubber spatula to gently lift the edge of the crepe. Slide the spatula under the crepe, then lift the crepe up and flip it over. Cook for about 30 seconds on the second side, then remove to a plate. Cooked crepes can be stacked on top of each other without sticking together.

Your first crepe will probably not turn out very well. This is normal; have patience, they will get better!
Make the ricotta filling:
Place ingredients in a food processor and process until combined.
Make the peach syrup:
Place the butter, brown sugar, and whiskey in a small saucepan. Bring to a boil over medium heat; add the sliced peaches and allow to simmer for 3-5 minutes or until reduced. For a thicker syrup, simmer a few minutes longer.
To assemble:
Spread 2 tablespoons of filling on half of one crepe. Fold the crepe in half, then in half again (it will now be folded into quarters). Repeat with remaining crepes. Place 1-2 filled crepes on each plate, top with the peach syrup, and dust with powdered sugar (if desired).
Notes
The honey whiskey in the peach syrup can be substituted for 1 tablespoon of orange juice plus 1/2 teaspoon of honey. The crepes and ricotta filling can be made ahead of time and stored in the fridge until assembly.