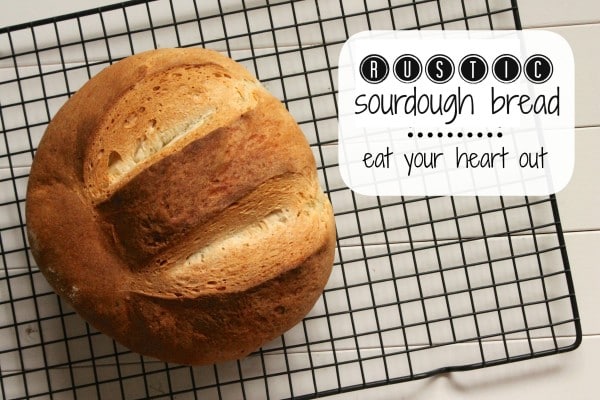 This week has been an adventure in learning all about yeast and sourdough, and one that has been building up to this: making your first loaf of sourdough bread!
Very traditional sourdough bread recipes utilize only the yeast in the starter to leaven the bread, a process which takes a very long time because the naturally occurring yeasts in sourdough are not as powerful or efficient as cultivated yeast. Since this is a rather time-consuming process, we will start off with a recipe that is a bit quicker and easier thanks to a small shortcut: a bit of cultivated yeast used in conjunction with the sourdough starter.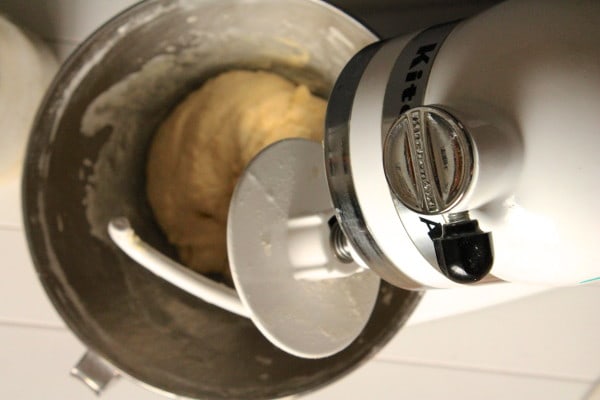 Because we are using some cultivated yeast to kick-start the leavening process, this bread will not have as strong of a sourdough flavor or "tang" as breads that use only starter. This is because the bread does not take as long to rise, and thus the Lactobacillus cultures that we talked about earlier do not have as much time to release as much lactic acid, the source of the sourdough "tang".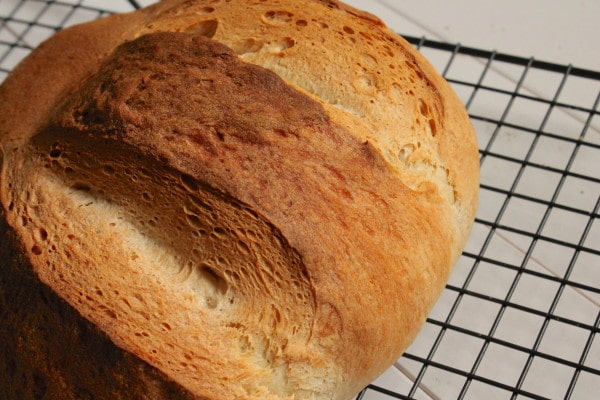 Even without a strongly sour flavor, this is still a wonderful bread and a perfect way to introduce you and your family to sourdough. It only takes a few hours to come together – almost all of that being rising time – making this a perfect bread to start in the afternoon and bake for dinner. A slice of this bread, buttered and still warm from the oven, alongside some homemade soup? Absolutely divine. It also makes great toast, is delicious for grilled cheese, and, I imagine, would be lovely for French toast as well.
So give this easy sourdough bread a try. As soon as you do, you'll definitely want to explore more ways of using your sourdough starter.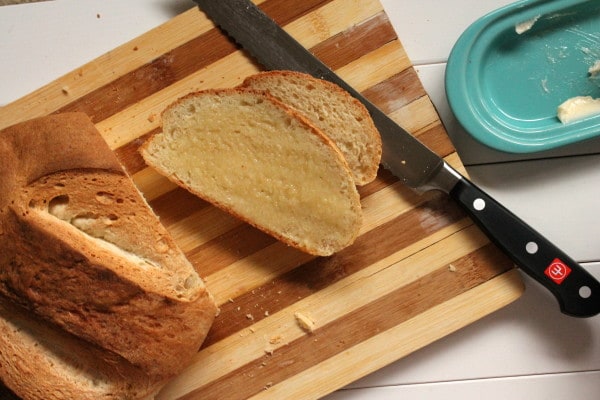 Recipe adapted from King Arthur Flour.
Sourdough starter recipe here.

Rustic Sourdough Bread
Ingredients
½ cup sourdough starter
¾ cup lukewarm water
1 teaspoon instant yeast
½ tablespoon sugar
1¼ teaspoons salt
2-2½ cups unbleached all-purpose flour
Instructions
By hand:
In a large bowl, stir together the starter, water, yeast, sugar and salt. Stir in the flour 1 cup at a time until a shaggy dough starts to come together. Dump the dough onto a well-floured surface and knead for several minutes, sprinkling with more flour as needed, until the dough is smooth and elastic.
With a stand mixer:
In the bowl of a stand mixer fitted with a dough hook, combine the starter, water, yeast, sugar and salt, stirring together until just combined. While the machine is running, slowly add the flour 1 cup at a time, mixing until the dough is no longer sticky and pulls away from the sides of the bowl.
For both methods:
Allow the dough to rise in a covered bowl until it has doubled in size, about 60-90 minutes (depending on how warm your rising location is).
Once the dough has risen, pour the dough onto a lightly floured surface - it will deflate somewhat. Shape the dough into a loaf - I like to shape mine into a round loaf by pulling the sides under, almost like a bubble gum bubble, though you could also shape it into an oval if you prefer. Place the loaf onto a parchment-lined baking sheet, cover with a tea towel and allow to rise until very puffy, about 45 minutes to 1 hour.
Near the end of the second rise, preheat the oven to 425 degrees.
Just before placing the loaf in the oven, spray it with lukewarm water. Then, using a sharp knife - a large, serrated bread knife works well for this - make two diagonal slashes in the top of the loaf.
Bake for 25 to 30 minutes, or until very deep golden brown. Transfer to a rack to cool for at least 15 minutes before slicing and serving.
Notes
Only have active dry yeast available? Not a problem. Simply combine the yeast, lukewarm water, and sugar and allow to sit for about 5 minutes, or until the yeast is foamy (read: activated). Then continue with the recipe as written.