I'm a lemming.
I've jumped on the bandwagon.
I'm following the herd.
I am pestering you all with my latest Stitch Fix review.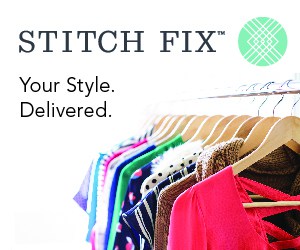 For those of you not familiar with Stitch Fix, they are an online personal styling service. This means that you create a profile and answer a ton of questions about yourself and your personal style – everything from your age to your sizes to what colors you love or hate to whether you like gold or silver jewelry better. You can even provide a link to your favorite Pinterest fashion board to serve as an example of the clothing styles that you love. After filling out your profile, you schedule a "fix" – once scheduled, a stylist will review all of the information in your profile and pick out 5 pieces to send in your box. These will be shipped to you, where you can try them on in the privacy of your own home, on your own time, without a crying child in the dressing room next to you (unless, of course, the crying child happens to be yours, in which case, carry on). You decide what you love and want to keep and what you don't love and want to send back in the postage-paid mailing envelope.
Fixes cost $20 to schedule and ship, but that $20 goes towards anything that you keep from your box. If you decide to keep all 5 items, you get 25% off the total price! You can sign up for automatic monthly fixes, or you can choose to schedule fixes as infrequently as you wish. It's all up to you. Nice, huh?
I actually had my first "fix" over a year ago and loved it – but due to budget cuts (read: being broke) I chose to chill out on the clothing situation for a while. Now that I'm working full-time again and wearing my workout clothes is no longer a viable option 75% of the time, I needed a few new things for the office and decided to try it again. Want to see what I got? Too bad, I'm gonna show you anyway.
Ps: Please excuse my crappy iPhone photos.
Pps: If you really are not at all interest in clothing, come back on Sunday when I'll be sharing a copycat recipe for a favorite childhood treat. Hint: Think snack cakes.
The first item in my box was this Corinna Striped Dolman Top from 41Hawthorn. It is loose and casual and especially comfortable, but could still be dressed up with a pencil skirt and some heels. It's also different from anything I have in my closet right now. Kept it!
The second item was this pair of Johnny Skinny Jeans from Kensie Jeans. I have been having a hard time finding jeans lately, so I specifically requested a nicer pair for work. These looked so promising at first – they were dark, had flattering butt pockets (yes, there is such a thing), hugged me in all the right places – but the very top seam of the waistband was like it was from a smaller pair of pants. I felt like I was being suffocated. They were also just a smidge short. Sent them back!
Next up was this Lottie Floral Blossom 3/4 Sleeve Blouse from 41Hawthorn. I would never have picked this out for myself, but the stylist noted on my packing slip that she was inspired by my Pinterest board for this one. At first I was on the fence about this one, so I consulted Boyfriend, who immediately told me to keep it. Ok, then. Kept it!
Side note: I feel like I am channeling my inner Pioneer Woman in this floral top with my red hair. Anyone else getting that vibe?
This Abrianna Longsleeve Knit Cardigan from 41Hawthorn was up next. I actually used to have a similar sweater in gray in college, and I wore it so much that it was long ago relegated to being an "at home only" item of clothing. I was excited to see something similar in the box, especially in this pretty teal color. Kept it!
Let's just skim past this last one, shall we? This Aster Geo Print Belted Tabsleeve Shirtdress from 41Hawthorn was bad enough that I didn't even bother to take off my jeans when trying it on. 'Nough said. Sent it back!
In all, I ended up keeping 3 of the 5 pieces, which means I now have 3 new tops to mix and match with my other things for wearing to work. Pretty successful, if you ask me.
Visit Stitch Fix to complete your profile and schedule your first fix! What are you waiting for? Not having to fight the crowds at the mall makes this service worth its weight in gold.
While I was not compensated for my review and paid for these clothes on my own, this post does contain referral links for new sign-ups which gives me some credit to go towards my next fix – and leaves more money for me to buy fun recipe ingredients. 😉