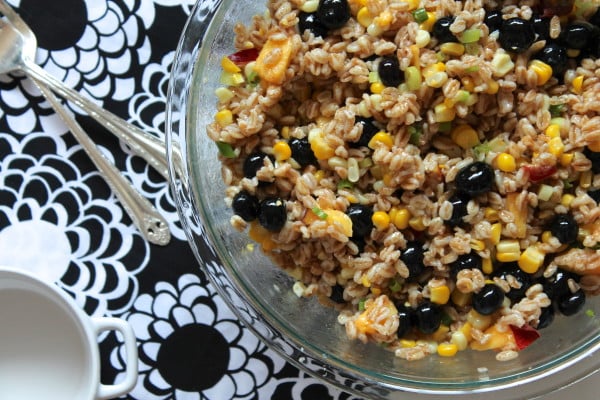 If you are the praying type, I would ask you to keep me in your prayers this weekend.
You see, I'm moving tomorrow. My parents and Boyfriend are all driving over to help with this project. I ask for prayer because, well, moving is stressful – especially when you have two very fastidious men (how I ended up dating a man so shockingly similar to my father I will never know, but it is probably a sign of some sort), two very fly-by-the-seat-of-their-pants women, and two very curious cats (who, in all honesty, will likely spend the better part of the day locked into the bathroom) involved. Please pray that we don't all end up killing (or hating) each other by the end of the day. Also, that my favorite dishes would all make the three block trip safely and arrive in one piece.
You know, priorities.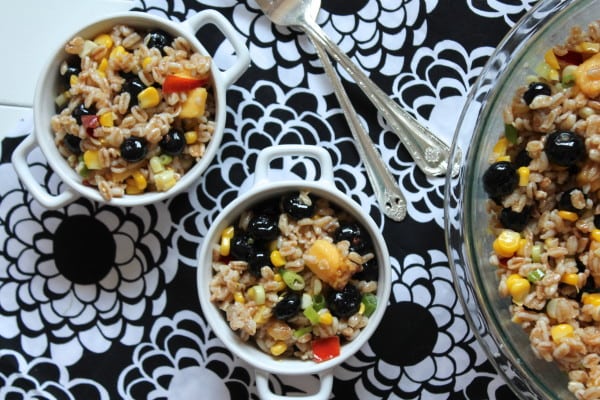 If you are not moving tomorrow and are instead, say, relaxing and having a barbecue, I highly suggest you consider making this salad. A little while ago I picked up a bag of the Trader Joe's 10-minute farro from the "new arrivals" display and promptly stuck it in the pantry. There it sat, sad and forgotten, until recently when I thought, "Hmmm, I wonder what a farro salad with blueberries would be like?"
Answer? Frickin' amazing.
This salad is chockablock full of summer produce: sweet, fresh blueberries, juicy nectarines, crisp corn, and zingy green onions, dressed in a simple combination of lime juice, dijon mustard, honey, and olive oil. It's a little bit sweet, a little bit savory, a little bit nutty, and a whole boatload of delicious. This recipe makes a nice, big amount – plenty to serve probably 6-8 people at a barbecue – and it was demolished by little ol' me in less than three days.
Whoops.
Make this salad before the summer produce starts to dwindle. You'll sure as heck be glad you did.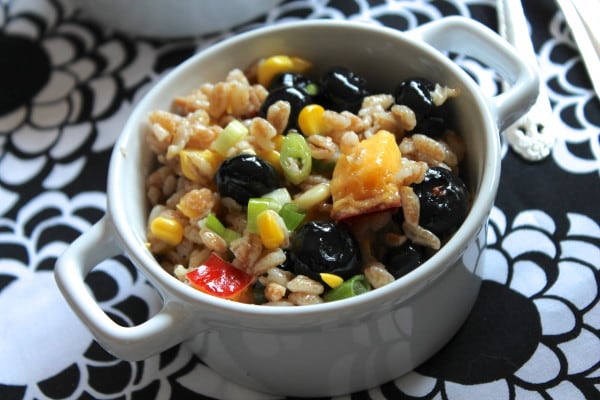 Summer Farro Salad
Yield:
6-8 small servings
Ingredients
8 ounces farro (quick-cooking or regular)
2 ears sweet corn, shucked and cleaned
1 heaping cup fresh blueberries
1 large nectarine (or peach), diced
3 scallions, sliced
For the dressing:
Juice of 2 limes
2 teaspoons dijon mustard
2 teaspoons honey (or agave nectar)
½ cup extra virgin olive oil
Pinch of salt
Instructions
Cook the farro according to package directions. If using quick-cooking farro, this will only take about 10-12 minutes; for regular farro, closer to 40.
While farro is cooking, wrap each ear of corn in a damp paper towel and microwave on high for 3-4 minutes, until corn is mostly cooked but still a little crunchy. Allow to cool for a few minutes, then cut the kernels off of the cobs.
Whisk together the dressing ingredients. Set aside.
When farro is done cooking, drain and place in a large bowl. Allow to cool for a few minutes, then add the corn, blueberries, diced nectarine, and scallions. Toss to combine, then add the dressing. Taste and season with additional salt as needed. Serve cold or at room temperature.
Will keep in an airtight container in the refrigerator for up to 3 days.