I'm not entirely sure how else to begin this post, so I will just say it:
My momma went to be with Jesus on July 4th.
Maybe someday I will tell the full story here. Maybe not. Loyal readers will know that she battled breast cancer for almost exactly a year, and the last few weeks leading up to her death were particularly bad. We are devastated; pulling our lives back together and getting to a new "normal" has been a day-at-a-time endeavor.
https://www.instagram.com/p/BWJOc0HAjaI/?taken-by=stephiecooks
I struggled with how to write about losing her here. She was a force in teaching me to cook, supporting this site, and even helping me run my Facebook page for years, and I knew I couldn't NOT say anything. At the same time, I know that she would not have wanted me to devote a full post to our sadness, and my own mental health couldn't allow me to attach this announcement to a recipe post.
So I decided to share some suggestions for how you can help support a loved one who is going through the unimaginable. I know that as a friend and family member, it is hard to know what to do when someone you love is suffering a loss. There's nothing you can say that will make it better, but you want to help.
At the same time, as someone who has suffered a great loss, you often don't know where to begin when someone says, "Let me know if you need anything." Really, you need everything, but dumping that on your loved one feels like Too Much. So instead, here are 10 actionable ways you can offer to help someone who is suffering a tragedy. None of these will take away their pain, but all of them can help meet a need (either immediate or longer-term), which is more helpful than you can imagine.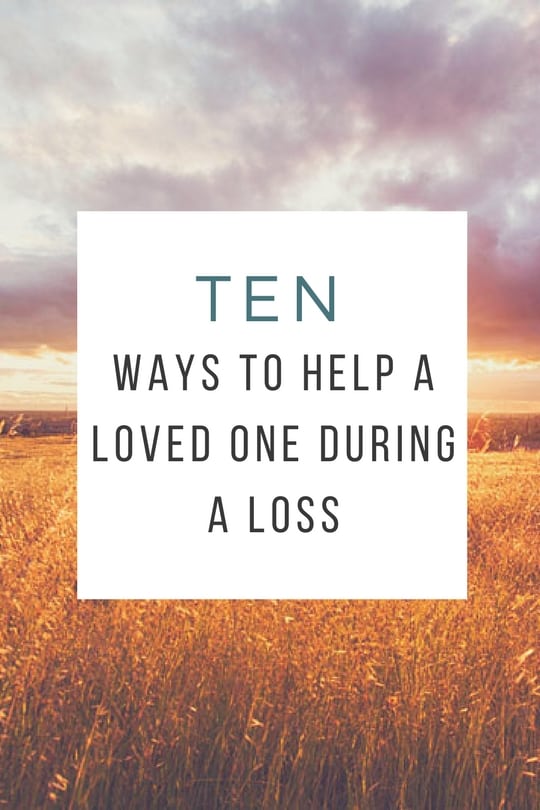 10 Tangible Ways to Help a Loved One Who Has Suffered a Loss:
Note: If doing something irreversible, such as cleaning, make sure to ask first. Depending on the type of loss, there may be parts of their house or certain items that they are not ready to have cleaned or moved just yet. Remember that they are not being ungrateful for your help – grief simply works in strange ways and is different for everyone.
Make or bring them a meal – This is perhaps the most obvious. In the days immediately following a loss, simply remembering to eat can be a challenge. Having simple "heat and eat" meals – or having take out magically appear at the door – is an easy way to make sure they are eating a hot meal without having to put forth much effort.
Buy them a bag of groceries – Dinner is only one meal of the day. They will still need breakfast, lunch and snack foods (particularly if they have kids to feed), and may not have time or desire to go grocery shopping. Bringing items such as cereal, milk, sandwich fixings, fruits and veggies for snacking, etc, can make sure they have food available throughout the day as needed.
Walk their dogs – Leaving the house after a loss can be a Struggle, even if it is just to walk the dog around the block. Offer to stop by and take the dog for a walk, or offer to go with them while they walk the dog so that they have some company.
Babysit their kids (or dogs) – When Momma died, one of the greatest gifts to us was having friends who babysat our dogs while we were at the hospital. We did not have to worry about getting home to feed them or let them out, and we knew that if necessary, they would keep them overnight. Depending on the loss, your loved ones may have to travel for funeral services or to get affairs in order – offer to help with watching their kids or dogs while they are out of town or tied up. Knowing their babies (of the human or fur variety) are in safe hands will be a huge weight off their shoulders.
Clean their house – Some people find comfort in cleaning. Some, like me, do NOT. I would rather wallow in clutter than get off the couch to clean when I am depressed, even though I know being in a clean environment will make me feel better mentally. Even if you do not like cleaning, offer to pay for a service to come deep clean the house.
Help with laundry – Laundry is just one more chore that inevitably piles up following a loss. Help by making sure they have clean clothes, linens, towels, etc, so they have one less thing to think about.
Ask if they need anything dry-cleaned, mailed, etc. – There is likely to be a lot of tasks that need to be taken care of leading up to funeral services, such as getting suits or dresses dry-cleaned, mailing cards or notes, shipping packages, etc. Ask what errands you can help take care of to help lighten the load.
Take them out to dinner – In the weeks following a loss, your loved one might have trouble remembering to get out of the house. Offer to take them out to dinner – it will get them out of the house, feed them, and provide them with good company.
Buy them tickets to a movie/concert/show – If they are in a relationship, they're going to need a date night in the weeks following their loss. It can be hard to be intentional about your relationship when you're going through the grieving process, but it is also really important. Help them out by providing them with a reason to get out for a date night.
Mow their yard – Or shovel the snow, rake leaves, etc. Those outdoor chores sometimes get forgotten following a loss – pitch in and help cross something else off their list.
There are certainly a dozen more ways you can help – these are just 10 ideas to get you started. Remember that it may be days, weeks or even months before your loved one is able to fully articulate what your help meant to them at the time, but at least one or two of these things are sure to be extremely meaningful to them.
And above all – love them. Listen when they're ready to talk. They'll be more grateful than they can even express.