Chai Sugar Cookies are made from an easy no-chill sugar cookie dough that is flavored with warm chai spices: cinnamon, ginger, cloves, allspice, cardamom and white pepper. Cut them into whimsical shapes for a fun take on a holiday classic!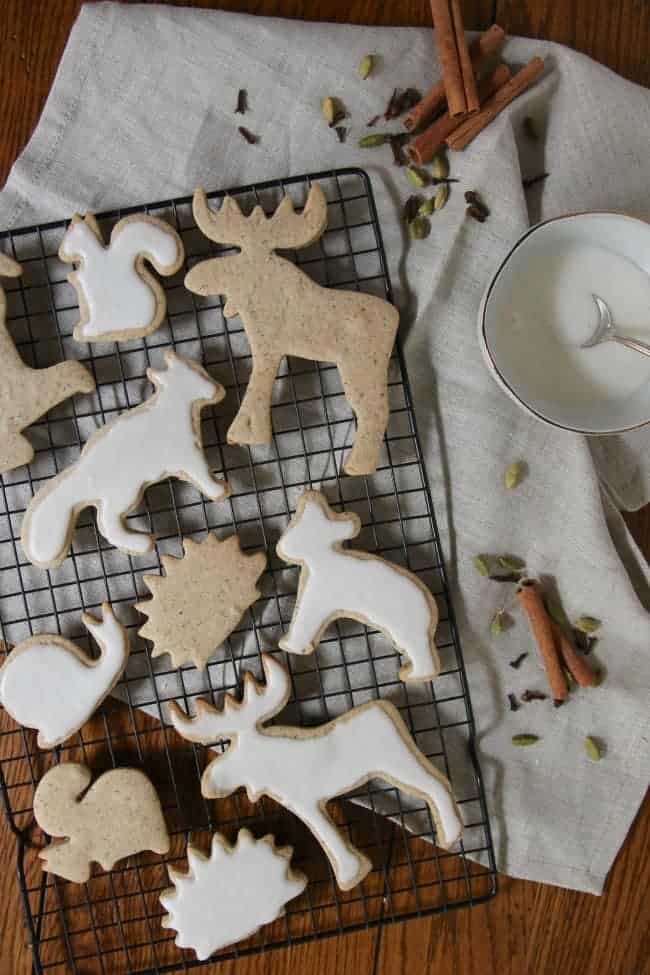 Mary Berry is a miracle worker.
That's right. This past weekend a new season of The Great British Bake Off (known more commonly as The Great British Baking Show in the States) was added to Netflix.
If you have never watched this show, stop what you're doing and go fix your life. I have a hard time deciding what the best thing about this show is – the accents? The amazingly British recipes and baking terms that I get to learn about as I watch?
No, the best thing about the show is most definitely one of the judges and British food writer extraordinaire, Mary Berry.
Mary is delightful. She's everything you could ever want in a TV cooking show judge and human being. She is kind, funny and knows her craft incredibly well.
As it turns out, she is also capable of inspiring me to get back into the kitchen, for it was while I was watching this new season of GBBO (the "Biscuit" episode, to be exact) that I became inspired to make this Chai Sugar Cookie recipe.
(I should note that my mother was also a huge fan of GBBO, so it seems only fitting that my first recipe following her passing would be inspired by one of her favorite shows.)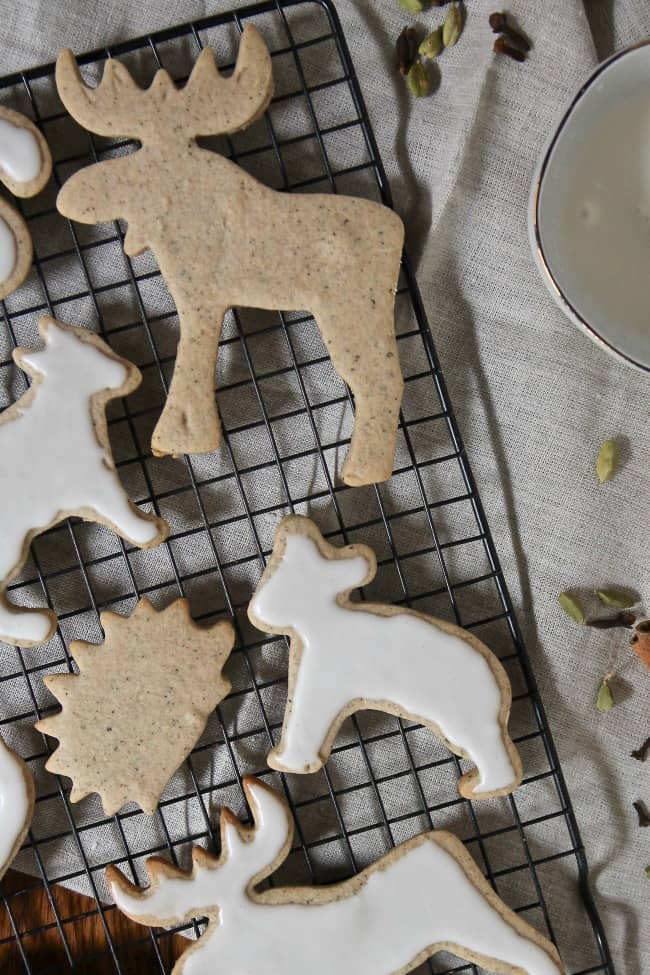 NO-CHILL SUGAR COOKIES
These Chai Sugar Cookies are a riff on my No-Chill Sugar Cookie recipe.
Now, let's be clear in one area — Chai Sugar Cookies are not meant to be moist, chewy sugar cookies. If you are looking for a moist, chewy cookie, I would point you toward my Granola Cookies or even my Maple Walnut Blondies (because, while perhaps not a standard cookie, they're pretty much life-changing).
No, these are the type of cutout sugar cookie with a bit of "snap" to them, as Mary Berry and Paul Hollywood might say. They are perfect for decorating and gifting during the holidays, and freeze beautifully if you want to make them ahead of time for a party.
The best part is that, since this is a no-chill sugar cookie recipe, the dough can be made in just a few minutes and go right to the oven. No waiting required to get to chai cookie greatness.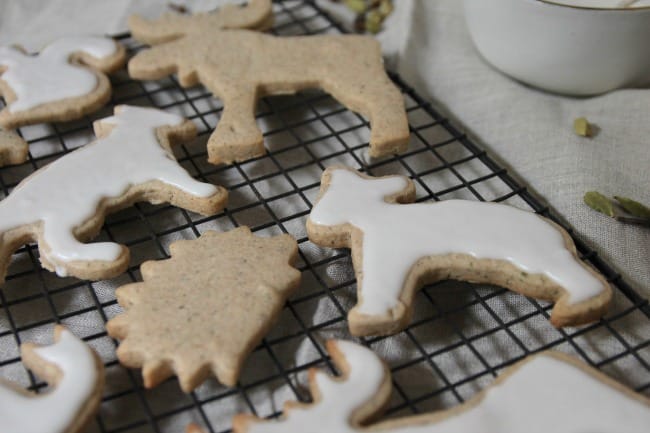 CHAI COOKIES
To make these Chai Sugar Cookies, I boosted my normal No-Chill Sugar Cookie dough with the same warm, flavorful spices found in my Homemade Chai Concentrate: cinnamon, ginger, cloves, allspice and cardamom, with a bit of white pepper for a slight bite at the end.
It's no secret among my friends that I adore all things chai (being a tea drinker versus a coffee drinker will do that to a person), so chai cookies were really just the next logical step in this obsession.
The icing for Chai Sugar Cookies is a simple glaze, boosted with a simple sugar syrup instead of corn syrup to make it dry hard and glossy. Add any food colorings you like to dress these chai cookies up for any holiday occasion – although I am pretty fond of the look of the white icing against the spice-speckled cookies.
Oh — wondering where I got my adorable woodland creature cookie cutters? Ikea! Seriously, what doesn't that store have?
For another twist on my No-Chill Sugar Cookies, check out my Stained Glass Cookies!