Oatmeal cake with coconut pecan topping…what more could you want? Amish Breakfast Cake makes the perfect indulgent breakfast or delicious dessert. You really can't go wrong either way.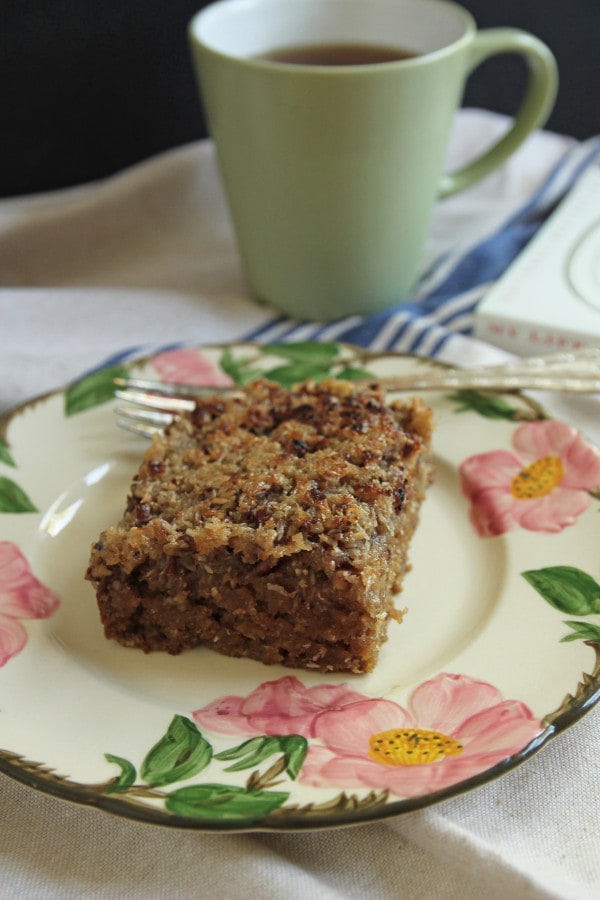 I have a little bit of news for you guys: Alex and I are buying a house!
That's right; if all goes according to plan, in the span of a year we will have gotten engaged, gotten married and bought our first house. Phew! I won't give a ton of details at this point (because, if I'm honest, I don't want to jinx us before we close) but we will be closer to our families than we are now, which means my Instagram is soon to be taken over entirely by my adorable niece and nephews – because if you think Aunt Stephie can stand to be close to her babies and not see them constantly, you can just think again.
It also means that I will have more space for storing my many (many) dishes, a larger kitchen, and we can get a dog! Only two of those things are related or probably important to you. I'll let you decide which two those are.
A few weeks ago when Alex and I were in town house hunting, we stopped by the town coffee spot (which we both know well, having both gone to college in this town) to pick up breakfast and, of course, I found myself perusing the pastry case. Would you even know me if I didn't? A sign labeled "Amish Breakfast Cake" caught my eye. I wasn't really sure what it was, or if it was actually a breakfast item, but if you label something "breakfast cake" you can be sure that I will take the opportunity to eat it before noon.
As it turned out, it was a delightful oatmeal cake with a moist yet crunchy coconut-pecan topping. I knew I had to make this happen in my kitchen. After a little bit of Googling, I found this recipe for Oatmeal Cake with Coconut Pecan Frosting on For the Love of Cooking. I did a little bit of tweaking, primarily to make it a little less sweet and thus more appropriate to possibly eat for breakfast, or at least elevensies, and ended up with what may just be my new favorite cake.
Now, I have no idea where the coffee shop I referenced earlier came up with the name "Amish Breakfast Cake" – I couldn't tell you if this is remotely Amish or not – but I rather liked the name. Who doesn't want permission to eat more cake for breakfast? And so, Amish Breakfast Cake it will be. Eat it for breakfast, or dessert, but for the love of all that is good – eat it!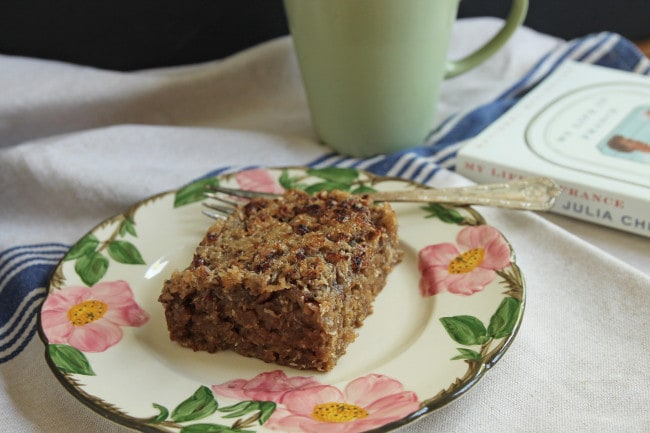 Amish Breakfast Cake
Ingredients
½ cup rolled oats
¾ cup boiling water
¼ cup granulated sugar
½ cup brown sugar
⅔ cup flour
½ teaspoon salt
½ teaspoon baking soda
½ teaspoon cinnamon
¼ cup unsweetened applesauce
1 egg
½ teaspoon vanilla
For the topping:
3 tablespoons melted unsalted butter
¼ cup brown sugar
¾ cup unsweetened, shredded coconut
½ cup chopped pecans
2 tablespoons milk
½ teaspoon vanilla
Instructions
For the cake:
Preheat oven to 350 degrees. Butter and flour an 8x8-inch cake pan. Set aside.
In a bowl, combine the oats and the boiling water. Cover for around 5 minutes while you assemble the other ingredients.
In a large bowl, whisk together the sugars, flour, salt, baking soda and cinnamon. In a large measuring cup, whisk together the applesauce, egg and vanilla. Add the wet ingredients and the oatmeal mixture to the dry ingredients and fold to combine. Pour into the prepared baking pan. Bake for about 25 minutes or until the center of the cake is set.
Prepare the topping:
In a bowl, combine all of the topping ingredients until well mixed. Immediately upon removing the cake from the oven, turn the oven to broil. Gently spread the topping over the hot cake; broil until the topping is golden brown. Do NOT walk away from the oven during this time - this took less than a minute in my broiler, but may fluctuate based on your oven.
Allow cake to cool before cutting and serving.