Apples and cinnamon tucked into puff pastry make the perfect apple turnovers, perfectly portioned just for two!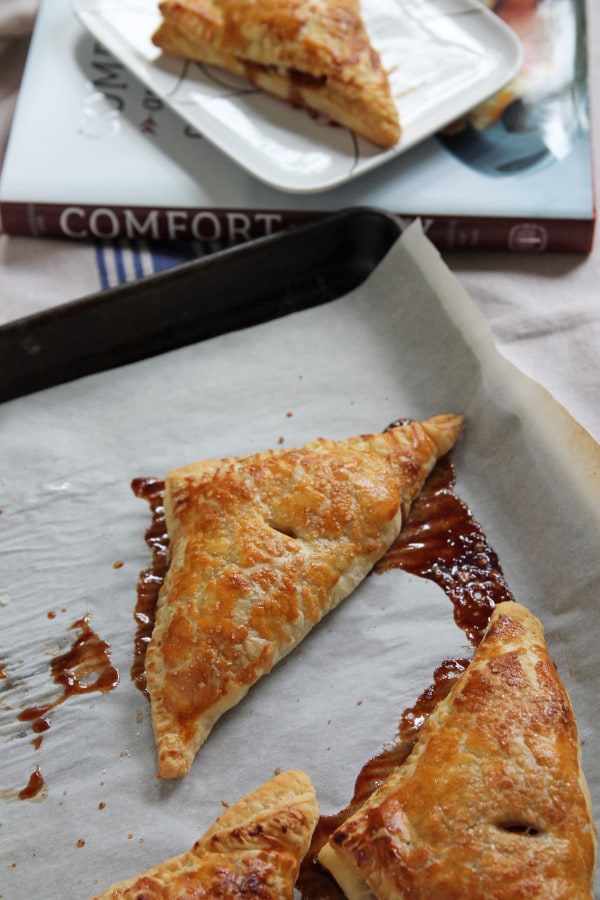 Turnovers are really just a clever way to get away with eating pie for breakfast.
I have zero issue with this, for the record. Eating pie for breakfast on a daily basis is pretty much my dream, and also the reason why I have to have a personal trainer. Hashtag, I run for food.
Remember when I shared those Chess Pie Bars from my friend Christina's cookbook, Dessert for Two? Remember her perfect dessert-portioning genius? Well, not only did she manage to crank out one amazing cookbook and a child who is in the running for world's cutest baby earlier this year, she just published her second cookbook, which goes beyond dessert to share breakfast, lunch and dinner recipes for two people. All in the first 9 months of 2015.
Guys, I think I found someone who is an even bigger over-achiever than I am. Alert the presses!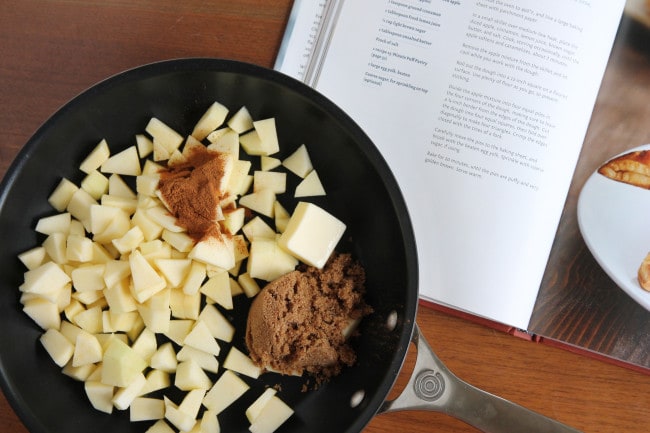 At any rate, I was, of course, tickled pink when Christina sent Alex and I a copy of Comfort and Joy: Cooking for Two (complete with a personal inscription to make sweet, sweet kitchen love together – she knows the way to our collective heart is with a cookbook and mildly-inappropriate well-wishes). As per usual, I curled up in bed and read the book cover-to-cover like a novel (what, you don't do that with cookbooks, too?) and immediately marked multiple recipes that need to be made STAT – including these apple turnovers.
While Christina does point readers to her 15-Minute Puff Pastry recipe, I happened to have just one sheet of store-bought puff pastry leftover from another project which worked just fine – although I have no doubt that the 100% homemade version would be even better. Homemade puff pastry in 15 minutes? Homegirl is basically a genius.
This recipe makes just four turnovers, which is perfect for a sweet weekend breakfast for two people – two turnovers each. OR, if you live in my house, half of a turnover for Alex and 3 1/2 turnovers for me.
Excuse me while I go for a quick run.
Make sure to bake these up to share with someone special, and grab a copy of Comfort and Joy. You'll be glad you did!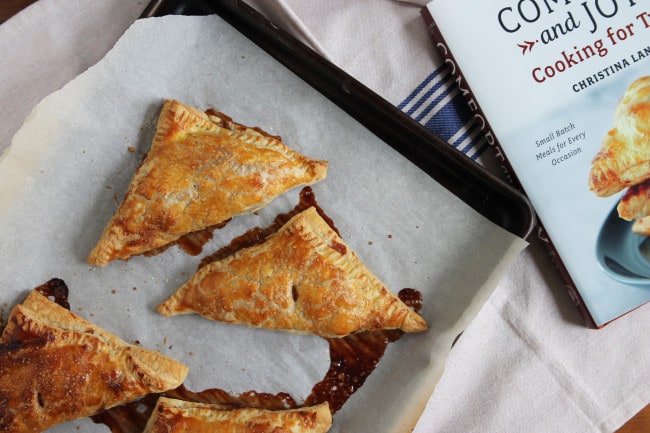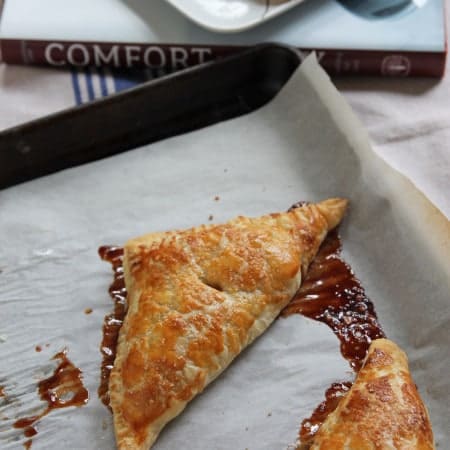 Apple Turnovers
Apples and cinnamon tucked into puff pastry make the perfect apple turnovers, perfectly portioned just for two!
Print
Pin
Rate
Ingredients
2

cups

peeled

cored and diced apple (about 3 small apples)

1

teaspoon

cinnamon

1

tablespoon

fresh lemon juice

1/4

cup

light brown sugar

1

tablespoon

unsalted butter

Pinch

of salt

1

recipe 15-Minute Puff Pastry

1

large egg yolk

beaten

Coarse sugar

for sprinkling on top (optional)
Instructions
Preheat oven to 400 degrees, and line a large baking sheet with parchment paper.

In a small skillet over medium-low heat, place the diced apple, cinnamon, lemon juice, brown sugar, butter and salt. Cook, stirring occasionally, until the apple softens and caramelizes, about 7 minutes.

Remove the apple mixture from the skillet and let cool while you work with the dough.

Roll our the dough into a 12-inch square on a floured surface. Use plenty of flour as you go, to prevent sticking.

Divide the apple mixture into four equal piles in the four corners of the dough, making sure to leave a 3/4-inch border from the edges of the dough. Cut the dough into four equal squares, the fold over diagonally to make four triangles. Crimp the edges closed with the tines of a fork.

Careful move the pies to the baking sheet, and brush with the beaten egg yolk. Sprinkle with coarse sugar, if using,

Bake for 20 minutes, until the pies are puffy and very golden brown. Serve warm.
Notes
I used 1 sheet of store-bought puff pastry for this recipe. Simply thaw according to package directions and continue with recipe as written.