It's time for another installation of everyone's favorite series…Back to Basics! For those of you who are just joining us, this is a series that will cover a variety of topics, but all of them will deal with cooking or baking situations that, although they seem like they might be intuitive, can actually be quite confusing, especially for the beginning cook. And today's topic…pantry staples!
_____________________
Cooking can be a lot of fun, and creating new dishes can be incredibly rewarding, but man there are a lot of ingredients! How are you supposed to have everything you need ready to go? What should you always have on hand to make basic dishes?
Having a list of some pantry and baking staples is a great way for new cooks to get started (especially if you are just moving out on your own!), or even for experienced cooks to make sure they always have some key ingredients on hand. So today we are going to go over the items that I always like to keep on hand for cooking and baking. (Keep in mind that other cooks may have different items that they consider to be staples. My friend Stef has a great post about how she handles her own grocery shopping and meal planning. Consider this a guide for creating your own must-have list.)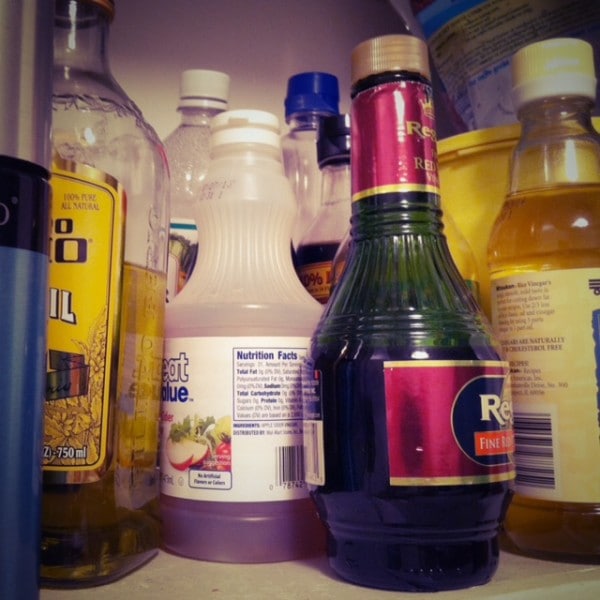 Pantry items:
Oils:

Good oils can serve as a base for salad dressings, be used in sautéing or roasting vegetables, or can be used to finish off a recipe. I always keep olive oil (regular and extra virgin), vegetable oil (a good flavorless oil for baking or frying) and coconut oil (my favorite for baking) on hand.

Vinegar:

Even though vinegar sometimes seems like it is only used in salad dressings, it is also used in a lot of marinades and other savory recipes, and even in some sweet recipes, such as pie crusts. Apple cider, balsamic and red (or white) wine vinegars are good, basic ones to have.

Rice:

When my dad was in the army and would be gone at night a lot, my mom used to make many a meal out of just rice and peas! Rice is always good to have on hand for filling out a meal. Long grain white rice and brown rice (I personally like Jasmine rice) are always in my pantry. I also like to have Arborio rice for making risotto, but that's just me.

Pasta:

I always have a box of spaghetti and usually a smaller, shaped noodle (such as rotini or macaroni) in my pantry.

Canned tomato products:

Diced tomatoes, tomato sauce, and tomato paste are all basic ingredients in a variety of recipes, from soups to sauces to casseroles.

Jarred marinara sauce:

Let's be real. Sometimes we are tired and don't want to actually cook. Having a good-quality marinara sauce on hand is great for easy spaghetti nights (you can even jazz it up with fresh ingredients if you want!). I also like to use it as a shortcut in my crock pot lasagna.

Spices:

I like to keep a batch of taco seasoning on hand, so I always have the spices used to make that. In general, good savory spices to have on hand are cumin, chili powder and/or red pepper flakes and paprika, as well as dried herbs (for days when you can't get fresh) such as parsley, oregano, rosemary and thyme. And, of course, salt (I generally have both table salt and kosher salt) and black peppercorns (for your pepper grinder…none of that pre-ground stuff, please!).

Tuna:

Personally, I am infamous for throwing a can of tuna into my mac and cheese (no judgement, please!), but it can also be thrown into salads or used to make a quick sandwich for lunch.

Stocks:

Cartons of low-sodium chicken and vegetable stock can be added to soups, stews, sauces, or used to make risotto.

White wine:

I promise this isn't just for drinking (although you should always cook with a wine you would drink) – wine is a great base for a lot of sauces and, again, risotto (seeing a pattern here?).

Beans:

Canned or dried beans can be used as bases of soups and chilis, or can be added to salads to boost your protein.

Potatoes:

Regular old potatoes AND sweet potatoes, please! (Big surprise there, I'm sure.)

Garlic:

I'm hard-pressed to come up with a savory dish that couldn't be improved with a clove or two of garlic.

Sun-dried tomatoes:

Admittedly, this is a bit of a strange staple, but I find that adding sun-dried tomatoes to salads or pasta is a quick way to boost flavor and make it seem fancier than it really is. 😉

Dried fruit:

For me this usually means dried cranberries and/or raisins, but for you it might include dried apricots. These are great for snacking, but can also be thrown into baked goods or on top of a salad.

Ground flax seed:

Another admittedly strange item, but flax seed has a lot of nutritional value, and adding some ground flax to a smoothie, oatmeal, or baked goods is a great way to boost nutritional value without anyone suspecting.

Oatmeal:

This one, like flax seed, crosses over a bit into baking items. Plain old rolled oats are great for a quick, healthy breakfast, or for baking.

Peanut butter:

Yes, it can be used in a lot of recipes…but let's be real: sometimes we just want a good old PB sandwich. I always buy the natural stuff – trust me, it really is better tasting than the preservative-laden counterpart, and will still last quite a while.

Bread:

Whole grain bread for sandwiches, toast, French toast, bread crumbs…you get the idea.
Refrigerated or frozen items:
Milk:

I now drink and cook with almond milk, but before that it was plain old low fat milk.

Eggs:

Necessary for baking, but also great for quick breakfasts or dinners. Sometimes I hard boil a bunch of eggs at the beginning of the week for post workout snacks throughout the week.

Butter:

Salted butter for cooking, unsalted butter for baking. Yes, both!

Cheese:

I like to, at the very least, have shredded Parmesan cheese for adding to pasta, and sharp cheddar for everything from mac and cheese to grilled cheese sandwiches (one of life's best indulgences). You can also frequently find feta or goat cheese in my fridge for use in pastas or even salads.

Frozen vegetables:

I am weird about what frozen veggies I will eat, but I do keep frozen peas on hand at all times. I also use frozen broccoli in casseroles, and frozen green beans aren't bad in a pinch.

Frozen fruit:

Frozen berries or even frozen pineapple are perfect for whipping up smoothies. You can also add frozen blueberries to muffins or pancakes when fresh are not in season.

Various proteins:

I always seem to have boneless, skinless chicken breasts in my freezer, but will stock up on other proteins when they are on sale, such as ground beef, ground turkey, and fish such as salmon.

Spinach:

Heartier (and generally more nutritious) than lettuce for salads, and can be used in meals such as pasta or even green smoothies. I also like to use it instead of basil to make pesto.

Condiments:

Salsa, Dijon mustard, ketchup and other similar condiments can be used in recipes as well as being used in their usually thought of capacity.
Greek yogurt: Aside from using it in the occasional cheesecake, I frequently use plain Greek yogurt in place of mayo or sour cream in a lot of recipes. You can also use it in smoothies, or drizzle it with a bit of honey and serve it up with some fruit or granola for breakfast.

Lemons:

A squeeze of lemon juice or a bit of lemon zest can brighten up just about any dish, and is a key component in a lot of baked goods.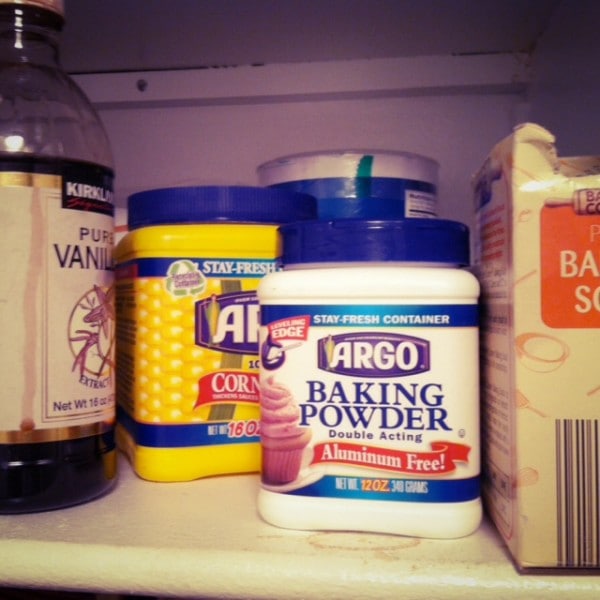 Baking items:
Flour:

I always have unbleached all-purpose flour and whole wheat flour on hand. These will get you through most recipes, especially if you are a beginning baker.

Sugar:

White (granulated) sugar and light brown sugar are absolute must-haves. I think the only item I buy more often than sugar and flour is milk. (Maybe cheese…but it's a close call.)

Vanilla:

Only pure vanilla extract will do. None of that imitation stuff.

Baking soda and powder:

Both of these are key leavening agents for most of your baked goods. And yes, you do need both of them, as they work in different ways! (Hmm, sounds like a good future Back to Basics topic…)

Shortening:

Admittedly, some people have a big problem with shortening. I, personally, cannot make a pie crust without it. I only buy unflavored vegetable shortening, and I will only buy the Crisco brand. Rarely am I a snot about brands, but I'm not kidding: I will not buy off-brand shortening. Only Crisco in my kitchen (and no, they are not paying me to say that!).

Spices:

While cinnamon is the most commonly used spice in baking, I also like to have ground ginger, nutmeg, and cloves.

Agave:

Light agave nectar can be used instead of sugar in baked goods, or can be used to sweeten oatmeal.

Honey:

Like agave, honey can be used instead of sugar, although it will impart a good bit of flavor. It is also perfect for drizzling over warm, buttered cornbread…but that's just me.

Nuts:

Pecans and sliced or slivered almonds go into probably half of the things that I bake. I also use them in savory dishes, and sometimes add them to salads for a nice crunchy element.

Yeast:

You all know how much I love to bake with yeast, so I always keep active dry yeast on hand (more on yeast in a future post!).
Phew! Did that seem like a lot? Would it astound you if I told you that the above list is only a portion of what is currently stored away in my kitchen? Never fear – it takes some time to build up your own pantry, and figure out what items you personally rely on. Just think of this as a place to start – especially for the baking items – and soon you'll find your groove.
_______________________________
Would you like to know more about how I use specific ingredients, or do you have a "Back to Basics" topic that you'd like to see me cover? Maybe you'd like to know how to properly cook rice, or the difference between baking powder and baking soda. Leave me a comment or shoot me an email and I will see what I can do!