Texas Cranberry Chutney is the perfect sweet and slightly-spicy addition to any holiday table.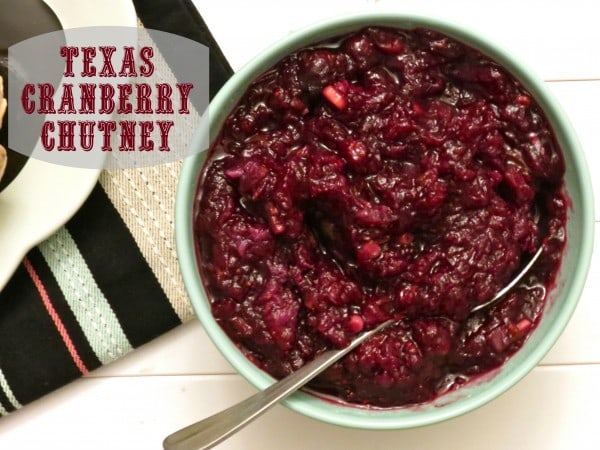 Guys. It's that time of year again.
It's time to start thinking about your Thanksgiving menu.
Dun dun dunnnnnnnn…
Ok, I know that, logically, Thanksgiving is still a few weeks away. But trust me, that time is going to fly by and the holiday will be here before we know it! And if you start planning your menus bit by bit now, you will be amazed at how much less stressed and overwhelmed you will feel the week of Thanksgiving.
I used to give a similar speech to my college roommates regarding why I always started research papers early. They all gave me the blank stares I feel like you're giving your computer screens now.
So we'll start off small. No turkey recipes, not even a major side dish. We'll start with a cranberry recipe…just to ease you into the swing of things.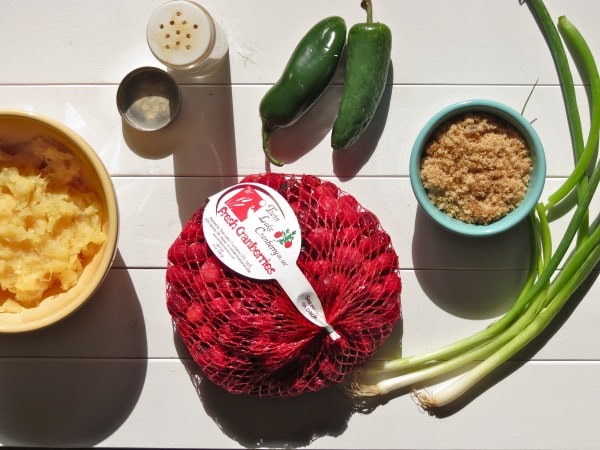 This is my aunt's famous cranberry chutney recipe, which I have altered ever-so-slightly (her's uses canned cranberry sauce as the base, but I found that it really only takes about 5 extra minutes and minimal effort to start with a base of fresh cranberries – and think of the preservatives that we are cutting out! Holla!).
My dad and uncle literally INHALE this stuff every Thanksgiving and Christmas. Forget just putting it on turkey…they eat it with ham, with pork, on leftover turkey sandwiches, by the spoonful…truly, my aunt can never make enough of it to keep them happy.
And the best part? Not only is it a snap to prepare, but it gets better the longer it sets, which means that you are better off making it the day before and crossing one more thing off of your Thanksgiving Day to-do list.
And since it is a little tart, a little sweet and a little spicy, it is sure to please everyone's varying taste buds.
And I think that's something for which we can all be thankful.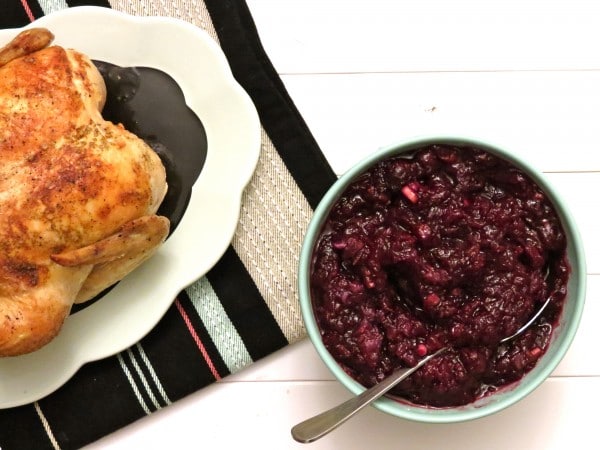 Texas Cranberry Chutney
Ingredients
12 ounces fresh or frozen cranberries
¾ cup granulated sugar
¾ cup water
1 20-ounce can crushed pineapple
¼ cup packed brown sugar
½ teaspoon ground ginger
¼ teaspoon salt
1-2 jalapeños, seeded and minced
3 chopped green onions
Instructions
Using a fine mesh strainer, thoroughly drain the pineapple and pat dry with paper towels. Set aside.
In a saucepan, combine cranberries, water and granulated sugar over medium-high heat. Bring to a boil; reduce heat to medium and allow to cook for about 5 minutes, until the cranberries are starting to break down.
Stir in the pineapple, brown sugar, ginger and salt. Return to a boil then reduce heat to low and simmer until thickened, about 5 minutes. (At this point, you may want to taste the sauce for tartness - if it is too tart, add 1 to 2 more tablespoons of granulated sugar.)
Remove from heat, add jalapeño (or jalapeños, depending on how hot you want your chutney to be) and green onions. Cover and allow to chill in the fridge for at least 2 hours, though overnight is best.