Healthy steel cut oats loaded with the flavors of banana bread? Say it isn't so! (It totally is.)
This post is sponsored by Diamond of California. All opinions are 100% my own. Thank you for supporting brands that help make this site possible.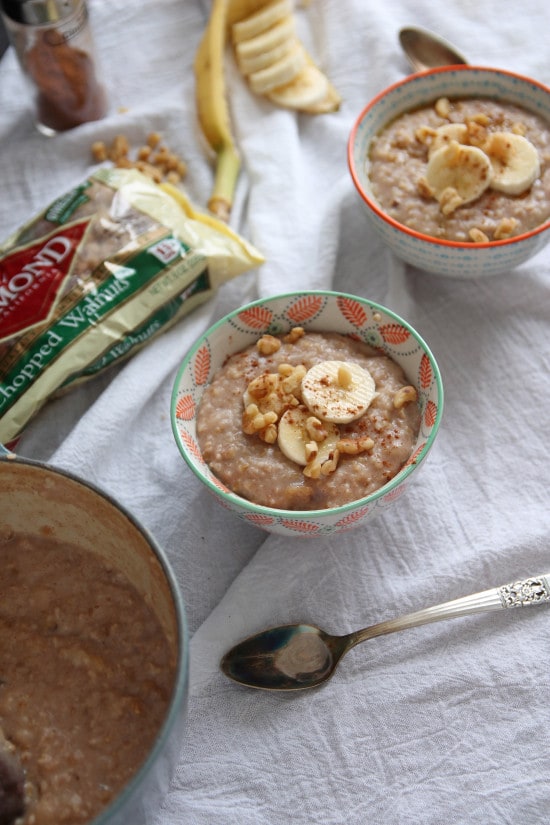 This past weekend was full of many lovely moments. The best was holding my best friend's baby boy just hours after he was born. I can't even describe to you the emotions I felt in that moment – so much love for the tiniest little human, and so much pride for the woman my best friend has grown to be and the mom she has become.
Seeing our two-year-old niece snuggle the crap out of Alex while watching The Goonies (my first viewing, by the way – the to-be in-laws couldn't believe it) was a close second.
And, finally, scrolling through our engagement photos by the lovely Julie at Jared and Julie Photography. Taking them was so much fun and made me so excited for our wedding day in just a few short months. (Eep!)
If you're a weirdo like me who likes to look at photos of strangers, you can check out several of our favorites on Julie's blog. Here's a sneak peek: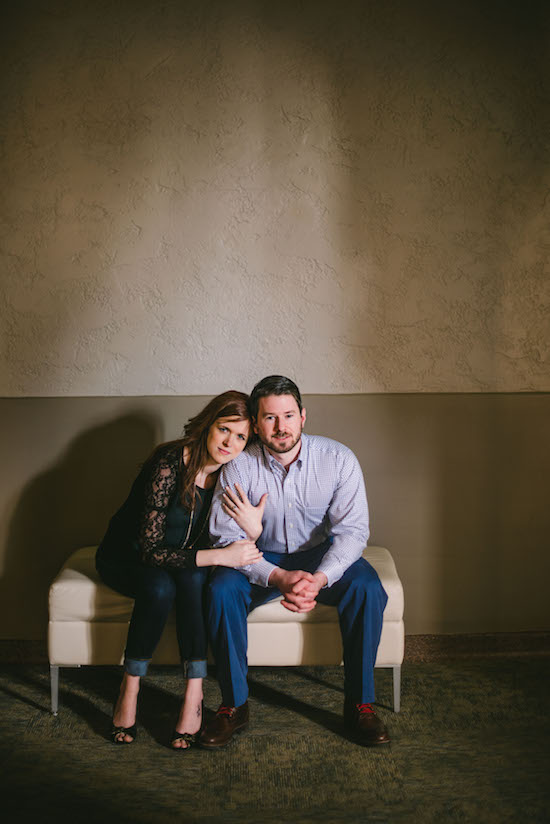 Aren't we cute? Seriously, Julie's a genius.
Alright, enough of that. Thanks you for letting me ramble for a bit before getting to the point: A good-for-you breakfast that tastes bad for you.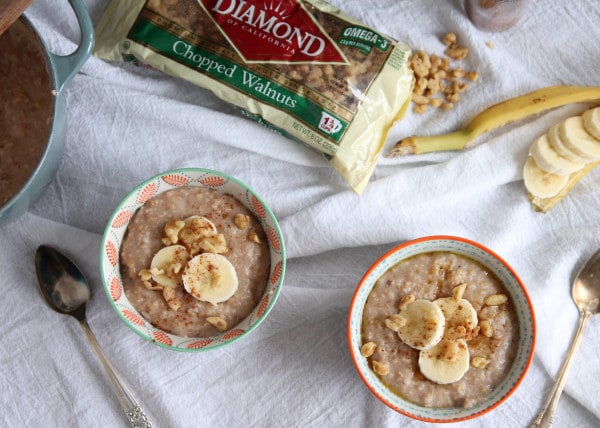 Thaaat's right, guys. Banana Bread Steel Cut Oatmeal! Totally my new favorite thing. Healthy steel cut oats flavored with banana, a bit of maple syrup, cinnamon and vanilla to make them taste like your favorite banana bread.
And don't forget your Diamond of California Walnuts, guys. A little crunch and healthy fat add that extra bit of banana bread oomph for your morning oats.
As for the milk, choose your own adventure there – use soy, almond or coconut milk for a super-healthy bowl of porridge, or whole milk for a rich bowl of oatmeal to share with your family on the weekend.
Make a batch for a lazy weekend breakfast, or make them up on Sunday night and divide into half-pint jars for good-for-you morning fuel throughout the week. Your future self will certainly thank me.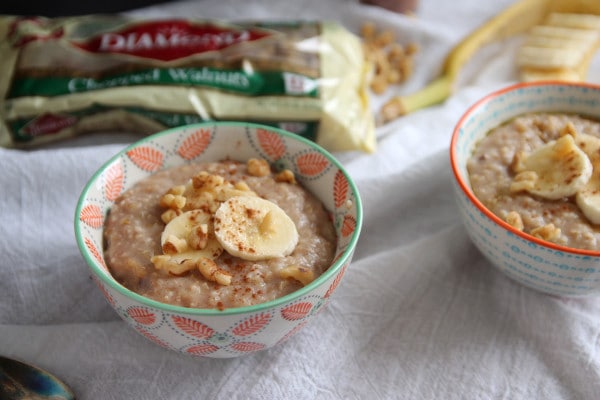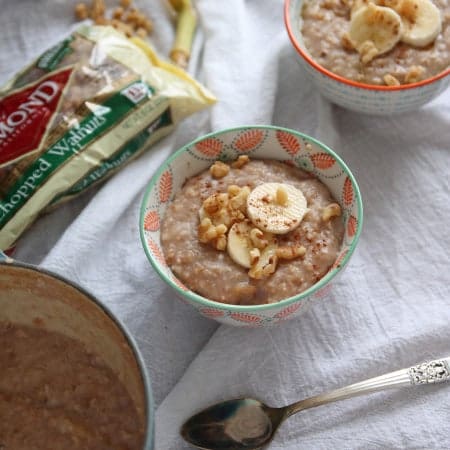 Ingredients
1

cup

steel cut oats

1/2

teaspoon

salt

3

cups

water

1

cup

milk

2

bananas

mashed

3

tablespoons

maple syrup

1

teaspoon

cinnamon

1

teaspoon

vanilla

1/3

cup

Diamond of California Chopped Walnuts
Instructions
Bring water to a boil in a medium pot. Add the oats and the salt. Allow to simmer until about 80% of the water has been absorbed, about 20 minutes, stirring occasionally.

Stir in the milk, mashed bananas, maple syrup and cinnamon, whisking to combine if needed. Return to a simmer and cook, stirring occasionally, until the oatmeal reaches your desired consistency, about another 10-15 minutes.

Remove from heat and stir in the walnuts and vanilla.

Serve with additional banana slices, cinnamon, chopped walnuts, maple syrup, or honey as desired.
Notes
Use any kind of milk you like - almond, soy, or coconut milk for a healthier, non-dairy option, or whole milk for a richer oatmeal.
Makes about 5 cups of cooked oatmeal.