Spike your hot chocolate with some tequila, cayenne pepper and agave and hunker down with your sweetie. Use your favorite single serve coffee maker to make this drink super quick and easy!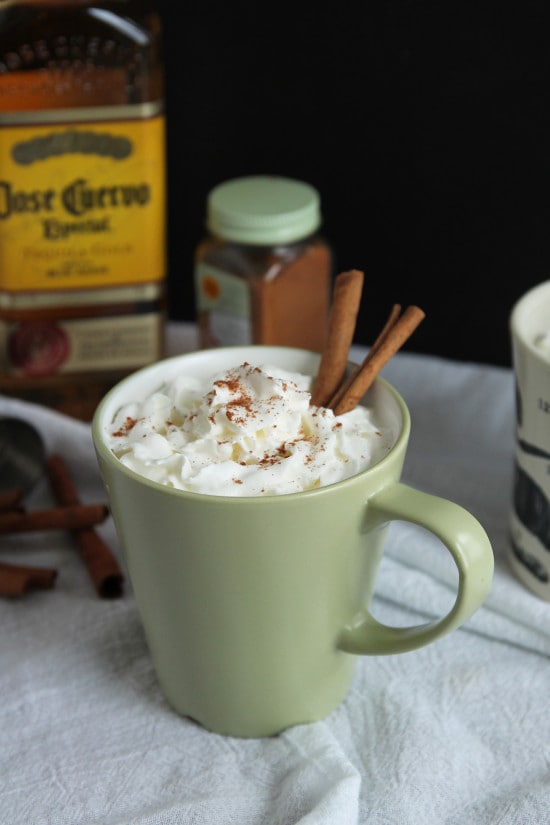 I'm writing this in the middle of the Super Bowl because:
1.) I don't care about football under even the best of circumstances, and
2.) I live with a Packers fan. I'm pretty sure he's rooting for both teams to miraculously lose right now.
So let's move from one food holiday right on to the next, shall we? Valentine's Day!
In the past I have made you sugar cookies, cherry pie and homemade "Be My Valentine" cakes for Valentine's Day. This year, I'm boozing you up.
Whether you are like Alex and I and prefer to skip the overly-crowded restaurants on Valentine's Day, or enjoy being surrounded by a thousand other couples, I figure everyone needs something warm and boozy to drink with your sweetie later in the evening. This Spiked Mexican Hot Chocolate ought to add the perfect amount of heat to the evening. (See what I did there?)
To make this drink super quick and easy, use a single-serve coffee maker to whip it up. Alex was especially a fan of this Spiked Mexican Hot Chocolate – a shot of tequila, a pinch of cayenne pepper, a drizzle of agave and a sprinkle of cinnamon are all you need to spruce up your favorite hot chocolate k-cup. I gave him the drink to taste test (since we all know my personal aversion to chocolate), and a few minutes later he came back to the kitchen with an empty mug…at 11 in the morning.
Hey, it's 5 o'clock somewhere.
Make this boozy hot chocolate for your sweetheart this winter and add a little spice to your life.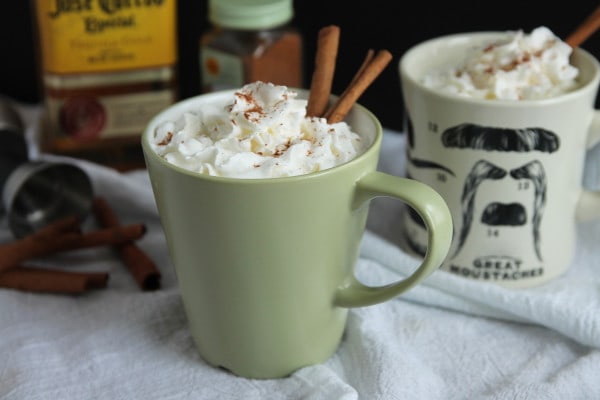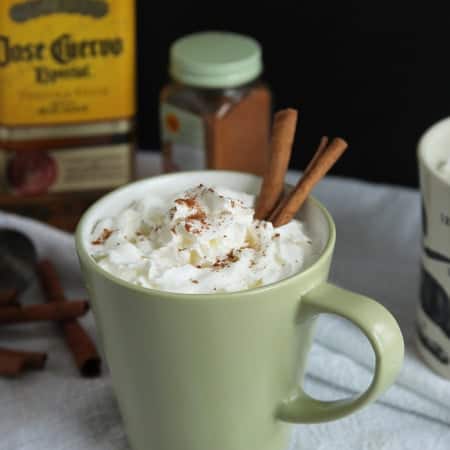 Ingredients
1

ounce

tequila

1

teaspoon

agave nectar

Pinch

of cayenne pepper

Pinch

of ground cinnamon

1

hot chocolate single-serve pod

Whipped cream

Additional ground cinnamon and/or cinnamon stick for garnish
Instructions
In the bottom of a 10-ounce mug, add the tequila, agave, and a pinch of cayenne and cinnamon.

Using a single-serve brewer, brew 8 ounces of hot chocolate into the mug. Stir to combine.

Top with whipped cream and garnish with additional ground cinnamon and/or a cinnamon stick.
Notes
Add additional cayenne for a spicier hot chocolate.