A super thick blueberry-banana smoothie is topped with toasted cashews, granola, and berries for the ultimate smoothie breakfast in this Blueberry, Banana & Cashew Smoothie Bowl.
This post is sponsored by Diamond of California, but all opinions are my own. Thank you for supporting brands that help make this site possible!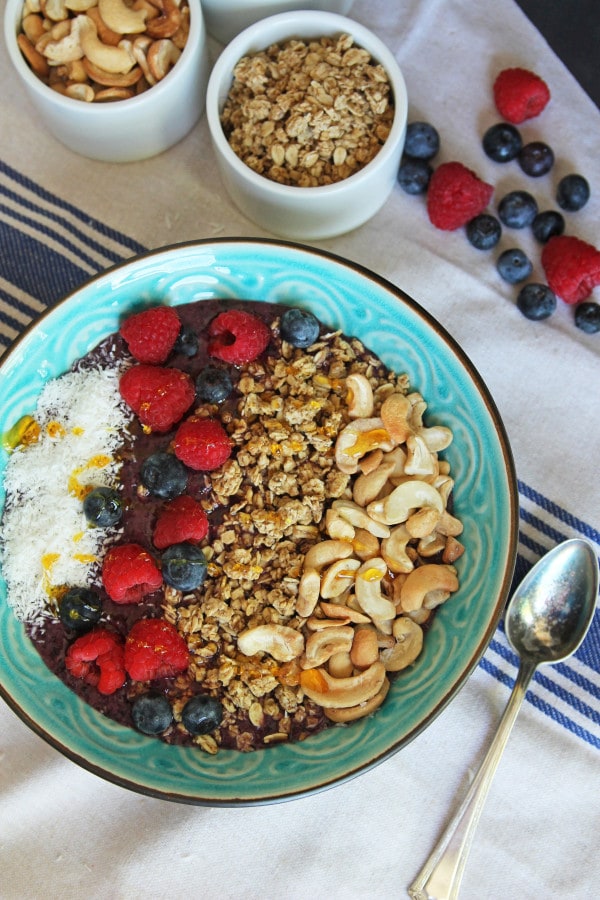 Are you on the smoothie bowl bandwagon yet?
I have to admit that I am late to this party. Not to the smoothie party – I've been obsessed with those for ages. We've done mango versions, blueberry versions, pomegranate versions, coconut versions…and we know that I have a deep love for granola as well. I still have dreams about my Coconut Ginger Almond Granola. So when I started to see these mystical bowls that combined both of these amazing breakfast items pop up on Pinterest, I was curious. I sent a text over to my girl Julia – who I consider to be my resource for any and all things mildly hippy – to see what all the fuss was about and she told me I needed to try them immediately or I was a fool.
Ok, she didn't really say that. But she did tell me that I would loooove them.
And you know what? She was so right.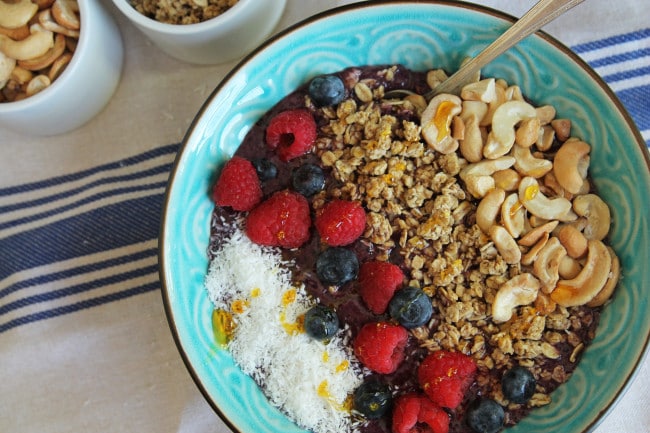 Let's evaluate what we've got going on here and why it's amazing:
Super-thick berry smoothie, because super-thick smoothies are the shiz: Check.
Toasted cashews, which just so happen to be my favorite for eating straight out of hand: Check.
Granola (see previous love letter, above): Check.
Coconut, because everything is better with coconut: Check.
Extra berries, for some extra pretty on top: Check.
Mix this all up, plop your butt down and grab a spoon – you've got the best of a smoothie breakfast with the extra goodies on top to help keep you full throughout the morning…or until elevensies, whichever the case may be.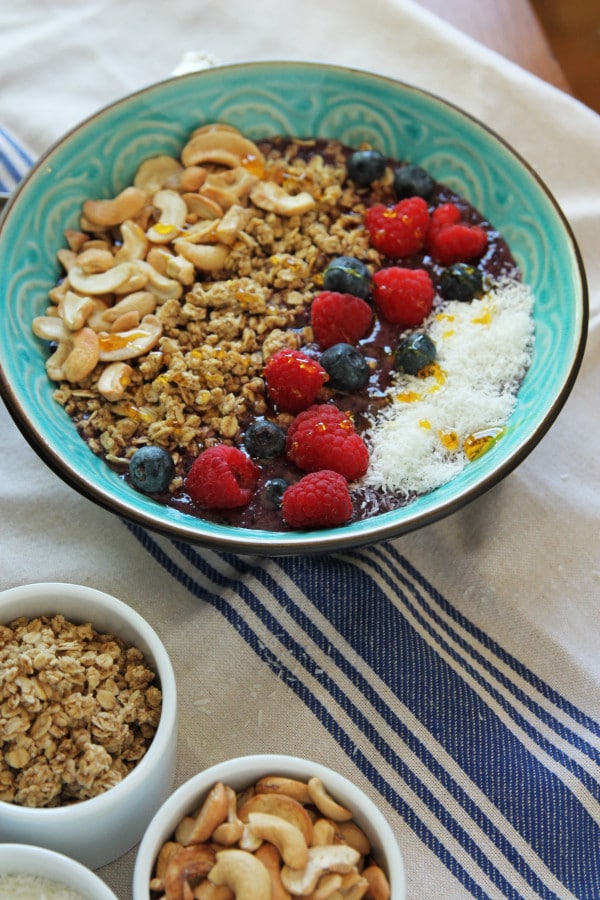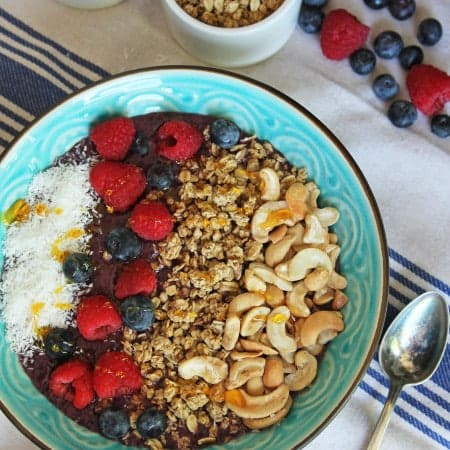 Ingredients
1

banana

1

heaping cup frozen blueberries

1

tablespoon

ground flax seed

1

tablespoon

honey

1/4

cup

pomegranate juice
Toppings:
Diamond of California Cashew Halves

toasted

Granola

Unsweetened shredded coconut

Fresh berries

Honey
Instructions
Place smoothie ingredients in a high-powered blender and blend until smooth but still thick.

Pour into a bowl and top with toasted cashews, granola, coconut, fresh berries and drizzle with honey.
Notes
To toast the cashews: Preheat oven to 350 degrees. Place cashews in a rimmed baking sheet. Bake for 8-10 minutes or until cashews are golden and fragrant. Remove to a bowl to cool before using.