Browned butter and pecans come together in the best way for a Butter Pecan Bread that is perfect for breakfast or snacking.
This post is sponsored by Diamond of California, but all opinions are my own. Thank you for supporting brands that help make this site possible.
From the beginning of time, I've been a weird human being. I was an especially bizarre little kid.
Exhibit A: I have never liked chocolate, and as a little kid I really didn't care for any type of candy. I suppose my sweet tooth just wasn't fully formed yet. (Unfortunately, this is no longer an issue for me…)
Exhibit B: I was a ridiculous book worm, to the point where when I would get in trouble (which, honestly, was not very often), my parents would take away my books. Not TV, not dessert, not play time. No, I was not allowed to read before bed at night. My husband and mother-in-law still think this is just about the funniest (and most ridiculous) thing they have ever heard.
Exhibit C: For as long as I can remember, my favorite flavor of ice cream was butter pecan. Not chocolate chip (see Exhibit A), not bubblegum (gross, why does that exist?), not any of those typical "kid" flavors. Butter pecan had my heart then and it has my heart now.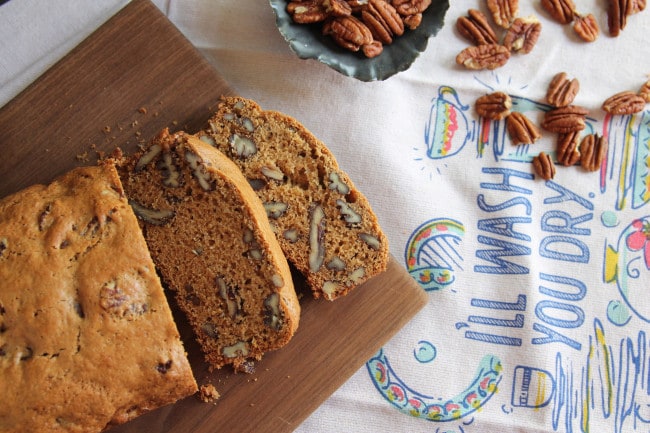 I was recently ruminating on this love of butter pecan ice cream and thought, "What if I put those flavors into a loaf of bread?" Because, even though it is summer and I could totally get away with making a batch of ice cream, carbs are never out of season at my house. And so, I browned some butter, toasted up some Diamond Nuts pecan halves, and threw it all into a quick bread batter.
While this Butter Pecan Bread was baking, my kitchen smelled like what I imagine Heaven must smell like.
Make this quick Butter Pecan Bread for breakfast, or put it out for snacking this weekend while friends and family are over. It may not be red, white or blue, but it is damn delicious and that's enough for me.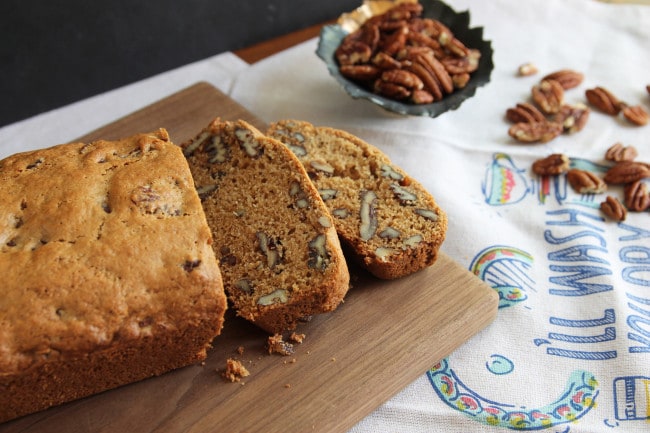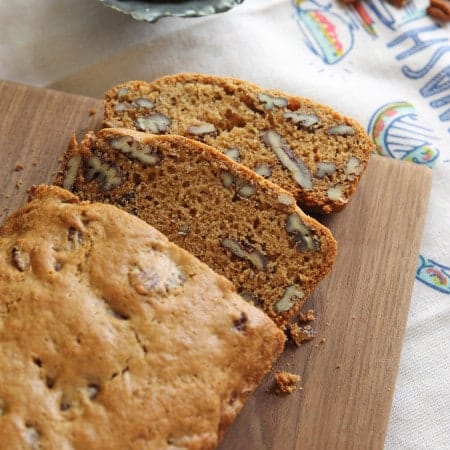 Ingredients
6

tablespoons

salted butter

1 1/2

cups

Diamond of California Shelled Pecans

1

cup

all-purpose flour

1/2

cup

whole wheat flour

1/4

teaspoon

salt

1

teaspoon

baking powder

1/2

teaspoon

baking soda

1/4

cup

granulated sugar

6

tablespoon

packed brown sugar

1

egg

1

cup

full-fat Greek yogurt

1

teaspoon

vanilla bean paste
Instructions
Preheat oven to 350 degrees. Grease a 9x5-inch loaf pan. Set aside.

In a large skillet, melt the butter over medium heat. Once melted, cook over medium heat, stirring occasionally, until the butter just starts to take on a light brown color. Add the pecans and stir frequently until the butter takes on a nice caramel color and the nuts are fragrant. Remove butter and nuts to a bowl and set aside.

In a large bowl, whisk together the flours, salt, baking powder, baking soda and granulated sugar.

In a medium bowl, whisk together the egg and brown sugar until lightened in color and well combined, then whisk in the yogurt and vanilla bean paste. Add the yogurt mixture and the browned butter and pecans to the dry ingredients, and fold together just until the flour is incorporated.

Spoon batter into the prepared loaf pan. Bake for 40-45 minutes, until browned on top and a toothpick inserted into the center comes out clean.

Allow to cool for 5-10 minutes in the pan, then remove from the loaf pan and allow to cool completely on a wire cooling rack. Bread will last, well wrapped at room temperature, for 3-4 days.
Nutrition
Calories:
370
kcal
|
Carbohydrates:
36
g
|
Protein:
8
g
|
Fat:
23
g
|
Saturated Fat:
7
g
|
Polyunsaturated Fat:
5
g
|
Monounsaturated Fat:
10
g
|
Trans Fat:
0.3
g
|
Cholesterol:
44
mg
|
Sodium:
281
mg
|
Potassium:
178
mg
|
Fiber:
3
g
|
Sugar:
17
g
|
Vitamin A:
304
IU
|
Vitamin C:
0.2
mg
|
Calcium:
88
mg
|
Iron:
2
mg