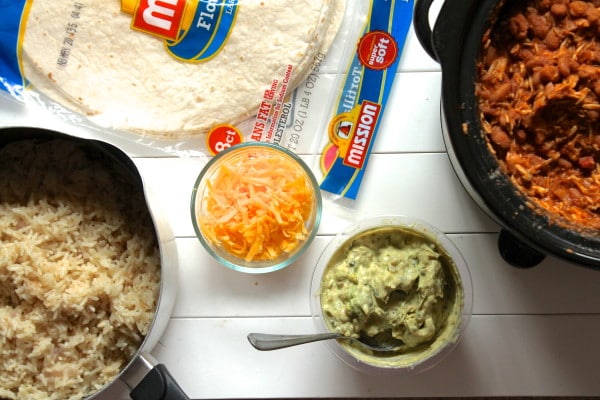 A couple of weeks ago I saw this post on Pinch of Yum.
Do I even need to say that I had Mexican chicken on the brain for days? Of course I did. If there is anything we like 'round these parts, it would be recipes that are easy (hello, crockpot!) and make great leftovers. Done and done.
Enter: Chicken and Bean Burritos.
"But wait, Stephie, do burritos really make great leftovers?"
They sure do when you turn them into freezer burritos.
Of course you could simply leave your burritos unassembled, and reheat the innards and assemble as needed…but that would only keep for a few days. Make a batch of freezer burritos, however, and you can have a quick and easy lunch a few months down the line (and for far cheaper than the frozen burritos you would buy at the store). An added bonus: you can customize the burritos however you like. So maybe someone in your family is allergic to dairy or doesn't like guacamole (truly a travesty) – just fill the burritos to each person's liking, and label them appropriately.
Depending on how many burritos you choose to make, you'll probably have some extra Mexican chicken. I simply reheated it with my leftover cumin rice for a simple meal, but the chicken would freeze very well on it's own. You could also use it to make tacos, taco salad, maybe add in some cream cheese to turn it into a dip…heck, there are all kinds of possibilities there.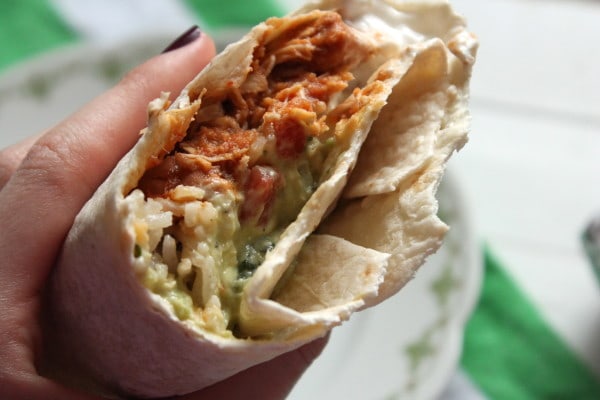 Crockpot Mexican Chicken slightly adapted from Pinch of Yum; Freezer burritos inspired by Shutterbean.
Homemade taco seasoning recipe.

Chicken and Bean Burritos
Yield:
8 burritos, with leftover chicken and rice
Ingredients
For the Mexican chicken:
1 pound dried pinto beans
1 pound boneless, skinless chicken breasts
3 tablespoons homemade taco seasoning (or 1 packet of store-bought)
3½ cups water
1 24-ounce jar of salsa
Approximately 1 heaping teaspoon of salt
For the cumin rice:
¼ red onion or ½ yellow onion, finely diced
1-2 cloves garlic, minced
1 tablespoon oil
1½ teaspoons cumin
1½ cups rice
½ teaspoon kosher salt
3 cups chicken stock
For the burritos:
8 large (burrito-size) flour tortillas
Any toppings you like: Cheese, guacamole, extra salsa, hot sauce, sour cream/Greek yogurt, cilantro...the possibilities are endless!
Instructions
Make the chicken:
Rinse the beans thoroughly (no need to soak overnight), then place in your slow cooker. Sprinkle with the taco seasoning, add water, and stir just to combine. Place the chicken on top, then cover with the salsa. Cover and cook for 4-5 hours on high or 7-8 hours on low.
If possible, check on it about halfway through and give it a stir, just to make sure your beans aren't sticking to the bottom of your slow cooker. (If you're at work, no worries, everything will be just fine.)
Note: Towards the end of the cooking time, it may look like you still have a lot of liquid left - this liquid will settle once you turn off the heat, and will get soaked up by the chicken once it's shredded.
Once the beans and chicken are cooked through, use two forks to shred the chicken (I was almost able to do this with my wooden spoon, it was so tender). At this point, give it a taste for seasoning, and add salt as needed. I added a heaping teaspoon of salt to mine, but if your taco seasoning contains any salt, you may need less, so be sure to taste it first.
Keep warm until serving or cool slightly before making freezer burritos.
Make the rice:
Heat the oil in a medium pot over high heat. Add the onion and garlic and cook for 1-2 minutes, until the onion starts to soften. Add the cumin, stir to combine, then add the rice, allowing the rice to toast for a minute or two. Add the salt and stock and bring to a boil. Cover, reduce the heat to low, and simmer for 15-20 minutes, until the rice is cooked and no liquid remains. Remove from heat, fluff with a fork and either serve with the chicken or allow to cool slightly before making freezer burritos.
Assemble the burritos:
This process will go a little better if your fillings aren't piping hot, so let your chicken and rice cool slightly before assembling your burritos.
Wrap the tortillas in a damp paper towel and microwave on high for about 1 minute, or until just warm and pliable. Fill each tortilla with about ⅓ cup of the chicken and beans, ¼ cup of the rice, and any additional toppings you desire. Make sure not to overstuff your burritos, or they will be hard to roll and harder to reheat later.
Roll your burritos and wrap them in foil. Label and store in the freezer for 2-3 months.
Note: If you make 8 burritos, you will have leftover chicken and rice. Place in an airtight container and either store in the refrigerator for a few days or in the freezer for a couple of months.
To reheat, unwrap a frozen burrito (no need to thaw!), wrap in a damp paper towel (if you find that your paper towels stick to the reheated burrito, try a damp dishcloth), and microwave on high for 3-4 minutes (times may vary depending on your microwave).
Notes
I used less salt than I normally would in my rice to compensate for any salt that might have been in my stock. If you are using stock that you know has no added sodium, go ahead and use your regular amount of salt for the rice.