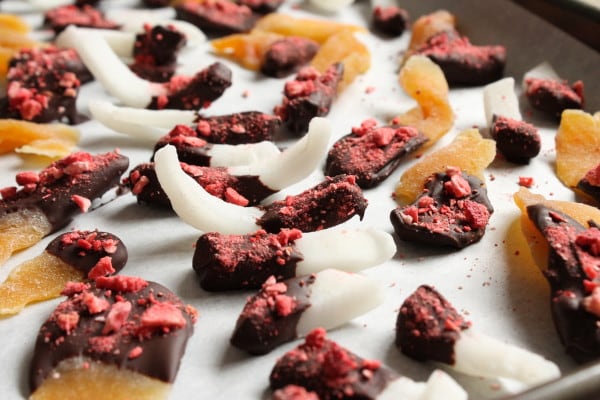 Happy Valentine's Day!
I hope you remembered to plan ahead with your dessert…but with all of that planning ahead, you may have woken up in the middle of the night and realized that you forgot to make treats for someone! Maybe it is your child's teacher, your hair dresser, your personal trainer, or just your favorite co-worker.
Or maybe your cousin slipped on some ice and shattered her wrist, and you simply want to make her a little something to say, "I love you!"
Never fear, these chocolate-covered dried mango and coconut strips are the perfect treat to pull together at the last minute. Not to mention that they're pretty (I just love how the freeze-dried strawberries add such a beautiful pop of color!), tasty, and much lighter than the super rich chocolate desserts that most people are surrounded by this time of year.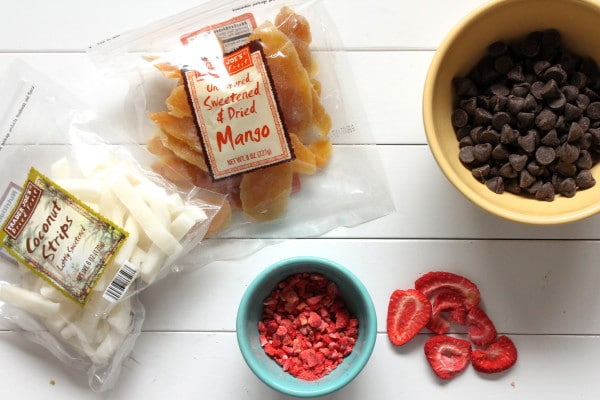 This is really one of those "non-recipes": Just take some dried mango and dried coconut (or any dried fruit of your choice), dip the pieces in some melted chocolate, and sprinkle with some crushed freeze-dried strawberries. Let the chocolate set in the refrigerator for 20-30 minutes and you're ready to package them up in cute heart-covered bags (it's those details that count!) and give them out!
No one will ever guess that these were a last-minute creation.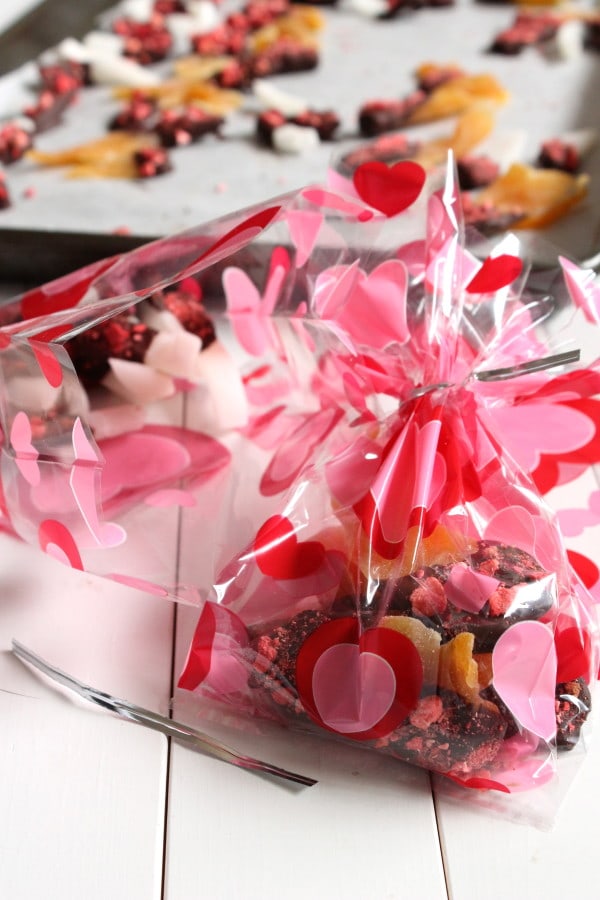 Ps: To all of my single-lady comrades out there today, this one's for you. Or, alternately, this one. You've got your girlfriends, homemade treats, and Beyoncé. That's all you need.

Chocolate-Covered Mango and Coconut
Ingredients
8 ounces dried mango slices
8 ounces coconut strips
6 ounces chocolate chips, melted
2 tablespoons crushed freeze-dried strawberries
Instructions
Line a baking sheet with parchment.
Dip each piece of dried fruit in the melted chocolate. Shake slightly or use a butter knife to remove any excess chocolate. Place the dipped fruit on the baking sheet, and sprinkle with a small amount of the crushed strawberries.
Once all of the fruit has been dipped and sprinkled, place the baking sheet in the refrigerator for 20-30 minutes, until chocolate has set. Package and give away!