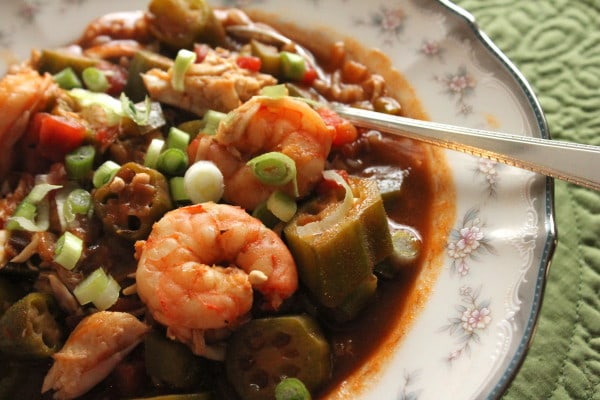 I've mentioned before that my maternal grandmother is originally from Mississippi, and that when I was 10, my family took a trip to New Orleans and my grandmother's hometown of Brookhaven, Mississippi.
While I have grown up on some southern staples – grits, bread pudding, and the "correct" kind of cornbread (read: not sweet) – the whole trip was an opportunity to eat some other foods that my grandmother grew up eating, but I had never had a chance to try, such as beignets, pecan pralines, and – perhaps most importantly – gumbo.
I have spent my whole life hearing my momma talk about eating her grandmother's crab gumbo and how wonderful it was. Unfortunately, Ma-Ma never wrote down her gumbo recipe, and so we were never able to replicate it. But, after eating at the famous Brennan's, Momma declared that their gumbo was as close to Ma-Ma's gumbo as she had ever had.
And so, on a recent visit to my parents' house, Momma and I put together bits and pieces of her memories, along with some guidance from Brennan's and John Besh, and set out to recreate my great-grandmother's gumbo.
Gumbo, while not a difficult dish to make, does require a few different components, all of them important. First, there's the roux: make sure you take the time to get the color in your roux – it's what is going to give your gumbo that deep, rich flavor! Then, there's the filè: made from powdered sassafras leaves, this is going to help thicken your gumbo, and also imparts flavor. While you can make your gumbo without it, it should not be too hard to find at your local grocery store (and can definitely be found online). And finally, there's what you put in your gumbo: while we stuck with shrimp and crab, those of you who prefer a little extra spice in your gumbo can most certainly add in some andouille sausage.
So bring a piece of New Orleans into your home and celebrate Fat Tuesday – or, really, any day that ends in "y" – with some seafood gumbo.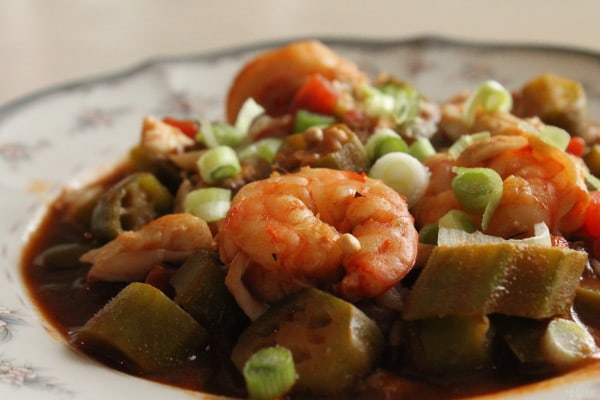 Adapted from Breakfast at Brennan's and Dinner, Too and My New Orleans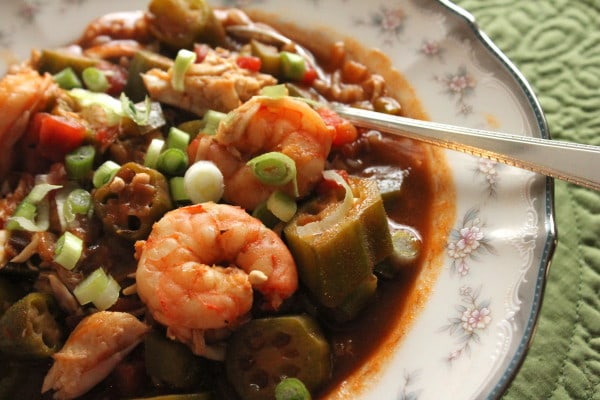 Ingredients
1/2

cup

vegetable oil

1/2

cup

flour

1

medium onion

diced

1

green pepper

diced

5-6

cloves

garlic

minced

1

pound

okra

fresh or frozen, cut into 1/2-inch pieces

1 16-

ounce

can tomato sauce

1 16-

ounce

can diced tomatoes

1 1/2

teaspoons

dried thyme

1 1/2

quarts

seafood or chicken stock

1/3

cup

Worcestershire sauce

2

bay leaves

1 1/2

teaspoons

salt

1/2

teaspoon

black pepper

1

pound

raw shrimp

peeled and deveined

1

pound

cooked lump crab meat

1

tablespoon

file powder
Instructions
Heat the oil in a large dutch oven over medium-high heat. Once hot, add the flour - it will sizzle and spatter a bit - and whisk until smooth. Lower the heat to medium and continue stirring for about 15 minutes, until the roux is the color of milk chocolate.

Add the onion to the pot and continue stirring until the mixture is the color of dark chocolate.

Add the pepper, garlic and okra (if using fresh). Cook for about 3 minutes, then add the tomatoes and tomato sauce. Cook for about 20 minutes, stirring occasionally.

Add the stock, thyme, Worcestershire sauce, bay leaves, salt and pepper. Bring to a boil. (If using frozen okra, add it now and allow to thicken slightly before continuing.)

Add the uncooked shrimp, and simmer for about 10-12 minutes, just until the shrimp is mostly cooked. Add the crab and continue simmering until the shrimp is completely cooked and the crab is heated through.

Remove from heat and add the file (do not add while the gumbo is still simmering, or else it can become stringy). Remove bay leaves. Serve over cooked white rice.