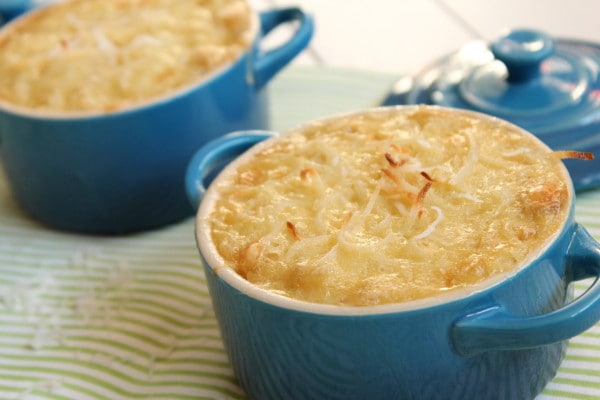 I have a confession to make: My new job is making me lazy.
Exhibit A: After being on my feet for 8 hours, I come home exhausted. Doing anything aside from collapsing in bed sounds like a monumental feat. And that's if I haven't gone to the gym after work. Phew.
Exhibit B: Due to where our store is located, we are required to wear hats. In case you couldn't figure out where this is going…washing my hair has become a rarity. Forget two-day hair. We're lookin' at four-day hair. At least.
Exhibit C: I can't tell you the last time I wore jeans. It's either my uniform, workout clothes, or yoga pants (if any). I had to go to an event the other day around real people, thus requiring me to put on polite-company clothes. I dealt by wearing black pants that look cute and borderline dressy, but feel like leggings. Jeans were just too much to handle.
Basically, I am one cat and a mumbling-to-myself habit away from being that lady that mothers direct their small children away from at the grocery store.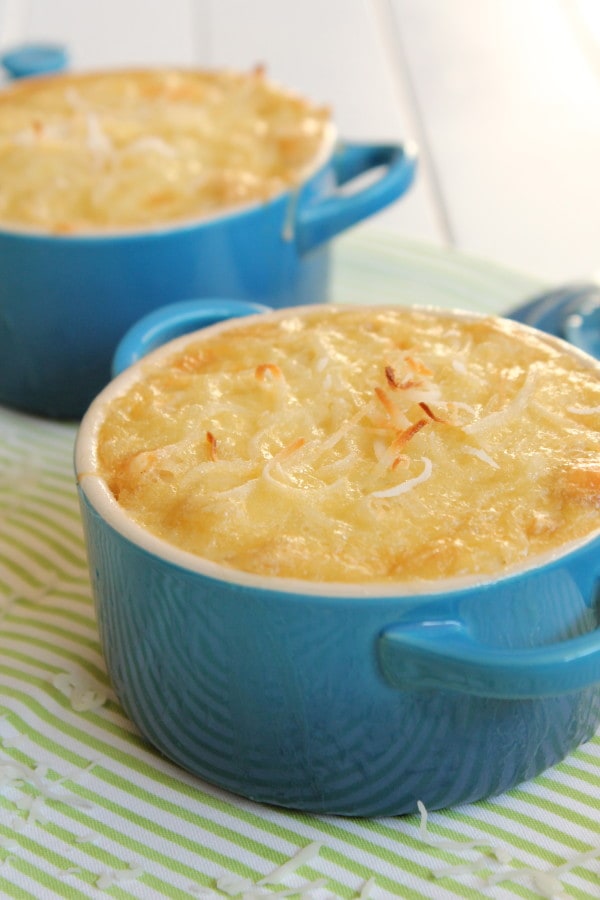 Admittedly, there's no real mystery behind why I'm single.
But, just on the off chance that I do get a date, I'll go ahead and pull together some of this coconut rice pudding, which I adapted and scaled down from my Momma's baked rice pudding recipe into the perfect serving size for two.
And if I don't have anyone to share with? Well…let's just say that polishing off that second serving on my own should be no problem. Especially if I'm wearing my yoga pants.
And you know I probably will be.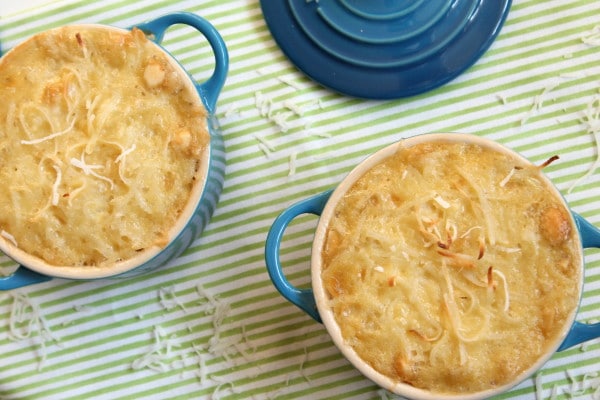 Coconut Rice Pudding
Ingredients
1¼ cups cooked rice
¾ cup coconut milk (light or full-fat)
Pinch of salt
2 tablespoons sugar
½ tablespoon softened butter
½ teaspoon vanilla
1 egg
3 tablespoons chopped macadamia nuts
3 tablespoons raisins (optional)
2 tablespoons shredded sweetened coconut
Instructions
Preheat oven to 325 degrees. Grease two 8-ounce ramekins. Set aside.
In a medium bowl, stir together all ingredients except shredded coconut with a fork. Divide into the prepared ramekins and sprinkle with the coconut. Place ramekins on a baking sheet and bake for 50 minutes, until the centers of each are set and the tops are lightly golden.
Serve warm, at room temperature or cold. Store in the refrigerator, well-covered.