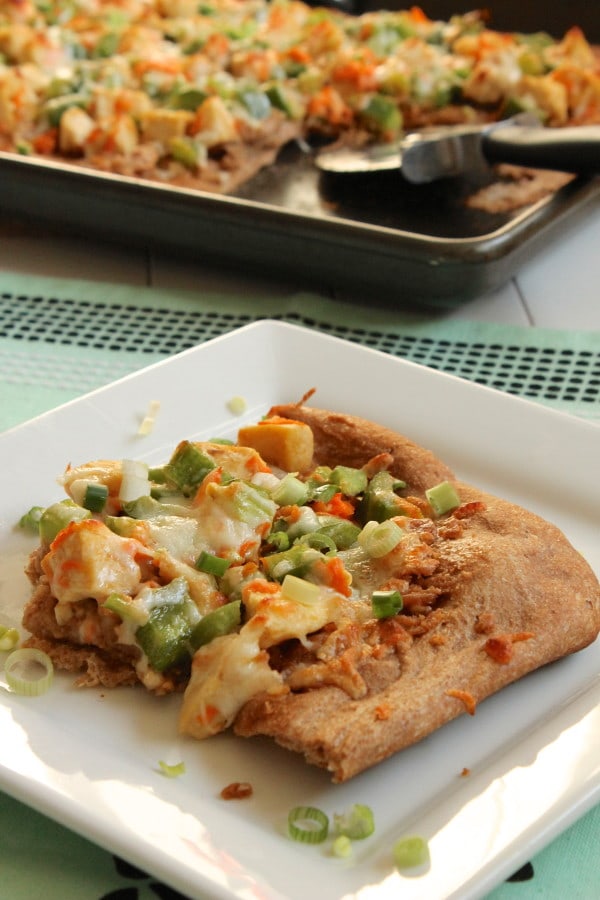 Growing up, my mother made it a point to cook dinner for our family every night. Eating out was rare, eating dinner together was a nightly ritual. My first memory of having a frozen pizza? High school. And I'm fairly certain it was at my boyfriend's house. I was in college before I figured out that this was not necessarily the norm for many of my friends – they thought that I was the weird one to have a mom who actually cooked, instead of relying on take-out or prepared foods.
So when my cooking adventures inspired one of these friends to cook dinner for me this past summer, I was like a proud momma. And the meal was so good, I insisted she email me the recipe! I had forgotten about that recipe until recently, when I suddenly found myself craving some of that Thai Chicken Pizza. I dug up that recipe the next day, did some tweaking, and feasted on Thai Chicken Pizza for the next three days.
We've got some great players here: nutty whole wheat crust, creamy peanut sauce, crunchy veggies, juicy chicken, and just enough cheese to pull it all together. Feel free to add other veggies as you feel appropriate – I think some thinly sliced snap peas would be a great addition here. And we all know I'm a lightweight when it comes to spicy food, but if you like some extra kick, add some crushed red pepper to your peanut sauce.
Trust me, this recipe is easy, full of protein, and far better than any frozen pizza you are likely to find.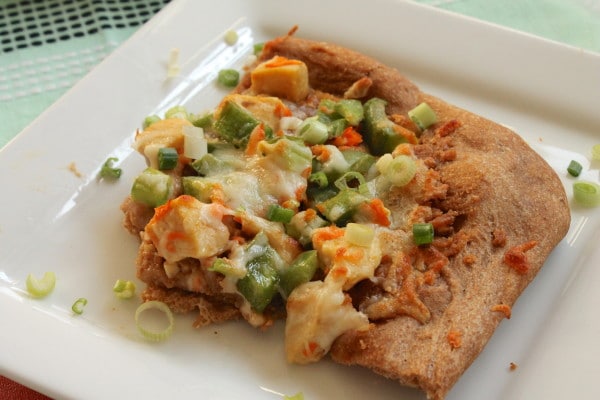 Adapted from a Jillian Michaels recipe.
Recipe for whole wheat pizza crust.

Thai Chicken Pizza
Ingredients
16 ounces whole wheat pizza dough
1 large chicken breast, diced
1 green pepper, diced
1 medium carrot, grated
4 scallions, chopped
1 tablespoon oil
⅓ cup + 1 tablespoon creamy peanut butter (natural, please!)
Juice of 1 lime
2½ teaspoon soy sauce
½ teaspoon rice vinegar
3 cloves garlic, minced
2 tablespoons water
1 cup shredded mozzarella cheese
Optional: crushed red pepper flakes
Instructions
Preheat oven to 450 degrees. Press or roll out crust and place on a well-oiled baking sheet. Bake for 8-10 minutes, until puffed and the bottom is lightly crisped.
Meanwhile, whisk together the peanut butter, lime juice, soy sauce, vinegar, garlic, water, and red pepper flakes (to taste).
Heat the oil in a skillet over medium-high heat. Cook the chicken until cooked through. Add the cooked chicken to a bowl and combine with the green pepper, carrot, and 1 heaping tablespoon of the sauce.
Spread the remainder of the sauce on the prepared crust. Spoon the chicken mixture evenly over the crust, sprinkle with the scallions, reserving some for garnish if desired, and sprinkle with the cheese.
Bake for 10-12 more minutes until the cheese is melted and the crust is nicely browned. Allow to cool for about 5 minutes before cutting.