Corn Cheddar Bubble Loaf adds the toothsome bite of cornmeal to yeast bread. Serve alongside soup or chili for a great fall meal.
This post is sponsored by Red Star Yeast. Thank you for supporting brands that help make this site possible.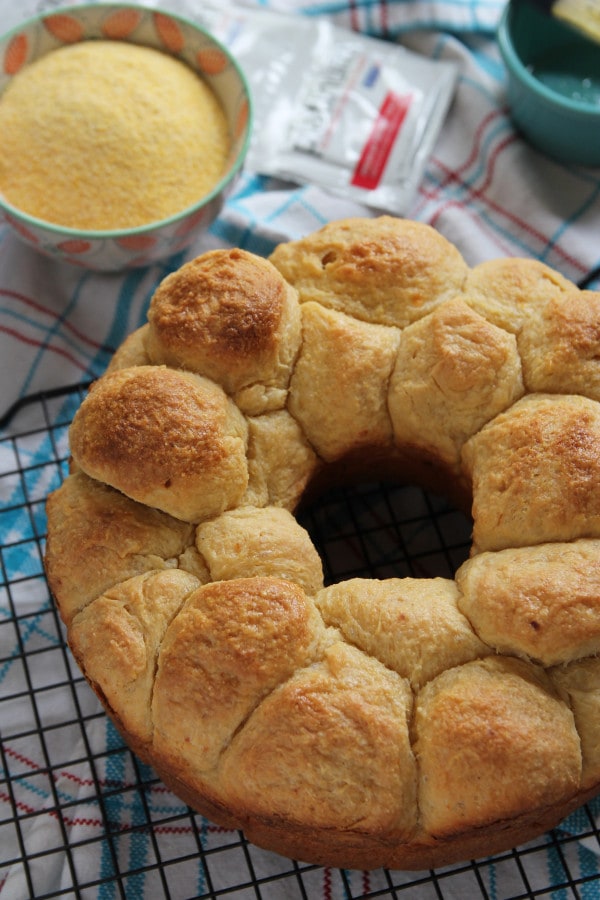 Hellooooo, friends! It's been a hot minute, hasn't it? I'm sure those of you who follow me on the Instagrams are wondering if I have done anything besides wander around Jamaica in my Tieks lately. The answer is no. I mean yes. I mean…ok, let's catch up.
So I did take a little jaunt over to Jamaica the other week for the Eat, Love, Sandals Culinary Conference. A special thanks to Jamie over at My Baking Addiction and Kristan from Confessions of a Cookbook Queen for organizing the trip, and the kind folks at Sandals Ochi Beach Resort for hosting us crazy ladies for the week. We spent the week learning from each other, falling in love with the island cats (ok, that was mostly me), taking a beach-side yoga class, and even got to visit a local preschool to deliver some school supplies and spend the afternoon reading to some adorable little nuggets.
But that's not all I've been doing! Alex and I recently adopted my grandfather's cat, adding to a our little brood. Callie is (at best guess) around 12 or 13 years old, half blind, mostly deaf, absurdly food-driven (she could stand to lose a few pounds), and a little senile. She's our new senior citizen and we just love her.
In other news, we picked out paint colors for our house last weekend. The plan is to close and immediately start painting over Thanksgiving weekend (happy holidays?) because we aren't so hot on the idea of a rose-colored kitchen. Just a personal preference. As it turns out, blue is pretty much the only color we can actually agree on, though, so 3 of the 5 rooms we are hoping to paint before we move in will, in fact, be some shade of blue. We will be the blue house. That's normal, right?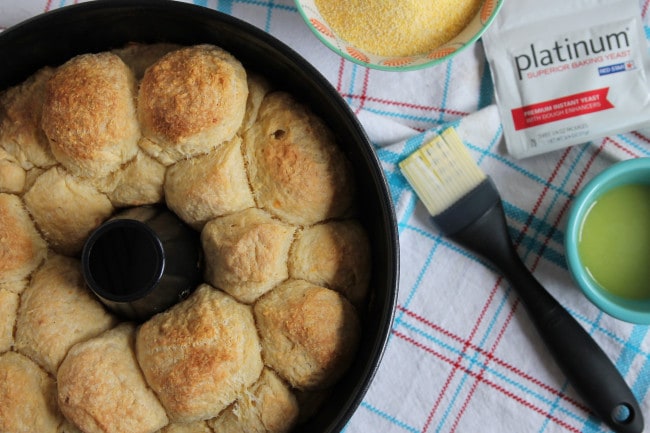 I've also been baking some bread for you – like this Corn Cheddar Bubble Loaf! This recipe comes from the folks over at Red Star Yeast, and is the first time I have made a yeast bread with cornmeal in it. The cornmeal adds a great toothsome bite to this bread and using Red Star's Platinum Yeast (you know it's my favorite!) means that this dough rises nice and high and won't get weighed down from the cornmeal or the cheddar cheese.
The best part? This bread can be made the day before and baked just before serving, making this the perfect bread for serving alongside your favorite soup or chili for a fall weeknight meal. Fall eats just got better, folks – no pumpkin needed.
Head on over to Red Star Yeast's site to grab this Corn Cheddar Bubble Loaf Recipe.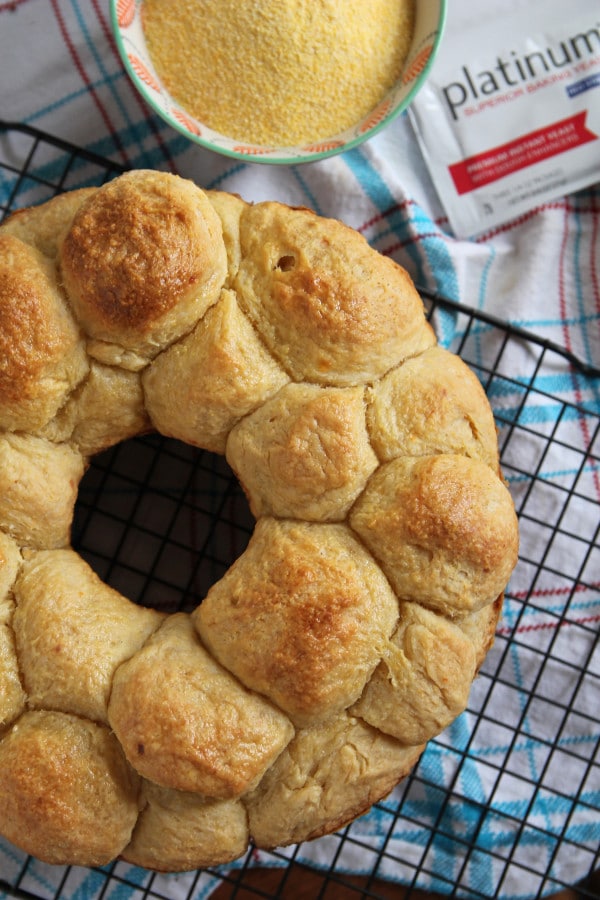 Looking for more great bread recipes? Make sure to follow Red Star Yeast on Facebook, Twitter, Pinterest and Instagram and check out their website for tips and tricks for baking with yeast!