Cream scones studded with dried cranberries and candied ginger are simple to make with an impressive taste.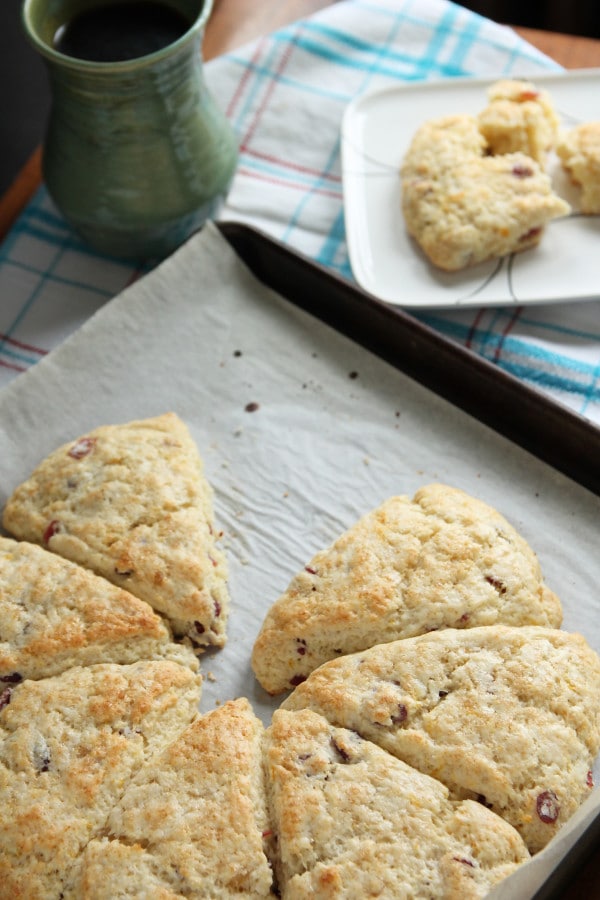 TGIF, people!!
Did anyone else have a weird, stressful week? I am headed home this afternoon for my first wedding dress fitting this weekend and am so glad for a weekend full of things like best friends, no-chip manicures and Cranberry Ginger Cream Scones after a week like this one. Can I get an "amen"? (Hashtag: Priorities.)

In case you are looking for a little bit of an internet-retreat from the "real world" this weekend, I've got an extra surprise for you: Today I am joining several of my blogging friends for a fun "Freaky Friday" blog hop. Each of us made a recipe from another blogger in the group and are sharing that recipe on our sites today. Visit each of the blogs to learn more about all of us and snag some really great recipes!
Today's recipe for Cranberry Ginger Cream Scones is a variation on a Cream Scones recipe from Debi over at Life Currents. Much like myself, Debi is an advocate for "getting back to real foods and methods." Many of her recipes are healthy, but even those that are more indulgent – like these scones – are made with real ingredients. She is a big believer in home cooking, hates celery (preach, sister!), and loves using seasonal, local produce as much as possible. I'm definitely going to have to try her Smoky Cheese Chowder recipe soon (because cheese), as well as this super easy Pizza Tarts recipe (pizza.tarts, people!).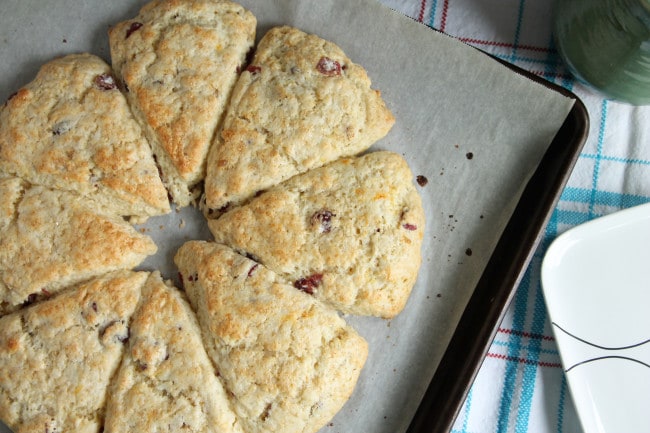 So now, let's chat about these Cranberry Ginger Cream Scones. I have shared some scone recipes with you before – Whole Wheat Sweet Potato Scones was one of the very first recipes on my site, and Blueberry Lemon Yogurt Scones are, frankly, pretty hard to beat – all of which used butter in addition to your liquid (usually buttermilk). While I will always love this method (because butter), cream scones are even easier to make, as the heavy cream provides both the fat and the liquid for the recipe. Seriously, these scones couldn't be easier and yet the light, airy texture and indulgent taste are sure to fool your family and friends into thinking you spend hours slaving away to make them. They're the perfect weekend brunch treat!
Head on over to Life Currents to see what recipe Debi made, and be sure to check out everyone else's sites as well! You've got a lot of great recipes in your future.
A Dish Of Daily Life
An Affair from the Heart
Aunt Bee's Recipes
Big Rigs 'n Lil Cookies
Café Terra Blog
Full Belly Sisters
Honey & Birch
Life Currents
Pic Nic
Simply Sated
The Foodie Affair
Who Needs A Cape?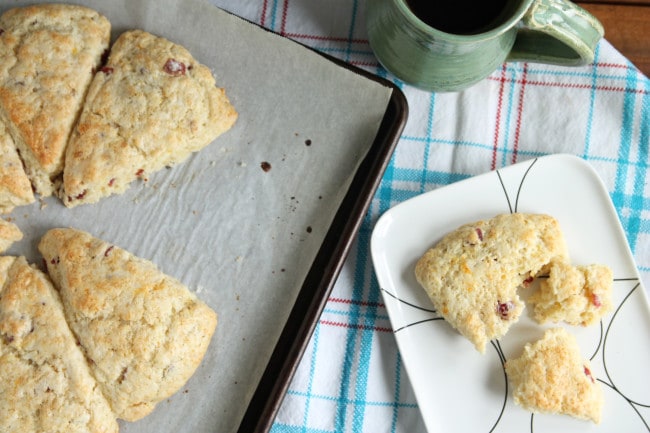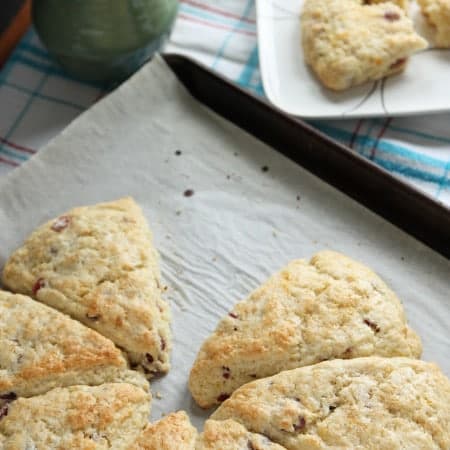 Cranberry Ginger Cream Scones
Cream scones studded with dried cranberries and candied ginger are simple to make with an impressive taste.
Print
Pin
Rate
Ingredients
2

cups

all-purpose flour

1/3

cup

granulated sugar

1

tablespoon

baking powder

½

teaspoon

salt

½

cup

dried cranberries

2

heaping tablespoons finely chopped candied ginger

1

heaping teaspoon orange zest

1 ¼

cups

heavy cream

Additional cream + turbinado sugar

for topping
Instructions
Preheat the oven to 425 degrees. Line a baking sheet with parchment paper. Set aside.

In a large bowl, whisk together the flour, sugar, baking powder and salt. Stir in the dried cranberries, candied ginger and orange zest. Gently stir in the cream, mixing until just combined.

Turn the dough out onto a lightly floured surface. Knead lightly 5-10 times, until the dough just comes together and loses some of its stickiness. Gently pat the dough into a circle about 8 inches wide and 3/4 inch thick. Cut the circle into 8 wedges.

Place wedges on the prepared baking sheet, about 1/2 inch apart. Brush the tops lightly with additional cream and sprinkle with a bit of turbinado sugar. Bake for 12 to 15 minutes, until the tops are golden brown. Move to a wire rack to cool or serve warm.

Store in an airtight container for up to 3 days.