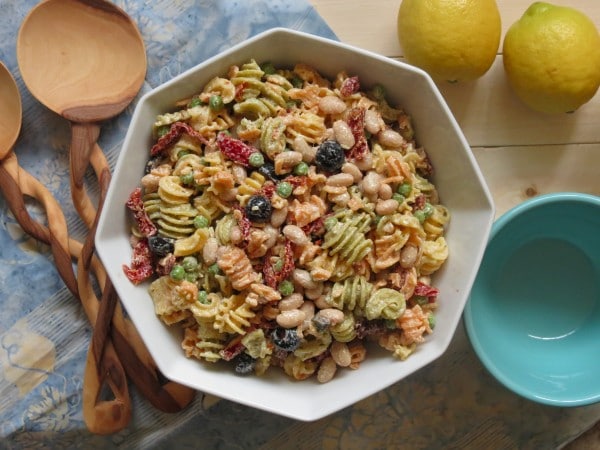 So, I sort of have this thing I do where if I put sun-dried tomatoes in a recipe (which, let's be real, happens a lot around here), I am automatically 75 times more likely to use the word "Mediterranean" in the title of that recipe.
I suppose by the time I have come up with the idea for a recipe, and then put in the effort to execute it, I have used up all of my creativity brain cells and am left with very little brain power to come up with a good name for it.
So I don't know if we can technically say that this pasta salad is "Mediterranean" or not, but it does have some pretty awesome flavors going on.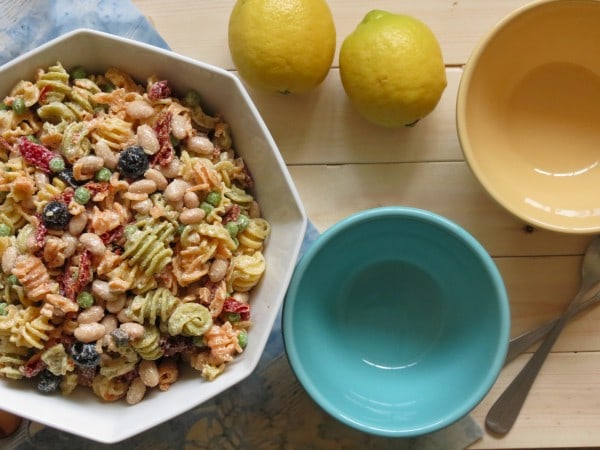 I mean, let's look at our salad components here. Pasta (obviously), white beans, peas, sun-dried tomatoes, and olives. Pretty solid.
And our dressing? That's what really brings the big game here. A creamy dressing – using a base of Greek Yogurt instead of mayonnaise – flavored with lemon and just a little bit of pesto. Nothing too heavy or overpowering, just flavorful enough to enhance and bring together the other players.
And this salad really only got better with time. Day one? It was good. After sitting overnight? The flavors had developed and it was even better. By day three it hit its own personal level of perfection and I was sad to finish the last of it.
Well, not sad enough to keep it around any longer. I was hungry, after all.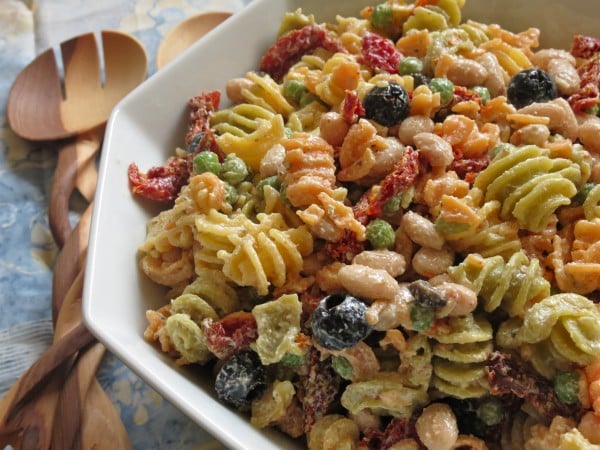 Creamy Mediterranean Pasta Salad
Dressing recipe adapted from The Pioneer Woman.
Ingredients
For the dressing:
½ cup fat-free Greek Yogurt
Juice of two lemons
3 tablespoons olive oil
1 teaspoon red wine vinegar
1 heaping tablespoon pesto (jarred is fine)
1 teaspoon garlic powder
Salt and pepper to taste
For the salad:
8 ounces small, shaped pasta
1 can white (Cannellini) beans, drained and rinsed
1 cup frozen peas, thawed
1 cup oil-packed sun-dried tomatoes, cut into strips
½ cup sliced black olives
Instructions
Cook pasta according to package directions. Drain, rinse, and set aside.
While pasta is cooking, whisk together the dressing ingredients until smooth. Taste for seasoning.
Toss cooked pasta with beans, peas, tomatoes and olives. Stir in dressing until everything is fully coated. You may want to only use half of the dressing at first, adding more as necessary.
Chill for at least two hours before serving, although longer (overnight) is best to allow flavors to fully develop.