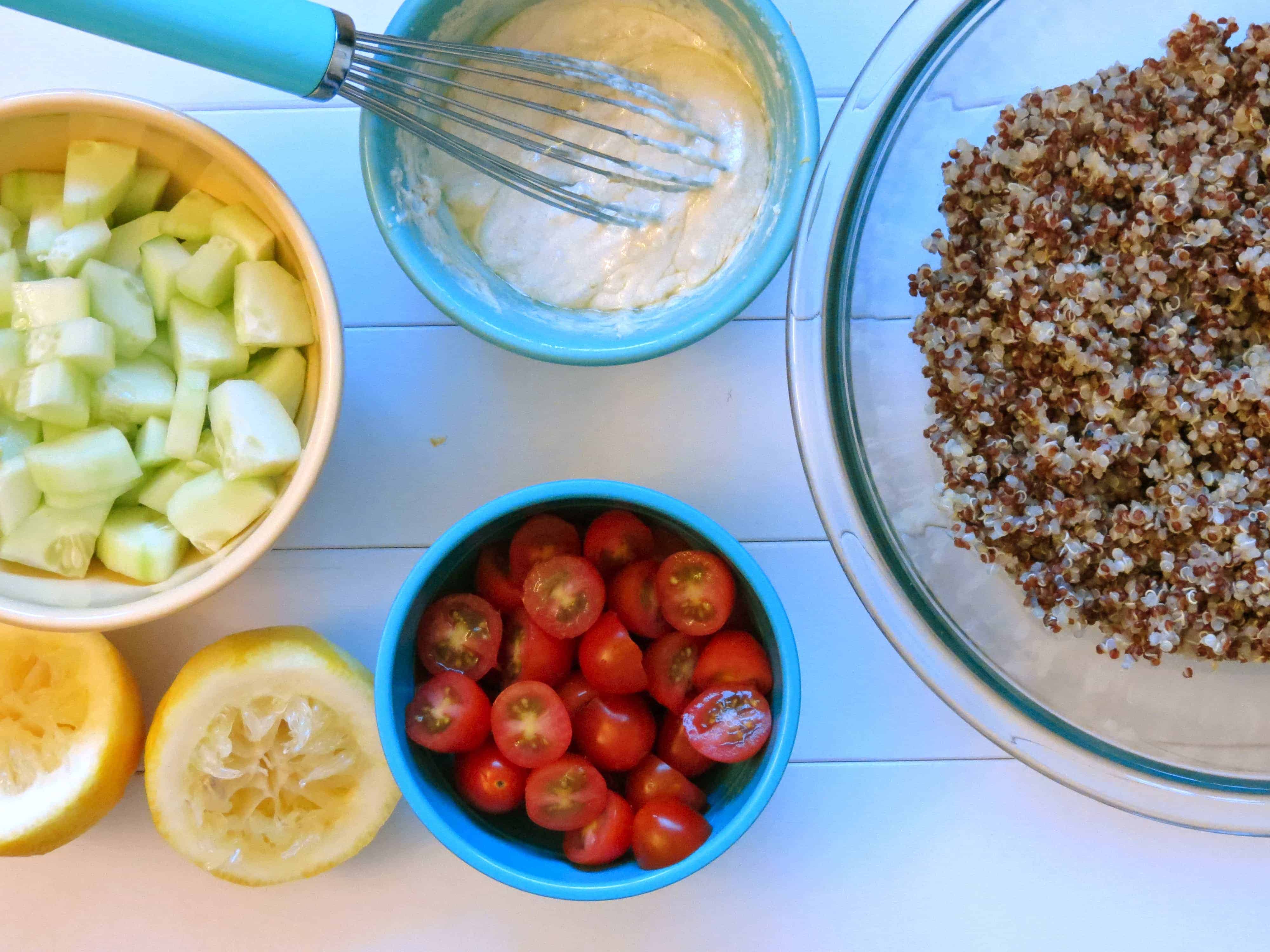 Did you know that it is possible to not only have a case of the Mondays, but to also have a case of Monday Hair?
That is totally what I have going on right now.
I'm choosing to blame my Monday Hair on a couple of things:
1.) I am in desperate need of a haircut, but won't be getting one for another couple of weeks when I am home for my best friend's wedding. And no, in answer to your next (likely nonexistant) question, I can't get one prior to that because I am needy and picky and refuse to grow up and find a new hairdresser in the town where I actually live, and instead make the 3-hour trek to my parents' house every so often so that I can get my hair done by the woman who has been cutting and coloring it for over a decade. It's a hair comfort zone. Also, I have trust issues. (Among others, clearly.)
2.) My lack of central air means that my apartment gets so hot this time of year that by the time I have straightened the top layer of my hair, the bottom layer has already started to curl and frizz back into little ringlets. It's a really cute look, let me tell you.
Looks like I am going to be sporting either the curly look or a braid from now until it snows again.
And now, back to our regularly scheduled programming.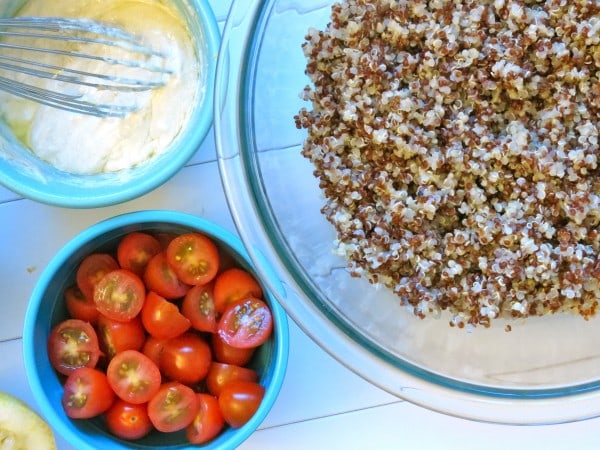 I threw together this little quinoa salad last week when I needed a side to go with some baked falafel. I wanted something that would incorporate some of the flavors in the falafel without overpowering it. After doing some snooping, I found this dressing on 101 Cookbooks. I pretty much kept the dressing as it was and changed up the salad ingredients to things that better suited my whims at that moment.
Basically? It was easy as can be to throw together and perfect alongside the falafel. And straight out of the bowl at 10 pm. Yeah, my late-night snacking habits are weird, I know.
Also – I used a mixture of red and white quinoa to give the salad some pretty color, but you could certainly use any color that you have on hand!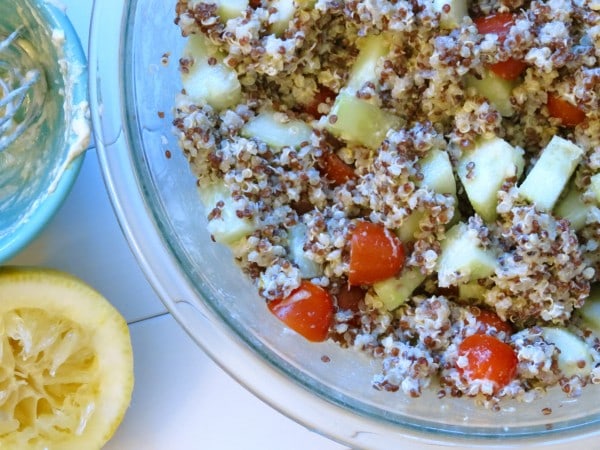 Lemony Tahini Quinoa Salad
Adapted from 101 Cookbooks
Ingredients
1 cup uncooked quinoa
2 cups water
1 teaspoon kosher salt
¼ cup tahini paste
Juice of 1 lemon
2 tablespoons lemon zest
1 garlic clove
¼ teaspoon kosher salt
2 tablespoons extra virgin olive oil
2 tablespoons hot water
1 medium cucumber, peeled and diced
1 cup halved cherry tomatoes
Instructions
Rinse quinoa. Add to a medium pot with the water and 1 teaspoon of salt. Bring to a boil; reduce heat, cover, and simmer for 15-20 minutes or until cooked through. Remove from heat and set aside.
Using a large knife, smash the garlic clove. Peel, roughly mince, then sprinkle with ¼ teaspoon of salt. Use a fork to smash the salt and garlic together, creating a paste. If this seems difficult at first, allow the salt and garlic to hang out for a few minutes and try again. (It does not need to be a super smooth paste, you just want most of the large bits broken up.)
In a small bowl, whisk together the tahini, lemon juice, zest, garlic and olive oil. The mixture will be very thick - add hot water 1 tablespoon at a time until it comes to a consistency somewhat like that of yogurt. Give it a taste to check for seasoning, adding more salt if needed.
In a large bowl, toss the cooked quinoa with the cucumber and tomatoes. Add in the dressing, stirring to coat. Cover and chill before serving to allow the flavors time to meld. Will keep, covered in the refrigerator, for 3 days.