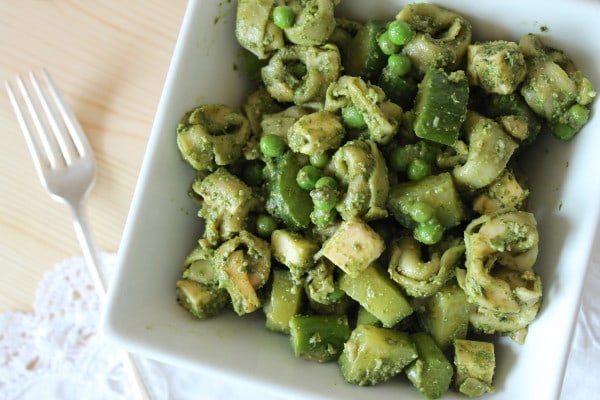 Sometimes I cook to the seasons: fruits, veggies, holiday-appropriate dishes.
Sometimes I cook to my cravings: pasta, bread, more pasta, potatoes, more bread.
Occasionally, I get the chance to do both: Green Pasta Salad.
Has your grocery store been stocking fresh English peas? Trader Joe's has had them in stock, and I've been taking advantage of them because I know they won't stick around for long. I love the little jewels: they barely need to be cooked and are sweet as candy.
Too weird? Maybe. But still true.
This pasta salad uses these gorgeous peas, some spring asparagus, crunchy cucumber, and tortellini dressed with pesto and a squeeze of lemon juice. I made some spinach pesto leftover from other kitchen adventures, but you could use my spinach and kale pesto or your favorite prepared pesto.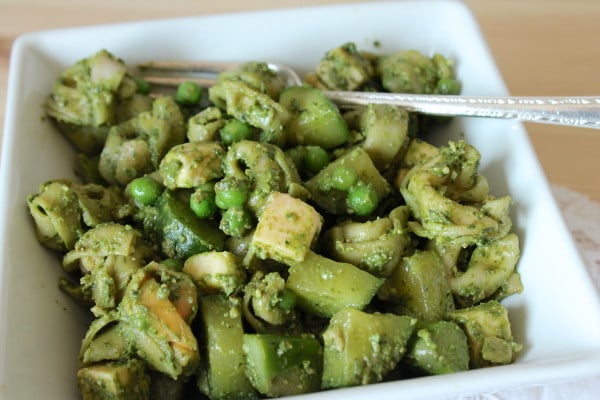 Green Pasta Salad
Ingredients
12 ounces tortellini, or other smallish, shaped pasta
1 small bunch of asparagus
1 cup fresh English peas
1 cucumber
1 cup cubed cheese (I used a sharp white cheddar)
¾ - 1 cup pesto
Juice from ½ a lemon
2 tablespoons Parmesan cheese (the grated stuff actually works best here)
Instructions
Cook your pasta according to package directions. Drain, rinse under cold water and set aside.
Bring a medium pot of salted water to a boil. Meanwhile, cut the asparagus into ½-inch pieces. Cook in the boiling water for 2-3 minutes; remove to an ice bath to halt cooking. Cook the peas in the same water for 1-2 minutes; remove to the ice bath.
Cut the cucumber in half lengthwise, then into quarters. Cut the quarters into bite-size pieces.
Toss the cooked pasta with the prepared vegetables and the cubed cheese. Dress with the pesto (start with ¾ cup and add more as needed) and lemon juice. Sprinkle with the cheese and stir to combine. Cover and refrigerate until ready to serve.