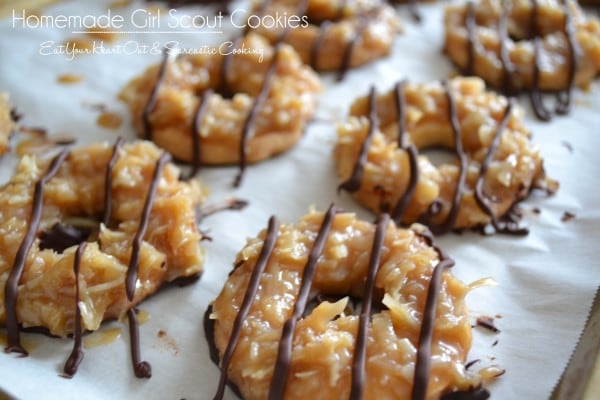 Photo courtesy of Sarcastic Cooking
I don't know about you guys, but when I was growing up, Girl Scout cookie time was big business.
All three of us had a different favorite, and we were willing to hunt down any Girl Scout that crossed our paths to make sure that we got those danged cookies. Then, once we got our cherished boxes of cookies, it was a battle not simply inhale them in one sitting, but rather squirrel them away in the freezer and just eat a few at a time, making that box last as long as possible.
And no, there was no sharing our Girl Scout cookies in the Swope household. You got the flavor you asked for and if you had wanted a Thin Mint, you should have asked for those instead! (I may or may not have heard my mother say this to my father once or twice…)
Clearly, my mother was all about the Thin Mints. I personally love the Peanut Butter Sandwich Cookies. But my dad, he's a Caramel DeLite kind of guy (which, incidentally, I learned as an adult are called "Samoas" in some parts of the country…who knew?). The chocolate drizzled over that coconut-caramel situation with the shortbread cookie? Yep, Jerry's a goner.
A while back I wrote about spending some time before Christmas in the kitchen with Stef from Sarcastic Cooking. In addition to those awesome shortcakes, we also made these homemade Caramel Delites/Samoas. I can't lie, they were definitely a labor of love…but when I took my half of the batch home to my daddy at Christmas, his reaction to finding them in his stocking – and the look on his face when he took his first bite of one – made the effort well worth it.
He even said he thought they were better than the originals. And when it comes to his Girl Scout cookies, the man's a tough customer.
So if you want to find out how to have these lovelies all year round (and maybe make them for your sweetie for a certain love-themed holiday that is fast approaching), head on over to Stef's site!