Lemony cake-like quick bread made with plenty of lemon zest and topped with a crunchy crumb topping and tart glaze. It's perfection in loaf form.
Hello, darlings! What did y'all do this weekend? My weekend mainly consisted of this Lemon Crumb Loaf…and I'm totally not angry about it. In fact, I was pretty much exuberant about it.
You see, this recipe comes straight to us from my darling friend Steph's brand-spankin' new e-cookbook, Quick Bread Love! Being friends with someone who is writing a cookbook (of the old-fashioned or e-book variety) really gives you an insight into not only how crazy the process can be, but also how much love and passion they pour into it. I know that Steph has been working her pregnant tush off to get this book ready for us, so I was super excited to check it out and bake something out of it.
After downloading the PDF and popping it open, I proceeded to drool as I tabbed through the pages, literally stewing about which recipe I would share with you guys. Would it be Peaches and Cream Streusel Bread? Or something a little more savory with Asiago and Roasted Garlic Skillet Bread? Or do I die and go to Heaven with No-Yeast Cinnamon Rolls? (Let me just repeat that for you in case you missed it…no-yeast…cinnamon…rolls. Take that in for a moment and then swoon.)
But at the end of the day, I kept coming back home to this Lemon Crumb Loaf. I mean…look at it. The bread is full of lemon zest and almost has a pound cake-like texture to it (but without the pound of butter, hallelujah be!). The crunchy crumb topping takes it over the top, and then you keep on going with a perfectly tart-sweet lemon glaze.
I know. I can't handle it either. Let's not talk about how I am refusing to share this with anyone.
Oops.
Oh, what's that? You wish you could have those other recipes I mentioned? Plus the other 30+ recipes in the book? What if I told you that this beautiful e-book could be yours? That's right, you have the chance to win the Quick Bread Love Baker Extraordinaire Package. That means you'll get:
A copy of Quick Bread Love
A mini companion book (with extra recipes for butters, spreads, and glazes, swoon)
Printable recipe cards
Fun wallpapers for your computer and iPhone
A video tutorial
A baking cheat sheet
Phew! Steph really knows how to do it up right, doesn't she? To enter to win, just use the widget below! A winner will be chosen and emailed on Tuesday, May 6, 2014 at 10:00 pm CST.
Can't wait to get your copy? You can buy your copy HERE!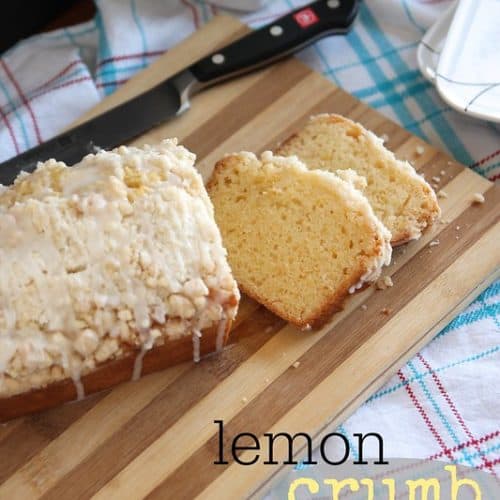 Ingredients
For the topping:
1/4

cup

plus 2 tablespoons flour

1/4

cup

granulated sugar

Pinch

of salt

2

tablespoons

unsalted butter

melted
For the bread:
1 1/2

cups

flour

1

cup

granulated sugar

1

teaspoon

baking powder

1/2

teaspoon

salt

1 5-

oz

can evaporated milk

1/3

cup

vegetable oil

1 1/2

teaspoons

lemon zest

2

eggs
For the glaze:
1/2

cup

powdered sugar

3

teaspoons

lemon juice
Instructions
In a small bowl, mix topping ingredients with a fork until crumbly.

Heat oven to 350 degrees. Lightly grease and flour the bottom and sides of an 8 1/2-by-4 1/2-inch loaf pan.

In a large bowl, stir together flour, sugar, baking powder and salt. In a separate medium bowl, whisk evaporated milk, oil, lemon zest and eggs until combined. Pour egg mixture into flour mixture; stir to combine.

Pour batter into prepared pan. Sprinkle evenly with crumb topping. Bake 1 hour to 1 hour and 10 minutes until a toothpick inserted in the center comes out clean. Cool bread in pan 10 minutes, then carefully remove from pan. Transfer to a cooling rack to cool completely.

In a small bowl, combine ingredients for the glaze. Drizzle evenly over fully cooled bread.
Post contains affiliate links.