Fluffy and buttery homemade Texas Roadhouse Rolls with Cinnamon Honey Butter. Going out has just been replaced with staying in, and I think you're gonna like it.
I have a confession to make: it took me 4 tries to get these Texas Roadhouse Rolls right for you.
Let's back up a bit – When I decided that I wanted to make a homemade version of Texas Roadhouse Rolls, I immediately knew that I wanted to adapt one of my great-grandmother's yeast roll recipes for the project. Only, my dumb ass kept forgetting to add the water to the recipe.
Emphasis on dumb.ass.
Spoiler alert: Don't leave the water out of this recipe. It won't work.
But, as it turned out, making the recipe 4 times (and massively screwing up for 3 of them) was worth it in the long run. Boyfriend came home from work, popped a warm roll into his mouth, and said, "Are these Texas Roadhouse Rolls?"
#winning
TEXAS ROADHOUSE ROLLS RECIPE
Now, in case you have never been to Texas Roadhouse before, let me tell you the secret to their rolls: honey. Both in the rolls themselves (a whopping 1/2 cup, which is a lot of sweetener as far as dinner rolls go) and in the accompanying Texas Roadhouse Cinnamon Honey Butter.
Let's ponder that phrase for a moment. Cinnamon. Honey. Butter.
I mean, sure – you can eat Texas Roadhouse Rolls without the Cinnamon Honey Butter and they'll be delicious. You could opt to serve the rolls with jam, or Instant Pot Persimmon Butter. They'll be delightful, in fact.
But if you really want to take things over the edge (and I know you do when carbs are involved), you're going to need to slather those warm rolls in the delight that is Cinnamon Honey Butter. In fact, I'm pretty certain I don't want any other type of butter in my life ever again.
Me + Texas Roadhouse Rolls + Cinnamon Honey Butter = True luv 4 ever
HOW TO MAKE TEXAS ROADHOUSE ROLLS
Don't be intimidated by the ideas of making yeast rolls. This recipe uses instant yeast, so you can add it straight to the flour without having to dissolve it.
Texas Roadhouse Rolls are made with an enriched dough, which means that the dough has eggs, milk, butter and sugar (or, in this case, honey) in it.
There's a lot of sciencey stuff that changes when these ingredients are added to a yeast dough, but the most important one for you to know is that they can sometimes increase the rising time. You'll need around an hour for the first rise, even if using a "faster rising" yeast.
To make these copycat Texas Roadhouse Rolls truly like the originals, they need to be shaped into rectangles or squares, unlike other rolls like my Fluffy No-Knead Refrigerator Rolls.
To do this, roll the dough into a rectangle and use a dough blade or a pizza cutter to cut the dough into 24 squares.
Let the rolls rise for another 30 minutes before baking. As soon as they come out of the oven, slather those babies in melted butter and get ready to serve them warm with the Cinnamon Honey Butter.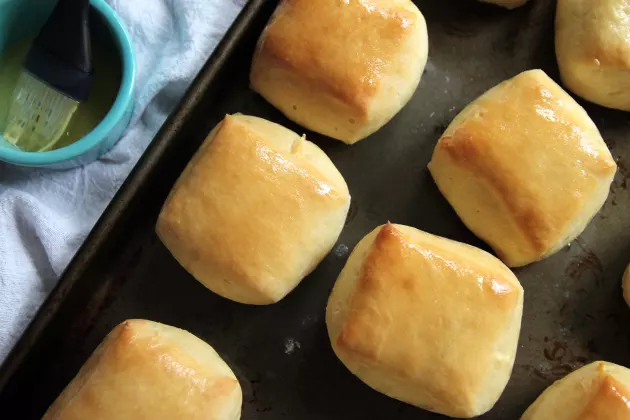 Ingredients
2 1/2

cups

Bread Flour

4 1/2

teaspoons

Instant Yeast

(2 packages)

1 1/4

cups

Water

1/2

cup

Milk

1/2

cup

Honey

1/3

cup

Unsalted Butter

1 1/2

teaspoons

Salt

2

Eggs

3

cups

All-Purpose Flour

2

tablespoons

Butter

melted (optional)
Instructions
In the bowl of a stand mixer fitted with the dough hook, whisk together 2 cups of the bread flour and the yeast.

In a saucepan, combine the water, milk, honey and butter. Heat over medium heat just until warm – butter does not need to be completely melted.

With the mixer running on low, pour the milk mixture into the bowl of the stand mixer. Beat for 2 minutes until well combined.

Add the remaining bread flour, salt and the eggs. Mix on low speed until well combined.

Add the all-purpose flour, 1 cup at a time, mixing on medium speed until the dough pulls away from the sides of the bowl.

Place dough on a well-floured surface and knead for 5-8 minutes, until smooth and elastic.

Place dough in a lightly-greased bowl, cover lightly with a clean tea towel and place in a warm place to rise. Let rise for about 1 hour until doubled in size.

Gently turn dough out onto a lightly floured surface. Roll dough into a large rectangle 1/2-inch thick. Use a dough blade, knife or pizza cutter to cut dough into 24 squares. Place rolls onto buttered baking sheets, about 1 1/2 inches apart. Cover lightly with a tea towel and let rise for about 30 minutes or until puffy.

Meanwhile, preheat oven to 350°F.

Bake rolls for 15-18 minutes, until golden. Brush with melted butter upon removing from the oven. Serve warm with Cinnamon Honey Butter.
Nutrition
Serving:
1
roll
|
Calories:
172
kcal
|
Carbohydrates:
28
g
|
Protein:
5
g
|
Fat:
5
g
|
Saturated Fat:
3
g
|
Polyunsaturated Fat:
0.4
g
|
Monounsaturated Fat:
1
g
|
Trans Fat:
0.1
g
|
Cholesterol:
24
mg
|
Sodium:
163
mg
|
Potassium:
69
mg
|
Fiber:
1
g
|
Sugar:
6
g
|
Vitamin A:
136
IU
|
Vitamin C:
0.04
mg
|
Calcium:
15
mg
|
Iron:
1
mg