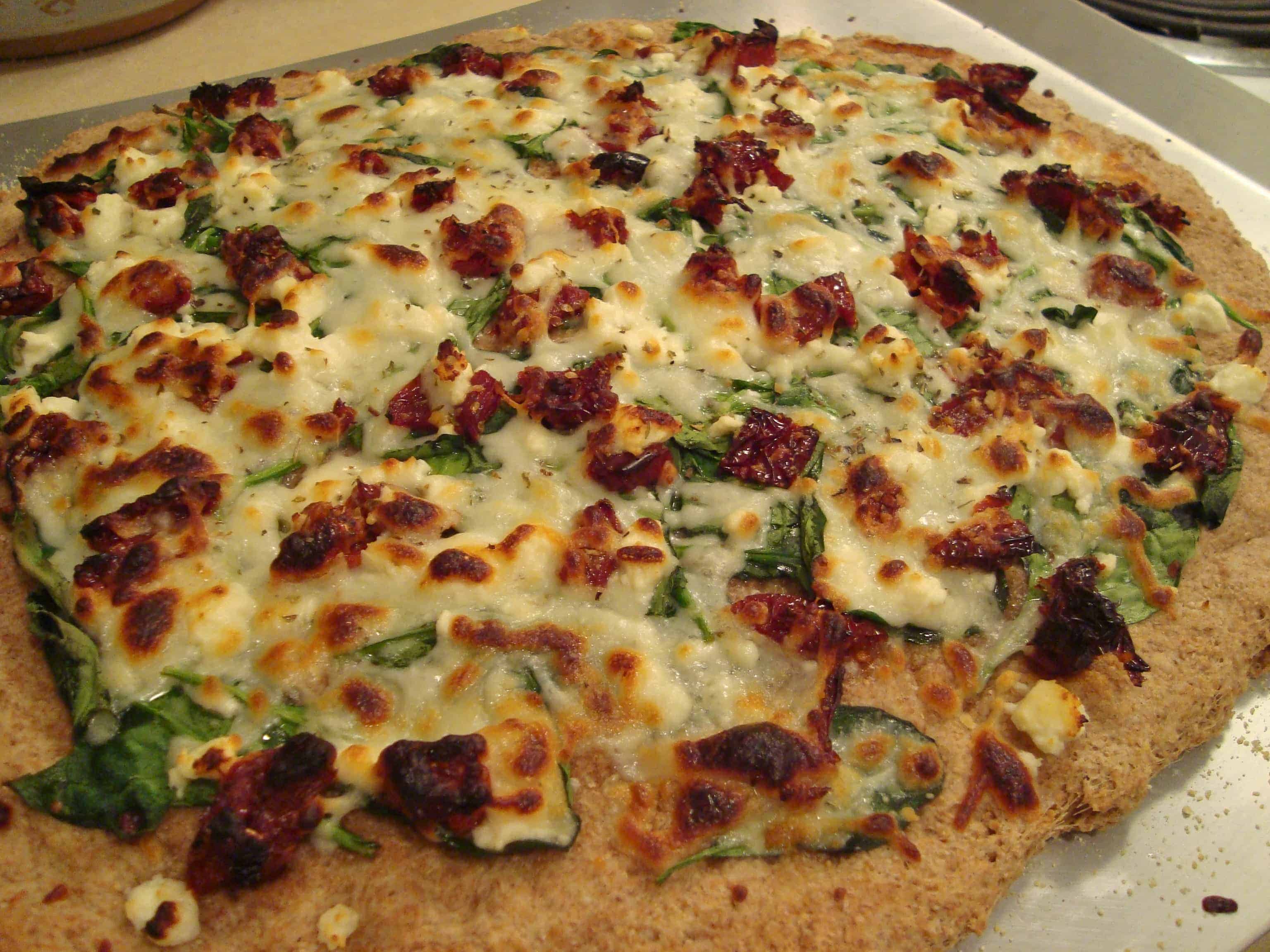 There are a few things in life that I just do not understand. These things include, but are in no way limited to: Girls at the gym that get on the treadmill for 20 minutes and still look all fresh-faced and clean; How in the world so many people gave a rat's patootie about Kim K's wedding that there could even be rumors that she made $20 million from it; How normal people are able to keep their apartment/office/bedroom/personal space clean for longer than 4 1/2 minutes; Women who insist on wearing strapless dresses for important occasions even though they end up with that highly unattractive underarm pooch (you know the one I'm talking about).
Just a few things running around in my crazy-person brain today.
You know what I do understand? Pizza.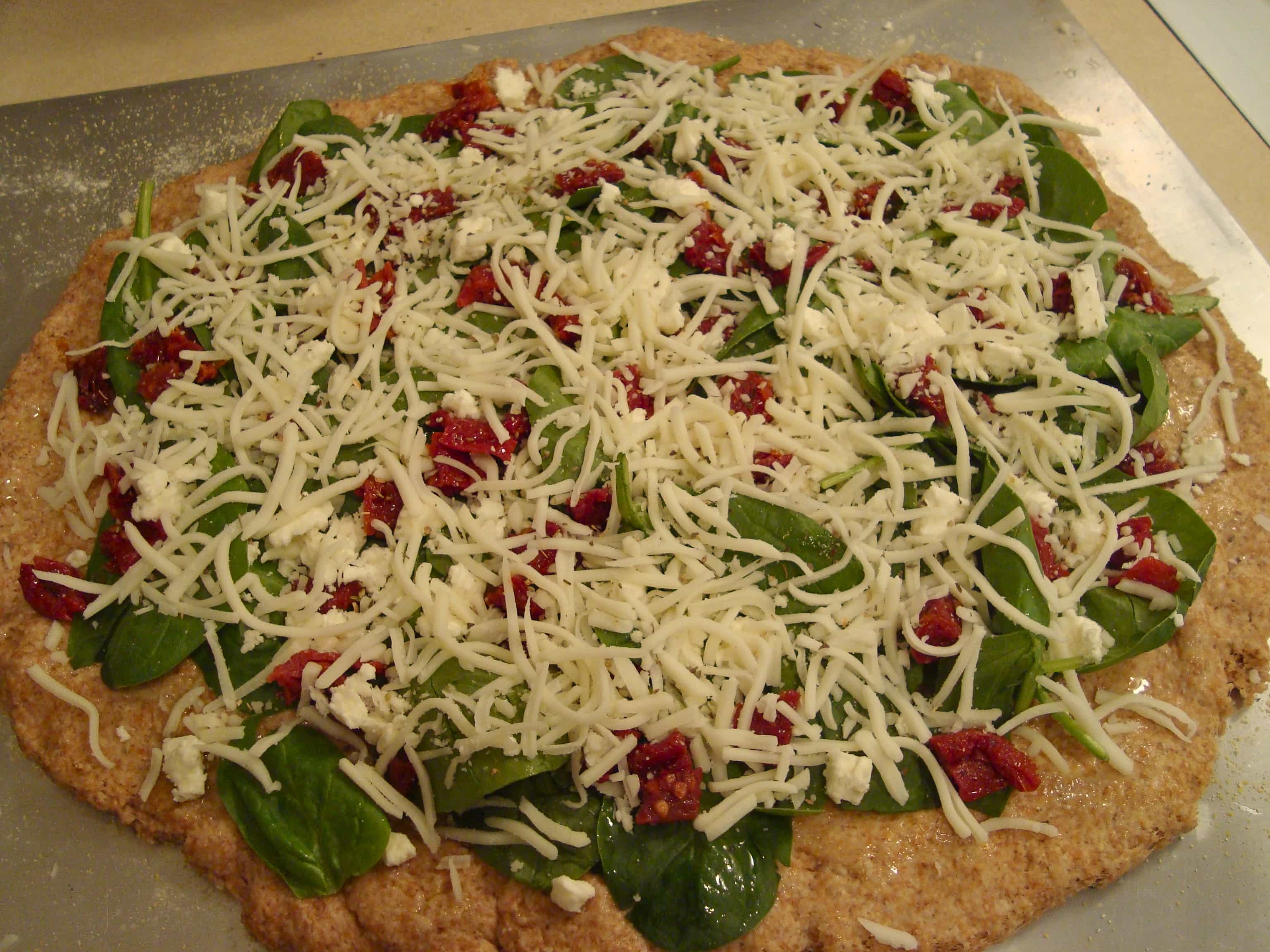 This pizza started with a whole wheat pizza dough brushed with some olive oil. Then some baby spinach and sundried tomatoes joined the party. They invited their friends feta and mozzarella cheese. Then things got a little racy when everybody got all hot and bothered in the oven.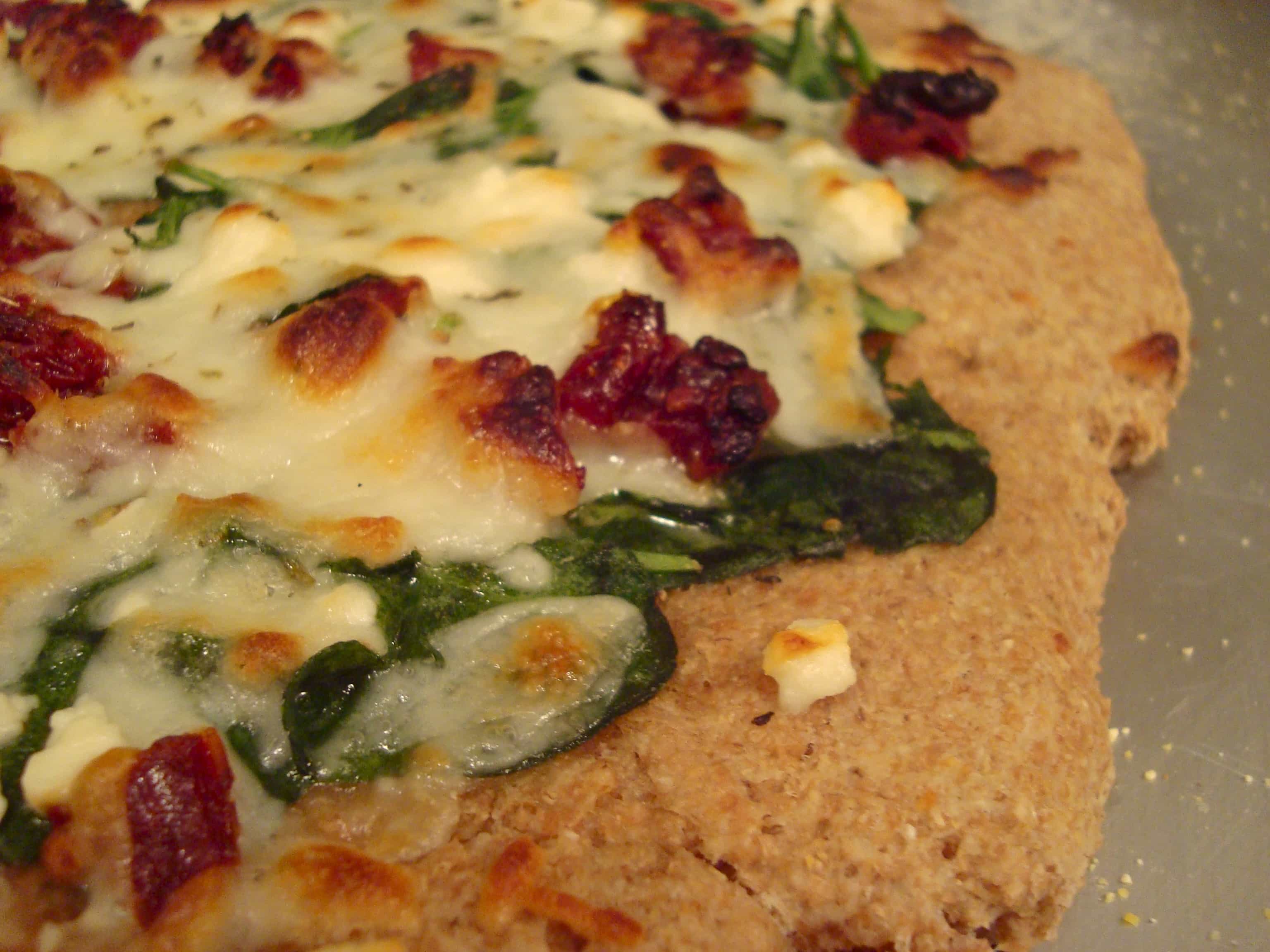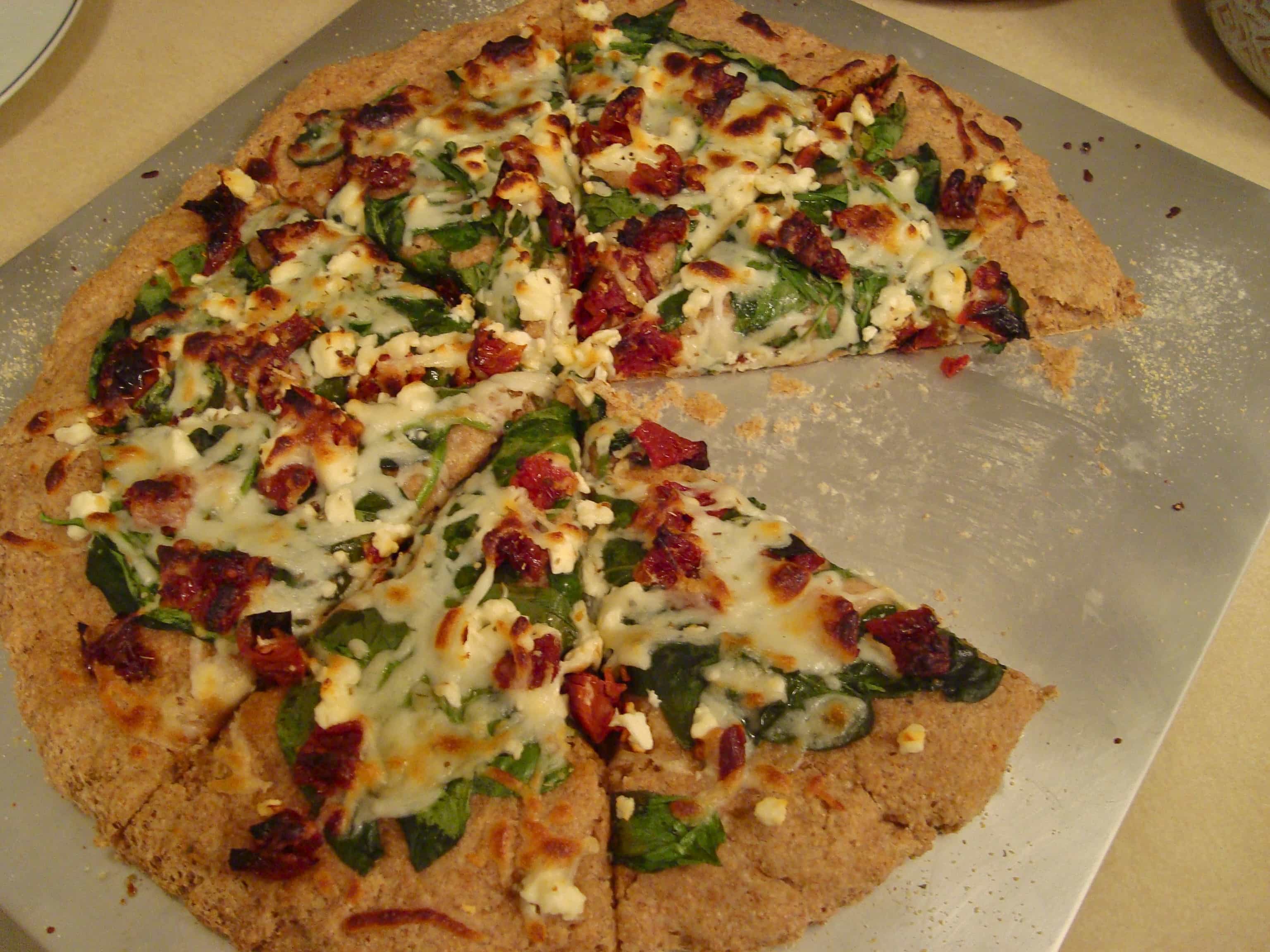 Wait, where did that slice of pizza go?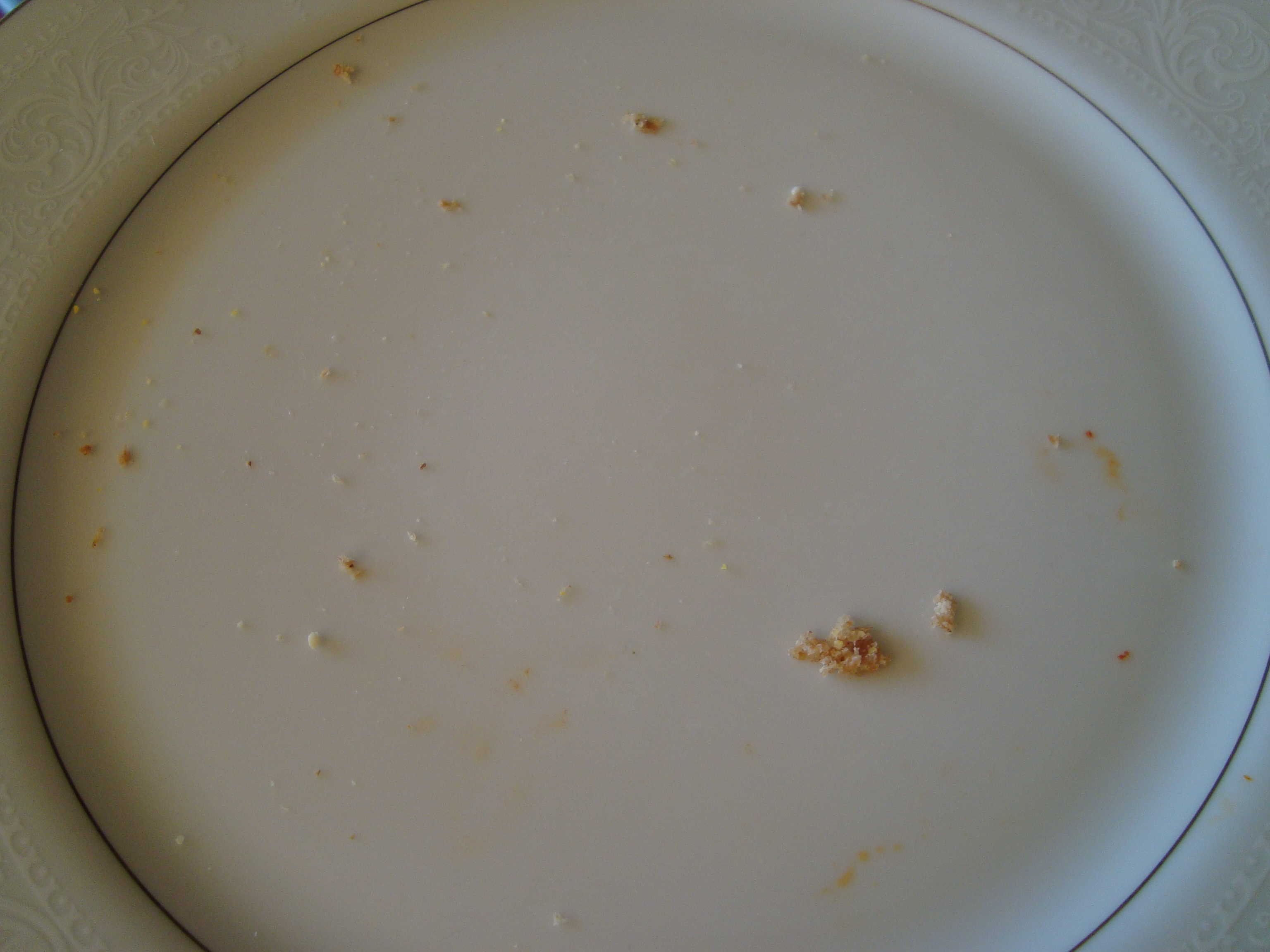 Sorry, no pizza here… =)

Mediterranean Pizza (with Whole Wheat Pizza Dough)
Whole wheat dough from Take a Megabite
Ingredients
For the Whole Wheat Pizza Dough:
2 packets active dry yeast
2 cups warm water
4 cups whole wheat flour*
¼ cup olive oil
2 teaspoons salt
4 teaspoons sugar
For the Mediterranean Pizza:
Olive oil
Fresh baby spinach
Sundried tomatoes, chopped (the kind packed in oil, not the totally dried kind)
Crumbled feta cheese
Shredded mozzarella cheese
Dried oregano
Instructions
Make the pizza dough:
In a large bowl, dissolve yeast and sugar in warm water. Set aside for 5 minutes or until frothy. Stir in salt and olive oil.
Slowly add the flour until dough begins to come together and forms a mass. If dough is very sticky, add a bit more (a little at a time) until dough begins to lose its stickiness. Transfer onto a floured work surface and knead until it forms a cohesive mass. Place in a lightly greased bowl, turning once to coat. Cover lightly with a towel and set aside to rise until doubled in size, about 1 hour. The dough is ready to be used at this point, or can be refrigerated overnight (honestly, it is better after refrigerating).
When ready to make pizza, allow dough to come to room temperature. Preheat oven to 500 degrees. Divide the dough into two pieces (extra dough can be refrigerated for use the next day or frozen for up to three weeks). Sprinkle a pizza stone or pan (I just use a cookie sheet) with cornmeal. (For an extra crispiness on the underside of the crust, preheat your pizza stone in the oven for 30 minutes before placing the dough on it).
Form pizza on prepared pan, using your fingertips to stretch the dough, flattening the middle and pushing the dough towards the edges. Top with desired sauce and toppings. Bake at 500 degrees for 10 minutes, or until the pizza lifts when a corner is lifted with a spatula. Allow to rest for 5 minutes before cutting.
Assemble the pizza:
Brush crust lightly with olive oil. Top with spinach and sundried tomatoes. Sprinkle with feta and mozzarella cheeses. Sprinkle lightly with dried oregano.
Best enjoyed with a nice glass of white wine and a handsome boy. (Neither of which I had...guess I will have to try again later.)
Notes
*The original dough recipe calls for 2 cups of medium grind WW flour and 2 cups of fine grind WW flour. Honestly, this is sort of a matter of personal preference. I have made it with all of one, all of the other and a combination of the two. Using a finer grind flour will result in a more traditional style pizza dough, while a coarser grind will result in a nuttier, more textured crust. Please note that I am not including specific amounts here for the pizza itself, as that is really a matter of personal preference.