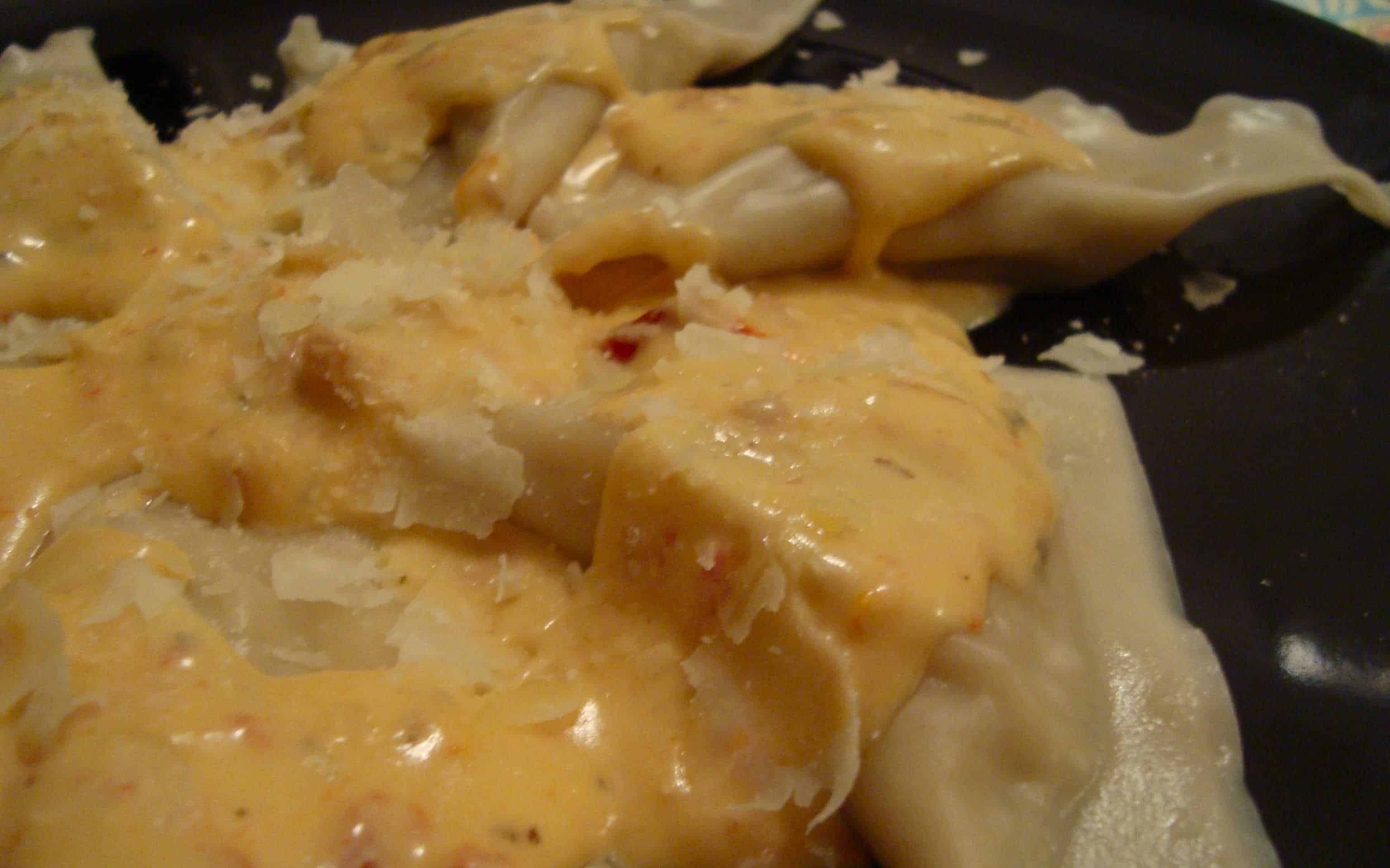 Ok, I know what you're thinking.
"Oh, heck no, girl did NOT make her own pasta!"
Well, you're right. I didn't. And you know why? Because I have a life to live outside of my kitchen (shocking, I know).
Now, if you are someone who miraculously has 2 extra hours in each day and approximately 14 times more patience than I have, please feel free to make this recipe with homemade pasta. Make homemade pasta until your little heart is as content as can be.
For the rest of us, allow me to introduce you to a little guy I like to call the wonton wrapper.
Turns out, wonton wrappers are not only perfect for making potstickers/dumplings (another post for another time), they are the perfect vehicle for ravioli filling.
Now, in the interest of full disclosure, I must tell you that the wonton wrappers will not taste exactly the same as fresh pasta sheets. The egg content is significantly lower and so they don't taste as…well…eggy. But if you're looking for an easy way to get creative with stuffed pastas at home, this is the way to go.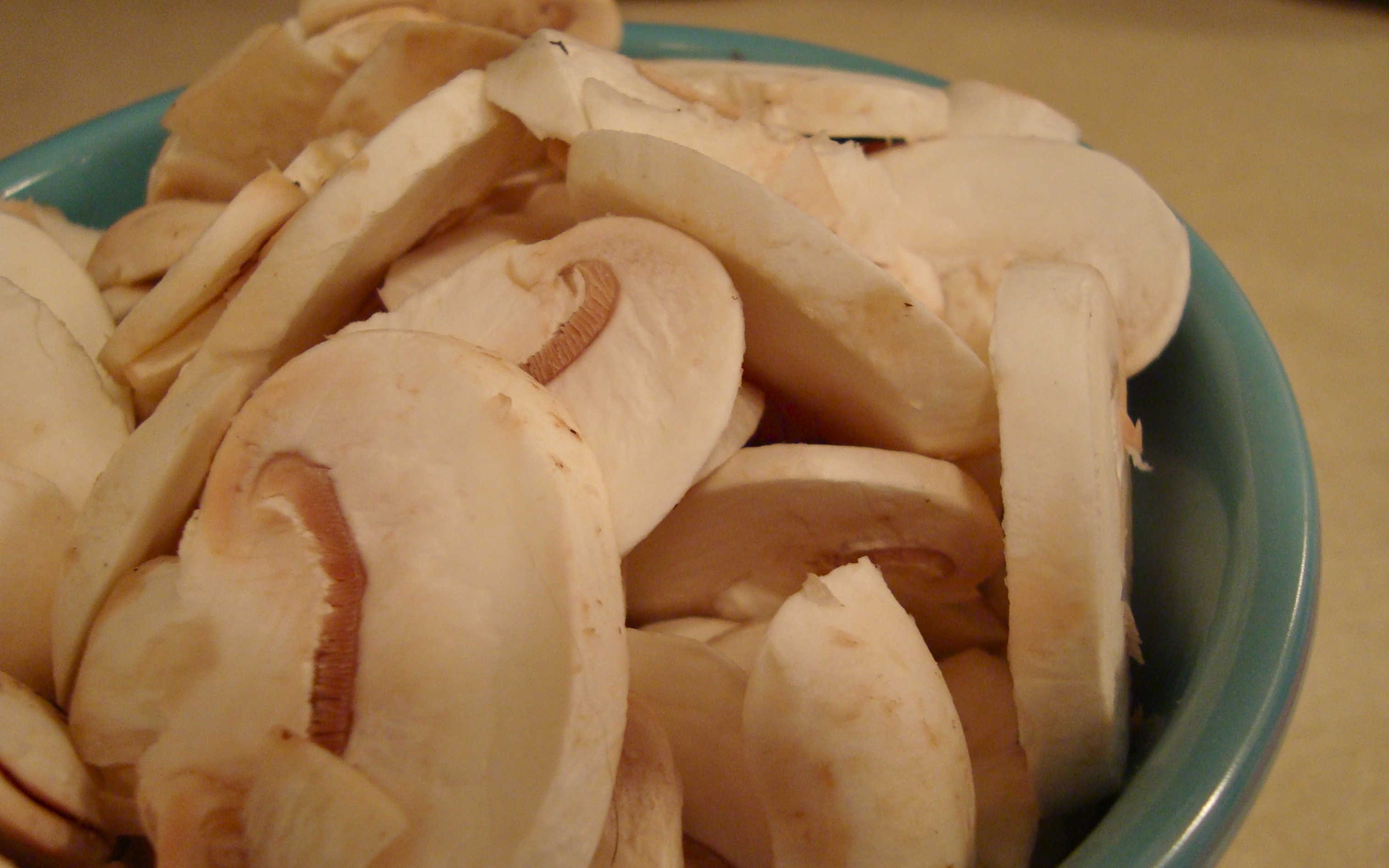 I filled my little wonton friends with a simple mixture of cooked mushrooms, ricotta and Parmesan cheese. Easy peasy.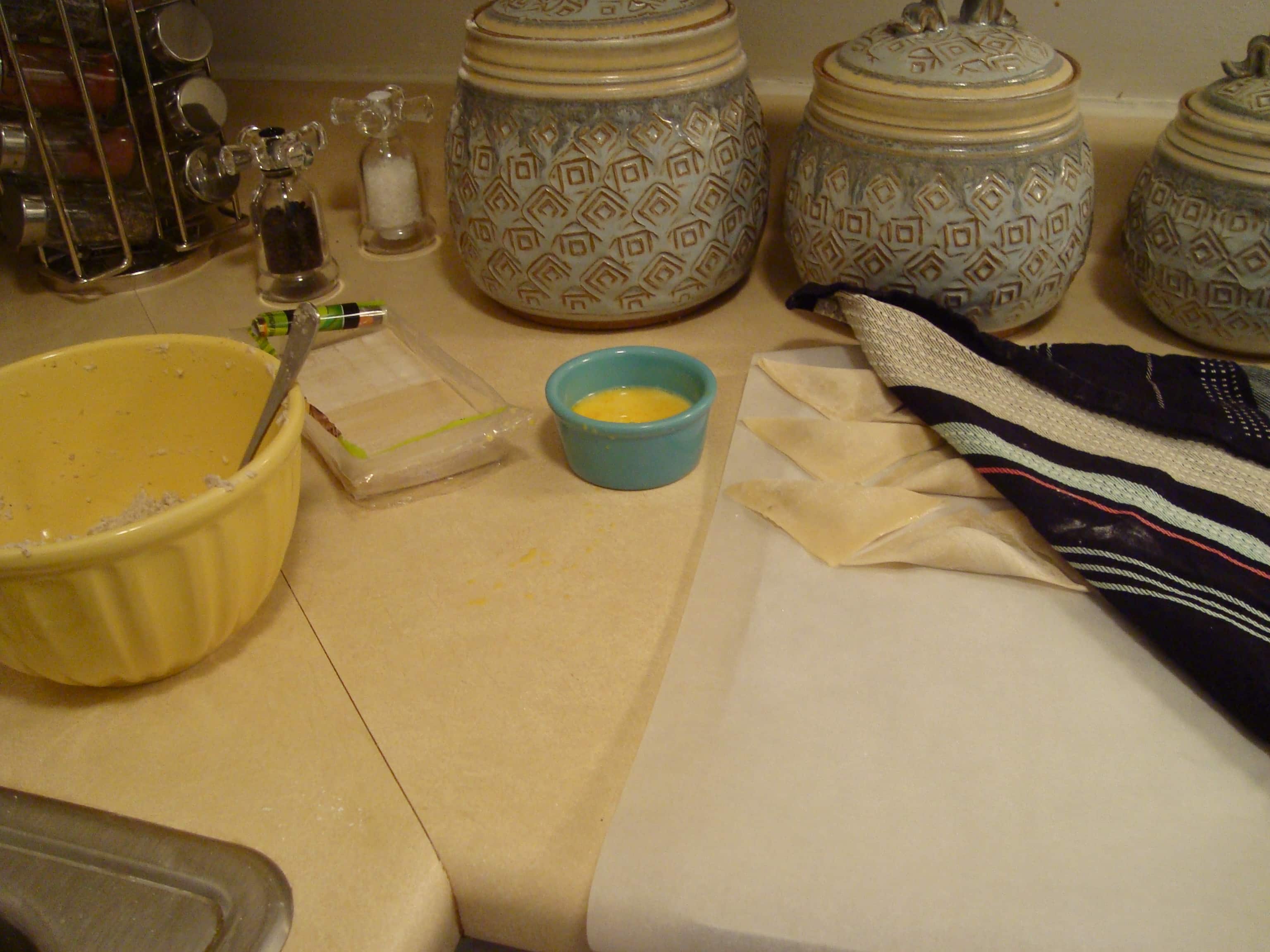 I made myself a little ravioli assembly line, turned on some Maroon 5 and, next thing I knew…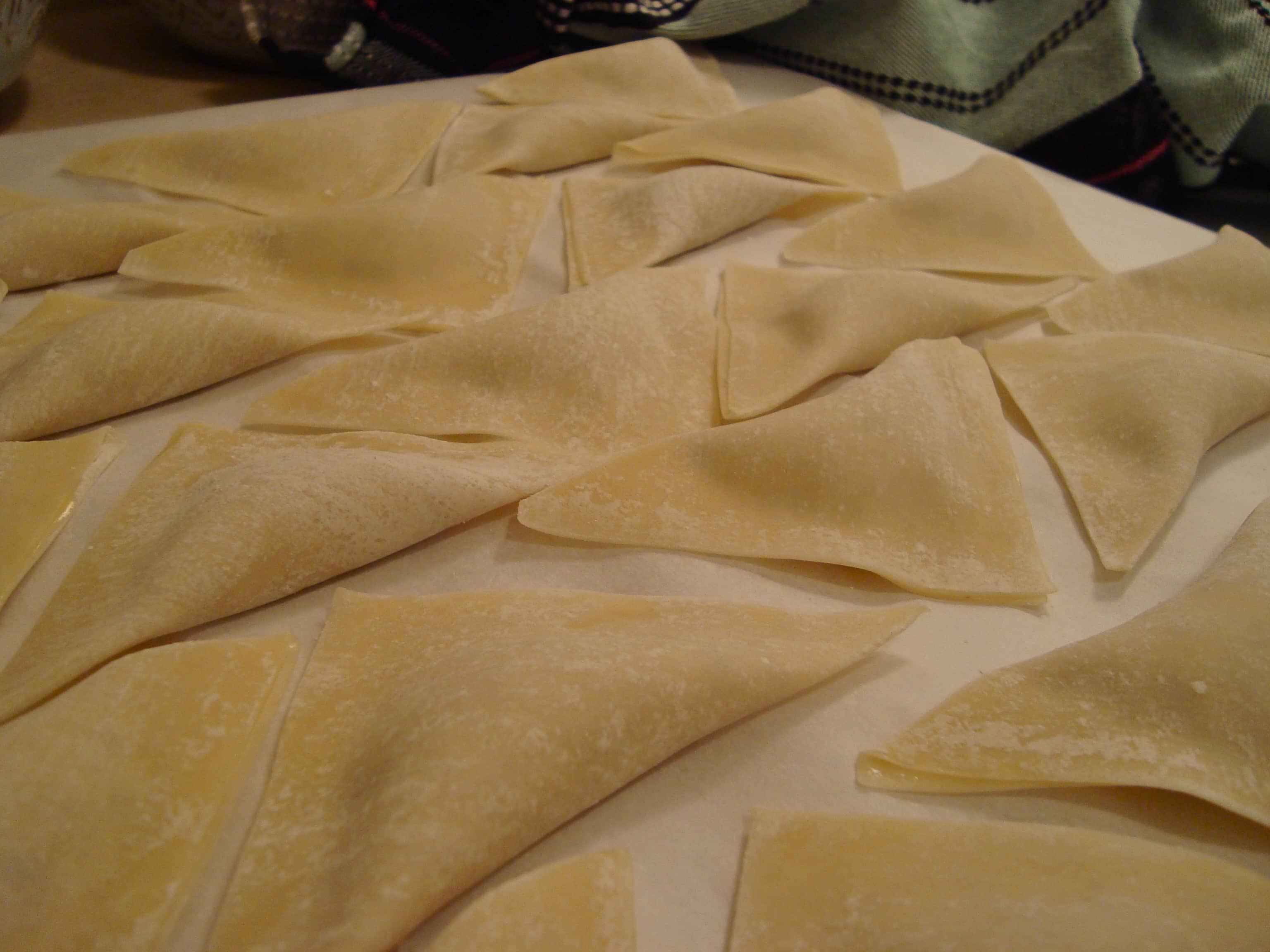 …I had myself a whole tray of new little ravioli friends!
These new little friends got served up with a sundried tomato cream sauce. Now, I rarely cook with cream. But every once in a while, ya gotta do what ya gotta do. (Ironically enough, I say type this as I watch The Biggest Loser. Bob Harper – with whom I am in love, the fact that he is old enough to be my father notwithstanding – would be disappointed, I'm sure.) And in this case, I'm going to encourage you to allow yourself this one little indulgence. Show yourself a little love.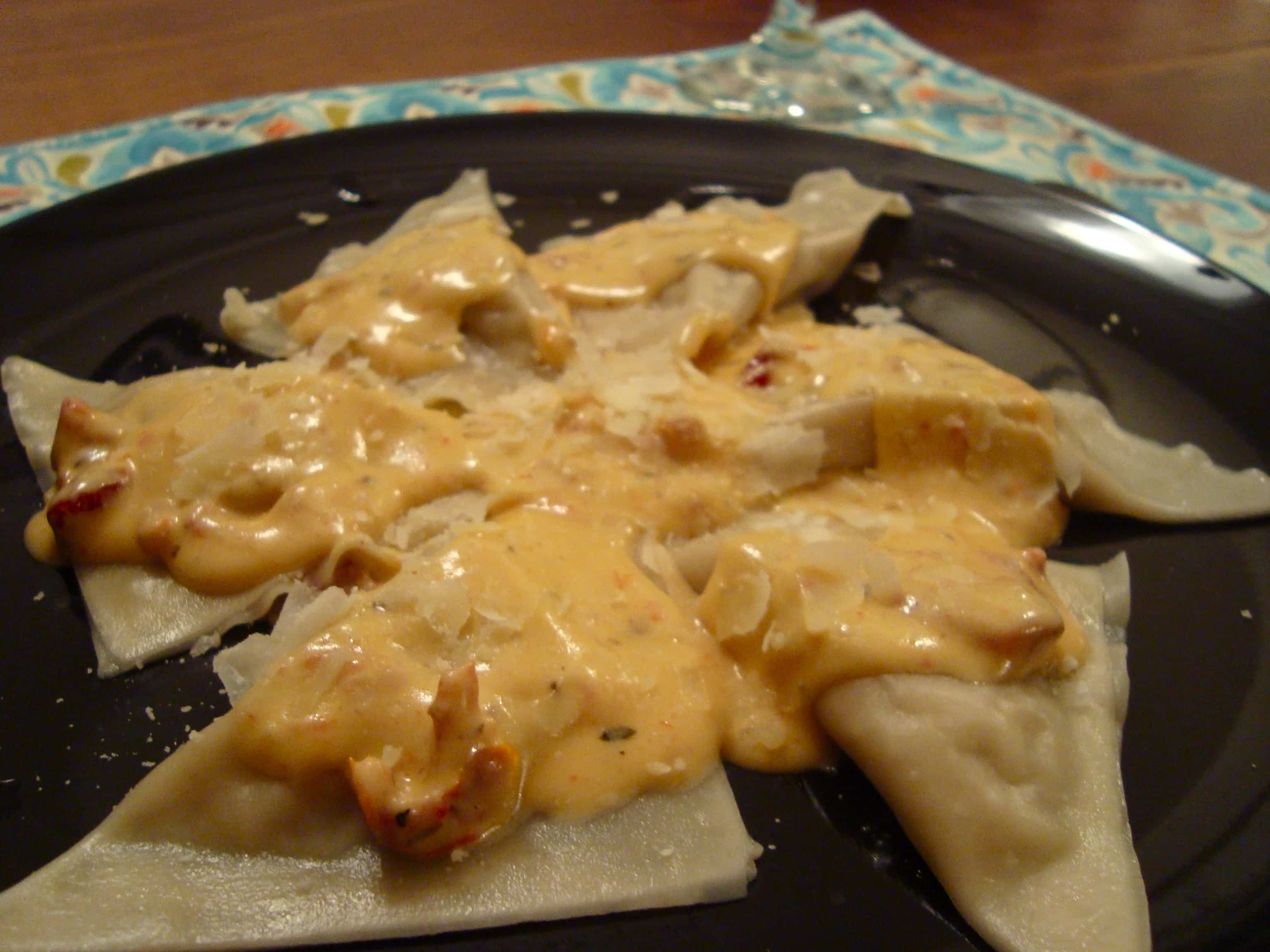 Mushroom Ravioli with Sundried Tomato Cream Sauce
Yield:
About 24 ravioli and 1 cup of sauce
Ingredients
For the ravioli:
8 ounces mushrooms, sliced
1 tablespoon olive oil
1 garlic clove, minced
⅓ cup ricotta cheese
¼ cup shredded Parmesan cheese
½ teaspoon dried parsley
Salt and pepper, to taste
1 egg
Wonton wrappers
Make the Sundried Tomato Cream Sauce:
2 tablespoons butter, divided
1 clove garlic, minced
1 scant tablespoon flour
¼ cup dry white wine
2 tablespoons finely chopped sundried tomatoes (the oil-packed variety)
½ cup heavy whipping cream
¼ teaspoon dried oregano
Salt and pepper, to taste
Instructions
To make the ravioli:
In a medium skillet, heat olive oil over medium-high heat. Add garlic and mushrooms; saute for 8-10 minutes or until mushrooms are fragrant and softened, and most of the water has been cooked out of them.
Transfer mushrooms to a food processor (try to avoid transferring too much of the liquid that will have cooked out the mushrooms). Pulse until mushrooms are very finely chopped.
In a bowl, combine slightly cooled mushroom mixture with ricotta and Parmesan cheeses and dried parsley. Season to taste with salt and freshly ground pepper (be cautious with the salt, as the Parmesan cheese adds most of the salt needed). Set aside filling.
In a small bowl, create an egg wash by beating the egg with a small amount of water. Set aside.
Cover a cookie sheet with parchment paper. To make ravioli, place a teaspoon of filling in the middle of one of the wonton wrappers. Using a small brush or your finger (my method of choice), brush the egg wash along two edges of the wonton wrapper. Fold the wrapper in half over the filling, gently pressing out any air bubbles and sealing the edges. Place on the prepared cookie sheet and cover with a clean towel.
If making ahead of time, keep chilled until ready to use. To freeze, place entire cookie sheet in freezer and allow individual ravioli to freeze before bagging and tagging for later use (I would recommend using within three months).
To cook, bring a large pot of salted water to a boil. Gently drop in ravioli a few at a time - do not overcrowd the pot or they will stick together. (I also suggest giving them a little nudge once they're in the water to make sure they don't stick to each other or the bottom of the pot) Cook until they float - 2-3 minutes if fresh, 3-4 minutes if frozen. Gently remove from water - they will be fragile! - and tent with foil to keep warm if preparing multiple batches.
Serve warm with sundried tomato cream sauce, your favorite pesto or simply with a drizzle of extra virgin olive oil, a touch of freshly ground pepper and some shaved Parmesan cheese.
To make the sauce:
In a small saucepan, melt 1 tablespoon of butter over medium heat. Add garlic, cook for 1 minute. Whisk in flour, cook for an additional 1-2 minutes. Whisk in wine and sundried tomatoes, cooking until thickened, another 1-2 minutes.
Turn heat to low and slowly add cream. Return heat to medium-low, cooking until heated through. Add oregano and second tablespoon of butter. Salt and pepper to taste.
Drizzle over ravioli or toss with your favorite pasta. Add some shaved Parmesan cheese. Celebrate life.