Gluten-free corn casserole made with fresh corn, green onions, and melty Chihuahua cheese. Your favorite Mexican meals need no other side dish than this.
So I have this thing with corn-based side dishes. You know the ones I am talking about: corn pudding, cornbread, creamed corn, corn casserole. Anyway, I have this thing with them – I can't stop eating them.
Cornbread? Gone in 60 seconds. Corn pudding? Is there such a thing as leftovers? Creamed corn? Just hand me the dish and a spoon, pleaseandthankyou. Corn casserole? Step away from my side dish and no one gets hurt.
And yet, I realize that in nearly 3 years time, I have not shared any such corn recipe with y'all. And then I remember that I ate half of this conveniently gluten-free Mexican Corn Casserole by myself in approximately 5 minutes and understand that I can't be trusted to recipe test these things.
I go from a responsible adult to a baby bunny who doesn't know when to stop eating in about 13 seconds.
This corn casserole is made with a combo of corn flour and corn meal to make it gluten-free. Corn flour is more finely ground than corn meal, which assists with the texture of the casserole. If you can't find corn flour at your local grocery store, Bob's Red Mill makes one that you can get on Amazon.
Rumor has it that if you have Amazon Prime, it'll be on your front step faster than you can hit the "confirm order" button, allowing you to have corn casserole in your face pretty much immediately.
Serve your Mexican Corn Casserole alongside a bowl of chili, your favorite steak tacos or, if you happen to be like me, in a bowl with a spoon. Don't let anyone tell you you're wrong.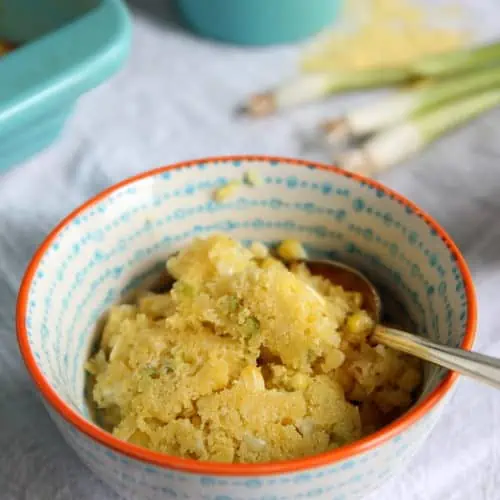 Ingredients
2

ears corn

1/2

cup

butter

softened

1/3

cup

corn flour

1/4

cup

water

1/4

cup

cornmeal

1/4

cup

sugar

1/4

teaspoon

salt

1/2

teaspoon

baking powder

2

tablespoons

sour cream or Greek yogurt

1

egg

1/3

cup

chopped scallions

1/3

cup

shredded chihuahua cheese
Instructions
Preheat oven to 350 degrees. Grease an 8x8-inch baking dish. Set aside.

Cut the corn kernels from the cobs. Using the back of your knife, scrape up the cobs to release the "milk". Reserve this "milk" with the corn. Set aside.

In a large bowl, cream butter. Mix in the corn flour and water until thoroughly combined. Add the cornmeal, sugar, sour cream, egg, salt and baking powder; mix until combined. Add the corn, scallions, and cheese and mix.

Pour mixture into prepared baking dish and bake, covered, for 40-45 minutes, or until center is set.