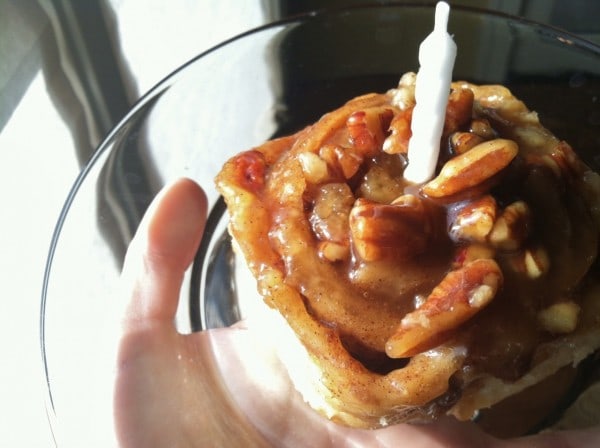 It's Thanksgiving week, my friends! Are you as ready for a break as I am? I know I can't wait to spend a few days with my family where the biggest worry on my mind will be whether eating too many appetizers will mean less room for pie later on...
If you're still looking for a decadent breakfast treat to feed your guests this weekend, this sticky bun recipe is definitely one that you are going to want to try. I recently made them for my dad's birthday and everyone went ca-ray-zay for them. This recipe comes from the cookbook I Love Cinnamon Rolls! by Judith Fertig (Andrews McMeel Publishing) - yes, that's right, an entire cookbook dedicated just to cinnamon rolls! I know, I thought I had died and gone to heaven, too, when I realized this was a real thing.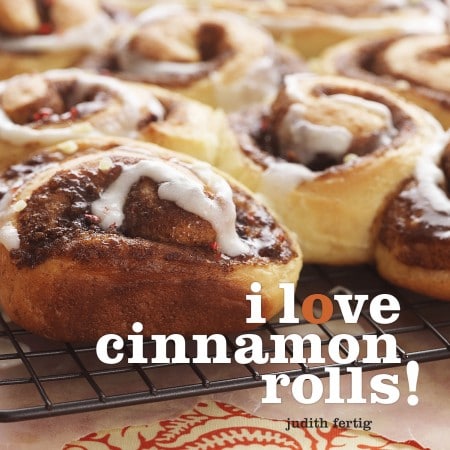 And it's not just a real thing - it's a great thing! Guys, this cookbook is a real winner. Not only are the recipes great - in addition to the sticky bun recipe I am sharing with you today, I also tried the Cinnamon Rugelach - but the cookbook is set up to help even beginner bakers achieve cinnamon roll success. The book starts with an introduction which spells out the exact kinds of ingredients you will need for the recipes and explains all of the steps - from measuring to kneading to baking and storing - in easy-to-understand language. But the best part? The author includes eight different dough recipes (each with accompanying filling suggestions), with varying degrees of difficulty and perfect for different dietary needs. That means that vegan, gluten-free and beginning (or advanced!) bakers all have amazing options that are sure to impress family and friends.
And so, because this week is Thanksgiving...
...and because next week is my birthday...
...and because I think this cookbook would be a great addition to your personal library...
...the kind folks at Andrews McMeel Publishing are providing one copy of I Love Cinnamon Rolls! for me to give away to one lucky reader!
To enter, comment below and tell me your favorite Thanksgiving memory.
By leaving a comment below you are agreeing to the Official Rules, outlined here.
NO PURCHASE NECESSARY
Only U.S. residents over the age of 18 are eligible to enter.
Duration: Tuesday, November 20 through Tuesday, November 27, 2012 at 10 PM central time.
Leave a comment answering the question to enter. You can receive up to 4 additional entries by doing the following and leaving one

separate

comment for each additional item. (If you are already a follower, simply let me know that you are.)
For additional entries, do the following and leave me separate comments for each telling me that you did (or that you already follow!):
The winner will be randomly selected and announced at 10 pm (central time) on Tuesday, November 27. I will email you (so be sure to enter a valid email address) and you will have 48 hours to respond.
While Andrews McMeel Publishing provided review and giveaway copies of I Love Cinnamon Rolls!, I was under no obligation to post a positive review. All opinions expressed are my own.
New England Sticky Buns
Sticky buns, beloved in New England, feature a gooey, caramelized pan sauce that forms the topping when a pan of rolls is inverted. Inspired by Joanne Chang's fabulous sticky buns at Flour Bakery and Café in Boston, these buns bake to a dark brown, glossy finish and are best served warm. To toast whole pecans, place them on a baking sheet at 350°F for 15 minutes, then chop.
Ingredients
Traditional Cinnamon Roll Dough:
1 cup whole milk
4 tablespoons unsalted butter, softened
⅓ cup granulated sugar
1 teaspoon salt
2 large eggs
3 ⅓ cups all-purpose flour, plus more for kneading and dusting
2 ½ teaspoons instant or bread machine yeast
Pan Sauce:
¾ cup (1½ sticks) unsalted butter
1½ cups packed light brown sugar
⅓ cup clover honey
⅓ cup heavy cream
¼ teaspoon kosher salt
½ cup toasted, chopped pecans
Cinnamon-Pecan Filling:
¼ cup granulated sugar
¼ cup packed light brown sugar
2 teaspoons cinnamon
⅛ teaspoon salt
4 tablespoons unsalted butter, softened
½ cup toasted, chopped pecans
Instructions
Make the dough:
In a 4-cup measuring cup, combine the milk, butter, sugar, and salt. Microwave on High for 1 minute or until warm. Whisk in the eggs.
Place the flour and yeast in the bowl of a stand mixer fitted with the paddle attachment. Add the liquid ingredients. Mix on low speed, stopping to scrape down the sides of the bowl from time to time, until the dough forms a soft mass and starts to pull away from the sides of the bowl, 5 to 6 minutes.
Remove the paddle attachment and switch to the dough hook. With the mixer on low, knead the dough with the dough hook. Sprinkle the dough with a tablespoon of flour, if necessary, to keep it from sticking to the sides of the bowl. When the dough is smooth, not sticky, and springs back when you press it with your finger, you've kneaded enough (4 to 6 minutes). Place the dough in a large, oiled mixing bowl, cover with a tea towel, and let rise in a warm place (about 85ºF) for 45 to 60 minutes, or until it has almost doubled.
Proceed with a cinnamon roll recipe.
Make the rolls:
For the pan sauce, melt the butter in a saucepan over medium-high heat and whisk in the brown sugar until well combined but not smooth. Remove from the heat and whisk in the honey, cream, and salt until smooth. Let cool to room temperature, about 30 minutes, then pour and spread into\ a 9 by 13-inch pan. Scatter the pecans over the pan sauce.
Transfer the dough to a floured surface and roll to a 16 by 20-inch rectangle.
For the filling, combine the sugars, cinnamon, and salt. Spread the dough with the butter and sprinkle with the cinnamon sugar mixture, then the pecans. Starting with a short end, roll up and form into a tight 16-inch cylinder. Cut the cylinder into 12 slices. Place each slice, spiral side up, in the prepared pan. Cover with a tea towel and let rise in a warm place until almost doubled, 45 to 60 minutes.
Preheat the oven to 350°F. Bake for 22 to 25 minutes or until medium brown in the creases. Let cool in the pan for 20 minutes, then turn out each roll, one by one, onto a serving platter and top with pan sauce.
Notes
In order to avoid lots of work in the morning, I made these the night before and allowed them to do their second rise (after being filled and cut) overnight in the refrigerator. I then just allowed them to come to room temperature before baking the next morning.