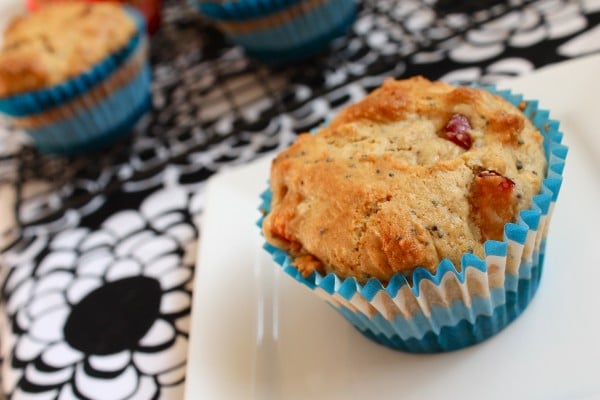 It's my birthday!
Which means I should probably be posting about cupcakes…but instead I'm posting about muffins. But really, it's ok because these beauties are from the new Smitten Kitchen Cookbook.
A few of my friends and I have been so jazzed about this cookbook coming out that we all decided to each make a recipe from the book and post about them on the same day. When Julia emailed us with a list of approved recipes, I emailed back immediately and requested these muffins. Plum poppy seed muffins?? How could I not want to make those? As soon as I left work that day, I was off to the store to buy plums and these babies were baking away in my oven before I knew it.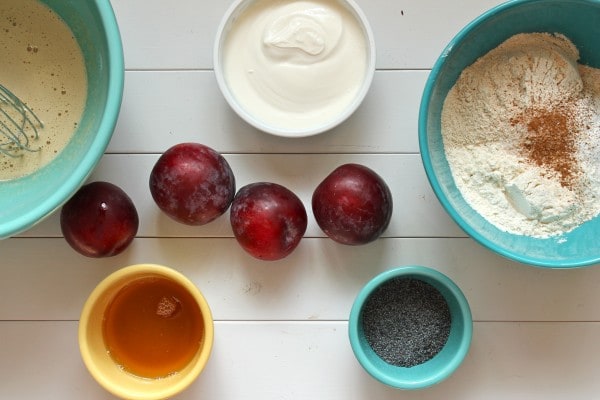 What makes these muffins so special? You mean aside from the fact that they consist of almost as much fruit as actual batter? (Glorious, just glorious.)
Browned butter.
Yeah. I said it. And I'll say it again.
Browned. Butter.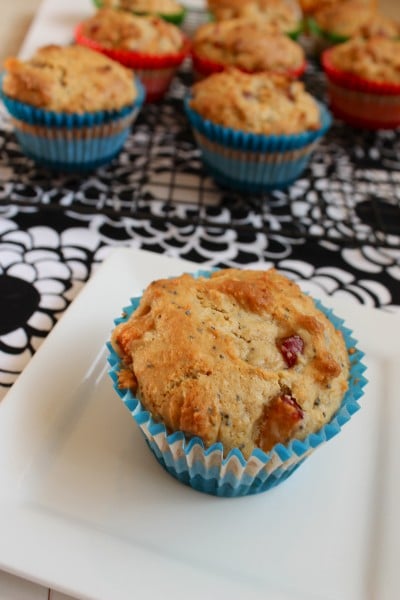 And oh my does it make a difference here. It gives the muffins that certain nuttiness that you just can't get enough of and pairs so beautifully with tart sweetness of the plums and the sweet muffin batter. It's just downright amazing, and makes me ridiculously excited to dive into all of the other recipes in Deb's new cookbook. Beautifully photographed, well-written, and chock-full of recipes that you could throw together for your family or serve at a dinner party. It's a little bit of everything…and certainly everything you could want in a cookbook (the spine is even made so that it stays open while you're cooking!).
Make sure you take a minute to check out what the other awesome ladies have put together for this special post:
Julia of The Roasted Root: Pancetta, White Bean, and Chard Pot Pie
Abby of Seaweed and Sassafras: Apple Cider Caramels
Natalie of Perry's Plate: S'more Layer Cake <— Visit Natalie's post to find out how to WIN a copy of Deb's book!!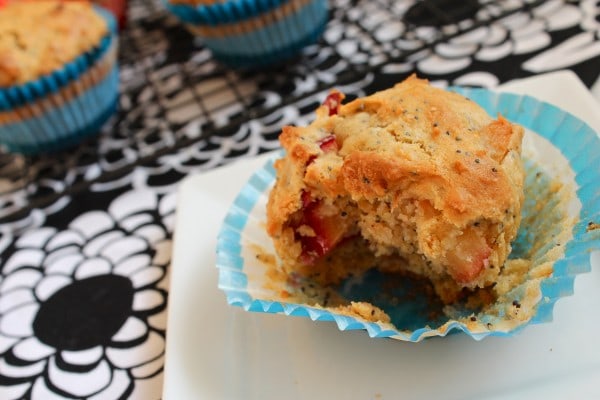 Plum Poppy Seed Muffins
Yield:
12 standard-size muffins
Ingredients
6 tablespoons unsalted butter, melted and browned and cooled
1 large egg, lightly beaten
¼ cup granulated sugar
¼ cup packed brown sugar
¾ cup sour cream or full-fat plain yogurt
½ cup whole wheat flour
1 cup all purpose flour
¾ teaspoon baking powder
¾ teaspoon baking soda
¼ teaspoon table salt
Pinch of ground cinnamon
Pinch of grated nutmeg
2 tablespoons poppy seeds
2 cups pitted and diced plums (from about ¾ pound)
Instructions
Preheat oven to 375 degrees. Grease 12 muffin cups or line with paper liners.
Whisk the egg with both sugars in the bottom of a large bowl. Stir in the melted butter, then the sour cream. In a separate bowl, mix together the flours, baking powder, baking soda, salt, cinnamon, nutmeg, and poppy seeds, then stir them into the sour cream mixture until it is just combined and still a bit lumpy. Fold in the plums.
Divide batter among prepared muffin cups. Bake for 15 to 18 minutes, until the tops are golden and a tester inserted into the center of a muffin comes out clean. Rest muffins in the pan on a cooling rack for 2 minutes, then remove them from the tin to cool them completely.
Notes
To brown the butter: In a large pot, melt butter over medium-low heat. It will melt, then foam, then turn clear golden, and finally start to turn brown and smell nutty. Stir frequently, scraping up any bits from the bottom as you do. Don't take your eyes off the pot: You may be impatient for it to start browning, but the period between the time the butter begins to take on color and the point where it burns is often less than a minute.